Would you like to learn how to make lip gloss that moisturizes while also looking amazing?
If so, I have the perfect recipe for you!
This DIY lip gloss is the absolute best, not only because it's hydrating and great for your lips but, it is also customizable!
Let's dive on in!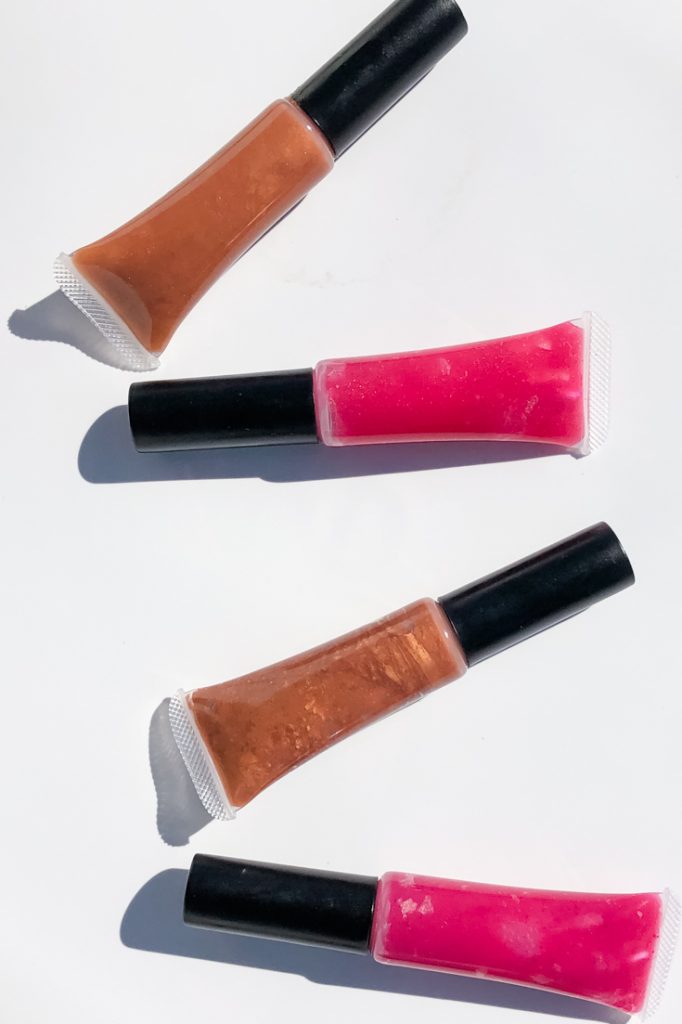 Lip Gloss Base
The first step is going to be creating a lip gloss base. Once you have your base, you can have a ton of fun customizing the tint and shimmer of your lip gloss.
The base of your DIY lip gloss is going to consist of five ingredients:
These ingredients are what will give your lip gloss a smooth texture and help keep your lips hydrated!
The bronze mica, white mica, and beetroot extract are your pigment ingredients and are going to be used to give your lip gloss a customized color!
These ingredients can be added in a variety of ratios and can be mixed and matched to give your lip gloss base a customized color.
That's the fun of learning how to make lip gloss, you get to customize it for you!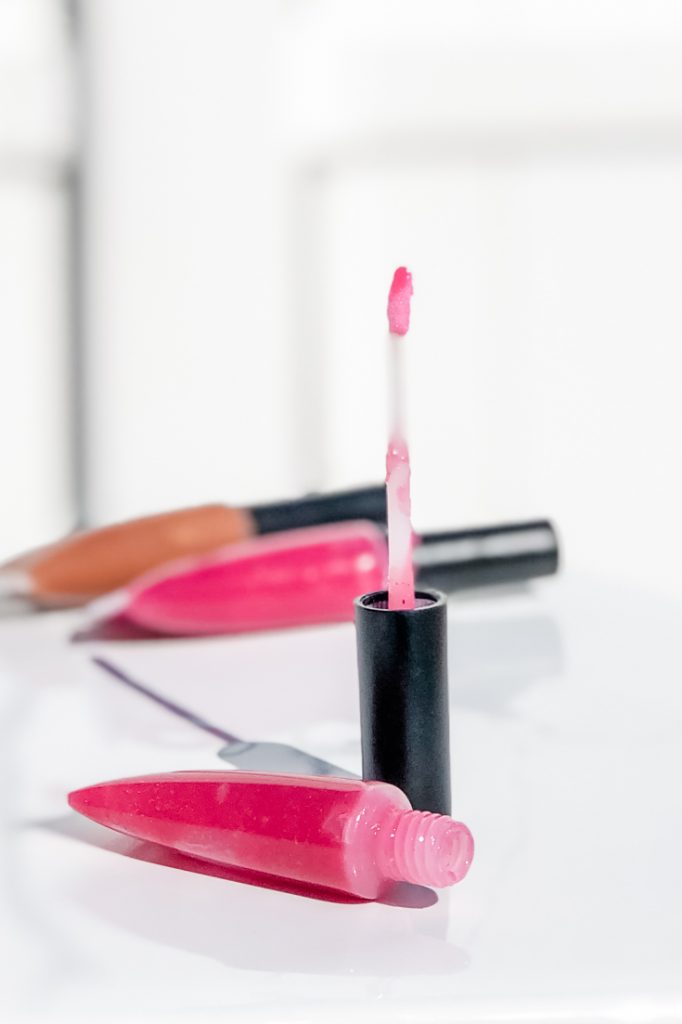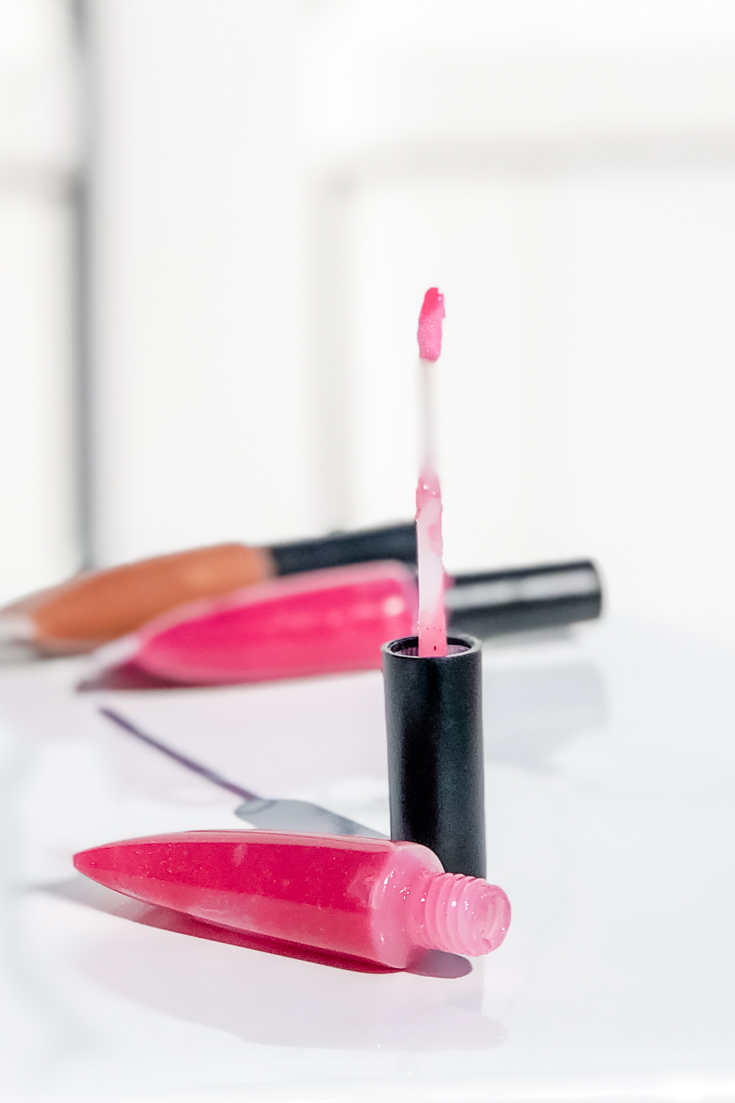 Lip Gloss Tubes
Lip gloss tubes are an essential item to have in you're making your own gloss! There are different types of tubes so be sure to pick a gloss tube style that you like!
This lip gloss recipe is squeeze tube or applicator wand friendly!
Need some help finding lip gloss tubes to buy, check out a few options below:
Amazon– US (these are the tubes I used)
I prefer having a squeezy lip gloss tube so I can give it a quick squeeze now and then to keep everything incorporated.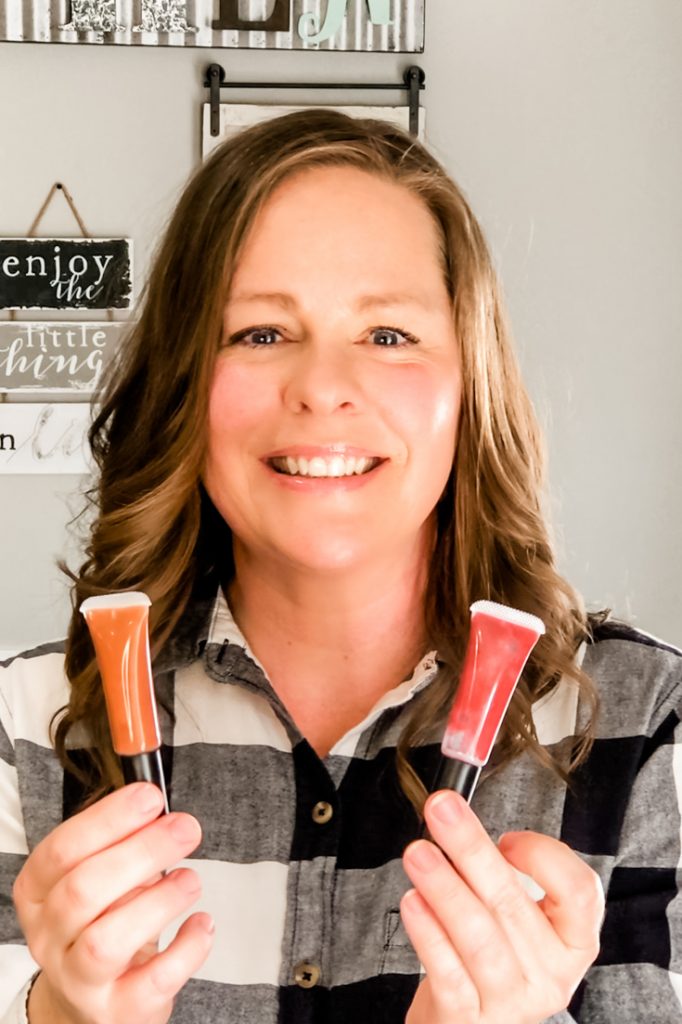 Lip Gloss Ingredients
We touched a little on the ingredients in your lip gloss base and the options for tinting. Now we're going to take a closer look at why we chose these ingredients. (If you want to learn all about natural skincare ingredients, check out our Ingredient Library…)
The ingredients in this recipe are natural and will help keep your lips hydrated and plump all day long!
Baobab Oil is a plant based oil that is non-comedogenic and doesn't leave skin feeling heavy or greasy. It's hydrating and will help keep your lips plump and smooth! Baobab Oil also helps form a barrier over skin making it a great ingredient to use on your lips. Click here to learn more about Baobab oil and substitutions if you don't have it on hand.
Babbasu Oil is a thicker oil with a consistency close to that of coconut oil. It is great for dry skin and relieving mild irritations. If you don't have babbasu oil on hand, feel free to swap it out for coconut oil.
Castor Oil is high in antioxidants and can help protect skin from free radical damage. It can also moisturize and soothe skin making it perfect for lips that are prone to chapping or peeling.
Meadowfoam Seed Oil helps keep skin soft and smooth making it a great choice for use on lips! It helps to balance skin and keep it from becoming too oily or dry. It is used in a lot of lip care products to help heal dry or cracked lips.
Beeswax is a popular lip care ingredient! It helps protect lips from dryness, peeling, and chapping while keeping them hydrated. It can help protect lips from environmental damage and UV rays as well.
Bronze Mica is a pigment powder that makes products a rich bronze color.
White Mica is a pigment powder that adds a light shimmer effect to cosmetic products.
Beetroot Extract Powder is a natural pigment that adds a rich red color.
Now that you know what you need to make your lip gloss, let's get to the recipe!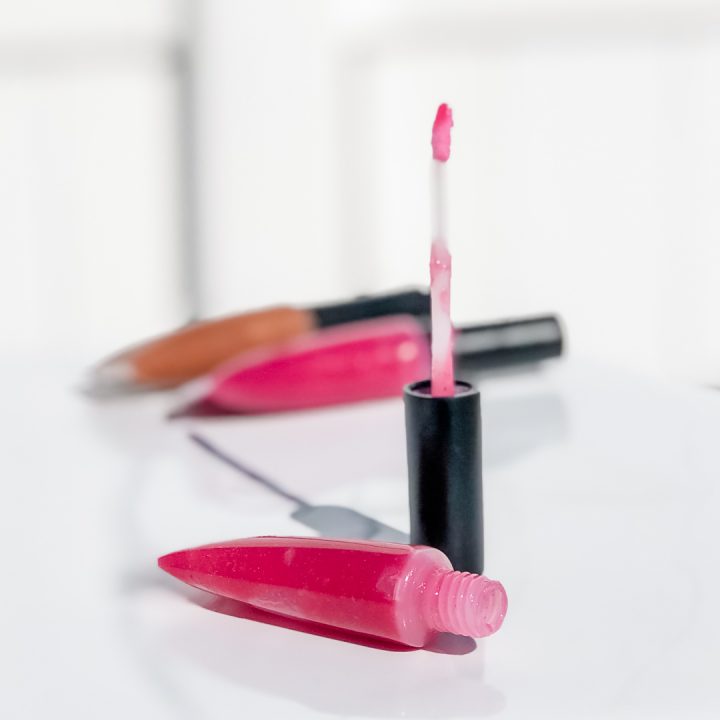 DIY Lip Gloss
If you've been wanting to learn how to make lip gloss, this recipe is so simple & fun!
Instructions
Mix carrier oils & beeswax in glass beaker
Place in water bath until melted
Remove from heat and when cooled a bit, add pigments
Add to lip gloss tube quickly before lip gloss base starts to harden
Recommended Products
As an Amazon Associate and member of other affiliate programs, I earn from qualifying purchases.
DIY Lip Gloss FAQs
How do you make lip gloss at home?
You can make your very own lip gloss at home using our lip gloss recipe! You'll need the ingredients listed above as well as a few materials that you probably already have at home!
What oils do you use for lip gloss?
For our lip gloss recipe you'll need baobab oil, castor oil, meadowfoam oil, and coconut oil. All of these oils are hydrating and can protect lips from damage!
What ingredients should not be in lip gloss?
There are a lot of ingredients that we like to steer clear of when we're looking at skincare products and cosmetics! Here are a few that we wouldn't like to see in any of our lip care products and that you won't find in our recipe!
Parabens
Petroleum
Fragrance
What makes lip gloss so shiny?
In many lip gloss products the use of castor oil gives it that glossy, shiny look and our lip goss recipe is no exception! The castor oil in our recipe not only hydrates and plumps, but it also gives your lips and natural shine!
What gives lip gloss its color?
The color in many store bought lip glosses can be toxic or bad for skin. In our lip gloss recipe, you'll be using mica powder and beetroot powder to customize the color of your gloss!
Is lip gloss good for lips?
Some lip glosses can be drying and actually contribute to lips that are dry and prone to peeling. Our DIY lip gloss is hydrating and plumping. It contains oils that help to soothe skin and keep your lips from becoming dry and chapped. If you're prone to dry or chapped lips you can apply lip balm before your gloss!
If you've enjoyed learning all about how to make lip gloss, be sure to share and pin this post!
Share and Pin This DIY Lip Gloss Recipe For Later!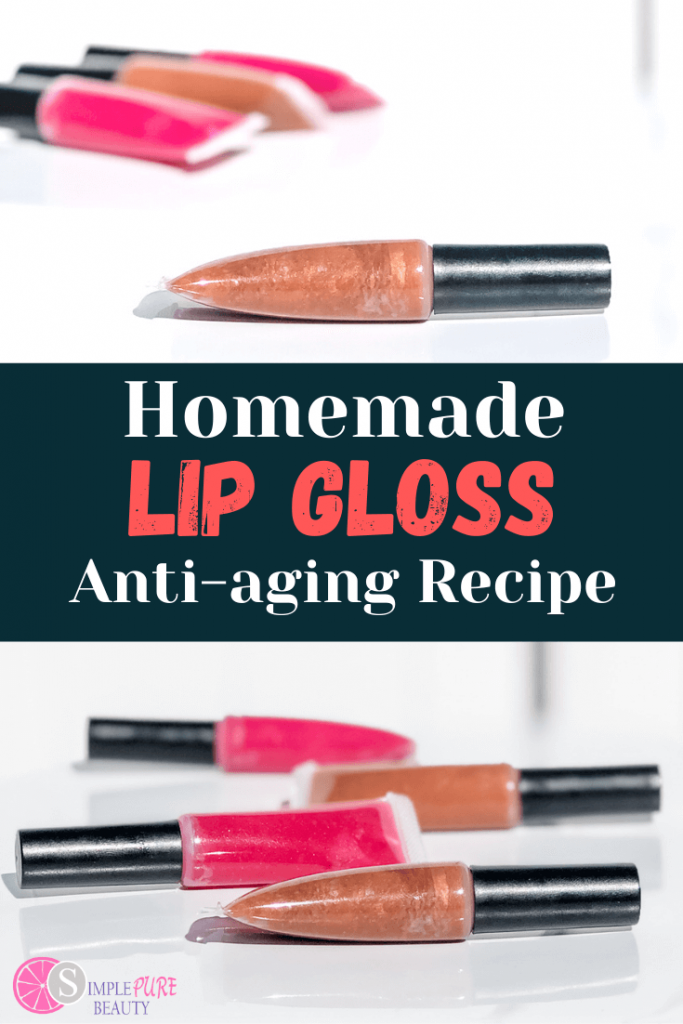 You may also enjoy these Posts: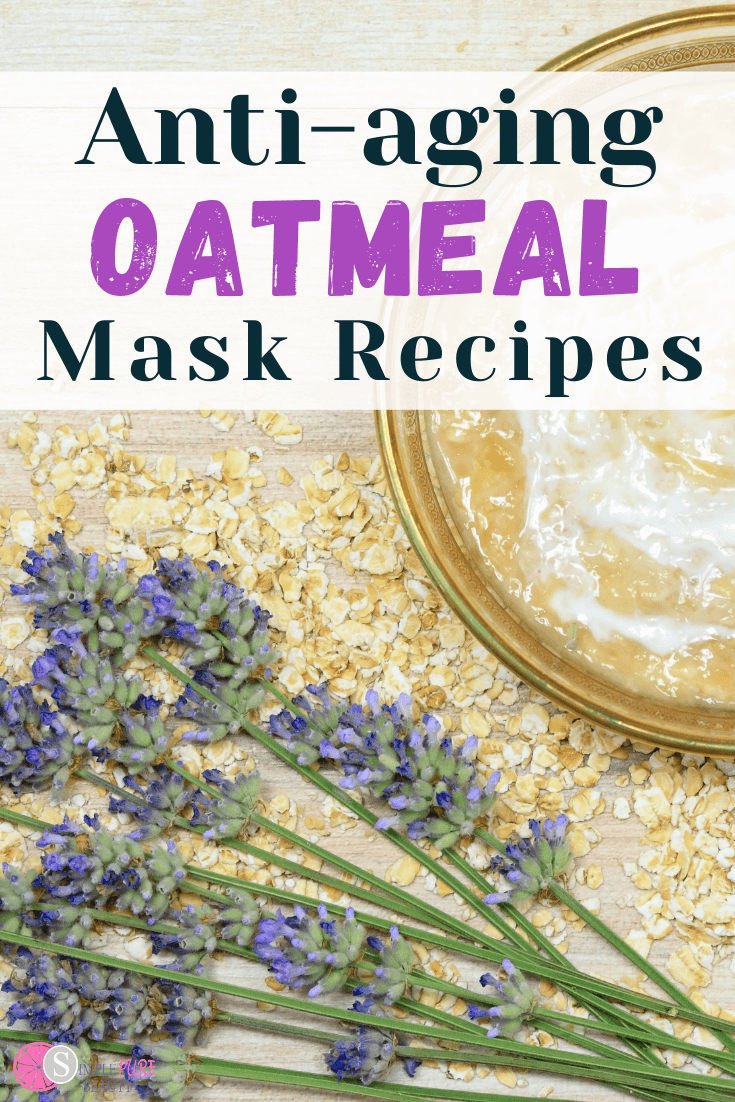 Oatmeal. Is there anything it can't do? It can be eaten as a cereal, in breads, cookies, cakes and even fills in as glue for children's projects in a pinch. Given that great news, when is the last time (since you were in a high chair), you put oatmeal on your face? Well it might be time to try it again. Why am I asking you to smear your face with oatmeal? Because, it's good for you!