Looking for a great way to relax and take away a bit of stress? This pink Himalayan salt bath recipe is just what you need.
I'm always in love with the idea of taking a nice, warm, relaxing bath. Who isn't, right?
After a long stressful day, it's like the tub is calling my name.
Pair that up with some calming music and low lighting and there's a possibility that I won't be coming out for quite a few hours.
But what I love most is that I can make this recipe 100% on my own. To me, there isn't anything truly more relaxing than that.
I love knowing that I'm taking care of my body mentally and physically, and this salt bath recipe does just that.
Keep it for yourself and or consider making it and gifting it to others…the choice is up to you!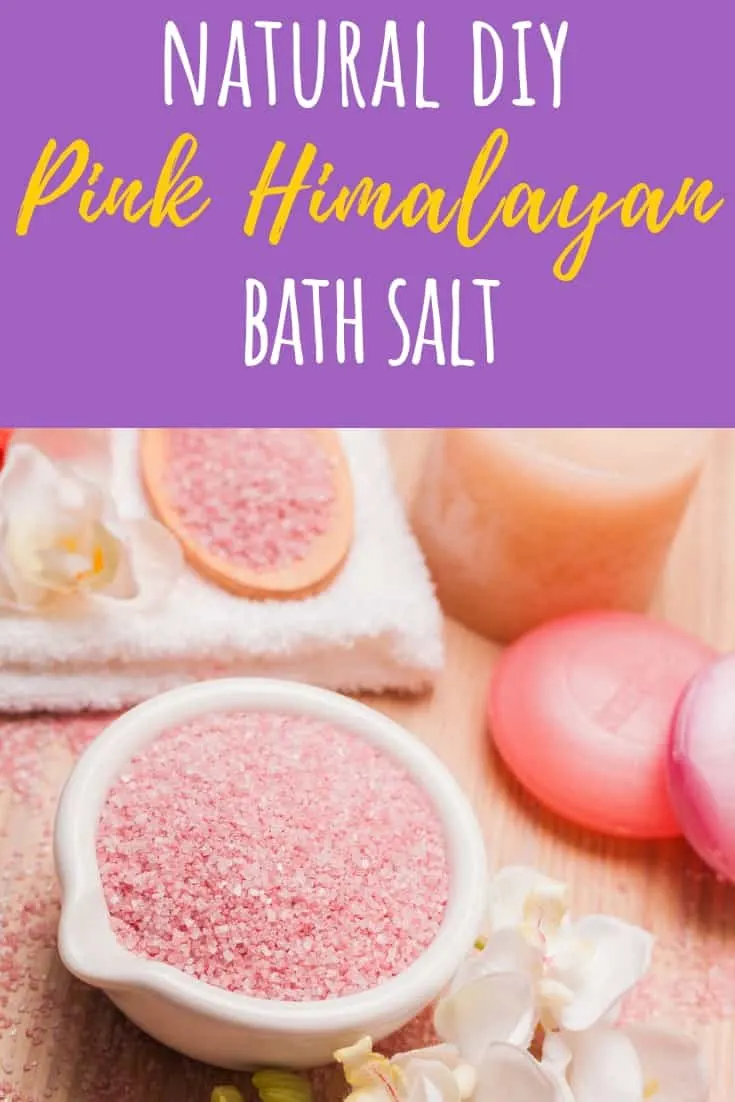 What is a bath soak?
A bath soak is simply an ingredient or combination of ingredients that you add in while running the warm water. It makes a relaxing time in the tub even more enjoyable and beneficial by providing a skin, muscle, and stress soother.
There are many different bath soaks you can use to create a more luxurious experience and to treat a variety of skin or muscle soreness issues.
Bath soak benefits
Bath soaks can provide numerous benefits for both your body and mind. Salts, in particular, are ideal for soaking.
They can relieve a range of skin issues, like eczema, dry skin, athlete's foot, and psoriasis, just to name a few. Itchy skin due to bug bites, cold weather, and even poison ivy can be soothed with a bath soak.
As if simply taking a warm bath isn't calming enough, a soak can actually help heal a sore body.
Another benefit is how well it can aid in the calming and soothing of sore or tense muscles. It's a great way to reduce inflammation and relax stiff joints.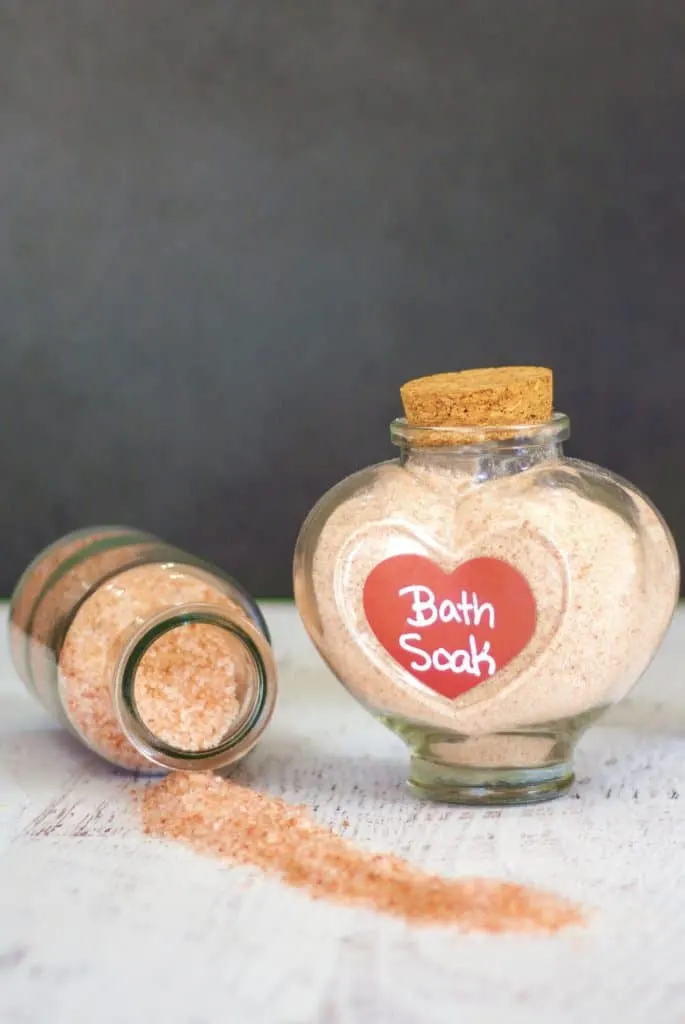 There are so many Pink Himalayan salt benefits that you can take advantage of when using it as a bath soak. It acts as a detoxifier, helping to draw out impurities.
It leaves your skin feeling soft, smooth, and revived. If you're suffering from a common skin condition like acne, psoriasis, or eczema, the affected area will feel soothed and the irritation and itching will be reduced.
Dead Sea salt is rich in minerals, especially magnesium, making it a powerful anti-inflammatory.
This is ideal for a soak if you're suffering from sore muscles. It works as an excellent exfoliator, helping to remove dead cells that leave your skin looking dull.
How much bath salt to use
When it comes to bath soaks, just a little can go a long way in the warm water. Adding a cup of the salt of your choice along with drops of essential oils is enough to create a soothing soak that you can luxuriate in.
If you make a large batch of bath soak to give out as gifts, you can include a small scoop with each jar. Then the recipient can add as much to their bath as they like.
How to make Pink Himalayan Bath Salt
If you're wondering what to add to a bath, we've got a simple solution that you'll love. Our DIY bath salt recipes make it easy for you to unwind while giving your skin the spa treatment right at home.
You can also give it as a homemade gift for any occasion. It's simple, incredibly affordable, and so beneficial for your well-being.
Creating your own Pink Himalayan salt bath only requires only a few basic ingredients.
Ready to do this?!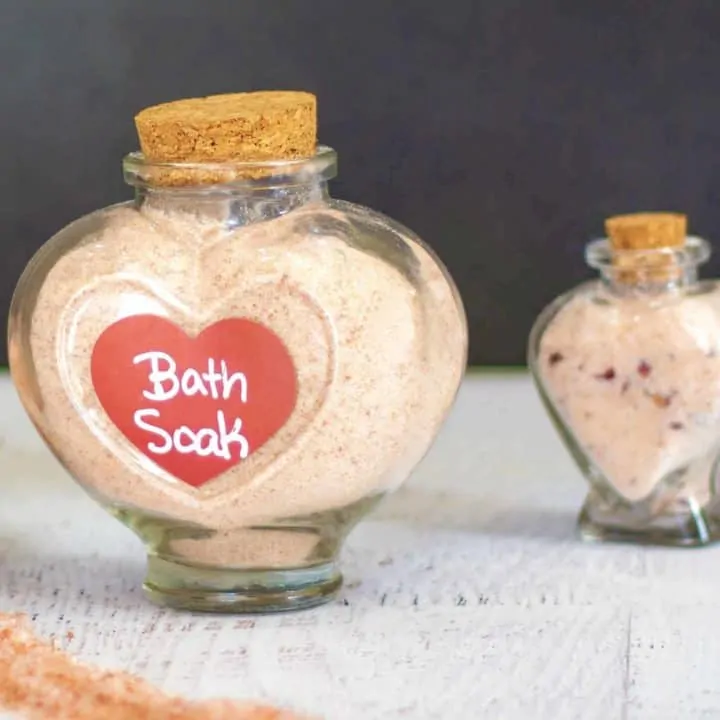 Pink Himalayan Bath Soak Recipe
Materials
1 tbs Baking Soda
20 drops Roman Chamomile EO
10 drops Frankincense EO
20 drops Bergamot Essential Oil
10 drops Patchouli Essential Oil
15 drops Lavender Essential Oil
Instructions
In a large bowl, mix together Himalayan Salt and Dead Sea Salt until fully combined.
Add essential oils and mix until thoroughly combined.
If adding flower petals or milk powder, do so now and mix thoroughly.
Sprinkle salt with Baking soda and mix in.
Bottle or jar salts. I got the heart shaped jars at Hobby Lobby.
Recommended Products
As an Amazon Associate and member of other affiliate programs, I earn from qualifying purchases.
Ready for some more relaxing recipes?
If you liked this relaxing bath recipe but want something more simple, then try out this relaxing foot soak recipe! It's perfect for winding down after the end of a long day and you don't have to fill the entire tub!
And what goes better with a relaxing bath than clean and smooth skin? Try out this green apple gel scrub or this coconut lime whipped sugar scrub and hop out of your bath with clean, fresh skin!