Sugar scrubs are seriously a wonderful treat for your skin, and they are so fun to make! A sugar scrub with a whipped consistency will exfoliate your skin, leaving it soft and smooth, making you feel like you just left the spa!

This new recipe helps refresh and rejuvenate your skin while gently washing away dirt and debris.
What is an emulsified sugar scrub?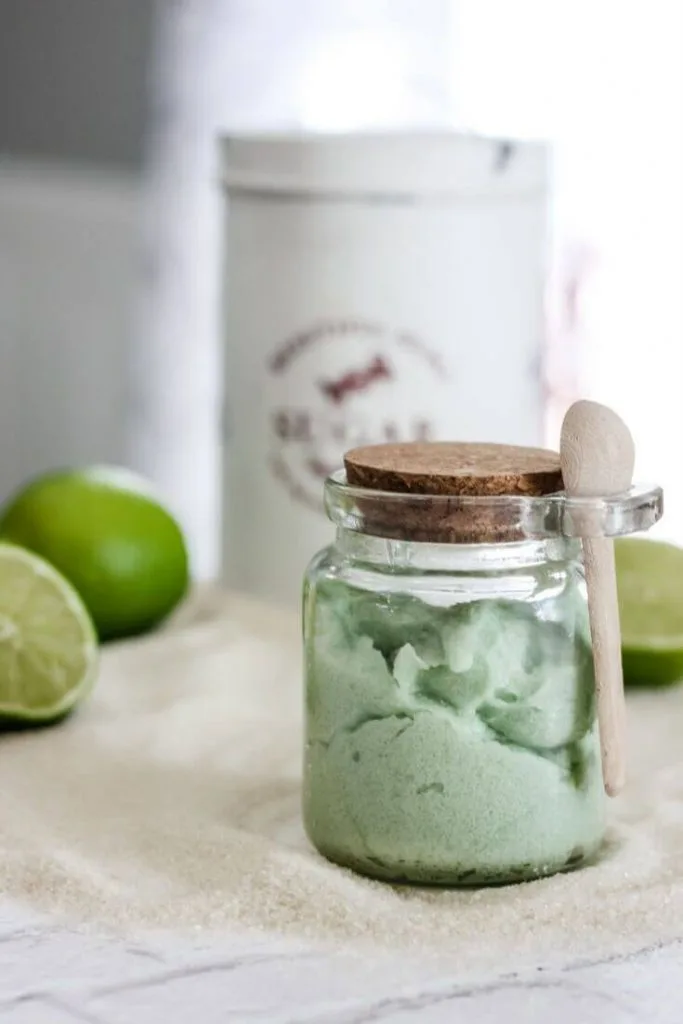 An emulsified sugar scrub has an emulsifier added to it that gives it a luxurious texture.
Emulsifying scrubs are some of my favorite scrubs to use because when they mix with water, it creates a light, creamy lotion-like product that glides onto skin.
It makes for a unique application and delivers an extra moisture boost to your skin while you scrub.
Emulsifying your sugar scrub also makes it gentler on skin which is great for those of us who suffer from sensitive skin.
What is the difference between sugar scrub and emulsified sugar scrub?
Your typical sugar scrub has an abrasive texture throughout the entire scrub process, including after it gets wet.
It retains a grainy feel that tends to be rougher on skin and provides a more abrasive scrub. This can be harsh on skin that is already damaged, dry, or easily irritated.
An emulsifying scrub contains a gentle emulsifier. When an emulsified sugar scrub comes into contact with water, the texture completely changes.
What is a whipped sugar scrub?
A whipped sugar scrub is very similar to a regular scrub, but it has a light whipped base. This keeps the texture of the scrub fluffy and light.
For this scrub, we will be using an emulsifier to make this scrub irresistibly soft and smooth. It creates a luxurious feel that leaves your skin satiny and soft!
Are sugar scrubs good for your skin?
Sugar scrubs are a wonderful way to exfoliate your skin, cleaning it of dirt, debris, and dead skin cells.
Giving your skin a deep clean with a high-quality sugar scrub will help reduce irritation and inflammation, and help clear acne-prone skin.
This scrub recipe will also help moisturize your skin while nourishing it.
How do you make an emulsified sugar scrub?
Making this sugar scrub isn't as complicated as you might think! You'll need a double boiler and an immersion blender.
You'll create two different mixtures; one will be your emulsifying agent, carrier oil, and cetearyl alcohol.
The other will be a thickener and vegetable glycerine.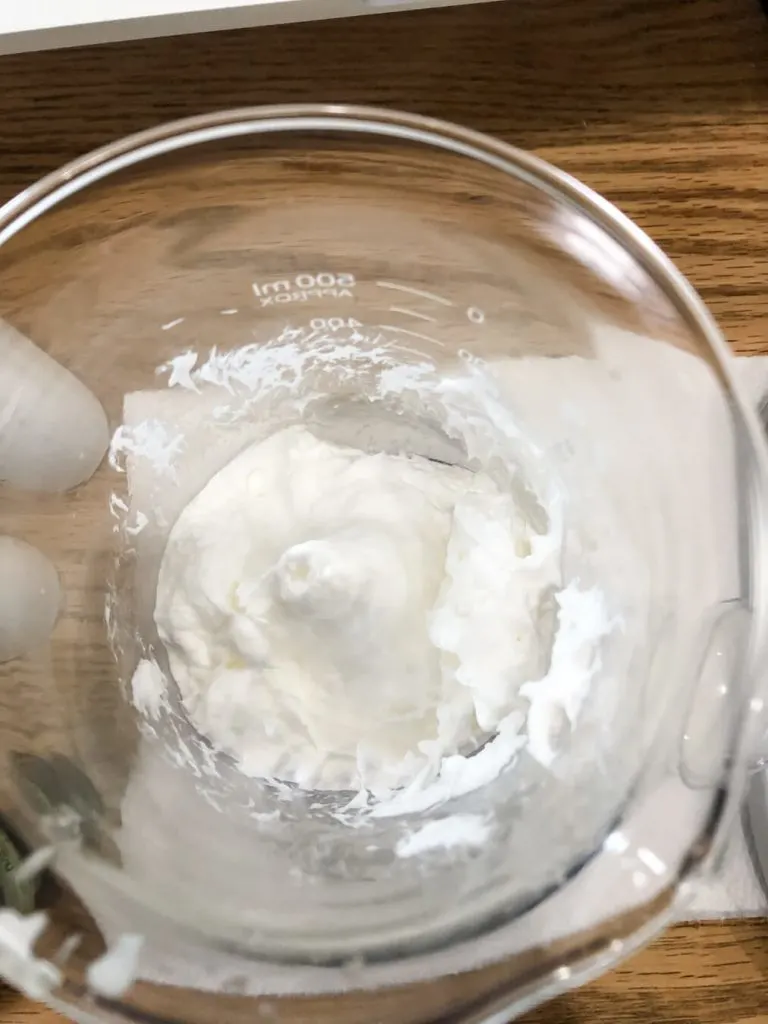 Then you will combine water and castile soap. Once they are combined, you'll incorporate your gum mixture and blend with your immersion blender. Once blended, you will add in the emulsion mixture and blend that.
After everything is well blended, you add your essential oils, fragrance oil, and your natural preservative.
Once that is mixed in, you will add your sugar and divide it into the containers of your choice.
Congratulations, that's all there is to making your own emulsified sugar scrub!
What consistency should your sugar scrub be?
This sugar scrub has a more sticky consistency. I love to use this in the shower because it's not as messy as conventional sugar scrubs.
When you scoop your scrub out of its container, it should come out as a soft and a little sticky.
Which oil is best for sugar scrubs?
For this recipe, I am choosing to use sweet almond oil because it helps moisturize and protect skin. You can choose another carrier oil; when making scrubs, we recommend cold-pressed oils.
We also recommend oils that help hydrate and heal your skin without clogging pores.
If you don't want to use sweet almond oil, you could swap it out for any of these other oils: coconut oil, grapeseed oil, jojoba oil, or avocado oil.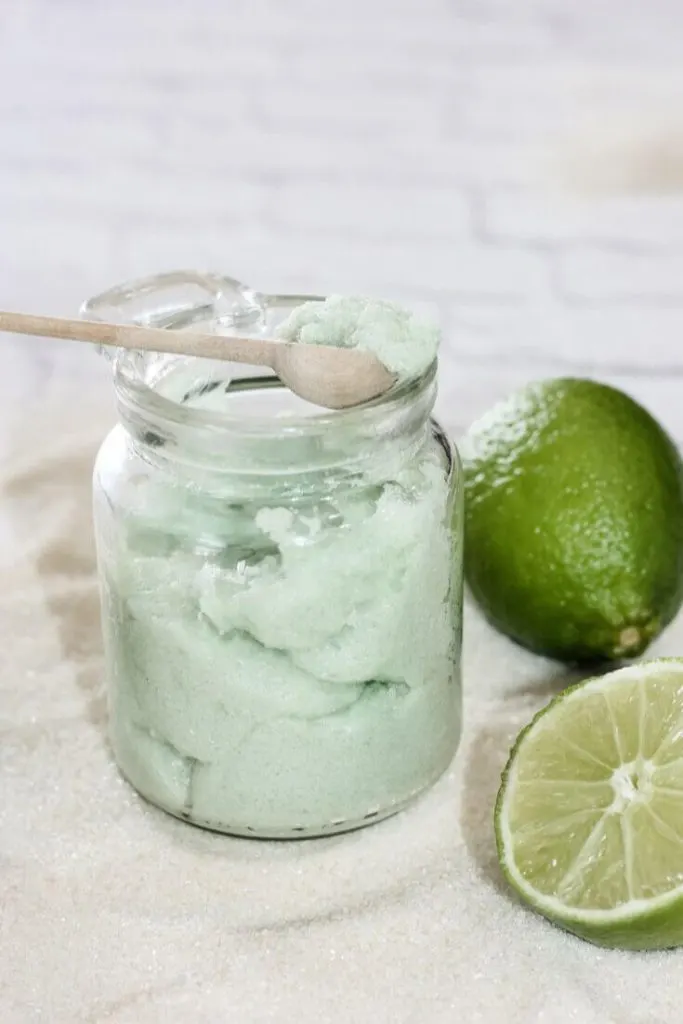 Whipped Sugar Scrub Ingredients
Your new favorite sugar scrub is full of natural ingredients that will contribute to smoother, softer skin.
Let's dive into the ingredients in this homemade sugar scrub!
You can't have a sugar scrub without sugar! For this scrub I recommend organic sugar.
Distilled Water
We like to use distilled water in our recipes to reduce instances of spoilage. Distilled water is also free from excess minerals and contamination.
Glycerin is a great ingredient to help pull moisture from the environment to your skin and lock it in. This keeps your skin hydrated and smooth no matter what it is exposed to!
Sweet almond oil is a wonderful carrier oil to use in this recipe, but you can substitute it for any oil that you prefer!
I chose sweet almond oil due to its emollient properties that help moisturize the skin. It also helps even out skin's texture and tone, which is exactly what we want from a high-quality scrub!
Castile soap is one of the best soaps to use if you have sensitive skin. It gently cleanses and is free of toxins that can be found in other soaps.
It is easy on skin and can be used on sensitive or easily irritated skin. This soap also lightly hydrates skin, smoothes, and soothes your skin as it cleanses. It is the perfect soap to use in this recipe.
This is going to act as our emulsifying agent that is going to give our scrub the creamy texture we're looking for. It's extremely moisturizing, and when it mixes with water it will turn our scrub into the soft mixture we want.
This ingredient is a great emollient that helps moisturize and soothe dry skin. It helps soften skin and thickens formulations.
Xanthan acts as a thickener and helps stabilize emulsions.
Geogard ECT is a natural broad-spectrum preservative for your products to keep them shelf-stable for longer.
Lime Essential Oil
Lime essential oil is a great essential oil that helps remove excess oil from skin. It also gives this recipe a light, citrusy scent.
Natural Coconut Fragrance
I love the refreshing smell of coconut; this natural fragrance will give your natural scrub a relaxing fragrance!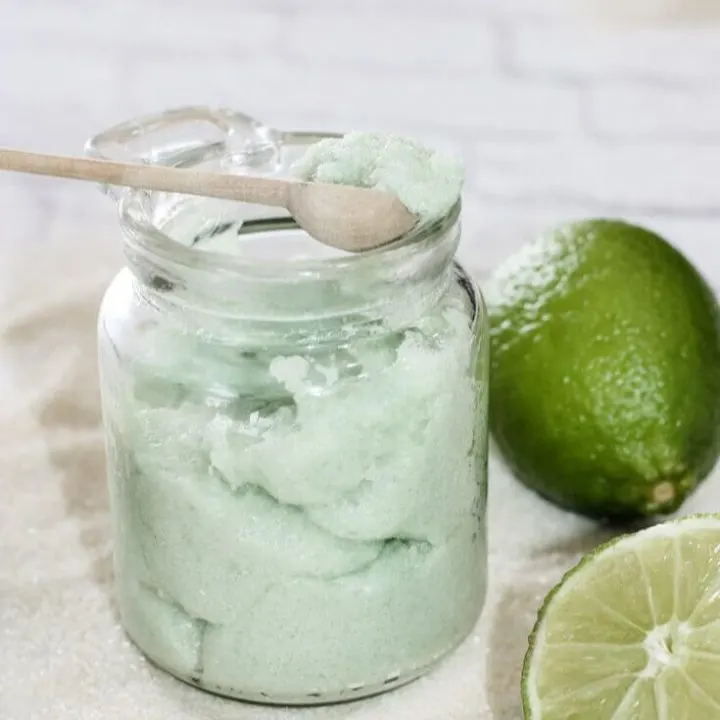 Whipped Coconut Lime Sugar Scrub Recipe
Light, whipped coconut lime sugar scrub.
Recommended Products
As an Amazon Associate and member of other affiliate programs, I earn from qualifying purchases.
Whipped Sugar Scrub FAQ's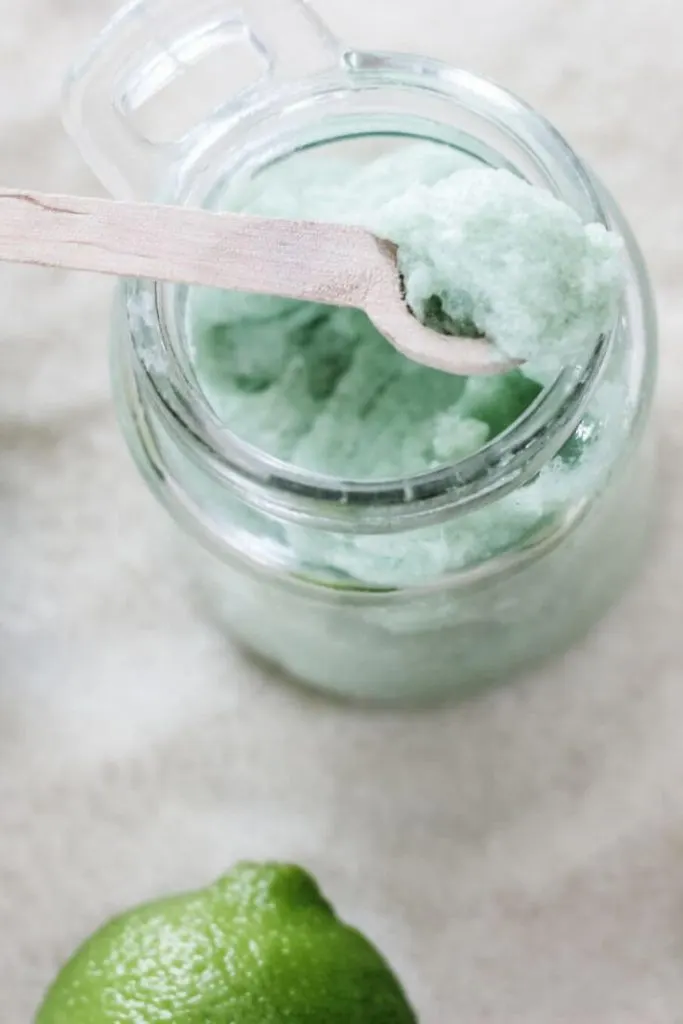 Have a few questions before you dive into making your own scrub? Let's see if we can answer some of them for you!
How do you preserve your sugar scrub?
We love natural products, and we don't compromise shelf-life just to avoid artificial preservatives. For this sugar scrub, we are using Geogard ECT, a natural preservative, to keep our sugar scrub free from bacterial growth.
What does emulsifying wax do in a scrub?
Emulsifying wax in a scrub will give your scrub an irresistible texture. When your scrub comes into contact with water, it will turn into a creamy, lotion-like product that you can smooth over skin!
How long do homemade sugar scrubs last?
If you store your sugar scrub properly, it should be shelf-stable for six months.
How long should you leave sugar scrub on?
When you are applying your body scrub, you should wash your skin with warm water for a few minutes to soften skin which will help the exfoliation process. Once you scrub your skin, you can let it sit on skin for a few minutes before rinsing. Do not allow the sugar scrub to dry on your skin.
Do you use sugar scrub on wet or dry skin?
You should apply a small amount of scrub onto wet skin. This will help soften skin to prepare it for exfoliation; using a scrub on dry skin can cause additional dryness and irritation.
How often should you use a sugar scrub?
How often you use your sugar scrub depends on your skin type and the type of sugar you use; if you have normal or oily skin and use a gentle sugar like brown sugar, then you can use your scrub several times a week. If you have sensitive skin, then we recommend using a scrub 1-3 times per week.
If your skin is looking for a refresh or you're in the market for a new body scrub, then check out this whipped coconut lime sugar scrub to gently exfoliate and moisturize your skin!
This recipe is simple to make, and it is sensitive-skin friendly; try it out today!
Pin this post for later!