Whether you are looking for something on the sentimental side, or your kids want to make their very own gifts, handmade gifts are always a special gift and thought to give during the holiday season.
Homemade gifts can save you a lot of money, and they will be more sentimental than a store-bought gift!
If you are looking to save a little money, and still give a fantastic gift this Christmas, consider making your gifts! They don't have to take a lot of time, and they will be just as good as something from the store.
Plus, whoever receives your homemade gifts will treasure them that much more. Homemade gifts are a great way to take something special and make it into something that they'll cherish forever and ever.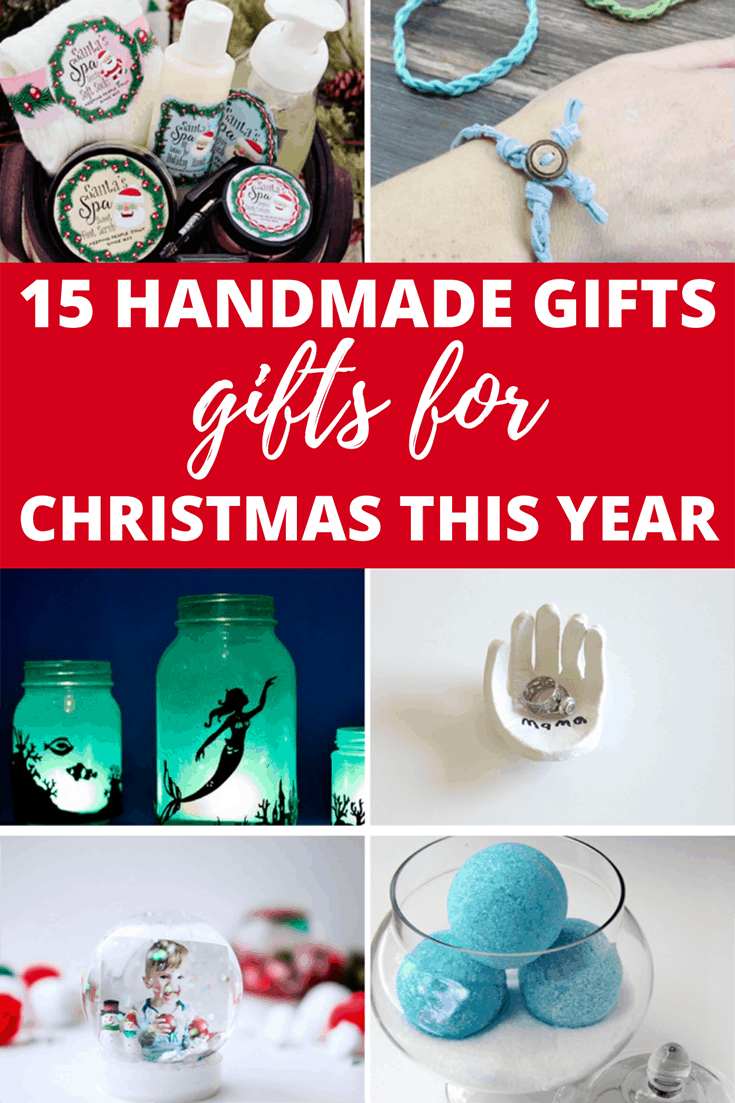 Here are 15 handmade gift ideas to get you started. Each of these is unique and wonderful in their own way.
Looking for more gift ideas, check these out:
12 Days of Homemade Christmas Gift Ideas + Recipes!!
20 Fabulous Last Minute Christmas Gifts! Get them in the nick of time…
20 DIY Christmas Gifts for Men
In this list, you'll see some simple handmade gifts and some that are a little bit more unique. Each one is a perfect homemade gift that any of your family and friends would be lucky to receive.
15 Handmade Gifts for Christmas
You're going to love these great options for handmade gifts for Christmas.
Photo Credit: fabulesslyfrugal.com
This necklace is simple and easy to make and is a DIY gift that your family or friends can wear lovingly every single day.
Photo Credit: www.redtedart.com
If you have a mermaid fan that you need to get a gift for, don't overlook this fun and creative gift. These Mermaid Lanterns are so much fun!
What I love about this homemade gift is that bookmarks are always needed. I can't tell you how many times I've had to use a receipt or something in my purse because I didn't have a bookmark handy.
Photo Credit: buggyandbuddy.com
Homemade ornaments make for a wonderful gift and something that your loved ones can add to their tree every single year.
Photo Credit: nontoygifts.com
Everyone needs a holiday plate to set out their Santa cookies on, right?
Photo Credit: www.fleecefun.com
A day at the spa in the comfort of their own home is one DIY gift that keeps on giving.
Photo Credit: nontoygifts.com
Everyone loves homemade cupcakes so this cupcakes kit just makes sense.
Photo Credit: modpodgerocksblog.com
Displaying photos is a simple gift idea that so many people love to showcase in their homes.
Photo Credit: www.redtedart.com
This simple homemade gift is a great one for the kids! (and one that they can actually probably make on their own as well!)
Photo Credit: bitzngiggles.com
The smell of peppermint is amazing and these bath bombs are such a simple gift idea.
Photo Credit: www.thecrafttrain.com
Do you know someone who loves their pets? This pet pillow is perfect!
Photo Credit: www.thebestideasforkids.com
Snow globes are not only beautiful to look at but they're really fun to create as well.
Photo Credit: mamapapabubba.com
If you know someone who is constantly losing their rings, why not create them something like this so they don't have to misplace it anymore?
Photo Credit: thesoccermomblog.com
Smelling essential oils all day long can be comforting to many. This oil bracelet is a super simple gift idea that can be helpful as well.
Photo Credit: spaceshipsandlaserbeams.com
Talk about a great present for the kids to make! And this is one gift that can be used every single day.
Making your own handmade gifts for Christmas isn't really that hard at all but it does take a little bit of time. Pick your favorites from this list and get creative with your time.
You just might find out that this is the year to give everyone in your life handmade gifts for Christmas!
Be sure to Pin this post for later: