Mango Butter benefits for skin are extensive. Mango butter is similar to shea and cocoa butter. It is packed with fatty acids that make it a great ingredient to add to your skincare routine.
It has a light scent and is harder than other butters which makes it an ideal ingredient in making more solid formulations.
It also has a nice white color and texture which makes it great for use in products where you desire a more neutral or natural coloration.
Mango Butter has a variety of uses in skincare including in moisturizers, foundations, and anti-aging products.
Mango Butter also has a pretty long shelf life, upwards of two years; this makes it ideal for people who don't use a lot of product or in products that don't require frequent use.
Keep Reading to Learn all about Mango Butter and how to use it in your skincare routine.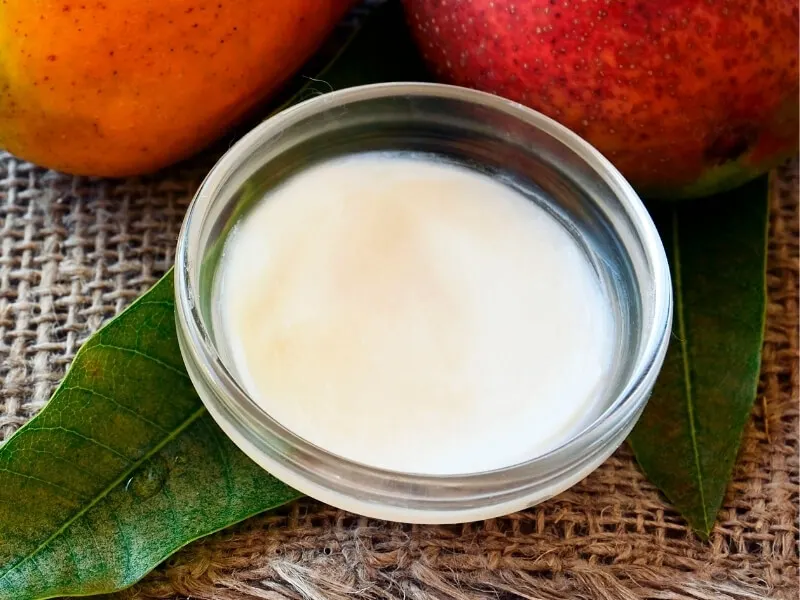 Mango Butter for Skin Quick Facts
Mango Butter Scientific Name:
The scientific name for Mango Butter is Mangifera Indica.
Mango Butter Comedogenic Rating:
Mango Butter has a comedogenic rating of 2. This means that it is not likely to clog pores or cause recurring acne.
Mango Butter Extraction Method:
Mango Butter is extracted from cold-pressing mango fruit seeds that have had their shells removed. The high pressure and friction releases the oils from the seeds and is collected at the bottom of the pressing barrel.
Mango Butter INCI Name:
Mangifera Indica (Mango) Seed Oil
Mango Butter COSING Number:
90063-86-8
Mango Butter Skincare Recommendations:
Mango Butter is an excellent choice for anybody who is looking for incredible hydration that doesn't cause a lot of heavy residues. It is also recommended for those who are looking for some help with fine lines and wrinkles. It is able to be used on all skin types including dry, combination, acne-prone, or sensitive skin!
Mango Butter Absorption Rating:
Mango Butter has astringent properties which give it a light and fast absorbency.
Mango Butter Melting Point:
The melting point of Mango Butter is 40°C (104°F).
Mango Butter Composition: Fatty Acids
| | |
| --- | --- |
| Palmitic Acid (C16:0) | 5-8.0% |
| Stearic Acid (C18:0) | 40-50.0% |
| Oleic Acid (C18:1, ⍵-9) | 40-50.0% |
| Linoleic Acid (C18:2 ⍵-6) | 2-4.0% |
| Arachidic Acid (C20:0) | 1-4.0% |
*Fatty acid breakdown is shared from
Modern Cosmetics Volume 1
.
What is Mango Butter?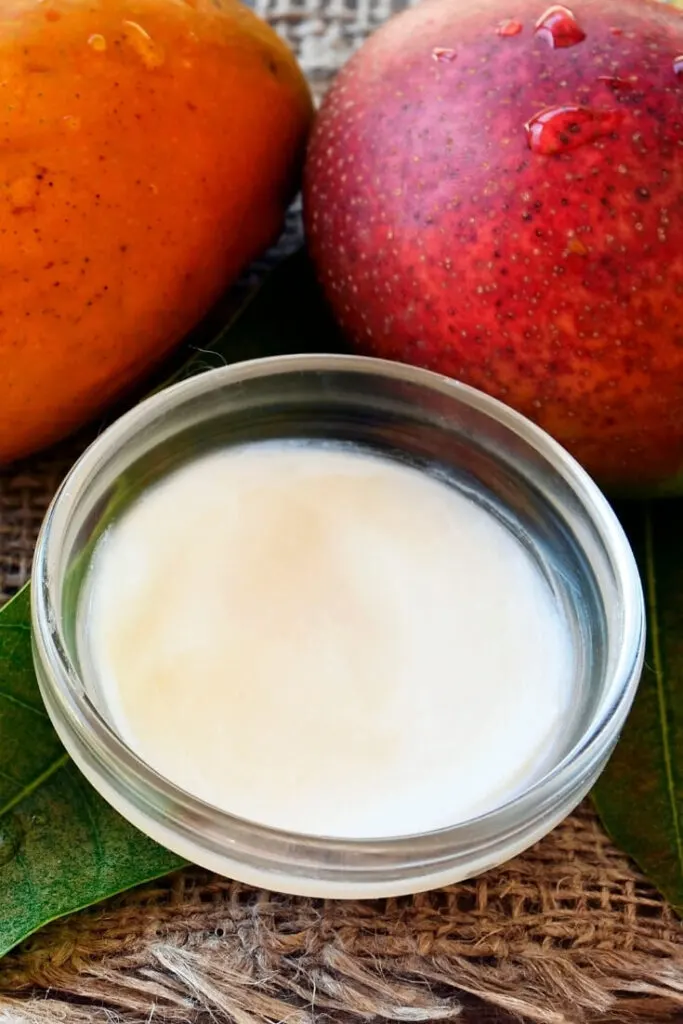 Mango Butter is a fat that is extracted from Mango seeds. It is harder than other butters which makes it great for more solid creams.
Mango Butter is rich and nourishing and can help people with a variety of skin types. It has anti-inflammatory properties that makes it great for people who are suffering from irritated or acne-prone skin.
Mango Butter Benefits for Skin
Mango Butter has many benefits in skincare. It is an emollient so it helps draw moisture to the skin and keep it there.
It keeps skin hydrated while not leaving it feeling heavy or greasy. It has astringent properties which means that it can help even and tone skin while helping minimize the appearance of pores.
Another super-power Mango Butter packs is that it is anti-aging, it can help to reduce puffiness and the appearance of fine lines and wrinkles.
Popular Mango Butter Uses for Skin
Mango Butter has many uses in skincare including in moisturizers, creams, foundations, and anti-aging.
Since it is an emollient it makes a great ingredient in a multitude of moisturizers such as light lotions, body butter, night creams, and eye creams.
It's anti-aging properties also make it great for moisturizers that focus on decreasing puffiness and wrinkles.
It can reduce the appearance of dark spots and boost skin's natural radiance helping you look and feel more youthful!
Mango Butter can be used to help boost skin and keep it looking fresh all day long which makes it a great daytime moisturizer, because of its more solid texture and lightness you can also use it in DIY foundations!
Mango Butter can also help to heal skin and repair damage. It can be used on dry and chapped skin to help heal it. It can also help to reduce scarring and stretch marks.
Warnings/Contraindications for Mango Butter
As with all skin products, try a patch test on another area of skin before applying it to your face. Apply a dime-sized amount and see how the skin reacts over 48 hours. There are no contraindications with the topical use of mango butter outside of possible allergic reactions
Mango Butter Substitutions
If you're looking to make a recipe but aren't quite drawn to Mango Butter, you can try substituting another butter! Shea Butter is a great choice for subbing for Mango Butter, it is the closest match to Mango Butter as far as the fatty acid composition.
When swapping out one butter for another, be sure to take into account the reason for the substitution. Some botanical butters such as Kokum Butter are more solid and will make for a stiffer, more solid, texture while Shea Butter is more creamy and smooth.
If you need a butter that is thicker and heavier then Cocoa Butter may be the choice for you; if you're looking for something lighter or non-comedogenic, then take a look at Kokum Butter!
When swapping one butter for another, make sure you take into account your needs and what you're making!
Where to Buy Mango Butter
Check below to buy mango butter from Amazon for your skincare recipes!
Photo Credit: mountainroseherbs.com
Mountain Rose Herbs is committed to putting people, plants, and planet before profit with everything they do. They are committed to sustainability, and a certified Zero Waste company. They currently only offer shipping to the United States & Canada.
Photo Credit: soapmakers-store.com
Based in the United Kingdom, Soapmakers Store is a family owned business specialising in the sourcing and supply of premium quality ingredients to the Cosmetic, Toiletry, Aromatherapy, and Soapmaking Industries. With over 40 years experience in the Natural Ingredients Industry, they will endeavour to be your 'one stop shop' for quality raw material supplies. They do offer shipping outside of Europe, but there will be additional charges.
Photo Credit: www.newdirectionsaromatics.com
New Directions Aromatics is a Canadian based company offering a wide variety of skincare and formulating supplies. They also offer a variety of Organic, Fair Trade & Ecocert Ingredients. They ship mainly to Canada & the US, but do offer International Shipping as well.
Photo Credit: lotioncrafter.com
Now that you know all about Mango Butter Benefits for Skincare, you're probably ready to make some recipes.
Check out the skincare recipes below that all include Mango Butter as an ingredient!
Mango Butter Skincare Recipes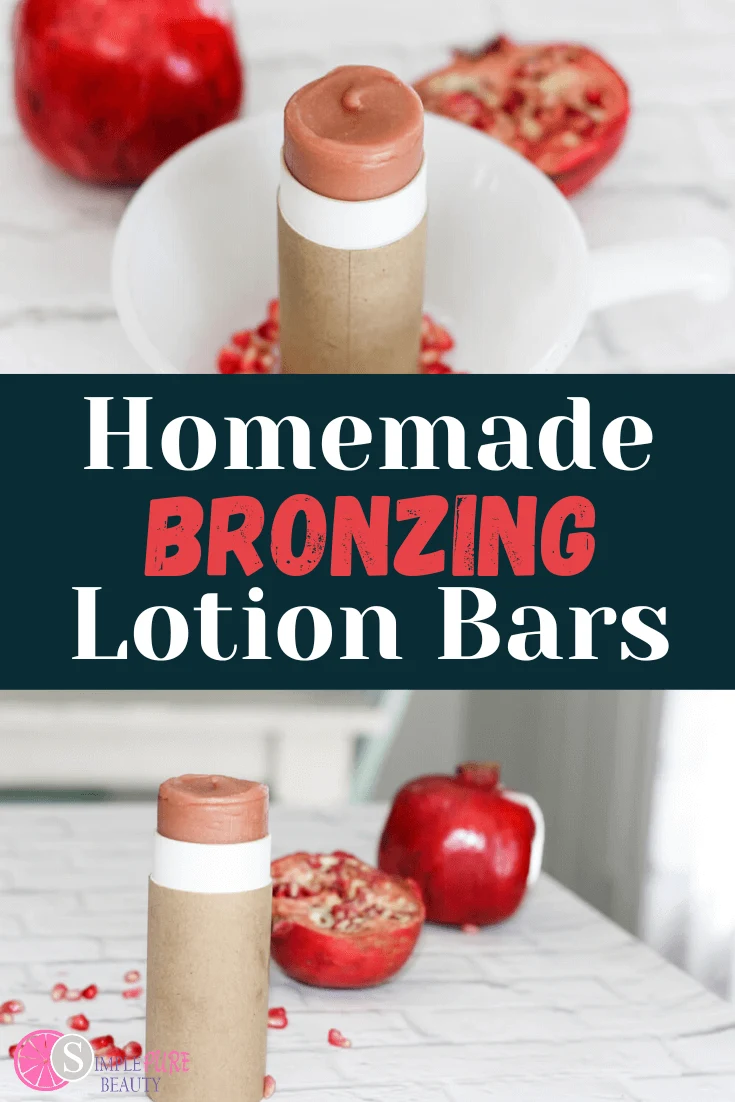 We're ending summer and starting fall, which can only mean one thing. That summer tan will be fading soon! Who doesn't love the way their …
Pin Mango Butter Benefits for Skin!
I hope you've enjoyed learning all about the benefits of Almond Oil for your Skin. Be sure to pin this post for later!