You may know this oil and recognize it from your grandma's medicine cabinet, it has been used for years to help alleviate irregular tummies; if you were one of the unlucky ones, you may have even had to take it!
What you may not know is that Castor Oil can also be used in your skincare routine to help hydrate, repair, and protect your skin!
Keep reading to learn all about the castor oil benefits for your skin!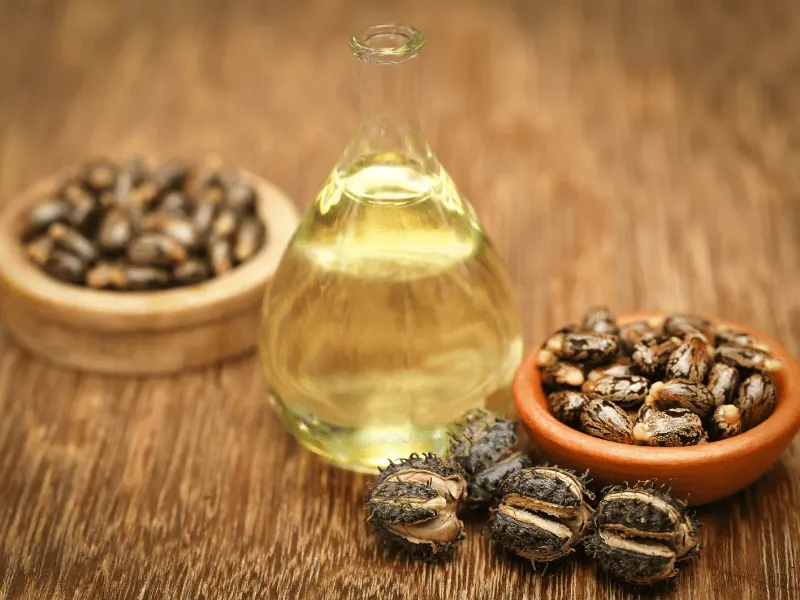 Castor Oil Quick Facts:
Castor Oil Scientific Name:
The scientific name for Castor Oil is Ricinus comminus
Castor Oil Comedogenic Rating:
Castor Oil has a comedogenic rating of 1, meaning it has a very low likelihood to clog pores
Castor Oil is Extracted from:
Castor Oil is extracted from the castor bean.
Castor Oil INCI:
Ricinus comminus (Castor) Seed Oil
Castor Oil COSING Number:
37514
Recommended for:
Castor Oil is recommended for all skin types.
Castor Oil Absorption Rating:
Castor Oil has an absorption rating of 5; it is very slow to absorb, feels heavy and leaves a protective barrier on skin.
Castor Oil Composition:
| | |
| --- | --- |
| Palmitic Acid (C16:0) | 1% |
| Stearic Acid (C18:0) | 1% |
| Oleic Acid (C18:1) | 3% |
| Ricinoleic Acid (C18:1, ⍵-9) | 89% |
| Linoleic Acid (C18:2, ⍵-6) | 4% |
| Phytosterols | 8000 mg/kg |
| Vitamin E | 700 mg/kg |
*Fatty acid breakdown is shared from
Modern Cosmetics Volume 1
.
What is Castor Oil?
Castor Oil is an oil that is extracted from castor beans This oil is very slow to absorb but is not likely to clog pores. It has a very unique fatty acid composition that makes it unlike any other vegetable oil.
Castor Oil is often used to help bring shine and strength to hair but it can also be used on skin to provide healthy, hydrating nourishment!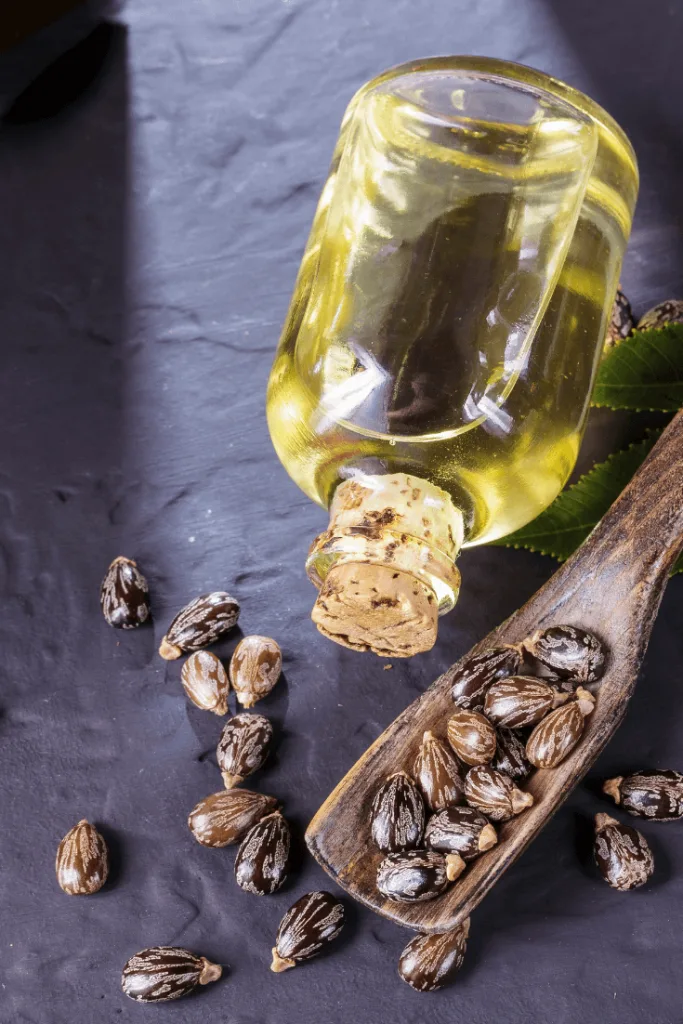 Castor Oil Benefits for Skin
Castor Oil has many benefits for skin, not only does it protect skin by forming a barrier, it can also help repair damaged skin. Castor Oil helps stimulate collagen production which helps your skin stay youthful and wards off fine lines and wrinkles.
As if helping collagen production wasn't enough, this oil can also soothe skin and works great for people who are suffering from irritating skin issues. It can be used on all skin types and is perfect for anyone who wants some relief from dry or chapped skin.
Castor Oil can also provide skin with deep hydration and nourishment while keeping skin from losing moisture. It helps fight signs of aging by keeping skin hydrated and plump.
Popular Castor Oil Uses for Skin
Castor Oil is a great carrier oil to combine with other oils such as Jojoba Oil or Coconut Oil. It can be used in a multitude of products including serums and lotions. It can be used in your DIY recipes or it can be used about once a week as a stand-alone, hydrating treatment.
Castor Oil is also often used in soap making and is an excellent oil to use in hydrating soaps.
Castor Oil Substitutes
Castor Oil is a special vegetable oil that due to its fatty acid composition does not have any substitutes that can be used directly. This means that any substitutions that you make will not have the same benefits or consistency.
Keeping that in mind we do have a couple of oils that you can use that act similarly to Castor Oil. If you want to substitute another oil for Castor Oil, you'll need to find one that is slow to absorb but doesn't have a tendency to clog pores. Here are a couple of ideas!
Black Currant Seed Oil is one of the best substitutes available for Castor Oil. It has the same comedogenic rating as Castor Oil and is also slow to absorb. It helps protect skin and forms a barrier that helps repair the lipid layer of your skin. This helps keep skin hydrated while aiding in healing damaged skin.
Another option would be Evening Primrose Oil; it is slow to absorb but has a higher likelihood of clogging pores; keep this in mind if you are thinking about using this oil in your recipes. Evening Primrose Oil is nourishing and helps heal damaged skin while keeping skin plump and youthful.
Warnings/Contraindications for Castor Oil
Castor Oil is generally regarded as safe but can cause irritation if used with oils that are irritants. It can also cause allergic reactions in some people. It is always recommended to perform a patch test prior to applying new products or ingredients to your face.
Photo Credit: mountainroseherbs.com
Mountain Rose Herbs is committed to putting people, plants, and planet before profit with everything they do. They are committed to sustainability, and a certified Zero Waste company. They currently only offer shipping to the United States & Canada.
Photo Credit: pronounceskincare.com
If you like to support small businesses, get your high quality Certified Organic Almond Oil from my friend, Jess over at Pronounce Skincare! (Ships Worldwide)
Photo Credit: lotioncrafter.com
Lotion Crafter offers a wide variety of ingredients for all of your formulating needs. They offer carriers oils, preservatives, exfoliants, anti-aging ingredients, butters and so much more. I order a lot of my supplies from Lotion Crafter. Lotion Crafter offers local & International shipping.
Photo Credit: www.fromnaturewithlove.com
From Nature With Love proudly offers an inspiring range of premium quality certified organic, conventional and complementary personal care ingredients for use within skin care, hair care, aromatherapy, massage, spa, herbalism and soap making applications. They also offer a Rewards program that pays you back 10% in rewards on every order. From Nature With Love is a US based company that does offer International Shipping.
Photo Credit: www.newdirectionsaromatics.com
New Directions Aromatics is a Canadian based company offering a wide variety of skincare and formulating supplies. They also offer a variety of Organic, Fair Trade & Ecocert Ingredients. They ship mainly to Canada & the US, but do offer International Shipping as well.
Castor Oil Skincare Recipes
Now that you've learned all the amazing benefits Castor Oil, let's learn some skincare recipes that you can try!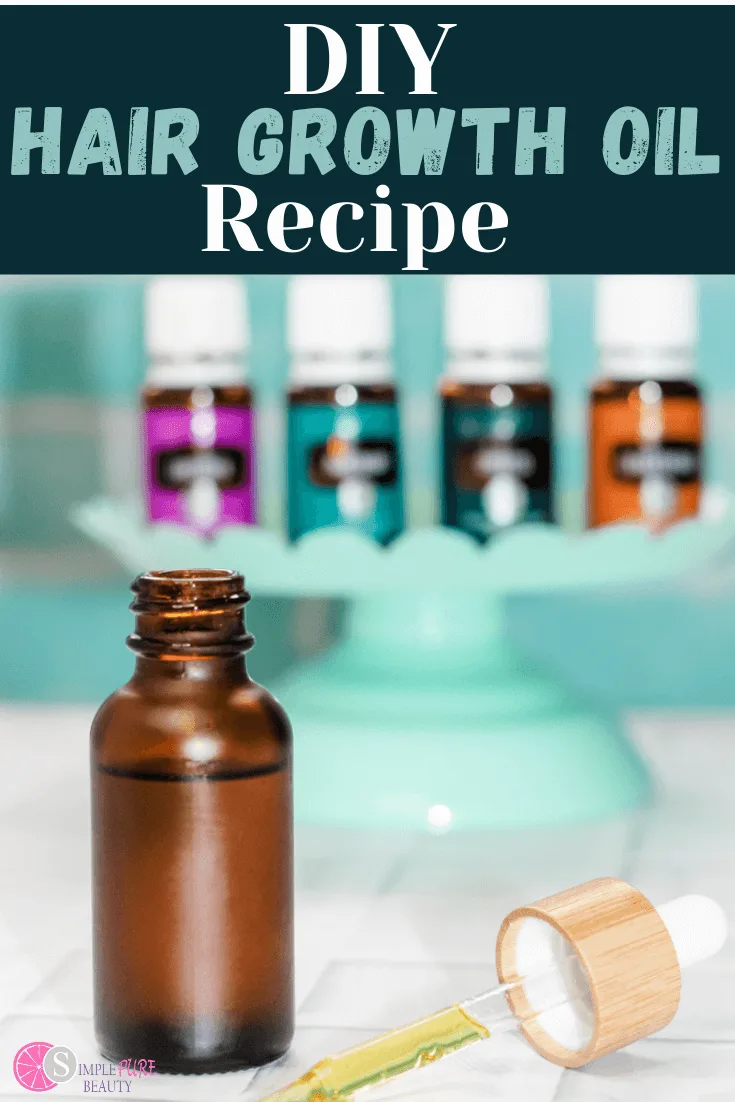 We've all wished for longer, stronger; healthier hair haven't we? There are so many reasons you may experience hair loss, but no matter where you …
Pin Castor Oil Benefits for Skin