You are so excited to make some fun homemade beauty recipes, but where do you store all of your DIY beauty products? You don't want to spend more on storing them than you did making them, right? That's why I love these cheap storage ideas for all of your homemade beauty products!
So you've taken that step and started making your own homemade beauty products, but what do you do now?
Have you been racking your brain on ways to not break the bank when it comes to simple storage solutions for all your health and beauty products?
Where do you store your creations currently?
How much money have you spent in the past on containers?
How to Find Cheap Containers for Homemade Beauty Products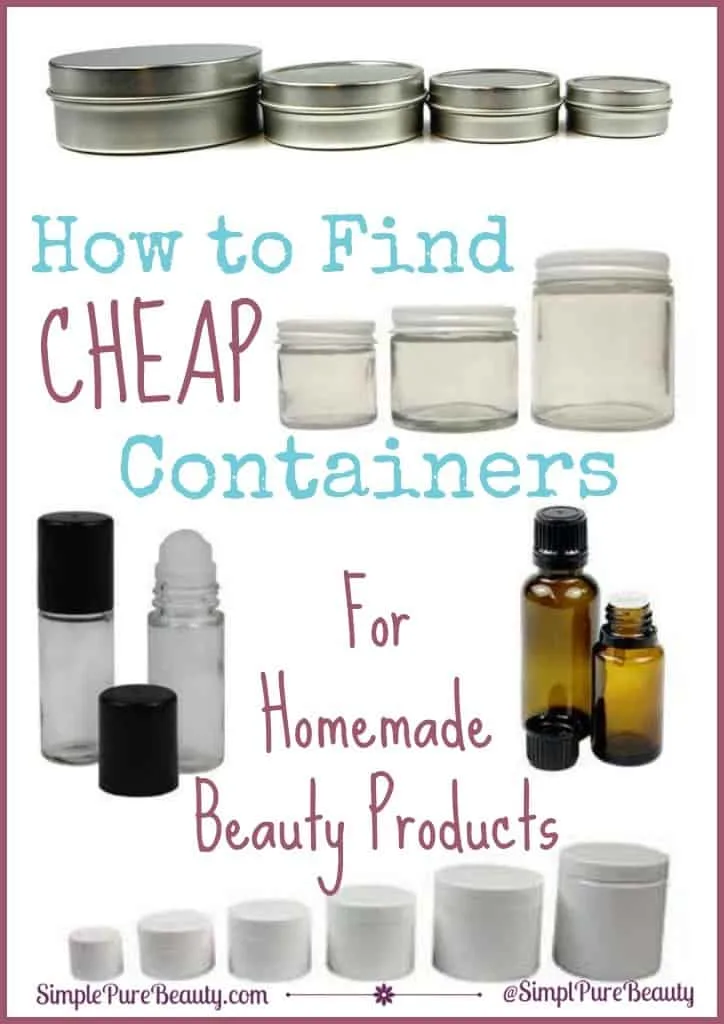 If you are working with essential oils, you want to avoid storing them in plastic containers. (These are the essential oils I use.)
You can recycle empty containers around the house or you can buy containers for your homemade beauty products. When it comes to going out and about to shop, I am not a fan of shopping with a toddler so today I am sharing where you can buy cheap containers for your homemade beauty products online.
I purchase my containers for homemade beauty products in two places:
It seems like you can find pretty much anything on Amazon, but it's just a little easier shopping on Mountain Rose Herbs because everything is in one spot, affordable and easy to find. It's the perfect place to zone in on what you are really looking for.
So, on to the fun part. All of the choices for housing your lovely homemade creations…and trust me, there are a ton to choose from!
Body Butter and Balm Containers
For your homemade body butters and balms, tins or glass balm containers are ideal. You want to make sure you store your butter in an airtight container so it will last longer.
1. Round Tins

Mountain Rose Herbs sells 1/2, 1, 2 and 4 oz tins starting at $0.65. They can also be purchased in bulk if you are creating and selling your body butter and balms. See all sizes here. You can also find round tins in all different sizes on Amazon. Prices vary and most options are for multiple tins. See here.
2. Glass Butter / Balm Containers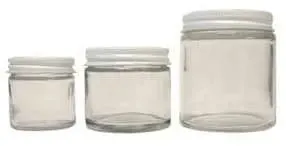 If you make your body butters and balms in larger quantities, the glass butter and balm containers may be a better option. The key is finding the right size to store all your health and beauty products! Mountain Rose Herbs sells a variety of glass jars from 1 oz up to 8 oz. Prices can vary from $1.75 to $2.50. These items can also be purchased in bulk for even more savings. See all glass containers here. You can also find glass containers on Amazon, but they seem to be a little more expensive. See here.
Essential Oil Containers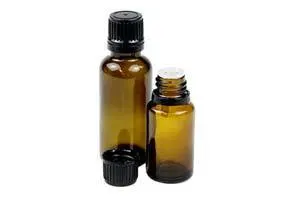 When you're working with essential oils you will need some extra containers for blending your oils, especially if you're creating essential oil perfume recipes or homemade air fresheners. I always tend to buy a few extra to keep on hand because when I start creating, I tend to make more than what I anticipated!
Where to buy Essential Oil Containers:
Mountain Rose Herbs sells a wide variety of glass bottles that are perfect for blending your essential oils. They have amber and cobalt glass bottles with droppers and reducers. Prices range from $1.25 to $3.00 depending on the size. See all essential oil containers here. Amazon has a wide variety of essential oil containers and their prices are comparable. See here.
Lip Balm Containers
Lip balms are fun and easy to create and there are also several options for storing your lip balm. Think outside the box of the typical storage containers for those lip balms!
1. Lip Balm Tubes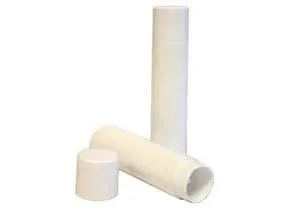 If you like the standard lip balm tube, it is pretty easy to find. Mountain Rose Herbs sells lip balm tubes starting at $0.30. I like that you can just buy a few or 50 if you need more. See more here. (You may have to scroll down the page a little to find.) Amazon sells lip balm tubes and for a bulk purchase, their prices are pretty good.
2. Plastic Lip Balm Containers

If you're looking for a standard plastic screw top lid lip balm container, they are pretty easy to find as well. Mountain Rose Herbs sells 1/4, 1/2, 1, and 2 oz lip balm containers starting at $0.75. See more here. (You may have to scroll down the page a little to find.) Amazon carries these containers as well. You can buy a 12 pack for around $8. See here.
3. Lip Balm Slide Tins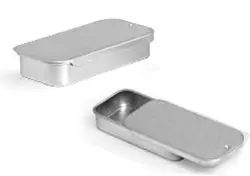 Another option is the lip balm slide tin. These are a little more handy, in my opinion, and easier to open and close than the other two options. These tins are a little harder to come by. Mountain Rose Herbs doesn't carry them, but I did find them on Amazon for $9.99 for 6 of them. They are definitely a little more expensive than the other options. See here.
Perfume Bottles
By far, the most popular post on my blog has to be 15 Tantalizing Essential Oil Perfume Recipes. So we can't forget a way to store your homemade perfume. Homemade solid perfumes can be stored in the tins and containers that I shared above. But the liquid version calls for some other options.
1. Glass Perfume Bottles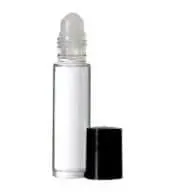 Mountain Rose Herbs carries a simple 1 oz glass roll-on bottle for $2.25. See it here. You can definitely save a lot of money by buying these in bulk from Amazon. They carry a variety of roll-on bottles of different sizes. See them here.
2. Twisted Look Perfume Bottles

If you're looking for a fancier perfume bottle, you can also find the twisted look perfume bottles on Amazon here. I just love the way it looks and it definitely gives it a much classier look!
Now that you know where to store your lovely creations, it's time to get busy. 🙂
Here are some ideas to start creating your homemade beauty products:
I absolutely love creating my own homemade beauty products. Being in the know of everything that is in my beauty products is crucial and key for me! Plus, I find it so interesting to make them and then wear them!
No matter where I am, I always get complimented on something that I've created! From essential oil perfumes to my anti-wrinkle creams, people are always curious to know the recipes for themselves!
The next time you create your own health and beauty product, make certain that you have the proper storage container handy and ready to go! Don't spend all that time creating if you don't plan on storing them effectively!