These simple essential oil perfume recipes all smell so good and are simple and easy to make! With all of these great options, you'll never have to spray chemicals on your body from those store-bought perfumes ever again!
Since I can remember, I have struggled with scents and especially perfumes. Growing up I could only use one perfume and it smelled like Vanilla.
Everything else gave me a terrible headache.
If you've ever wondered why scents cause headaches, I wrote a whole post about that here.
Thankfully I found essential oils and learned just how easy it was to make my own perfume.
What I love most about making my own perfume is that I control everything that goes into it. It's such great peace of mind knowing that!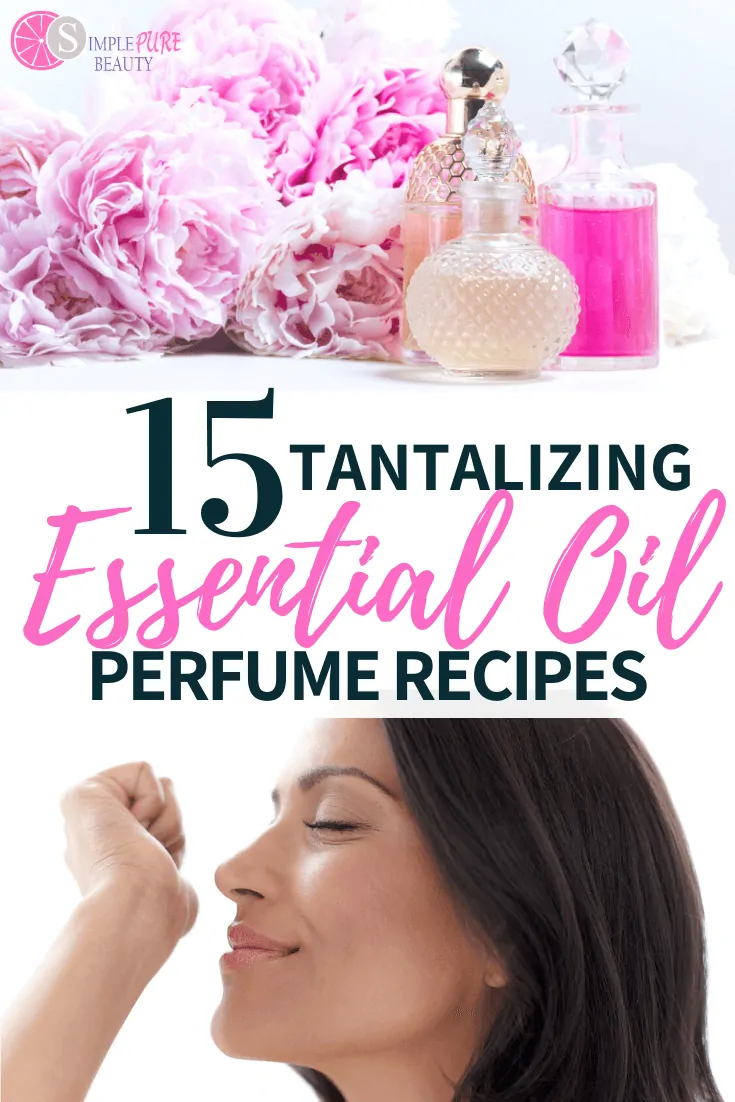 Can you use an Essential Oil As Perfume?
You can, and this is why I love making my own perfumes. Essential oils offer a great scent that you can customize and mix and match to your likeness.
Some essential oils can be worn on their own as perfume, but most of the time I like to blend a few together to create a signature scent.
The key to making a great essential oil perfume is to include a mix of top notes, middle notes and base notes. If that sounds a little daunting, I've created a very detailed post all about this here.
You'll notice in these 15 essential oil perfume recipes that you can use different combinations and oils to create your perfect scent or spray.
How to Make Essential Oil Perfume
While the basis for each recipe is pretty consistent, you'll notice that the number of essential oil drops added will vary. Pay close attention to this detail as it does matter!
These recipes are all perfected for you and all you literally have to do is follow along and recreate. How simple is that?!
The other key ingredients to making essential oil perfumes are carrier oil or base for your perfume.
This can be:
I like to use jojoba oil because I know it will not clog my pores but you'll also find perfume recipes that use coconut oil, olive oil, almond oil, and more.
How to Store Essential Oil Perfume
Once you make your DIY perfume recipes, you really do need to make certain that you have an awesome way to store them.
Keeping them in a cool, dry place is key so that the scents of the essential oil stay strong for months to come. It's also a good idea to have a dark bottle for storage to keep the sunlight away as well.
For my roll-on perfume recipe, I usually purchase cute roll-on bottles from Amazon, like these.
I recently made some perfume spray and I used these adorable atomizer bottles from Amazon.
You can get really creative when choosing containers for solid perfume. You can use a slide tin, lip balm containers or even lockets.
I also recommend checking out this post on How to Find Cheap Containers for Homemade Beauty Products. It will give you some great recommendations for storing your perfume easily and in a way that won't break the bank.
Essential Oil Perfume Recipes
Are you ready for all these essential oil perfume recipes? Here are 15 options that you're certainly going to love!
15 Tantalizing Essential Oil Perfume Recipes
These 15 essential oil perfume recipes are simple and easy to make! Get ready to fall in love with the scents!
This post includes 3 recipes for making your own perfume. Learn exactly how to make a perfume spray, roll-on and solid perfume all in one place!
Photo Credit: scratchmommy.com
Have you ever tried a solid perfume recipe before? Using lavender essential oil is just one of the options you'll find in this recipe!
Photo Credit: mommypotamus.com
Who loves the scent of vanilla? Well know you can smell like it every single day and be proud of the fact that you made it yourself!
Photo Credit: mommypotamus.com
With vanilla essential oil being the key ingredient, you'll learn three different ways to smell great!
Photo Credit: livesimply.me
The combination of ylang-yland essential oil and lavender is perfection. This is also a great gift ideas as well!
Photo Credit: www.lifenreflection.com
Who says that essential oil perfumes have to be a spray? This solid perfume is made using sweet almond oil, jasmine essential oil, and more!
Photo Credit: butternutrition.com
Having a DIY roll-on perfume is a great way to keep one in your purse. The combination of lime and clove is perfection and such a relaxing scent.
Photo Credit: thethingswellmake.com
This DIY perfume recipe using sweet almond oil but you can easily use a different oil of your choice.
Photo Credit: soapdelinews.com
What if I were to tell you that one of these recipes actually smells like chocolate...it's true! Check out the essential oil blend to make it yourself!
Photo Credit: soapdelinews.com
Using a little bit of glitter and some clear jojoba oil is what you'll need to get started!
Photo Credit: nofussnatural.com
Solid perfume sticks are great to carry around with you during the day. This perfume recipe talks about using lavender or sweet orange as the main scents.
Photo Credit: crunchybetty.com
This scent really is sexy. And it's super simple to make! You can easily use any type of essential oil that you want but click through to get some great tips and ideas.
Photo Credit: www.humblebeeandme.com
Can you ever have too much lavender in your life? I think not. This is such a great smelling perfume.
Photo Credit: blog.mountainroseherbs.com
When you think of botanicals, you probably think of florals and greenery. This is why the flowery essential oils all smell so great in this recipe.
Photo Credit: www.thehippyhomemaker.com
You can even use your essential oil blends to make your very own perfume solids to wear in jewelry as well!
More blends and essential oil recipes to try:
5 DIY Mens Cologne Recipes that Smell Amazing!
8 Super Simple DIY Homemade Aftershave Recipes for Men
Pin these essential oil perfume recipes for later: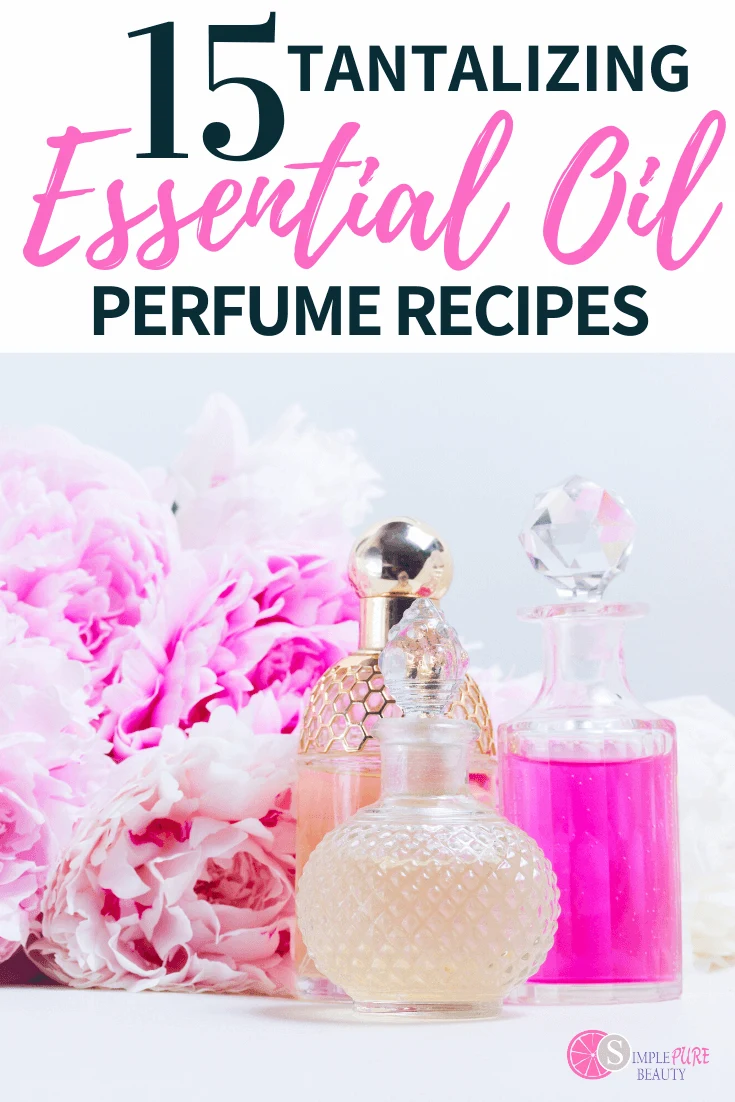 You may also enjoy these posts:
Note: Originally published in April 2014, this article was checked for accuracy and updated January 20, 2020 by Mindy Benkert