DIY Vitamin C Serum supports aging skin to keep it looking fresh. Vitamin C lightens dark spots and reduces fine lines and wrinkles!!
You know the mantra, "Wish I knew then what I know now…"
That is exactly how I feel about my skin.
I wish I would have known that my chronic acne was just a sign of something that was off on the inside. That there were natural options for treating it.
But instead I suffered for almost 2 decades and my skin now tells the story. The story of breakouts, scarring, and pre-mature aging, ughhh.
But luckily I now have an arsenal of natural options to improve my skin and start turning back some of those signs of aging.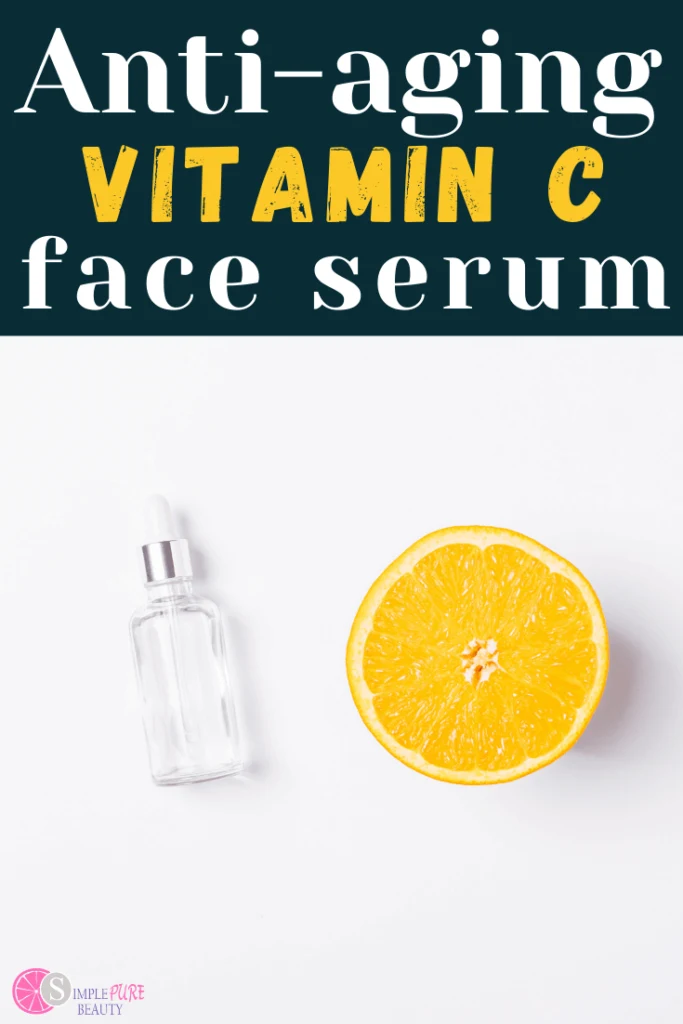 And this is a new one I've just started using.
Vitamin C Serum!!
Why Use Vitamin C on your Face?
Vitamin C, also known as ascorbic acid, is a powerful antioxidant and a water-soluble vitamin that is great for the skin.
Regular use of Vitamin C helps diminish the appearance of fine lines, wrinkles, helps firm, evens out skin tone, and creates a brighter complexion.
Vitamin C also speeds up the healing process when used on sunburns, inflammations, and minor skin damage. The antioxidant-rich Vitamin C helps boost collagen production giving you a more youthful and healthier appearance. (source)
How to Choose a Vitamin C Serum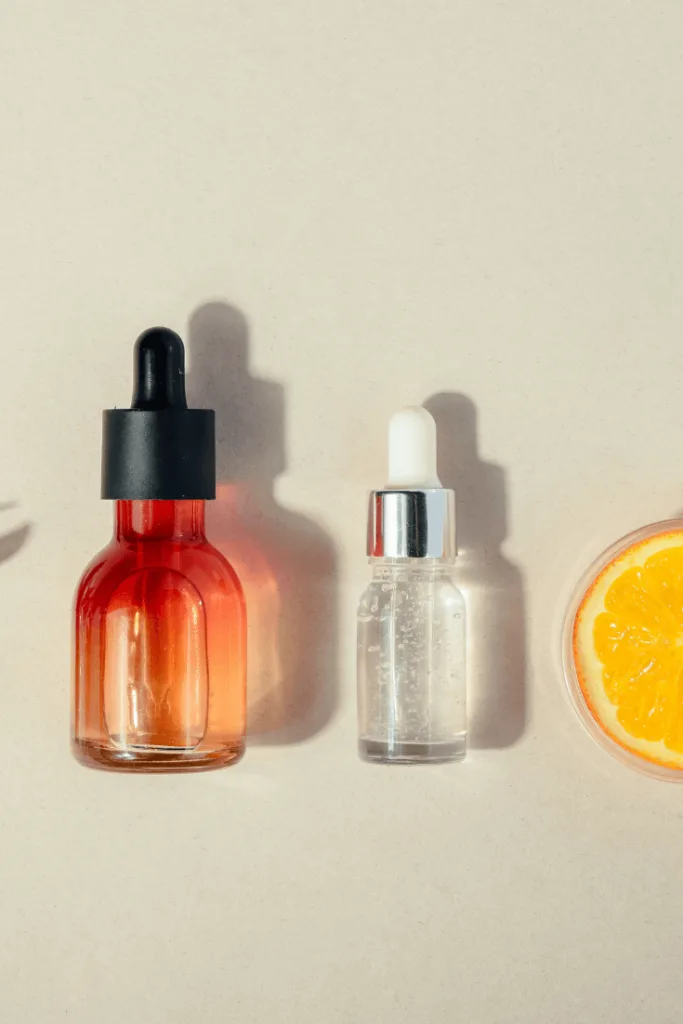 There are many Vitamin C creams and serums that promise great results, but many creams have only a small amount of Vitamin C.
Not only that, they can contain other unfavorable ingredients like parabens and synthetic fragrance. These ingredients can wreak havoc on the body and should be avoided.
Choosing the right Vitamin C serum is no easy task as there are dozens to choose from.
There are several expensive brands sold at high-end department stores and then there are more affordable Vitamin C serums sold at local drugstores, so which Vitamin C serum do you choose?
How do you know which product will produce the best results, which has unnecessary toxins, and which brand skimps on Vitamin C?
Instead of spending hours researching these products, why not just make your own Vitamin C serum?
Why Not Make Your Own DIY Vitamin C Serum?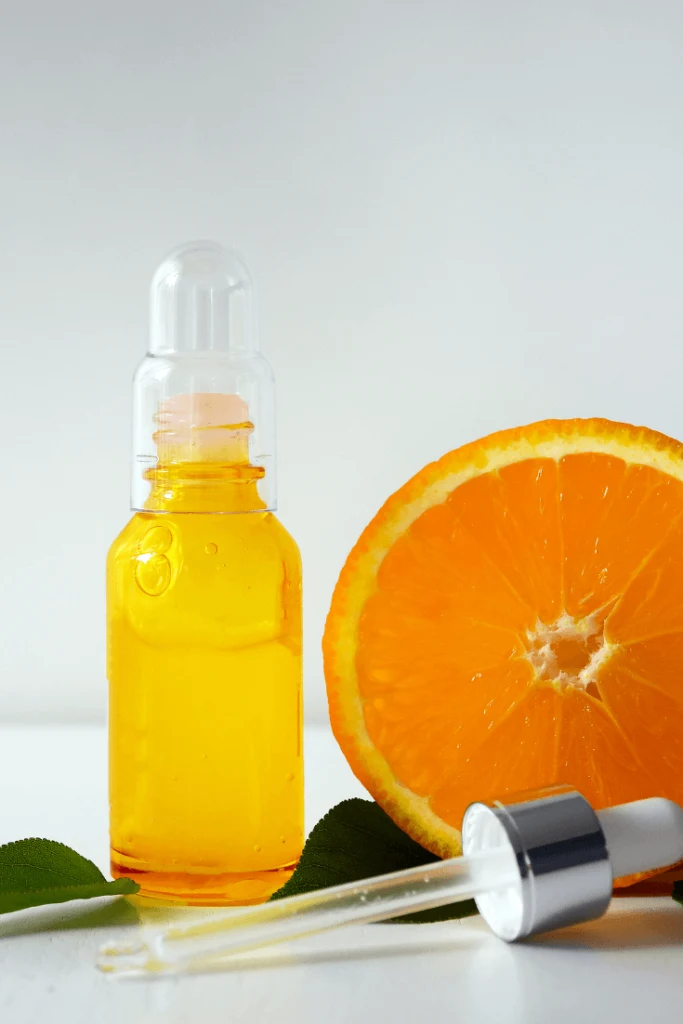 A homemade Vitamin C serum is not only economical but will yield great results for your skin. Don't put your skin in someone else's hands when you can create your very own easily.
Vitamin C serum is more concentrated which means a little goes a long way. A couple of drops of Vitamin C serum massaged into your freshly washed skin every evening is all you need.
Using Vitamin C serum along with this DIY Hyaluronic acid serum recipe in your skincare regimen will produce more noticeable results faster.
The moisture retaining properties of Hyaluronic acid along with the antioxidant properties of Vitamin C will help boost collagen production which makes them a powerful combo. (source)
How to Make Vitamin C Serum from Orange Peels?
The main ingredient of a Vitamin C Serum is well, Vitamin C. You can buy Vitamin C powder in any health food store or you could make your own.
Did you know that you can get so many benefits using orange peels for skin?
All you need to make Vitamin C powder are Orange peels from 1 large Naval orange (organic preferred)
Break orange peels into dime size pieces and allow to air dry for at least 3 days or a faster method put in the oven or dehydrator at 150F for 2 hours.

When orange peels are thoroughly dry, pulverize them in a spice grinder until it becomes a fine powder.

Store in an airtight jar until ready for use.
So even if you know how to make homemade Vitamin C Serum with orange peels, is this really the best option?
Unfortunately there's really no way to know the quality or effectiveness of a homemade Vitamin C powder in skincare.
You could go through all of the trouble of making your orange peel powder serum, and see no improvement in your skin.
Plus, will your homemade Vitamin C powder dissolve enough in water to make a smooth serum that soaks into your skin?
Just because you may not want to use homemade powder in this recipe, doesn't mean you shouldn't have it on hand. I have put together a whole post with the Top 10 Orange Peel Skin Benefits and some easy recipes! So I highly recommend you check that out. 🙂
Vitamin C Options for your DIY Vitamin C Serum
There are actually multiple forms of Vitamin C for skincare recipes, each with their own pros and cons.
The biggest problem you run into incorporating Vitamin C into skincare recipes is stability.
Vitamin C tends to discolor over time and lose its efficacy.
For the Vitamin C Serum Recipe I am sharing today, we will be using Vitamin C, 3-Glyceryl Ascorbate. I purchased mine from Lotion Crafter.
Why Vitamin C, 3-Glyceryl Ascorbate?
Vitamin C, 3-Glyceryl Ascorbate is a Vitamin C derivative, but it is actually more stable than powder-derived alternatives.
It will not change color or degrade as quickly as other forms of Vitamin C.
Vitamin C, 3-Glyceryl Ascorbate Benefits:
Brightens the skin while acting as an anti-oxidant
Reduces melanin production to improve dark spots
Moisturizes the skin
This form of Vitamin C is in liquid form and is water soluble.
Xanthan Gum for Thickening Skincare Recipes
We will also be using Xanthan gum to help thicken our Vitamin C Serum.
Xanthan gum is a natural gum polysaccharide that is made by fermenting sugar.
It is very easy to work with to help modify the viscosity of your skincare recipes.
We will be dissolving the Xanthan gum in our glycerin and then adding it to our liquids.
Preservative for your DIY Vitamin C Serum
Because this homemade Vitamin C Serum is water based, we will be adding the preservative Dermosoft 1388 Eco. This preservative provides outstanding broad spectrum antimicrobial activity.
It is a little weak against yeast. You could add an additional preservative to boost the yeast protection, but I recommend storing your serum in a bottle with a pump top to prevent any outside contamination.
In the past I've recommended Geogard ECT as a broad spectrum preservative for water based products, because it claims to be water soluble. But unfortunately the Benzyl Alcohol isn't completely water soluble which can lead to skin sensitization issues, which we don't want.
This formula calls for 1 gram of Dermosoft 1388 Eco. I recommend purchasing a jewelry scale to accurately add preservatives to your formulations. I have included a conversion as well, if you don't have a jewelry scale.
You can add 3/16 tsp of the preservative Dermosoft 1388 Eco . If you don't have measuring spoons this small, you can find them on Amazon here.
Let's get to the recipe!
Remember, this DIY Vitamin C Serum can be used along with this DIY Hyaluronic Acid Serum Recipe or add Niacinamide into your routine for even better results. If you're looking for something to target your eyes, then give this uplifting eye serum a try!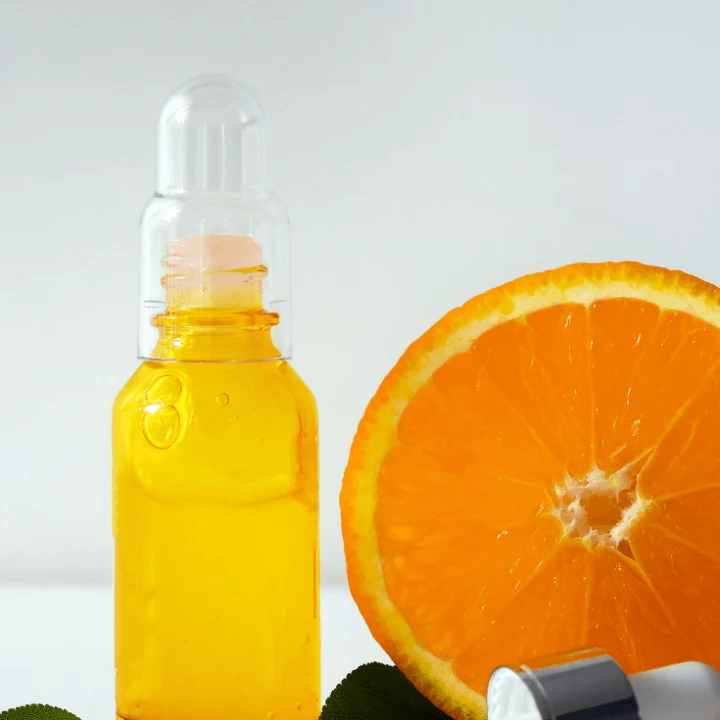 Vitamin C Serum
Vitamin C oxidizes easily and a darker container will slow oxidation.
Instructions
Combine your distilled water and Dermosoft 1388 Eco in a glass beaker and mix until incorporated.
Add your hydrosol and Vitamin C, 3-Glyceryl Ascorbate to beaker and mix
Combine Glycerin and Xanthan Gum in a small beaker
Slowly incorporate the Glycerin and Xanthan Gum mixture to water and Vitamin C beaker mixing well to incorporate.
Test pH of finished product and adjust (if needed) to a skin friendly pH of around 5.
Store in dark amber glass bottle away from direct sunlight
Notes
Preservative: Dermosoft 1388 Eco requires the pH to be > 7 when adding. That is why we add this to the water phase at the beginning. At the end adjust your pH to around 5 for best results. Learn all about adjusting the pH of your skincare products here.
Shelf life: If you choose not to add a preservative to the serum the shelf life will be two weeks and must be stored in the refrigerator. If you add a preservative to your serum it can be used for up to three months and stored at room temperature.
Tips: For best results apply to damp skin and follow up with moisturizer of choice.
Recommended Products
As an Amazon Associate and member of other affiliate programs, I earn from qualifying purchases.
Are you going to give this a try?
If you like this recipe, please be sure to pin & share it!