DIY toilet bombs will get your cleaning done in no time. They smell amazing and are fun to make!
If you haven't found yourself venturing into the world of toilet bombs yet, I can tell you, you're missing out.
Isn't it such a hassle to try and find new fun ways to clean around the house? Especially in the bathroom…
You may have made a diy all purpose cleaner or one of these 19 homemade cleaners but you really want a safe toilet cleaner.
It seems like no matter where we turn, most toilet cleaners are so full of toxic chemicals, they seem to do more damage than good.
So perhaps it's time to try a fun fizzy cleaning alternative to hazardous toxic toilet cleaners!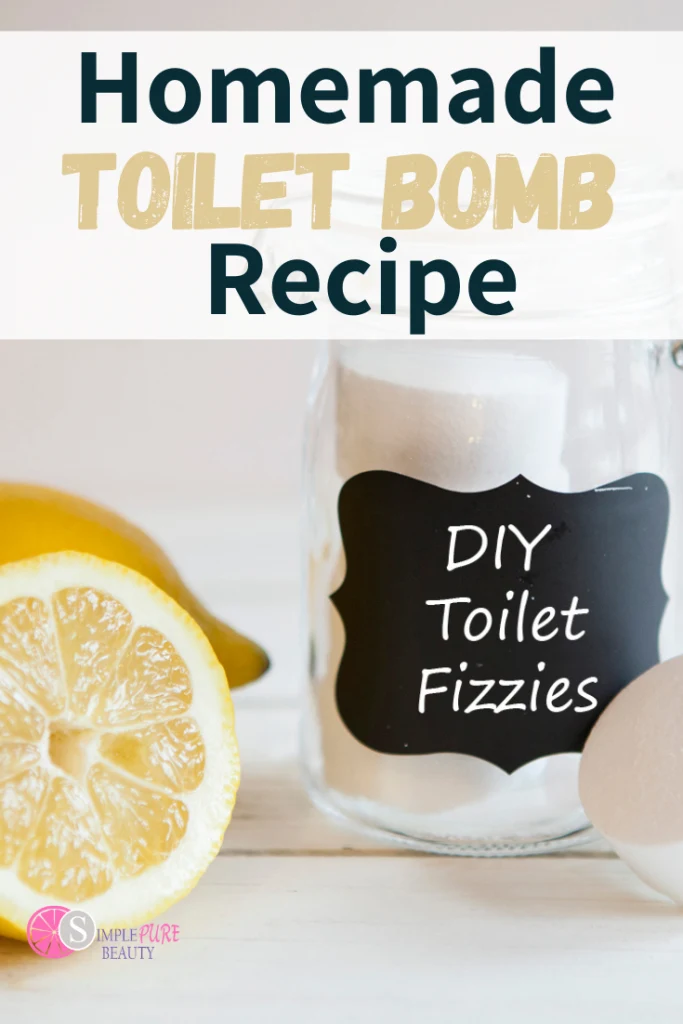 My nose doesn't always agree with the smell and my mind can't help but think about all those horrible side effects that can occur from over-the-counter conventional cleaners.
We've all read the warnings on the back of the labels, right?
Don't get it in your eyes…If swallowed, contact poison control immediately…
Poison control?
While I may not understand all the chemicals that are in toilet bowl cleaners, one thing that I do know 100% is that I'm not okay with taking the risk of ingesting harmful chemicals.
Simply breathing in the residual chemicals that could be floating in the air presents its own set of risks.
This is why I decided that my new mission was to find a DIY Toilet Bomb recipe that was safe for myself, my family, and my home.
Much to my surprise, finding a super simple toilet bomb recipe wasn't that hard at all.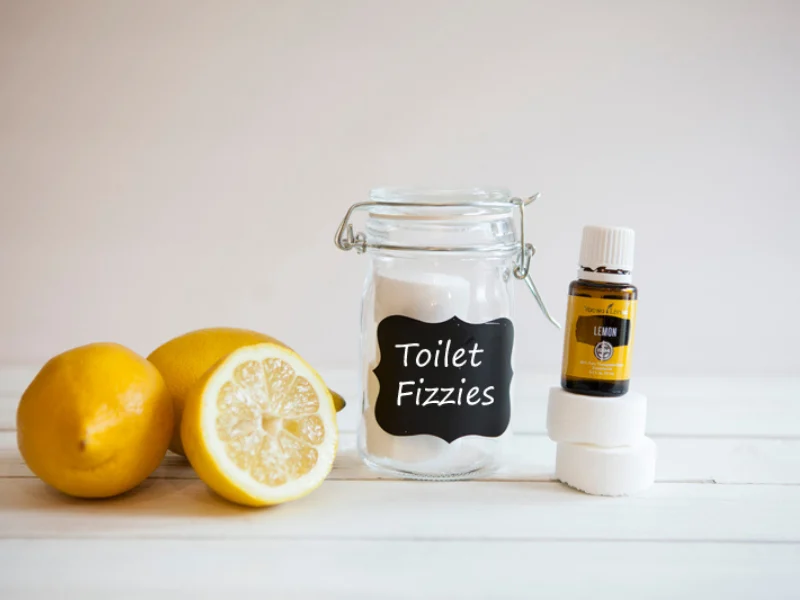 After all these years of cleaning with chemicals, I'm now able to clean with a homemade toilet bomb recipe made with citric acid that is safe and free of harsh chemicals!
Super simple, right? Would I steer you wrong? And the best part about this recipe? It has ingredients that are simple and effective.
If you are looking for a way to make your toilet shine from cleanliness, this is the recipe for you. It's an excellent combination of ingredients that make an awesome cleaner.
The choice between this recipe or trying to choose one that you may or may not trust completely from the cleaning aisle is clear.
Say goodbye to use of harsh chemical cleaners and hello to a super simple DIY toilet fizzy bomb recipe.
But seriously…this recipe is the bomb!
Toilet Fizzy Bomb Ingredients
Baking Soda is a highly versatile and effective cleaning solution, only adding that much more benefit to the value of Fizzy Toilet Bombs. It is a generally safe ingredient that works well with others and leaves a fairly nice odor after it's gone.
Citric Acid has acidic properties which make it an excellent disinfectant. It kills viruses and bacteria meaning your toilet will only be that much safer and cleaner when you're finished!
Essential Oils are responsible for the replacement of all the harsh chemicals in normal cleaners, especially in the fragrance department! They do a better job AND come without any of the mystery or potential side effects of some other ingredients in commercial cleaners.
So let's get to the recipe!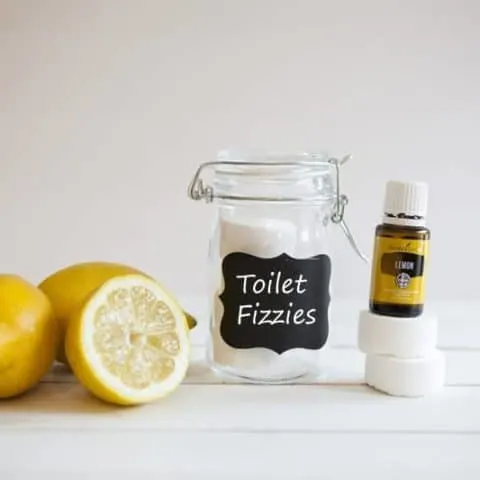 Lemon Toilet Bombs
Additional Time:
12 hours
Total Time:
12 hours
5 minutes
Keep things clean without harsh chemicals.
Instructions
Add all ingredients together in a bowl and mix thoroughly.
Pack firmly into silicon molds and let dry for 12 hours. Once dry, pop out of molds.
Store in a glass container.
To use, simply drop one into the toilet. Once it's completely finished fizzing, scrub with toilet brush.
Recommended Products
As an Amazon Associate and member of other affiliate programs, I earn from qualifying purchases.
Toilet Fizzy Bomb FAQS
What Is a Toilet Bomb?
A toilet bomb is a mix of ingredients that work together to absorb nasty odors and help to keep your toilet cleaner. They are extraordinarily safer than other cleaners that contain harsh chemicals due to their clean and natural composition. Bonus points, they're fun to watch work!
What are the Benefits of Using Fizzy Toilet Bombs?
Toilet Bombs are better than most conventional cleaners due to the removal of the harsh toxic chemicals. This means you can accomplish the same job, without putting yourself, or anyone in your home at risk. There aren't any poisonous chemicals in Frizzie Toilet Bombs meaning you can clean knowing you're using a completely safe solution.
Are Fizzy Toilet Bombs Skin Safe?
Since Fizzy Toilet Bombs are made from natural ingredients and oils, it is generally safe to get on your skin. I wouldn't recommend rubbing them on your skin, but picking one up and plopping it in the toilet shouldn't be an issue for most peopls.
How to Use Fizzy Toilet Bombs
Once you have your toilet bomb, simply drop it into the water, let it sit for a moment so it activates, and scrub off with a brush, or other desired cleaning tool.
It won't leave behind any nasty residue or odor so you can simply flush it away, and go about your day.
Do Toilet Bombs Help with Odor?
Absolutely, Fizzy Toilet Bombs will work to not only clean, but remove any unwanted smell prior to cleaning. The long list of natural ingredients all work together to remove awful odors while still serving as an effective cleaner so you don't have to sacrifice one for the other. The convenience of a powerful cleaner AND an effective odor destroyer, will prove to you just how wonderful these Toilet Bombs really are.
How Are Fizzy Toilet Bombs Safer?
Other cleaning methods such as scrubs, or liquids that you pour into your toilet can contain all kinds of hazardous ingredients. Fizzy Toilet Bombs only use natural ingredients to clean and disinfect your toilet so you aren't having to deal with the horrible toxic ingredients in other solutions. These can irritate or even burn your skin, so it's important to find a forgiving, yet still powerful disinfecting cleaner.
Do Toilet Bombs Leave a Mess Behind?
Frizzie Toilet Bombs use natural ingredients meaning there won't be any foreign or toxic residue left behind to clean up. They self clean and will dissipate upon scrubbing, and flushing. Can't get any easier than that!
Do Fizzy Toilet Bombs Contain Harsh Chemicals?
No, our recipe for Fizzy Toilet Bombs only contain healthy and non-toxic ingredients to avoid all the nasty chemicals that other cleaners carry. This is to ensure that not only is your toilet being deeply cleaned, but it isn't coming at the cost of dangerous powerful toxic ingredients floating around your bathroom.
Ingredients to Avoid When Using a Cleaner
Hydrochloric Acid is an extremely toxic and corrosive chemical that poses a risk to you or anyone inside your home. It's highly acidic and will burn your skin upon contact.
Bleach produces fumes that serve as a very dangerous risk to your eyes, nose, throat, and lungs. Over time it can break down tissues and cause real damage.
Ammonia also carries toxic fumes that hurt those same areas of your body and should be avoided when considering cleaning products.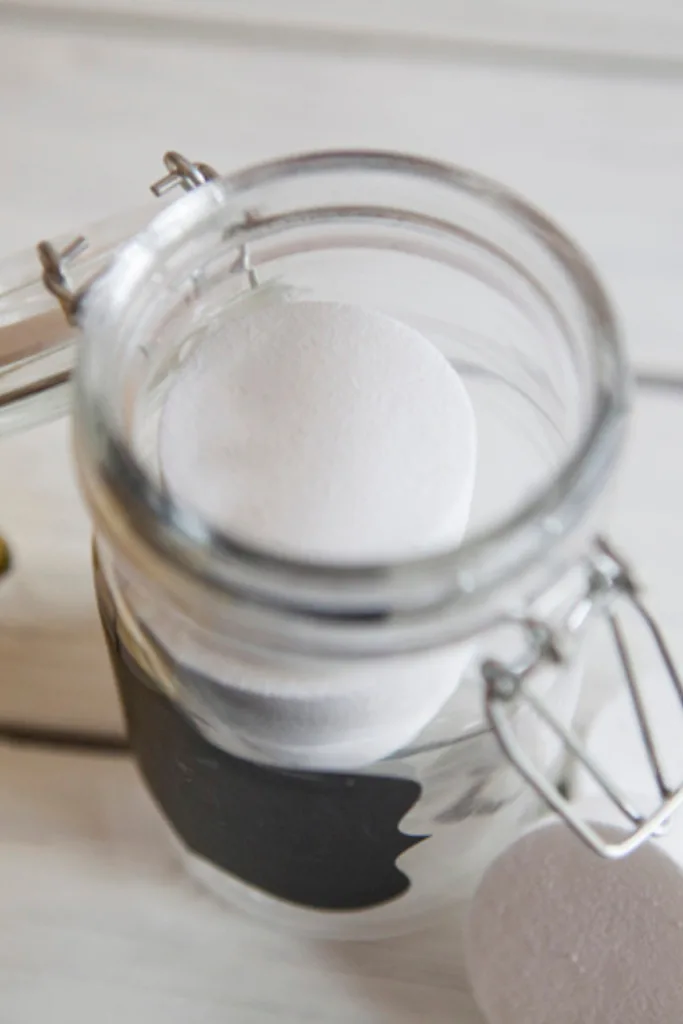 What do you think – will these be your new and improved toilet cleaning method? I guarantee you'll love how they smell AND how they clean.
Pin this recipe for later!