Red raspberry seed oil is a skin health powerhouse. You need to keep this in your cabinet for your daily skincare routine.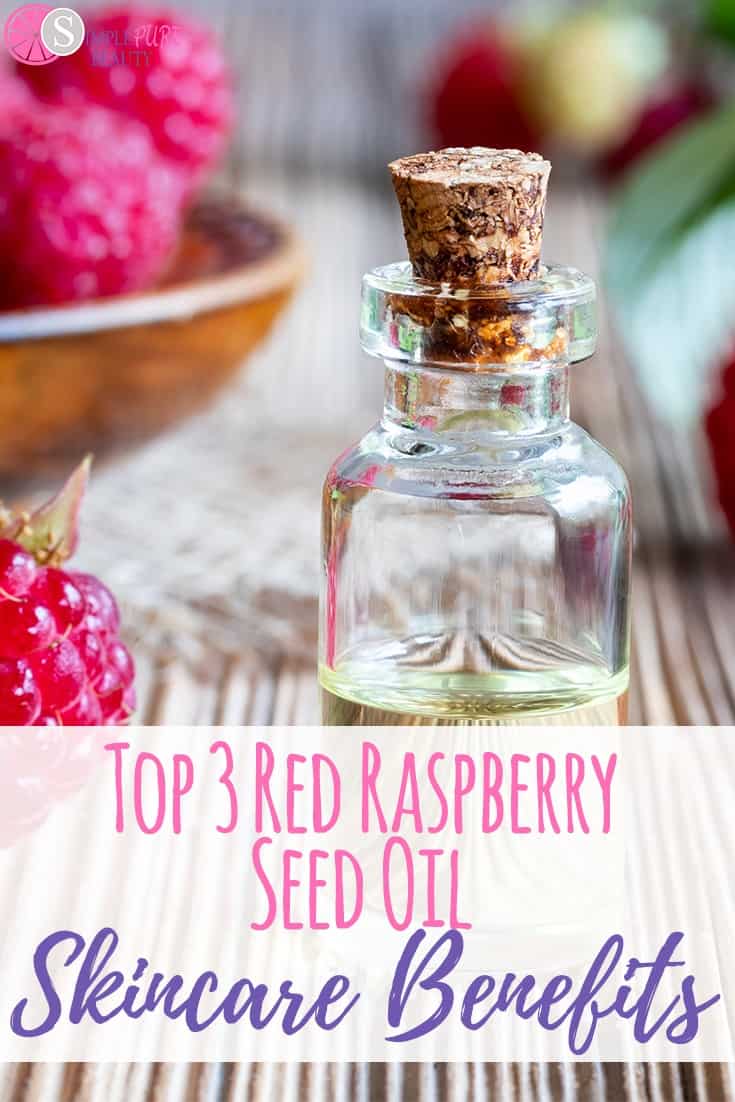 Red raspberry seed oil is a powerhouse for your skin's health. Especially in hot summer months! Mother nature knew what she was doing when she created a raspberry bush! I guess that's why they have thorns to protect those precious berries.
I bet you've heard all the health benefits of eating raspberries. And for good reason. Raspberries are high in antioxidants, often topping the list of superfoods.
But did you know the raspberry seeds are used to create an oil with amazing properties for your skin?
I didn't until just recently. And on a side note…. I apparently always misspelled raspberries!! Who else spelled it rasberries?! I hope I'm not the only one. 😊
But learning how to spell raspberries was a small thing I learned in my research on red raspberry seed oil.
It's surprising there's not more information out there on red raspberry seed oil.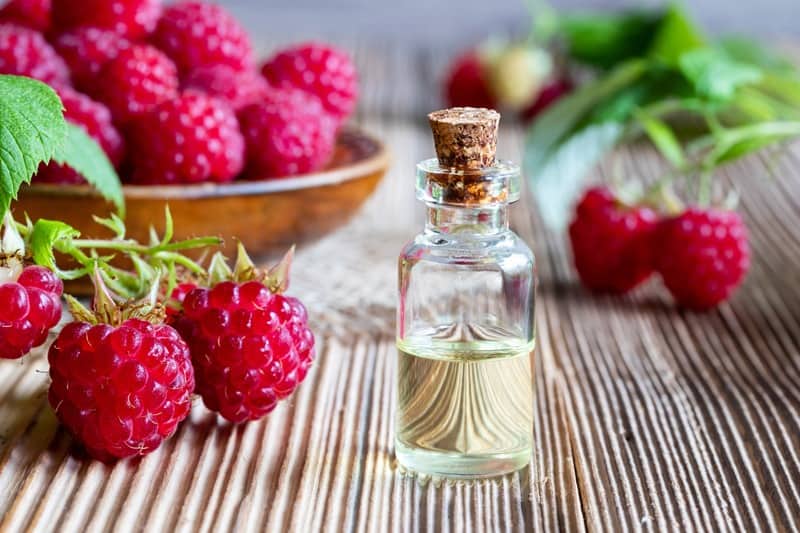 Choosing the Best Red Raspberry Seed Oil
Red raspberry seed oil is made from the tiny seeds on the fruit, not the whole raspberry.
Make sure you look for an expeller pressed red raspberry seed oil. Hexane is a petroleum derivative that is commonly used to extract oil. You can read more about how to find safe oils for your family here. You'll never look at another bottle of oil the same way! And yes – it could even be in your cooking oil – YIKES!
Cold processed and cold filtered red raspberry seed oil are also good options. The cool temperatures help maintain the shelf life of the oil. High heat can damage the anti-oxidant properties of the oil.
I prefer an oil that has not been deodorized, refined, or treated in any other way.
Red Raspberry Seed Oil Skincare Benefits
Raspberry seed oil is a pretty amazing oil. It's loaded with antioxidants that fight free radicals. Red raspberry seed oil fights back against the stressors on your skin and put a stop to premature aging.
Red raspberry seed oil is high in essential fatty acids or EFAs. These are the good guys that fight the stress waged on your skin every day.
And to take the cake red raspberry seed oil is high in Vitamin A and Vitamin E. You know it's good stuff. We all need a good guy fighting on our side to keep our skin healthy and youthful.
Sun Protection
We all know sunscreen protects your skin from damaging rays and premature aging. I was looking for an alternative to conventional sunscreen.
While I already use a mineral-based sunscreen, I'd read there were carrier oils that had SPF properties.
Sounds pretty amazing right?!
Moisturize your face AND protect your skin from the sun's damaging rays. All without all the chemicals and preservatives in store bought lotion.
Sign me up!
Unfortunately, it turned out to be a little more complicated than that. More to come on that…
What I did discover is red raspberry seed oil has some natural SPF properties. Some of the highest documented in a carrier oil besides stinky carrot seed oil.
BUT there's little research documenting the SPF values. Only one study has been done to demonstrate red raspberry seed oil's natural SPF properties.
That's probably not enough evidence for you to stop using sunscreen and just lather on red raspberry seed oil. It's not enough for me either.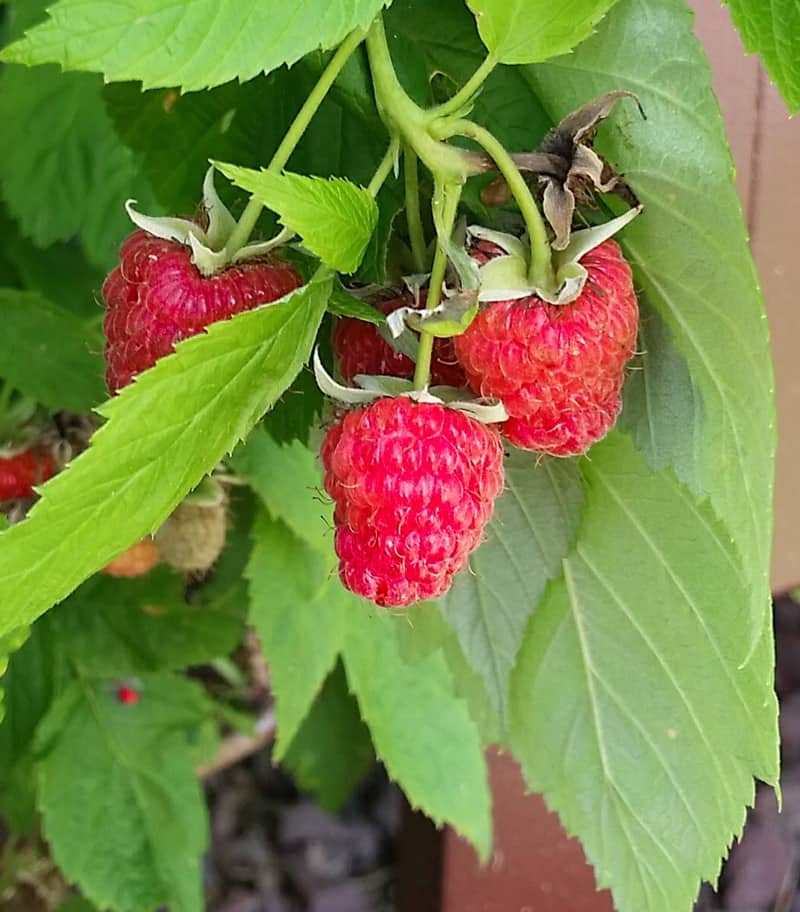 Add Red Raspberry Seed Oil Each Morning
I am going to try it out on my family and see how well red raspberry seed oil works as a natural SPF.
Most importantly, add red raspberry seed oil to your morning skincare routine. You can get the recipe for my anti-aging serum here. Hint: it has another powerhouse to fight the signs of aging.
I no longer use lotion to moisturize my face, instead, I use a skin serum. Essentially a bunch of carrier oils mixed together with some essential oils. Super simple to make.
Red raspberry oil seems to have the most beneficial SPF properties when it is first applied to the skin and before it is fully absorbed.
Anti-aging Skincare Benefits
Maybe you're not in your 20s anymore… it's ok, you're in good company. Just because your skin isn't 20-something, you can still have radiant skin.
Red raspberry seed oil is a great oil to add to your skincare routine. Especially if you're trying to reduce the appearance of your wrinkles or fight off new wrinkles from forming.
Red raspberry seed oil has loads of anti-inflammatory and anti-oxidant properties. Keep your skin smooth and supple.
It's loaded in Vitamin A – well known for its ability to fight the aging process. The natural kind of vitamin A – not one created in a lab.
I've heard of red raspberry seed oil helping with: rashes, skin irritation and eczema.
Add Red Raspberry Seed Oil to Your Skincare Routine
With all those benefits, you'd be crazy not to add it to your daily skincare routine!
Even if you just add a few drops of red raspberry seed oil to your morning moisturizer, I think you'd be making a smart move.
High in vitamin E, A, and antioxidants makes it a great choice!!
We all need a little extra help in keeping our skin healthy and prevent premature aging!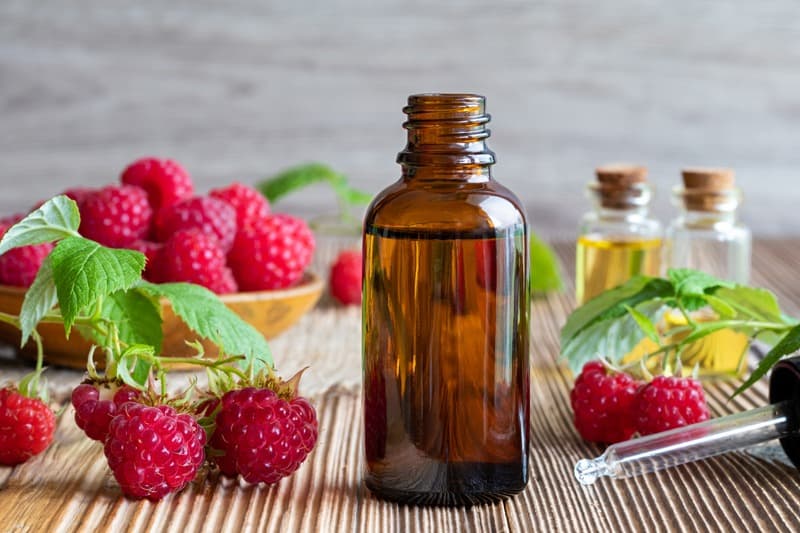 I'd love to hear any experiences with red raspberry seed oil in the comments below.
Sources:
https://www.ncbi.nlm.nih.gov/pmc/articles/PMC3263051/
https://www.ncbi.nlm.nih.gov/pmc/articles/PMC3140123/
https://www.ncbi.nlm.nih.gov/pubmed?term=raspberry+seed+oil+UV&cmd=DetailsSearch
http://www.phcog.com/article.asp?issn=0973-1296;year=2009;volume=5;issue=19;spage=238;epage=248;aulast=Kapoor
http://www.lotioncrafter.com/red-raspberry-seed-oil.html
https://www.schoolofnaturalskincare.com/6-reasons-to-use-raspberry-seed-oil-in-your-natural-skincare-products/