Don't miss out on this natural hand soap! It's simple to use and even more easy to make. You'll love the smell of this Pumpkin Spice Fall Foaming Hand Soap!
I don't think I'll ever get tired of that sweet pumpkin smell. Even as the winter months come rolling around, I'm still in fall mode at my house.
I tend to think that the scents of fall are ones that can be enjoyed all year long. Apple, pumpkin, cinnamon…all sound pretty good right about now, right?
Who says you have to stop smelling fall once the colder weather arrives? In our house, we don't!
What I love most about making homemade foaming hand soap is that I can literally use essential oils to create any type of scent that I want.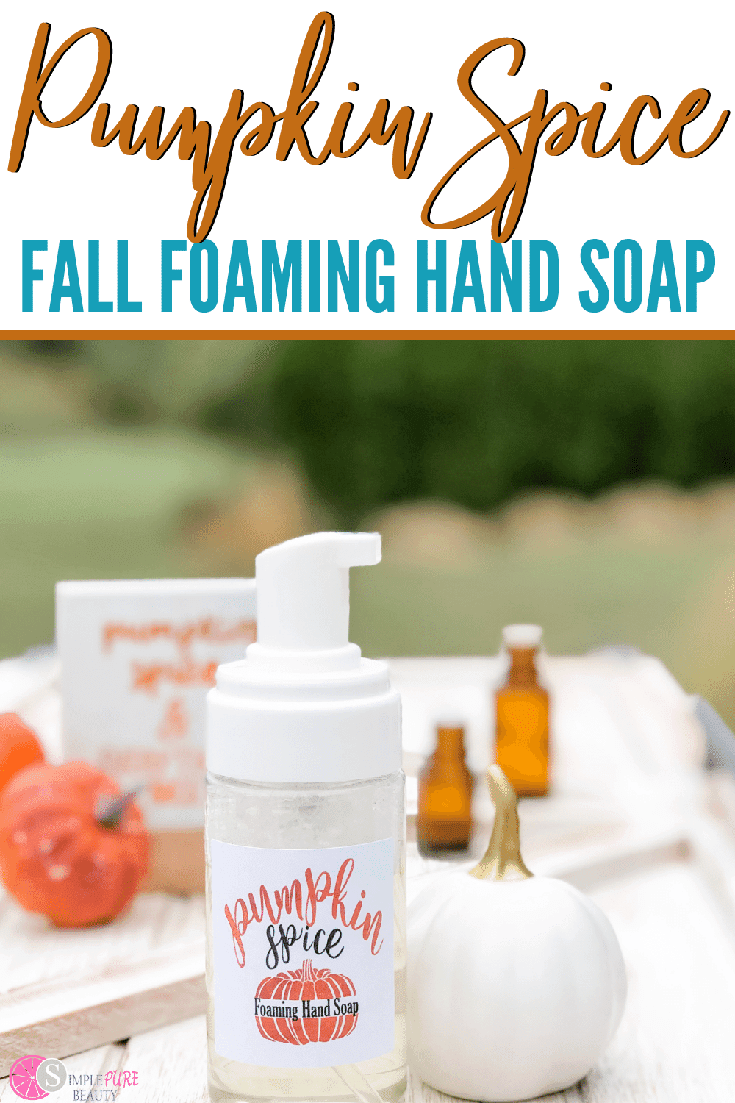 When I'm on a fall kick, I can create various fall scents and I can easily adjust for winter or other times of the year as well.
And when it's cold and flu season, you better believe that I'm making double batches of my soap! Keeping our hands clean and washed is one of the biggest ways that our family stays healthy throughout the year.
I also created this Autumn Woods Fall Foaming Hand Soap and it's a really popular choice and fall scent as well.
Fall Soap Scents – Essential Oil Blends for Soap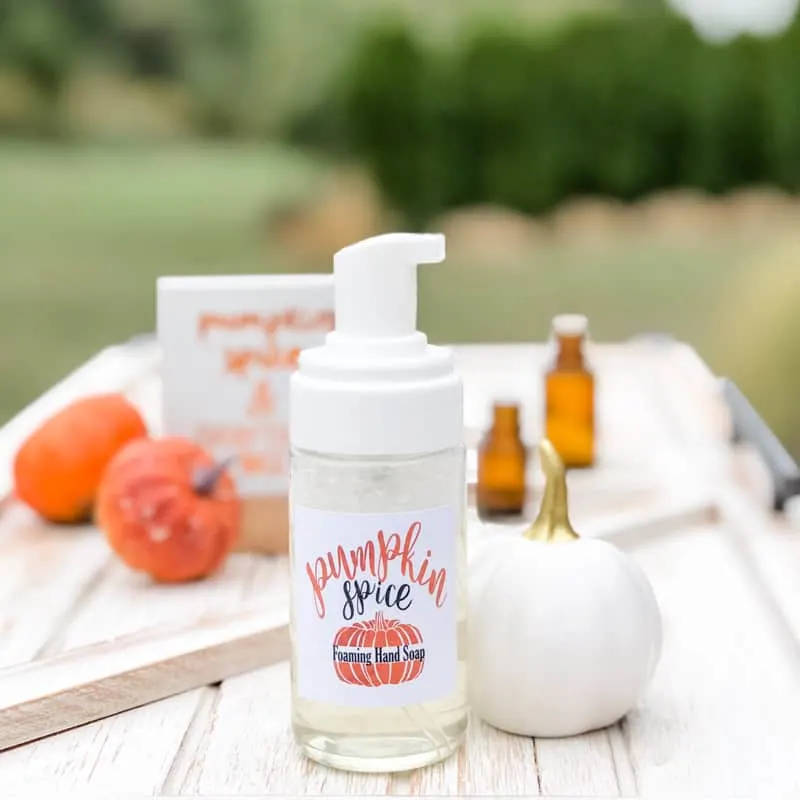 Fall essential oils are a lot of fun to make and are really very simple, too. If you're in the market for some various diffuser blends, check these out.
For this recipe, we're going to be using these fall essential oils:
Sweet Orange Essential Oil – smells so good!
Tea Tree Essential Oil – great for so many uses!
Clove Essential Oil – gives off a musky smell that screams "comfort".
These are just some of the various blends of essential oils that I like to use. (feel free to play with it a bit if you want as there are certain to be plenty of creative options to make!)
How to Make Pumpkin Hand Soap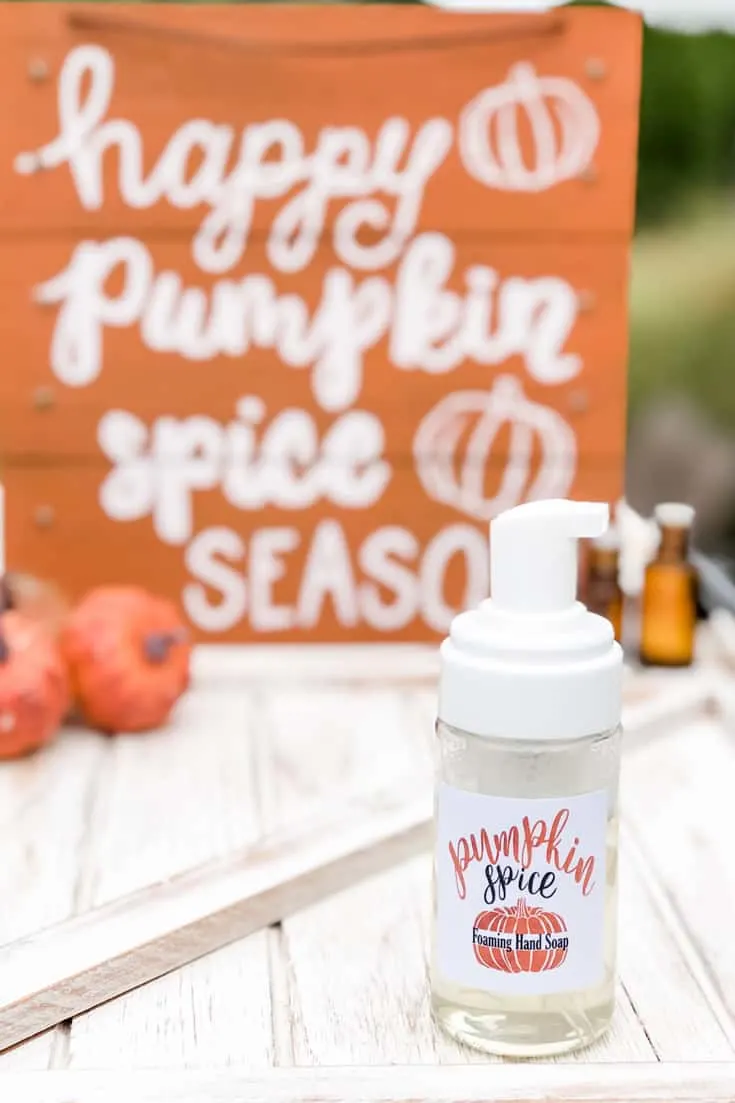 To get started, you're going to need a few simple ingredients to make these fall soap scents.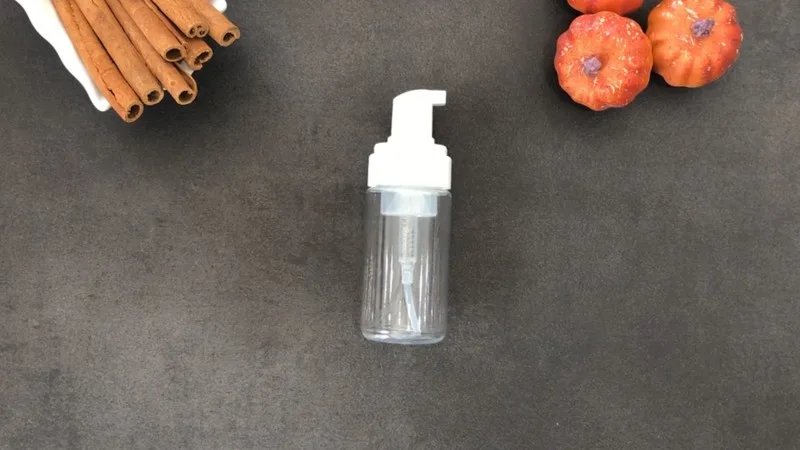 Once you have those ingredients on hand, you're ready to start creating your natural hand soap! (There are a few other steps just make certain to check out the recipe card at the bottom to get the full process!)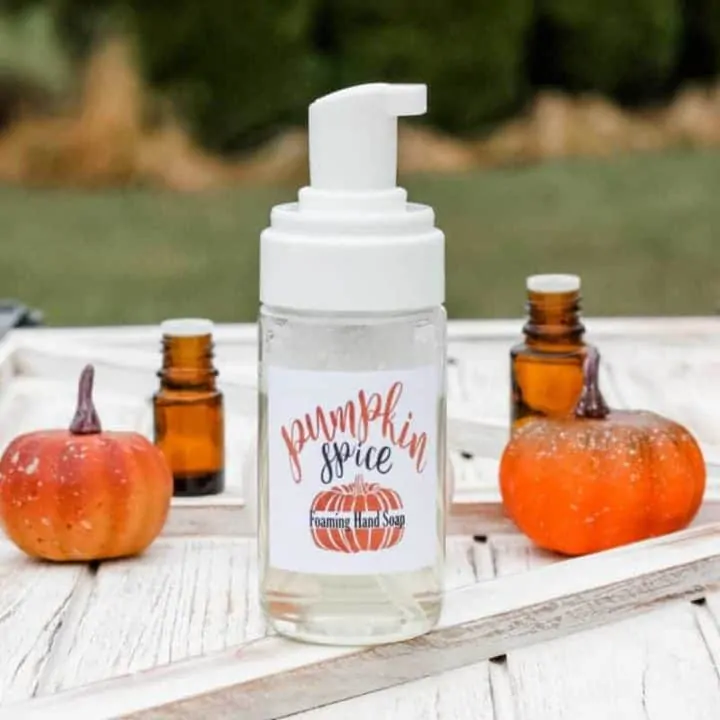 Pumpkin Spice Fall Foaming Hand Soap Recipe
You'll love this Pumpkin Spice Foaming Hand Soap recipe!
Materials
Distilled Water
6 drops Sweet Orange Essential Oil
2 drops Tea Tree Essential Oil
1 drop Clove Essential Oil
Instructions
Fill foamer bottle 1/3 of the way with Castile Soap
Fill the rest of the way with water
Add in Essential Oils
Shake gently until well mixed
Recommended Products
As an Amazon Associate and member of other affiliate programs, I earn from qualifying purchases.
IF YOU LIKE THIS RECIPE, YOU MIGHT ALSO ENJOY:
Pumpkin Spice Essential Oil Candle Recipe for Fall
DIY Pumpkin Spice Essential Oil Room Spray
Fall Diffuser Blends You Have to Try!
DIY Alcohol Free Hand Sanitizer with Aloe and Essential Oil
Pink Himalayan Salt Bath Recipe
Pin This Pumpkin Spice Foaming Hand Soap for Later