DIY highlighter make up has been on my to-do list for a long time. The glow and little bit of sparkle are the pick me up that we need some days. Seriously…a little bit of highlighter can cure anything.
Of course, I wanted a super simple version. One that my ten-year-old daughter could use too. Sharing is caring, right?
Okay, okay…Confession time: the highlighter isn't for me. It's for my daughter.
My 10-year-old daughter has been nagging me for makeup for a long time. Guess I'm old school and want her to wait…but life doesn't always work out that way.
I want her to know she's beautiful just as she is, no makeup needed.
It doesn't help that she makes a mess with makeup when she gets her hands on it.
Every time she had a shimmering lip gloss, it somehow wound up all over my carpet. We still have a stain on our carpet in the family room that I can't get out. This didn't help in trying to convince me of wanting to have make-up…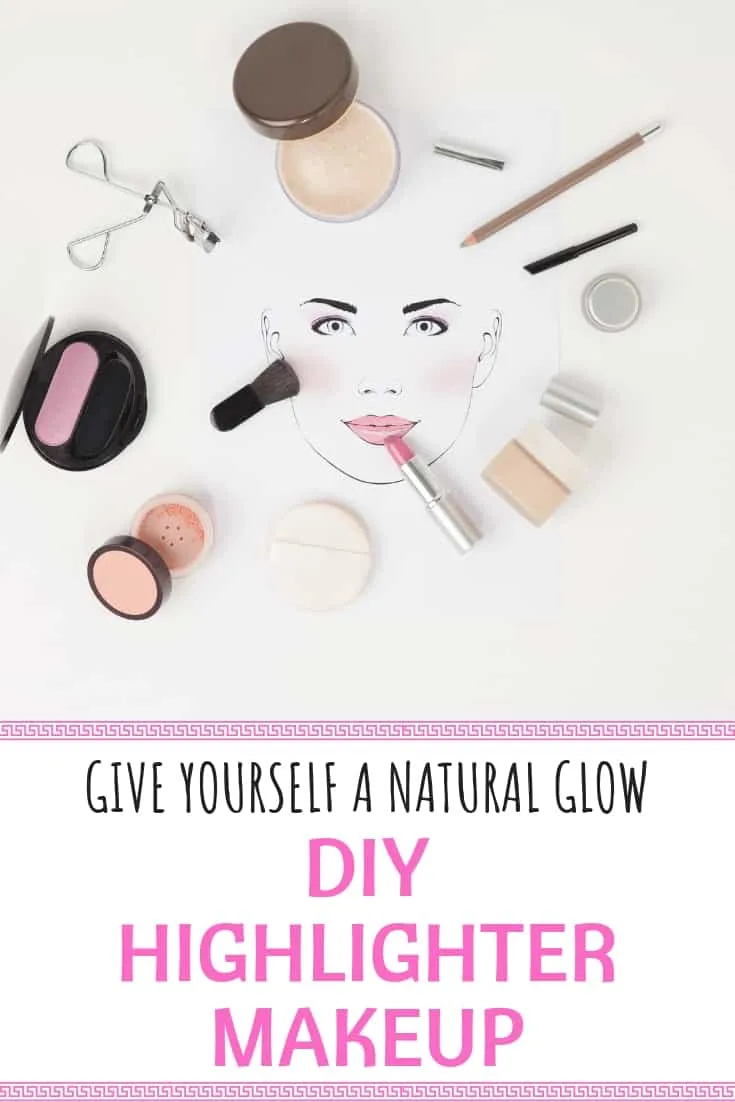 This year my daughter joined cheerleading. And the pressure was on!
Almost every girl had a face full of makeup. Like full eyeliner and foundation. The works.
It makes me sad that these girls are growing up so quickly. What happened to the age of innocence and staying young?
What mixed messages are we sending our young daughters when a face full of makeup is the norm?
That they are not good enough as they are?
Now I'm not preaching, just asking questions. And there have been a few times that my girls got a little eye shadow sparkle before church. So I'm guilty there.
But when did wearing a face full of makeup for a 10-year-old become a thing?? Not allowing my daughter to wear makeup really made us stick out like a sore thumb.
She felt pressured to wear makeup, so she'd sneak into my makeup bag. Putting on makeup before a game, only to have Mom wipe it off. And of course a big fight about how I'm not letting her be cool.
I figured I avoided makeup long enough… and decided that it was time to do a quick DIY and make our own Mom approved makeup.
No mascara and eyeliner, but a little bit of highlighter for that glow – perfect! (she's still perfecting that little bit part – ha!)
This worked for our household, so I'm excited to share it with you!
DIY Highlighter Makeup Magic
Makeup highlighter is a mix of fairy dust and unicorn sparkles. It adds a hint of color and loads of sparkles.
We all want to sparkle a little bit, right?
And every little girl loves sparkles. It makes her feel like a princess.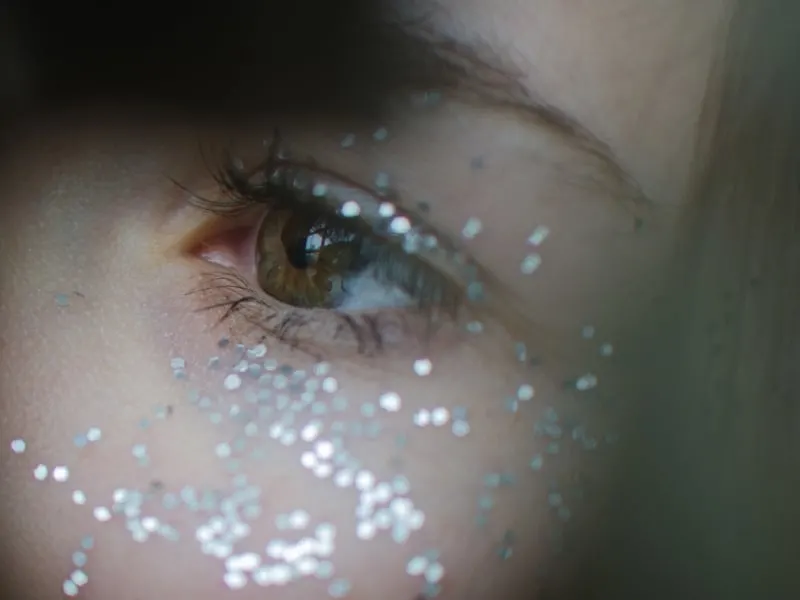 Yes – even as adults we still want to feel like a princess. (or queen!)
I love this recipe because it's a makeup that both Mom and daughter can share.
Even better, you can make it with your daughter and have some fun time together. Bonding time. Much needed time.
I know my daughter was very excited to have "makeup" to wear and to get to make it with Mom.
So let's show you how to easy it is to make shimmering sparkles… with a hint of color!
DIY Makeup Highlighter
We experimented with a few varieties of this recipe. I think you can make it work with what you have on hand.
The weather (aka if it's winter or summer) will also change the recipe slightly.
I choose shea butter because it's so amazing. It's my go-to moisturizer and so luxurious. Check out my favorite shea butter lotion recipe here or you can buy it from my Etsy shop here.
If you don't have shea butter. You can:
Buy some (and make the lotion too – hint hint)
OR just substitute coconut oil in place of the shea butter. Keep in mind, coconut oil melts at 76 degrees. So if it's summertime, you'll need to add some extra beeswax to keep it solidified.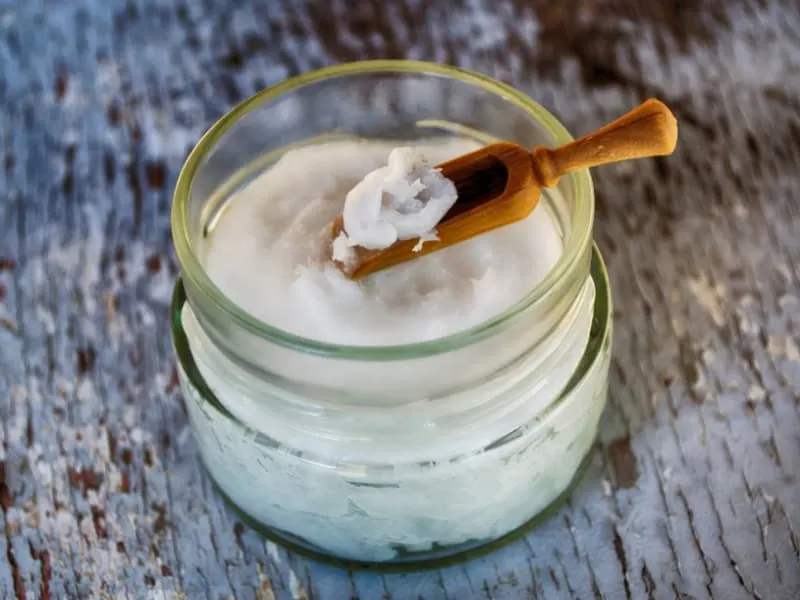 Ingredients:
1 Tablespoon Shea Butter (or coconut oil)
1/2 Teaspoon Beeswax
1/2 teaspoon of natural micas (or shimmering eye shadow)
How to Make DIY Highlighter Makeup
Melt your shea butter and beeswax. We used an old baby food jar and stuck it in the microwave for 30-second increments.
It took us 6 minutes at 30-second intervals. The beeswax takes a long time to melt. Be patient so you don't burn it.
Once it's melted, add your mica or eye shadow. Stir with a popsicle stick to combine. Or an old spoon…. whatever you have on hand.
Let it harden. Then rub your finger across the makeup and apply where you need a touch of sparkle.
Even better, you can use this highlighter makeup for so much more. My daughter used it as eye shadow, blush, and lip gloss.
Check out this video, I show you step by step how to make it, all done by my 10-year-old daughter!
[youtube https://www.youtube.com/watch?v=z1r-h0LZnzE]
DIY Highlighter Makeup Tips
Depending on your climate, you may need to make slight adjustments to your recipe for optimal hardness vs spreadability. Is spreadability a word?! Haha, today it is!
It's simple to adjust, stick the makeup in the microwave for 30-second increments until it is melted again.
If it's too hard, add a dash of grapeseed oil.
If it's too soft, add a little more beeswax.
You CAN'T mess this up!
And if you don't have micas on hand, you can use shimmering eye shadow.
When I do wear makeup, it's usually mineral makeup. So my mineral makeup eye shadows worked like a charm in this recipe.
Look around for what you have on hand. Or you can get an awesome mica set here.
Just remember to use only quality ingredients from brands of makeup you trust. Not all are created equally. Makeup can have some nasty stuff in it. 100% pure is the brand I wear and trust. You can check them out natural laundry room.
BONUS: DIY Highlighter Stick
Even better… keep little hands clean (okay big hands too). Make your DIY Highlighter makeup in a lip balm tubes or something a little larger like this one.
We have a bunch of extra lip balm tubes, so we used these.
But get creative – there are containers in your house now you can use for your DIY highlighter makeup.
What Color Will You Make?
Now that you know how simple it is to make DIY Highlighter makeup, which colors will you choose?
Need some extra ideas?
If you want some extra DIY ideas, then, like always, I have some! If you love the glow that this highlighter gives you, then check out this bronzing bar that will make you feel like you spent the day in the sun!
I also have a whipped body butter that will take all of your skincare troubles away! This body butter is deeply moisturizing and will leave your skin feeling hydrated and young!