Moringa Seed Oil skincare benefits are numerous. It is a skincare oil that is great for anyone looking to simplify their skincare routine.
Moringa Seed Oil is a one-stop-shop oil. This oil is clarifying, moisturizing, anti-aging, and more.
It has been used for centuries in skincare, this little-known oil is basically a wonder-oil and has many skin-boosting benefits!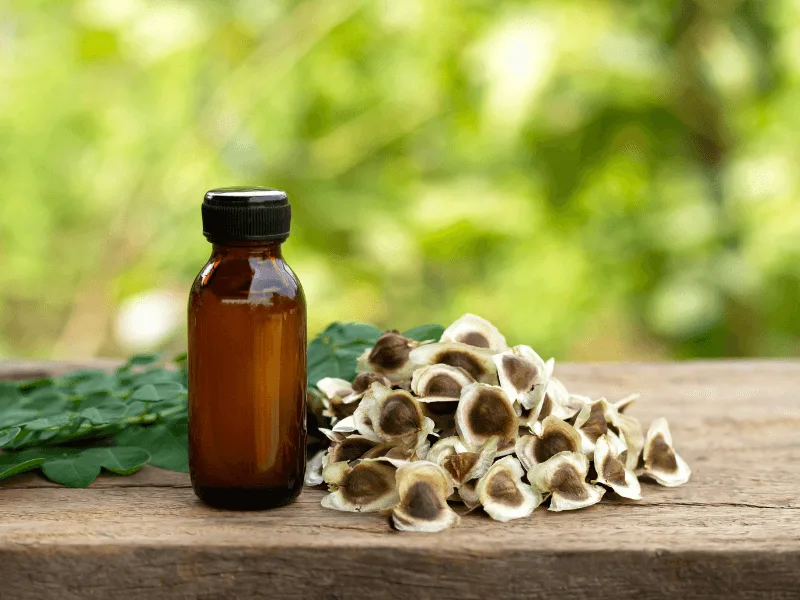 Moringa Seed Oil Quick Facts:
Moringa Seed Oil Scientific Name:
The scientific name for Moringa Seed Oil is Moringa oleifera Lam. syn. Moringa pterygosperma Gaertn
Moringa Seed Oil Comedogenic Rating:
Moringa Seed Oil has a comedogenic rating of 4, it is likely that is will clog pores.
Moringa Seed Oil is extracted from:
Moringa Seed Oil is extracted from the Moringa Tree, a small tree native to the Himalayan Mountains. The oil is mechanically pressed from the seeds.
Moringa Seed Oil INCI:
Moringa Oleifera Seed Oil
Moringa Oil COSING Number:
57017
Recommended for:
Moringa Seed Oil is recommended for individuals with dry or combination skin.
Moringa Seed Oil Absorption:
Moringa Seed Oil has an absorption rating of 2, meaning it will absorb into your skin quickly, leaving a satiny finish.
Moringa Seed Oil Composition:
| | |
| --- | --- |
| Palmitic acid (C16 :0) | 6% |
| Palmitoleic acid (C16 :1, w-7) | 1% |
| Stearic acid (C18 :0) | 6% |
| Oleic acid (C18, :1, w-9) | 76% |
| Linoleic acid (C18, :2, w-6) | 1% |
| Arachidic acid (C20, :0) | 3% |
| Gondoic acid (C20, :1, w-9) | 1% |
| Behenic acid (C22, :0) | 5% |
| Phytosterols | 9,000 mg/kg |
| Vitamin E | 276 mg/kg (a-tocopherol: 134 mg/kg |
*Fatty acid breakdown is shared from
Modern Cosmetics Volume 1
.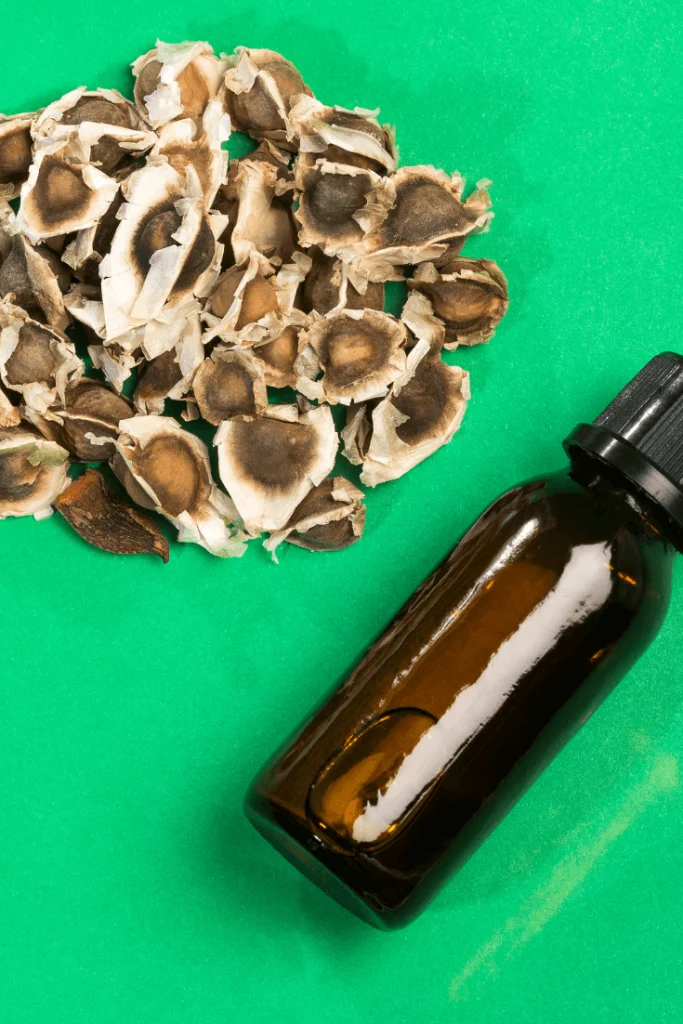 What is Moringa Seed Oil?
Moringa Seed Oil is an antioxidant-rich oil derived from the seeds of the Moringa fruit.
Moringa Seed Oil is rich and nourishing and can help people with a variety of skin types achieve clearer, healthier skin.
It has hydrating and balancing properties that make it great for people who are suffering from dry or itchy skin, and can also reduce the appearance of scarring or skin damage!
It is found in a variety of diy skincare products because it is cleansing, anti-aging, and emollient properties.
This oil is a great pick for anyone who is looking to cut back on the number of bottles in their cabinet as it has many benefits packed into one amazing oil!
Moringa Seed Oil Benefits for Skin
Moringa Seed Oil has many benefits in skincare. It acts as an emollient so it helps draw moisture to the skin and keep it there. Its high concentration of fatty acids help keep the skin vibrant and young.
This oil reduces fine lines and wrinkles, helps banish dark spots, and plump skin.
But it's anti-aging benefits don't end there! Moringa Seed Oil is also full of antioxidants that help protect skin to keep it ageless!
Its high concentration of fatty acids make it perfect for use in cleansers to keep skin clean and clear.
Because of its emollient properties, Moringa Seed Oil is also an excellent choice for anyone who has dry, chapped, or damaged skin.
It forms a protective barrier over skin, seals in moisture, and fills in damaged areas to help them heal.
Popular Moringa Seed Oil Uses for Skin
Moringa Seed Oil has many uses in skin care including in moisturizers, creams, foundations, and massage oils.
Since it is an emollient it makes a great ingredient in a multitude of moisturizers such as lotions, body butter, or serums. Because it is an emollient, it helps seal in moisture to help skin stay hydrated all day!
This oil can be used in cleansers and scrubs as well to help clean skin and keep it clear. It is antimicrobial to help contribute to cleaner skin. Moringa Seed Oil is also an excellent addition to face masks!
Moringa Seed Oil Substitutes
If you're looking to make a recipe and need a substitute for Moringa Seed Oil, definitely check out Apricot Kernel Oil. It has the same absorption speed and they both leave skin feeling soft and smooth.
Apricot Oil also shares Moringa's moisturizing, and damage reversing properties.
Another wonderful alternative is Baobab Seed oil. This oil has a variety of benefits for skin and can be used in many of the same products as Moringa Seed Oil. They're both easy to use and versatile!
Warnings/Contraindications for Moringa Seed Oil
There are no known side effects to using Moringa Seed Oil and it is generally regarded as a safe oil to use. Like always, we recommend performing a patch test on a less sensitive area of skin to see how it reacts prior to applying it to your face.
Moringa oil may contribute to clogged pores in some individuals. If you are prone to breakouts, you may want to avoid this skincare oil.
Where to Buy Moringa Seed Oil
Photo Credit: mountainroseherbs.com
Mountain Rose Herbs is committed to putting people, plants, and planet before profit with everything they do. They are committed to sustainability, and a certified Zero Waste company. They currently only offer shipping to the United States & Canada. (Use Code: SIMPLEPURE15 to save 15% of all regular prices items!)
Get certified organic Moringa seed oil on Amazon!
Photo Credit: www.newdirectionsaromatics.com
New Directions Aromatics is a Canadian based company offering a wide variety of skincare and formulating supplies. They also offer a variety of Organic, Fair Trade & Ecocert Ingredients. They ship mainly to Canada & the US, but do offer International Shipping as well.
Photo Credit: www.wholesalesuppliesplus.com
Wholesale Supplies Plus offers a wide range of soap making & formulating supplies including bases, additives, carrier oils, fragrance & more. They are based in the US & while they do offer International shipping, they currently do not serve EU member states.
Photo Credit: www.fromnaturewithlove.com
From Nature With Love proudly offers an inspiring range of premium quality certified organic, conventional and complementary personal care ingredients for use within skin care, hair care, aromatherapy, massage, spa, herbalism and soap making applications. They also offer a Rewards program that pays you back 10% in rewards on every order. From Nature With Love is a US based company that does offer International Shipping.
Photo Credit: lotioncrafter.com
Lotion Crafter offers a wide variety of ingredients for all of your formulating needs. They offer carriers oils, preservatives, exfoliants, anti-aging ingredients, butters and so much more. I order a lot of my supplies from Lotion Crafter. Lotion Crafter offers local & International shipping.
Moringa Seed Oil Skincare Recipes
Now that you've learned all the amazing benefits of Moringa Seed Oil, let's learn some skincare recipes that you can try!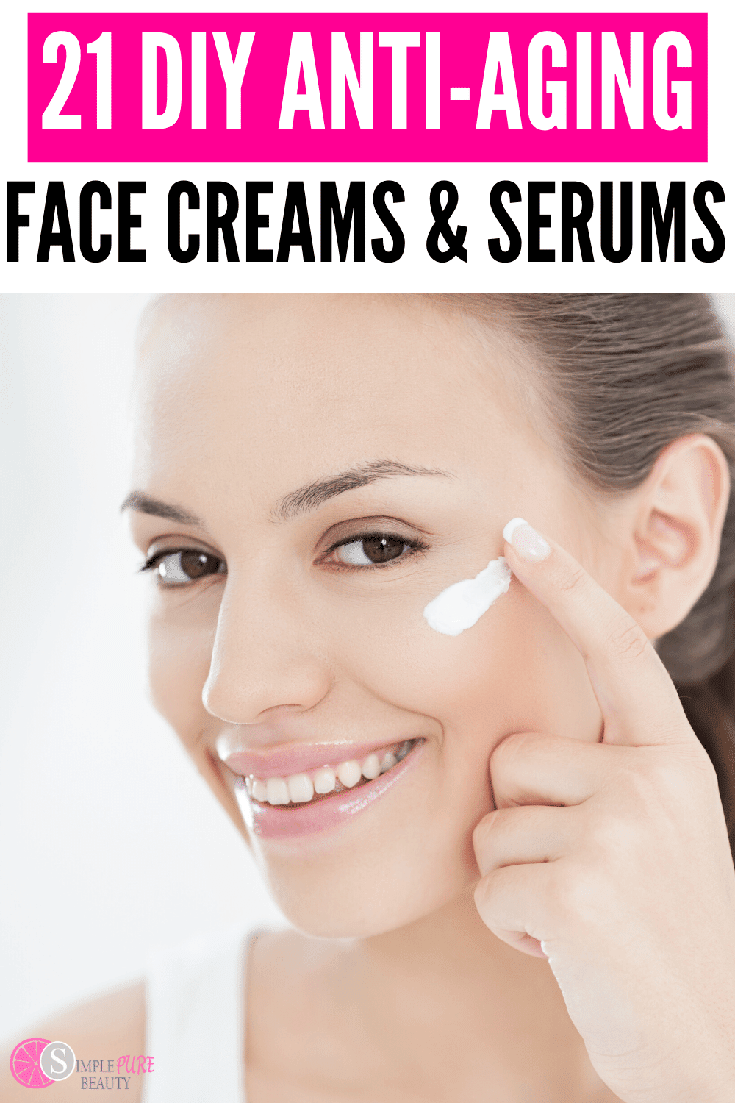 Let's face it, we're all getting older. But that doesn't mean we have to break the bank buying expensive anti-aging cream and wrinkle treatments. If …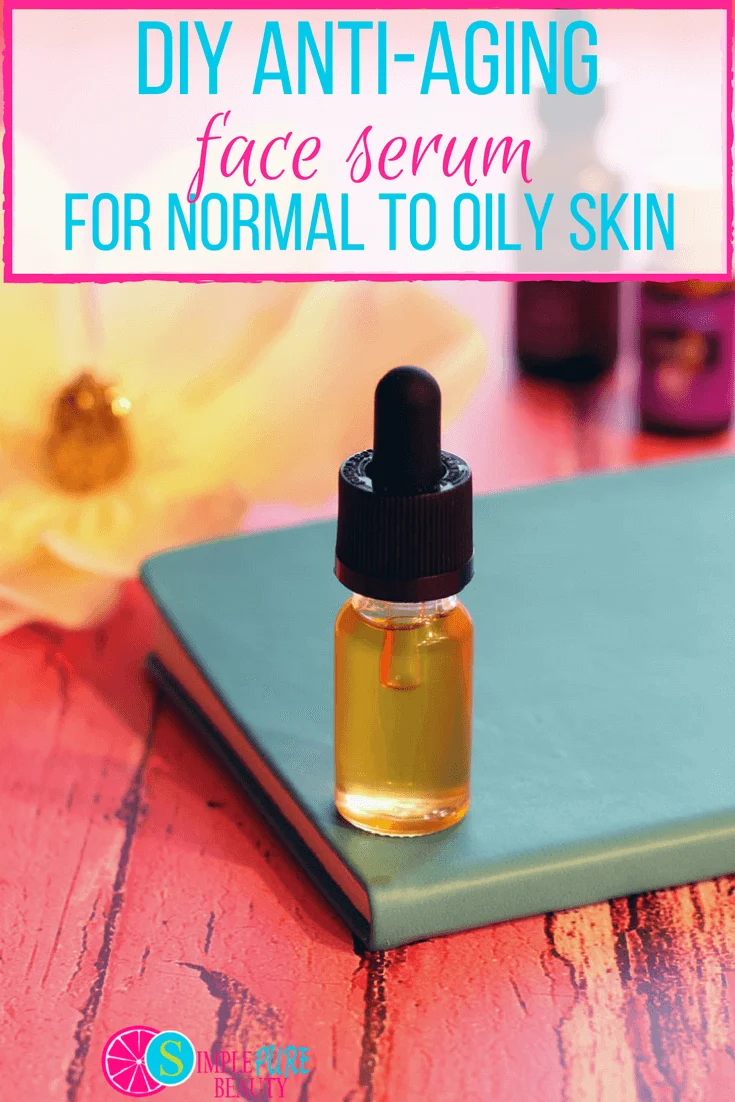 If you're struggling with oily skin, you're going to love this power packed DIY Balancing Face Serum! It is specially formulated for normal to oily …
Pin Moringa Seed Oil Benefits For Skin