Grapeseed Oil is an excellent carrier oil for the skin that is pressed from the seeds of grapes. Grapeseed oil has benefits for the skin are numersous and it can be used for many things and is easy to incorporate into your very own DIY skincare recipes.
You can use this skincare oil on all skin types; it is excellent for toning and cleansing skin. This oil is light in texture and absorbs quickly into skin, making it the perfect choice for anyone looking for an easy to incorporate oil!
Keep reading to learn about all of the benefits of grapeseed oil for your skin, how to use it and where to buy quality grapeseed oil!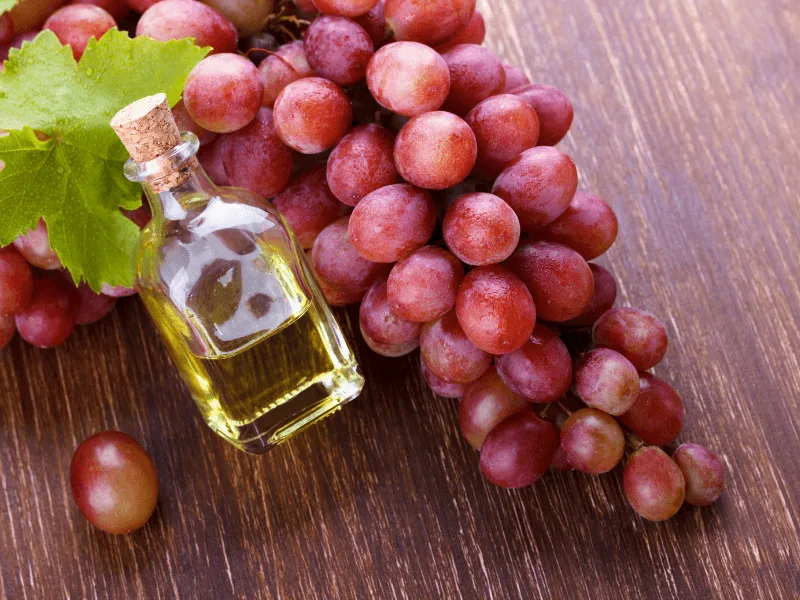 Grapeseed Oil Quick Facts:
Grapeseed Oil Scientific Name:
The scientific name for Grapeseed Oil is Vitis vinifera
Grapeseed Oil Comedogenic Rating:
Grapeseed Oil has a comedogenic rating of 1, meaning it has a very low likelihood to clog pores
Grapeseed Oil is Extracted from:
Grapeseed Oil is pressed from the seeds of grapes after the juice from the fruit has been harvested
Grapeseed Oil INCI:
Vitis vinifera (Grape) Seed Oil
Grapeseed Oil COSING Number:
80653
Recommended for:
Grapeseed Oil is recommended for all skin types
Grapeseed Oil Absorption Rating:
Grapeseed Oil has an absorption rating of 2, meaning it absorbs quickly leaving behind a silky smooth finish
Grapeseed Oil Composition:
| | |
| --- | --- |
| Linoleic Acid (C18:2 ⍵-6) | 69-78% |
| Oleic Acid (C18:1) | 15-25% |
| Palmitic Acid (C16:0) | 12% |
| Stearic Acid (C18:1) | 2.4-6% |
| a-Linoleic Acid (C18:2 ⍵-6) | 0.3-1% |
| Palmitoleic Acid (C16:1) | 0.5-0.7% |
| Vitamin E | 14 IU |
*Fatty acid breakdown is shared from
Modern Cosmetics Volume 1
.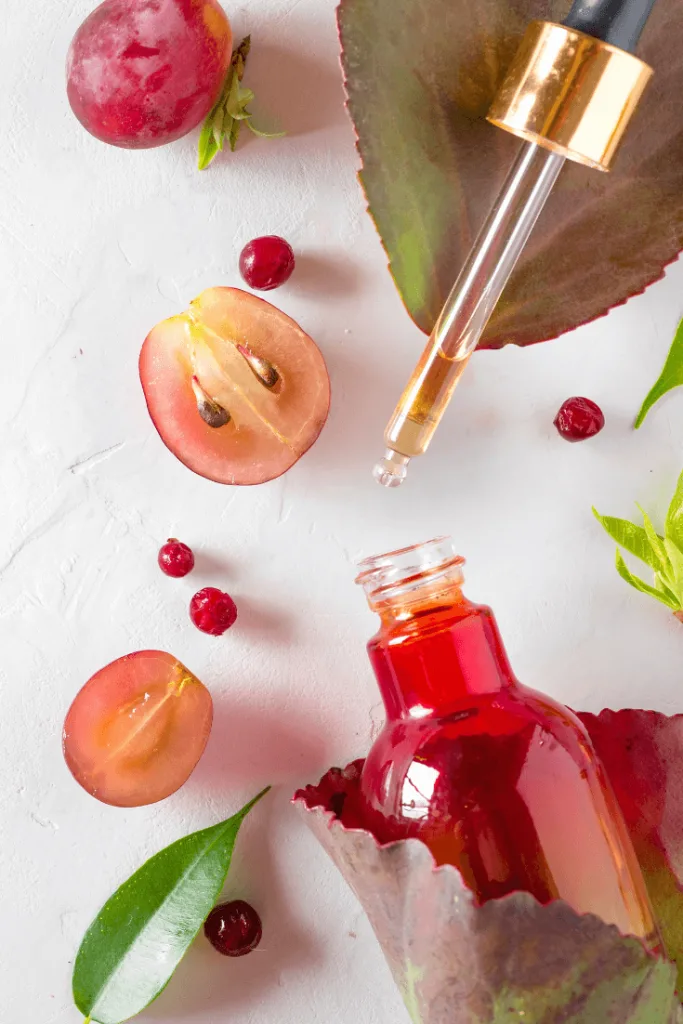 What is Grapeseed Oil?
Grapeseed Oil is pressed from the seeds of grapes after the juice has been squeezed from the fruit. Grapeseed Oil has many benefits in skincare, and as we mentioned before, can be used on all skin types. I
t is an emollient and helps keep moisture on the skin to help it stay hydrated.
Grapeseed Oil can be used to help treat acne-prone skin and has anti-aging properties. This oil can also be used in cooking and is a great oil to add to your diet!
Grapeseed Oil Benefits for Skin
Grapeseed Oil is an excellent oil to add to your skincare routine because it is very versatile, works well with other oils, and can be used in a variety of DIY recipes.
Grapeseed Oil is an excellent oil to use in anti-aging products and helps reduce the appearance of fine lines and wrinkles.
It also helps reduce inflammation and keep skin hydrated to reduce puffiness and help skin look plumper and fuller. This oil can also help lighten dark spots to give you a more even complexion.
Grapeseed Oil is a popular oil that can be used to help troubled skin. Since it is an emollient, it helps to keep skin hydrated and reduces dryness which helps skin from overproducing more oil.
It also helps reduce redness and irritation that can make breakouts worse. Even better, grapeseed oil also has antimicrobial properties which helps keep skin cleaner and clearer!
It has astringent properties which help it clean skin while helping it appear tighter and more toned. This makes it great for uses in products that help keep skin clean and clear.
This oil helps to overall clean up your complexion and helps skin appear smoother. Grapeseed Oil helps protect skin from free radical damage to help slow the aging process and helps reduce hyperpigmentation. It can also contribute to collagen production which helps repair skin and keep it appearing younger, longer.
Popular Grapeseed Oil Uses for Skin
You can use Grapeseed Oil for a variety of things in skincare! It is an excellent oil to use by itself or it can be combined with other ingredients to create your own formulation. Grapeseed Oil is a popular oil to use in anti-aging serums and creams. It also can be used in regular moisturizers such as lotions.
Grapeseed Oil is also cleansing and makes a great additive in toners and can even be used to remove stubborn makeup! Since it is non-comedogenic it is also often used in products such as scrubs and soaps.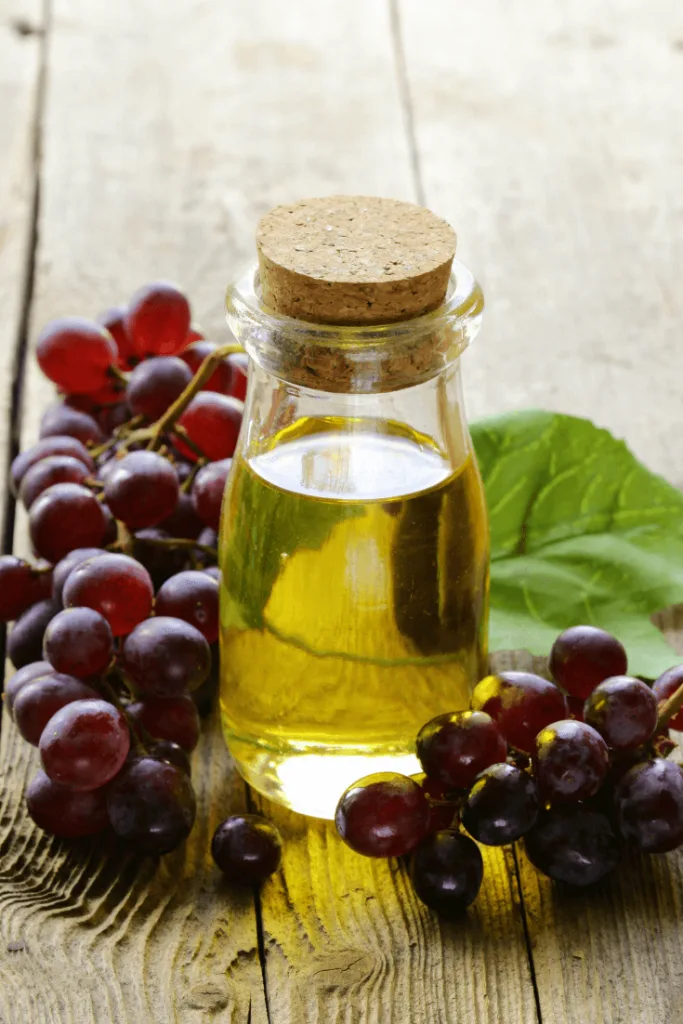 Grapeseed Oil Substitutes
Grapeseed Oil is an excellent oil to use in your skincare routine however if you are looking for an alternative oil you will need something that is non-comedogenic and that absorbs fairly quickly.
Red Raspberry Seed Oil is a great alternative to use in place of Grapeseed Oil. It is non-comedogenic and leaves skin feeling moisturized but not greasy.
It has excellent anti-aging properties and has a high concentration of antioxidants to help protect and repair skin. Red Raspberry Seed Oil is also anti-inflammatory and helps reduce irritation and redness.
Another great substitute for Grapeseed Oil is Avocado Oil, keep in mind when making this substitution that Avocado Oil is comedogenic. This means that if you already struggle with oily skin then use caution when using it. Avocado Oil is incredibly hydrating and healing and helps to protect skin from damage.
One last option would be Rosehip Seed Oil. Rosehip Seed Oil is also non-comedogenic and can be used on all skin types. This oil helps protect skin from free radical damage and is a wonderful oil for those who are looking for anti-aging ingredients.
Warnings/Contraindications for Grapeseed Oil
Grapeseed Oil is generally regarded as safe, if you are allergic to grapes it is not recommended that you use this oil. Always perform a patch test on a less sensitive area of skin prior to applying any new products or ingredients to your face.
Where to Buy Grapeseed Oil
Get your Organic Grapeseed Oil from Amazon!
Photo Credit: mountainroseherbs.com
Mountain Rose Herbs is committed to putting people, plants, and planet before profit with everything they do. They are committed to sustainability, and a certified Zero Waste company. They currently only offer shipping to the United States & Canada. (Use Code: SIMPLEPURE15 to save 15% of all regular priced items!)
Photo Credit: www.newdirectionsaromatics.com
New Directions Aromatics is a Canadian based company offering a wide variety of skincare and formulating supplies. They also offer a variety of Organic, Fair Trade & Ecocert Ingredients. They ship mainly to Canada & the US, but do offer International Shipping as well.
Photo Credit: www.makingcosmetics.com
Making Cosmetics is a company that specializes in providing ingredients of the highest quality packaged in convenient retail sizes but also large bulk sizes at discount rates. The company has been ISO certified, FDA registered, and USDA organic certified. Making Cosmetics supplies over 1,000+ ingredients to customers all around the globe who need them for their own products or to create their own recipes. Making Cosmetics ships to 150 countries worldwide.
Grapeseed Oil Skincare Recipes
Now that you've learned all the amazing benefits of Grapeseed Oil, let's learn some skincare recipes that you can try!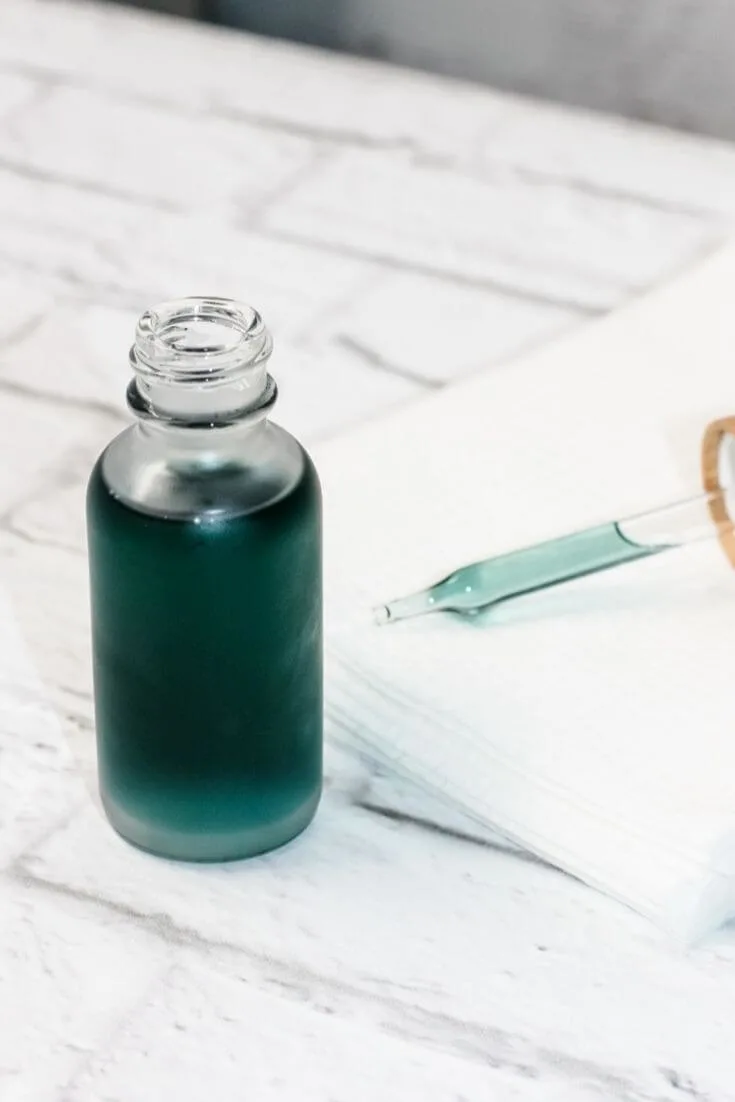 Oil cleansing might sound a little counterintuitive if you have problem skin, but oil cleansing is an effective way to get cleaner, clearer skin! If …
Pin Grapeseed Oil Benefits for Skin