Oil cleansing might sound a little counterintuitive if you have problem skin, but oil cleansing is an effective way to get cleaner, clearer skin! If you've never heard of oil cleansing, or if you've tried it and didn't have great results; now is the time to try!
This blue tansy cleansing oil recipe uses natural oils, is lightweight and pulls dirt, oil, and debris from your skin without clogging pores.
It is also beautiful and smells amazing! Keep reading to learn how to make this lovely cleansing oil for sensitive skin.
What is the oil cleansing method?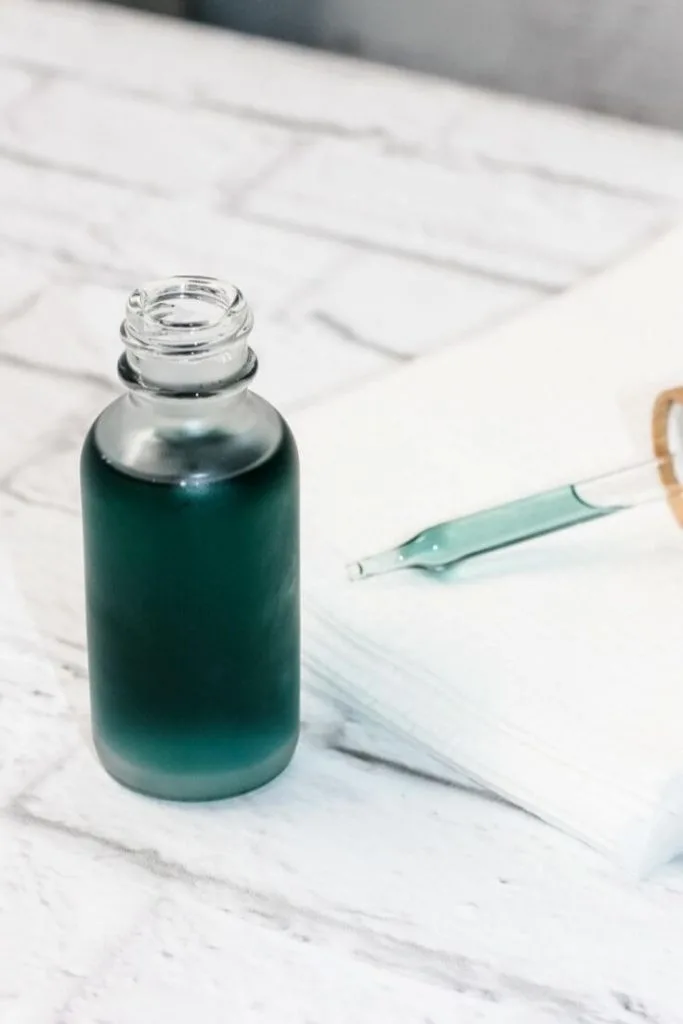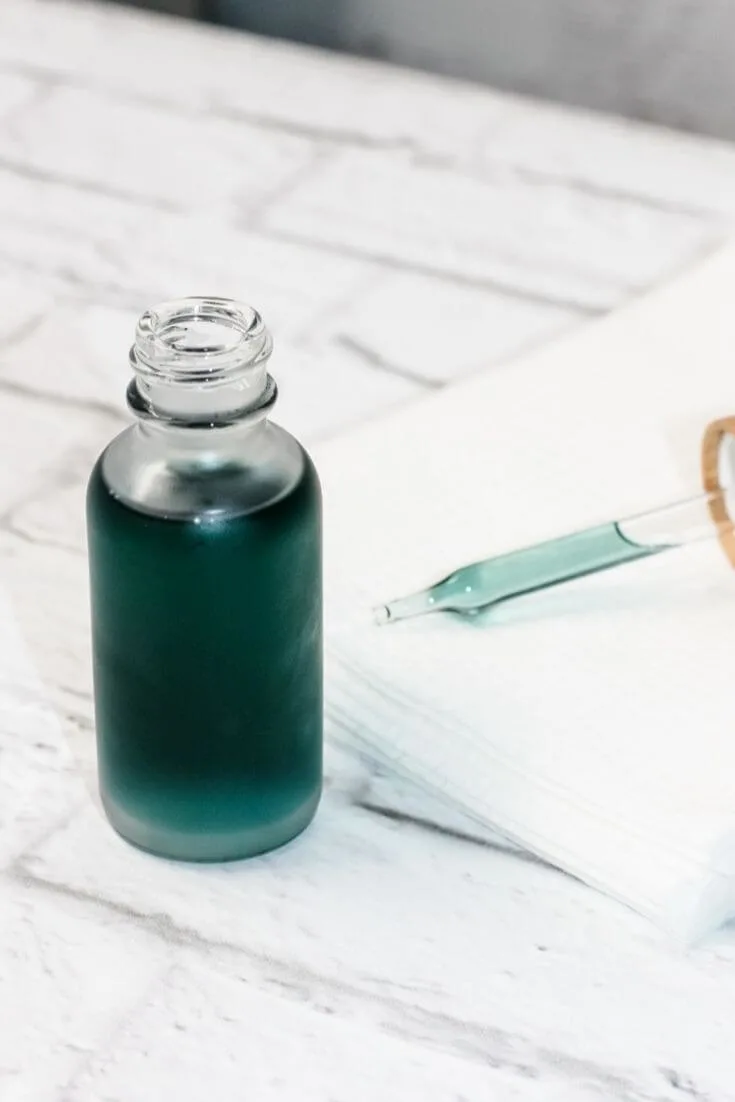 An oil cleanse is a method of facial cleansing that uses oils to break dirt and debris away from skin. This method steers clear of harsh, drying chemicals and uses oils that not only help clean your skin, but moisturize and refresh as well!
What does an oil cleanse do?
Oil cleansing uses an oil-based cleanser that dissolves the bonds between your skin and the debris trapped on it.
This means that the cleansing oil will lift off dirt and dead skin cells and go right down the drain when you wash it off!
You can even use oil cleansing to get off stubborn makeup including waterproof mascara!
Using a cleansing oil over traditional cleansers can help you maintain a healthy lipid barrier. This helps protect your skin from free radical damage and helps lock in moisture.
The oil cleansing method is the perfect way to maintain cleaner, clearer skin without harsh scrubs or astringents!
If you happen to have sensitive skin like me, cleansing products with surfactants can be very irritating to the skin. I have been using this cleansing oil for a while now and I am in love!
What is a cleansing oil?
A cleansing oil is an oil that helps get rid of buildup on your skin. Using an oil cleanser you can help lift away all the gross stuff that builds up on your skin and gently exfoliate to get rid of dead skin cells.
How to oil cleanse
So how exactly do you do an oil cleanse?
Great question!
It might seem odd to just rub oil all over unclean skin, but that's exactly what you should do. To use your cleansing oil, gently massage it all over your face and neck.
Use a light, upward, circular motion and massage into skin for 2-3 minutes. Once you are done, rinse off with a warm washcloth or my favorite clean towels to reveal your clean, beautiful skin!
Follow up with your favorite diy toner, anti-aging serum and night cream.
Blue tansy cleansing oil ingredients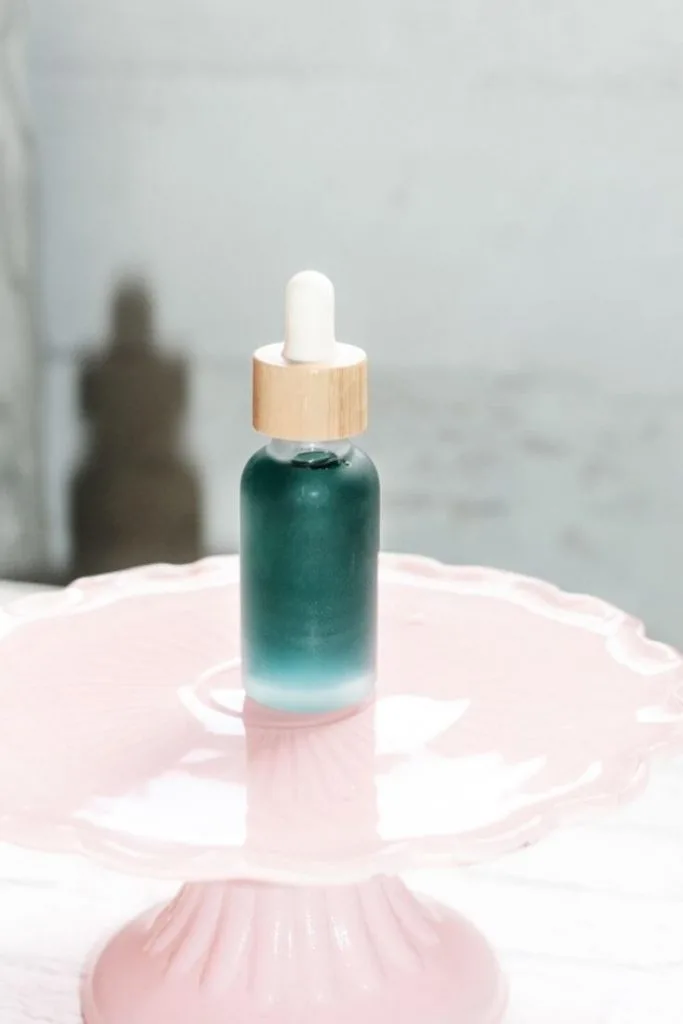 The best cleansing oils are ones that contain high-quality oils that gently exfoliate and moisturize. Check out the key ingredients in this recipe that make it the best cleansing oil out there!
This popular oil helps balance skin's moisture and seals moisture in. It is light and absorbs into skin quickly helping penetrate deep to deliver nourishment and reduce signs of aging.
Watermelon seed oil is an exfoliating oil, it helps lift away dead skin cells, dirt, and debris. It also helps deeply moisturize skin while protecting it from environmental damage. Packed with vitamin E this oil has many antioxidant properties which boost its skin protection qualities.
This well-known oil can help moisturize, protect, and heal your skin. Its unique composition makes it a wonderful choice for those who struggle with dry spots, uneven skin tone, and irritation. It sinks deep into skin and helps other oils so the same to increase their moisturizing and healing properties.
Blue tansy essential oil has anti-inflammatory and antioxidant properties, helping to soothe skin while protecting it from further damage. It also helps break down build-up in pores, reduce redness, and reduce bacteria on the skin that can lead to acne and breakouts! You can also swap this out for german chamomile essential oil to keep the lovely blue color. Or simply use any healing, soothing essential oil of your choice.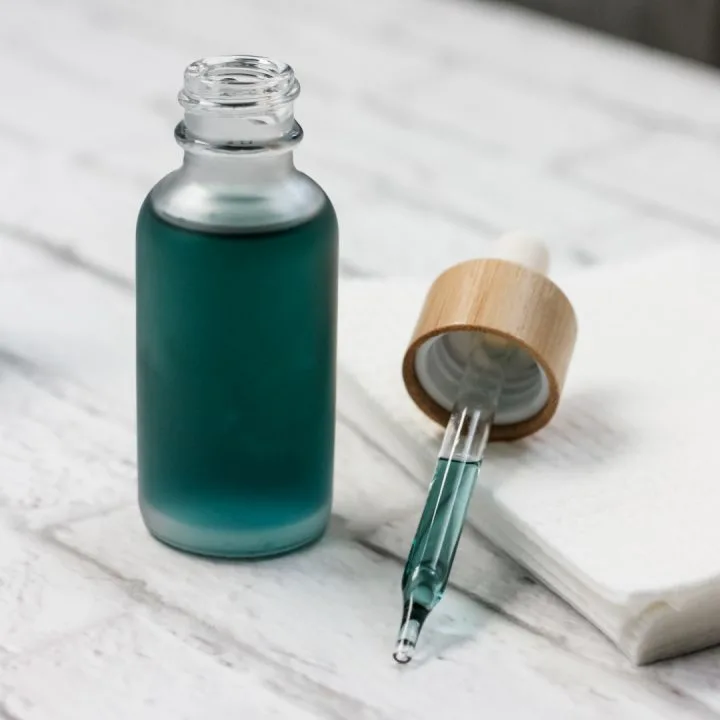 Blue Tansy Oil Cleansing Recipe
Deep cleaning cleansing oil recipe.
Instructions
Add all ingredients together and combine
Pour into glass dropper bottle
Recommended Products
As an Amazon Associate and member of other affiliate programs, I earn from qualifying purchases.
Oil Cleansing FAQs
Should I use this cleansing oil every day?
You can use a cleansing oil every day; if you have never used a cleansing oil then we recommend starting with two times per week and work your way up! If you notice any additional irritation or breakouts, then decrease use.
Is oil cleansing good for your skin?
Oil cleansing have many benefits for your skin. It can help moisturize and soothe dry skin while it cleanses, help combat breakouts, and reduce inflammation and irritation. Using oil cleansers on sensitive skin types can help reduce irritation and help gently exfoliate to keep the skin cleaner.
Will oil cleansing break me out?
Oil cleansing is generally safe for most skin types. If you have acne-prone skin or naturally oily skin you can still benefit from oil cleansing! Oil dissolves oil, and oil cleansing a few times a week may help combat breakouts.
Should I oil cleanse before or after showering?
We recommend oil cleansing before you shower! You can gently exfoliate prior to showering and rinse the oil off in the shower with warm water if you'd like.
Do you need toner after oil cleansing?
You can use a toner after oil cleansing if you feel the need. You can do this to help boost the skin benefits and to remove excess oil.
Can I use oil cleanser alone?
You can use cleanser oil to clean your skin alone, no need for face wash! Once you have cleansed your skin and washed off the oil. After using your cleanser oil, you can continue with the rest of your skincare routine!
Is oil cleansing good for makeup?
A cleansing facial oil can be used to remove makeup; including waterproof eye makeup! When using your cleanser oil to remove makeup be sure that you are gentle on your skin and that all the cleanser oil is removed from skin! When you are using the oil cleansing method for makeup removal, you may want to apply the oil to a cotton pad to gently remove makeup from around your eyes!
Choose to use a cleansing oil!
Using the oil cleansing method is a great way to get cleaner and clearer skin without using harsh face scrubs or washes. A cleansing oil is a wonderful gentle makeup remover that can remove waterproof makeup.
Using a deep cleansing oil is a wonderful way to help your skin stay clean and healthy while balancing skin and moisturizing. Start using this cleanser oil as your new facial cleanser!
Pin this recipe for later!
If you love this recipe and want to try it for yourself, don't forget to pin it for later.