Essential oils for hair growth, essential oils for hair loss! That is awesome but wait until you see how shiny and healthy they will make your hair as well. Awesome!
If you have been reading my blog for a while, you know how much I love essential oils. I am still trying to figure out how I overlooked these powerful oils for so long.
I have touched on using essential oils for natural cleaning and homemade perfume recipes, but today I wanted to share the best essential oils for hair care.
When I first began using Essential Oils, my focus was on finding the cheapest price. I would scour the web and Amazon comparing prices for individual oils.
But, I have since learned, that with Essential Oils, cheap isn't always better.
I know where the grass fed meat I feed my family comes from along with the fresh produce I buy from local farmers.
So why should I compromise on the standard of Essential Oils that I purchase for my family?
But the question for today is:
What are the best essential oils for hair care?
Essential Oils for Hair Growth: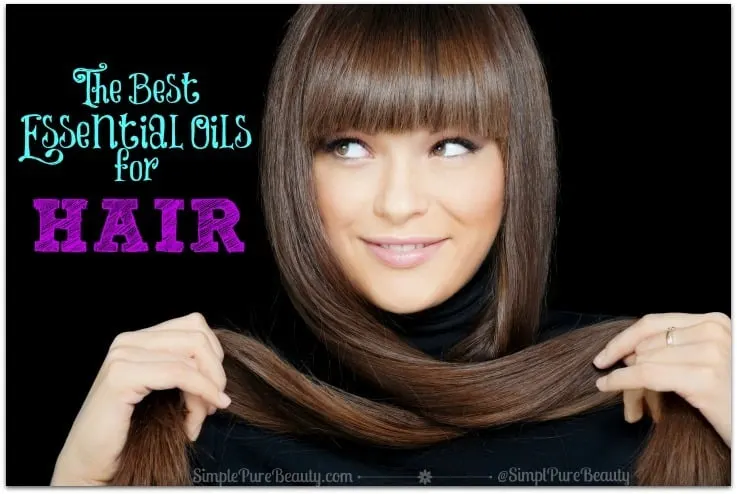 Seeking longer tresses? Thyme and rosemary essential oils work at the scalp to stimulate hair growth. Lavender, which is one of the most widely used essential oils around the world, pairs well for extra growing power to get the length that you're looking for.
Essential Oils for Hair Thinning:
Fluctuating hormones are an especially common culprit of hair thinning and thyme is a great treatment along with cypress oil, a unique oil which is also being studied as a treatment for alopecia.
Essential Oils for Dandruff:
Clary sage, melaleuca (tea tree), and lavender are promising essential oils for the treatment of dandruff. For concentrated treatment apply directly to the scalp with a carrier oil or mix into shampoo for daily use. Click here for more remedies for dandruff and itchy scalp.
Essential Oils for Shine and Strength:
Shiny hair is healthy hair! Bergamot and lavender oil soothe the scalp and build in a boost of shine and strength. Melaleuca and lemon essential oils are recommended for curly hair because they work to restore the scalp's oil glands in order to improve shine without oiliness or greasiness.
What is the Best Oil for Hair?
Finding the best oil for your hair issue is going to be the most important. We've covered essential oils in this article, but if you're looking for more information on great carrier oils, check out Top 10 Best Oils for the Hair & Scalp!