Subtly tinted with natural hibiscus powder, this DIY Tinted Lip Balm is soothing and, most importantly, chemical-free.
I don't know when it started.
My addiction to lip balm.
For as long as I remember, I've always had to have a tube or two on me.
At home, I have one in the kitchen utensil drawer, one in the junk drawer, 3-4 in the office desk drawer and half a dozen in the bathroom.
My purse? Yes, I probably have a combined total of 12 from all my purses and handbags.
Addiction, I tell you! It's no wonder I set out to start making my own because, at this rate, I would need a second job just to support my addiction.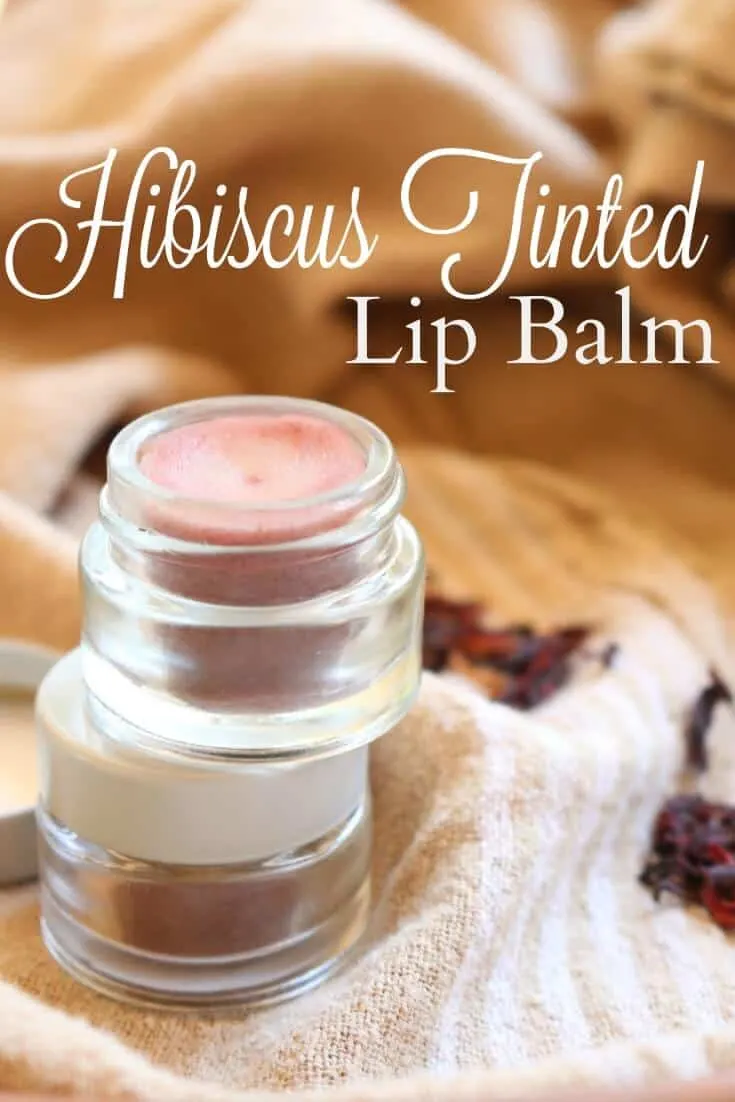 Tint your face with Lip Balm
Tinted lip balm is the new lipstick. Well, not really, but it sure is a great way to add some color to your face and give a fresh look. I remember a few years ago, I snagged a few (or 10) Burt's Bee's tinted balms and fell in love with them.
They are perfect for when lipstick seems too formal or too heavy. I'm not a big make-up person per se, but I also don't care to frighten my neighbors with my pale au naturel look.
I also love a nice lip gloss, which is perfect for when you want to take your look up a notch!
Beautiful hue of Hibiscus
And I'm glad I did because it's incredibly easy to make DIY tinted lip balm with a few key ingredients.
If you prefer more of a shimmery lip gloss, you can learn how to make lip gloss here. Our recipe and tutorial is completely customizable. We've included a lip gloss base that you can customize with any colors and tints you choose!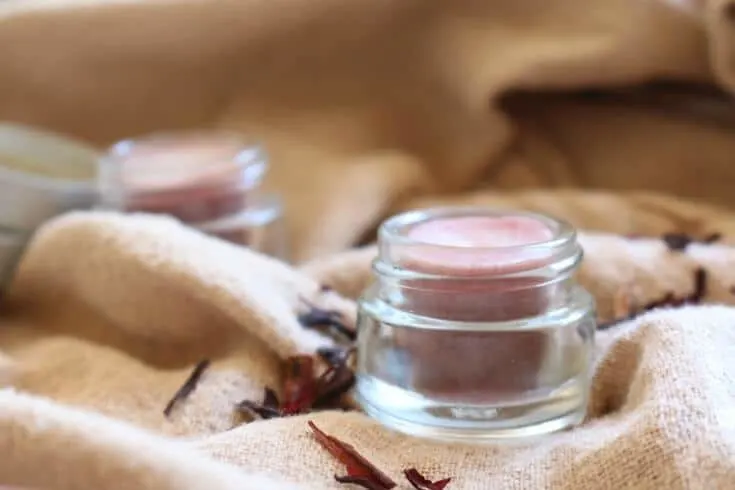 Have you tried my Hibiscus Fruit Punch? So tangy, delicious, and sweet and just perfect for any occasion, any season, any day. You can't go wrong with hibiscus. It's so versatile and the gorgeous red hue makes it an amazing choice to tint the lip balm. Not the Red 40 that would normally be seen in conventional products, this is truly food grade. Very safe for your curious toddler sporting your high heels and pearls.
DIY Tinted Lip Balm with Hibiscus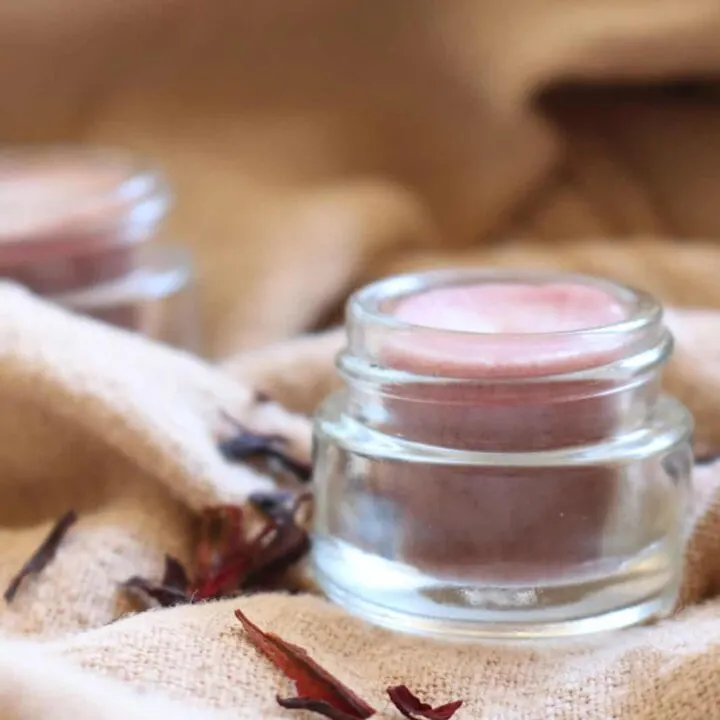 DIY Tinted Lip Balm with Hibiscus
Subtly tinted with natural hibiscus powder, these lip balms are soothing to the lips without any phtalates, dyes, or chemicals.
Instructions
In a double boiler or small glass bowl (I used a glass measuring cup) over a small pot of boiling water, melt beeswax, shea butter and coconut oil.


Remove pan from heat but keep the boiler over the hot water to keep the mixture liquid.


Add enough hibiscus powder to your liking and stir to combine well. (I used a craft stick)


Fill the lip balm tubes or glass jars. This step must be done quickly as the beeswax will start to harden.


Let lip balm set at room temperature for a few hours before capping them. Keep away from direct heat.
Recommended Products
As an Amazon Associate and member of other affiliate programs, I earn from qualifying purchases.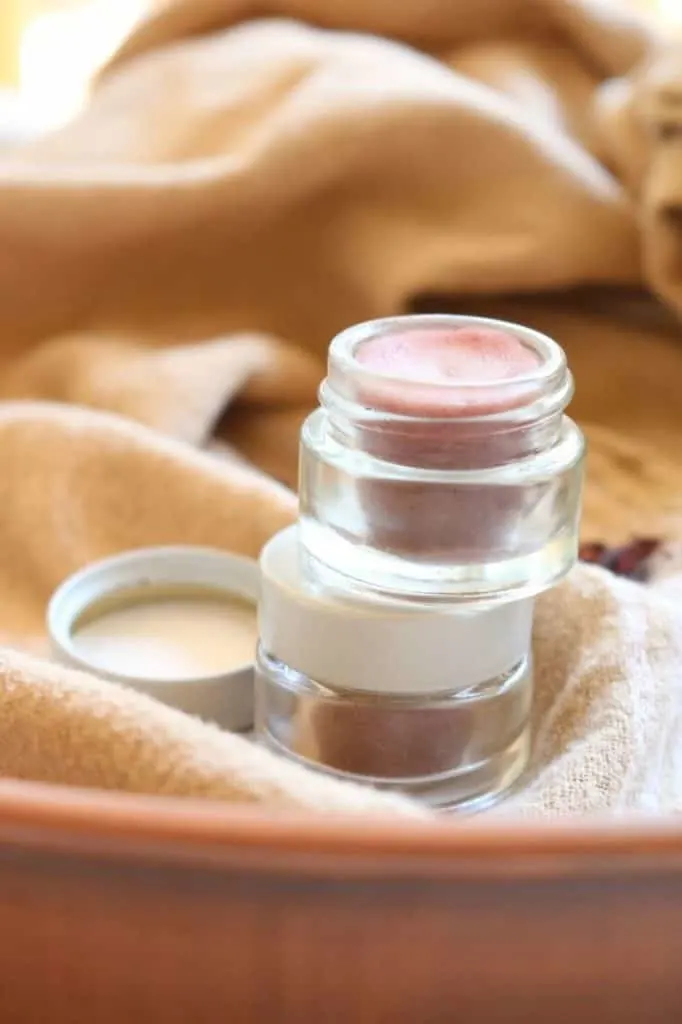 Hibiscus is so much fun! Here are a few more fun Hibiscus Recipes to try: