The delicate skin around your eyes can be hard to care for! Puffiness, dark circles, fine lines, and wrinkles; sometimes, it feels like the area around our eyes is just screaming our age!
If you've tried store-bought products and weren't impressed, then maybe it's time to give DIY a try!
This uplifting eye serum will help eliminate all those under-eye troubles, making you look simply ageless!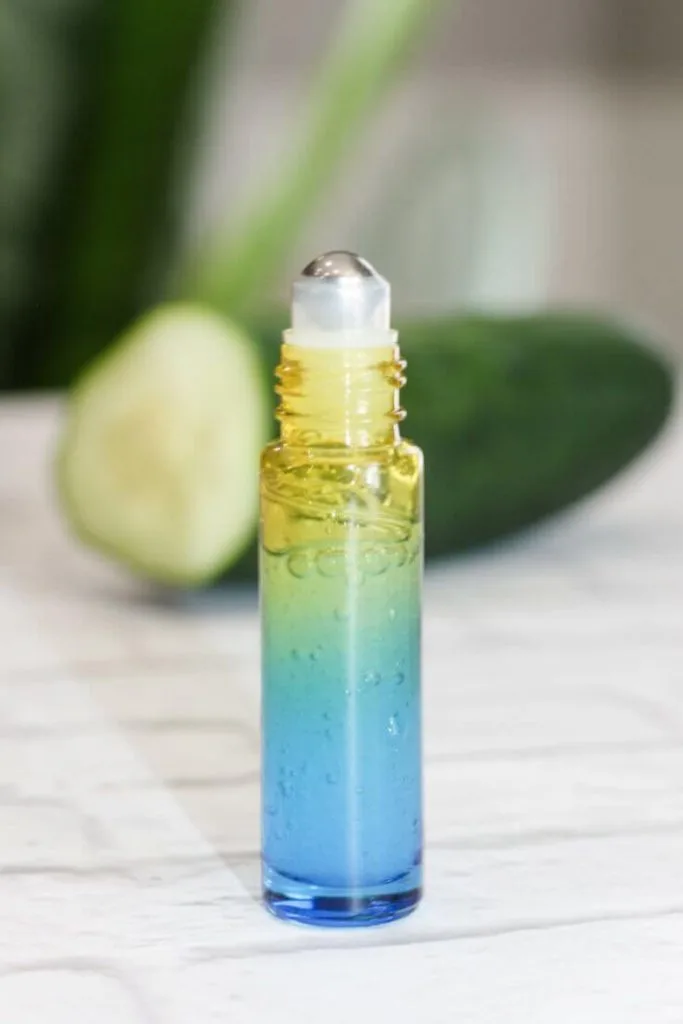 What does lifting eye serum do?
This lifting eye serum does it all! The main purpose of a lifting serum is to help reduce the signs of aging, like fine lines, wrinkles, and puffiness.
This serum does just that as well as helps brighten around your eyes, tightens, and firms!
Not only that, but with the addition of cucumber extract, it feels soothing and cooling going on!
So what does that actually mean for the skin around your eyes?
You'll reduce the appearance of dark circles, say goodbye to crows feet, and lift the skin around your eyes to reduce bags and puffiness!
Which is better eye cream or eye serum?
It is important to determine your needs when deciding which is better because the answer may be both!
Serums are lighter and tend to be more potent than creams; they deliver ingredients with carrier oils, essential oils, and ingredients that deeply penetrate skin. They are great for anti-aging, brightening, and lifting.
However, a good homemade eye cream should still have a place in your beauty regimen! Creams can help finish the work that your serum started while helping hydrate, moisturize, and protect the sensitive skin around your eyes.
Using this lifting eye serum with your own eye cream may help you get better results!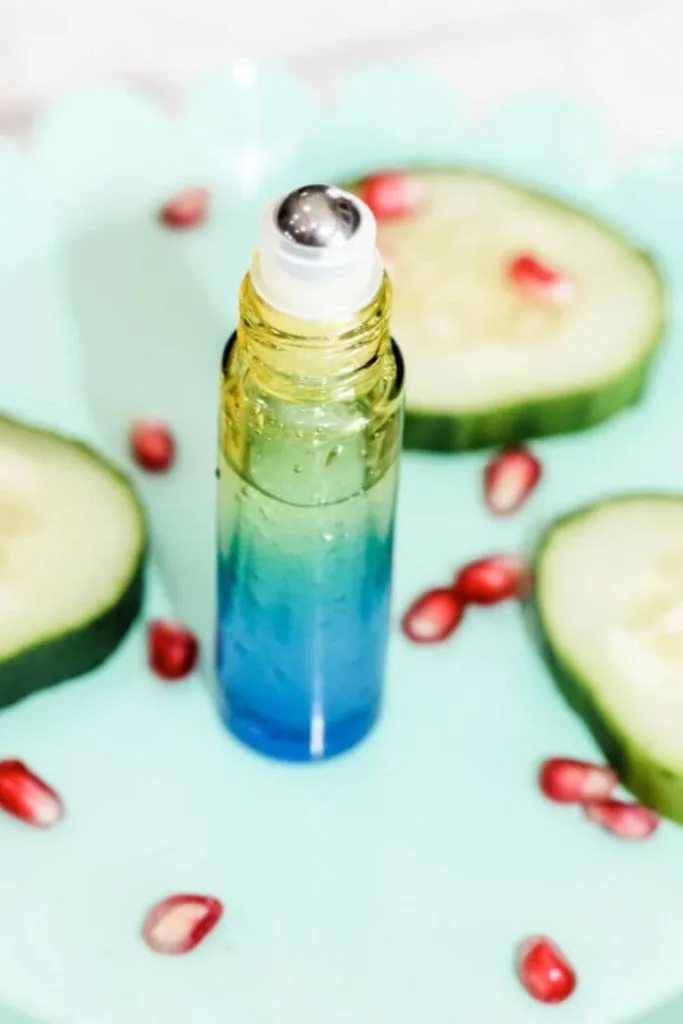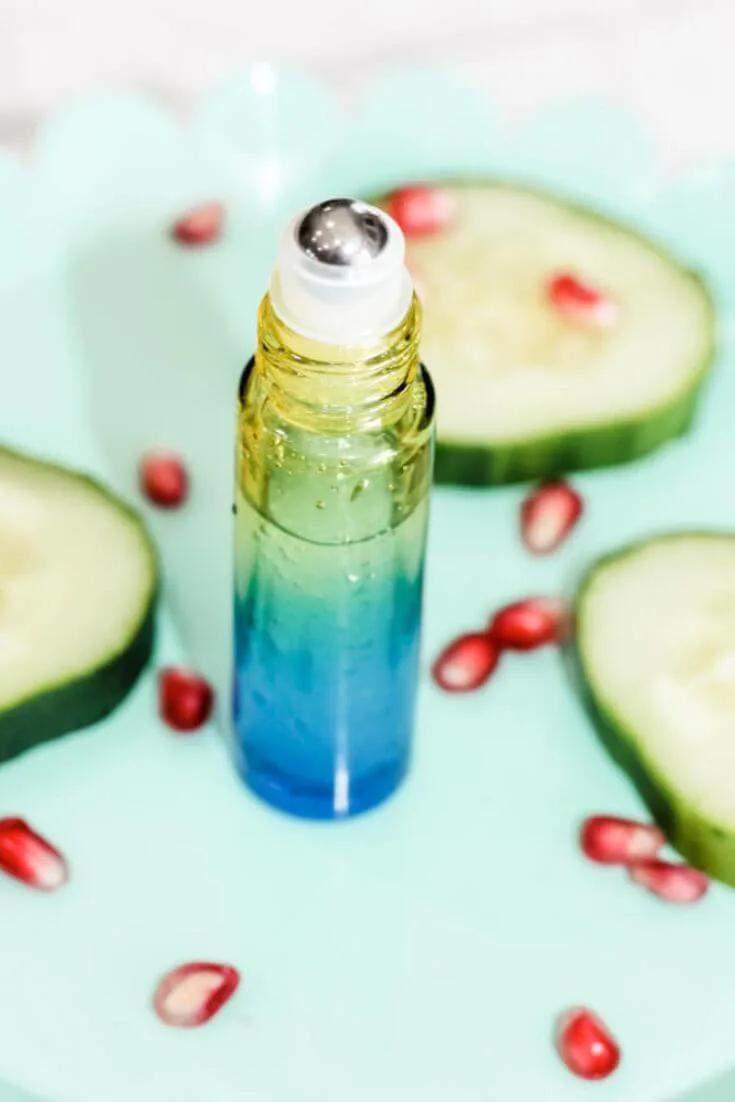 How often should you use eye serum?
You can use this eye serum every day, but it is not recommended to use more than that. I use this eye serum at night before my anti-aging serum and night cream.
What are the benefits of an uplifting eye serum?
Uplifting eye serums are an easy way to help reduce the appearance of fine lines and wrinkles around your eyes, including those pesky crows feet!
This serum will also reduce inflammation around your eyes that we see as bags and puffiness.
If you notice a lot of sagging or heavy skin under your eyes contributing to bags, an uplifting serum will also help tighten, firm, and tone that skin! Not to mention, it will also help with reducing dark circles, leaving you looking refreshed!
DIY Eye Serum Ingredients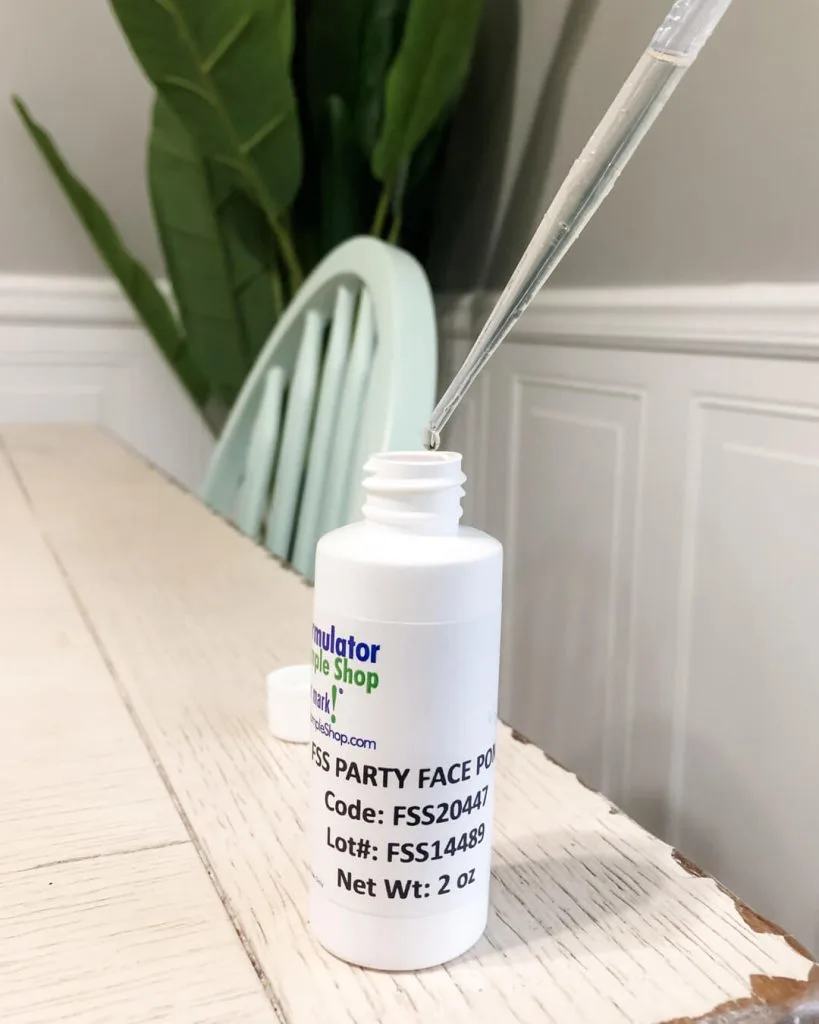 The key to getting great results from your homemade eye serum is packing it full of potent and natural ingredients!
Let's see what makes this DIY eye serum one of the best eye serums you could have in your anti-aging arsenal!
Distilled Water
Distilled water doesn't sound fancy, but it is essential that you use distilled water in your skincare formulations. It is free of contaminants and minerals and is used as a solvent in this recipe.
This gentle ingredient softens and soothes skin; it also helps boost this serum's extra moisture! Because it can soothe irritation with its anti-inflammatory properties it can help reduce puffiness that tends to build up around the eyes.
Aloe vera gel is a moisturizing agent that helps relieve irritation, reduce inflammation, and fight dry skin.
It may helps reduce fine lines and wrinkles by plumping skin.
It can also aid in minimizing dark spots and the appearance dark circles under the eyes.
Aloe vera also has antioxidant properties which can protect your skin from free radicals which can cause premature aging.
This powerhouse ingredient plays a major role in reducing the appearance of wrinkles and fine lines. Party Face POM is packed with antioxidants and is renowned for its ability to tighten and firm skin.
This hybrid ingredient has also been shown to stimulate collagen production which helps increase skin's elasticity even more.
In this homemade serum, this ingredient does a lot of the heavy lifting!
Of course, the sensitive skin around your eyes needs even more hydrating; that's what makes cucumber extract an excellent choice for an ingredient to include in this eye serum recipe!
It helps hydrate your skin, even more, reducing puffy eyes and decreasing swollen lids.
We know what happens when we eat or drink caffeine, but did you know it can give your skin an extra boost as well!?
Caffeine acts as a vasoconstrictor and reduces blood flow to the skin. This helps minimize swelling while brightening and tightening skin.
Glycerine might not sound like something you need in your serum, but it is a humectant that helps draw moisture to the skin and helps your skin retain it so it doesn't dry out throughout the day!
It also gives your skin a refreshing boost which helps the area around your eyes look brighter.
This ingredient is a natural thickener and helps combine all your ingredients into your lifting serum! It can also lightly hydrate skin.
A probiotic-based preservative, Leucidal SF Max is a natural alternative to traditional preservatives. It protects against bacteria, mold, and yeasts so that your serum has a longer shelf life.
Now that we've learned about all of these amazing ingredients, let's get to the recipe!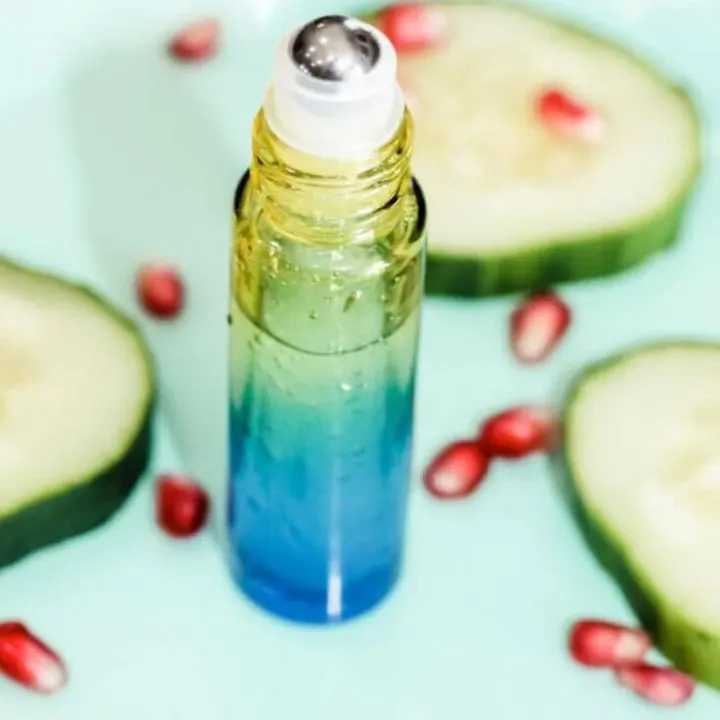 Uplifting Eye Serum Recipe
Anti-aging, lifting eye serum.
Instructions
Mix together water, hydrosol, aloe vera, Party Face POM, cucumber & caffeine extract together in glass beaker
In a separate beaker, combine the glycerine and xanthan gum until smooth
Slowly add your gum mixture to water mixture while stirring
Add preservative and combine well
Check pH and adjust if necessary to a pH of 5
Add to 10ml roller bottle for easy application
Notes
I have reduced the amount of preservative from 4% to 3.5% because our extracts were already preserved. If you are using a hydrosol that is preserved you will want to reduce your preservative even more.
Recommended Products
As an Amazon Associate and member of other affiliate programs, I earn from qualifying purchases.
Uplifting Eye Serum FAQs
Ready to learn more about eye serums? Let's go over a few FAQs!
Does serum work for eye bags?
Serums are very potent beauty products that can work wonders for skin! A high-quality serum can improve skin elasticity, tone under-eye skin, and reduce eye puffiness.
This caffeine eye serum also constricts blood vessels, decreasing blood circulation and swelling around the eyes.
So what does this mean for eye bags? If you're using this powerful serum recipe, then you can tighten the delicate under-eye skin, get rid of unflattering dark circles, and get rid of those pesky bags!
When should you apply eye serum?
We recommend using your eye serum at night when your skin has time to rest and restore itself. If you wake up with tired skin or puffiness around your eyes, then applying your serum at night can help you wake up the next morning with more rejuvenated and refreshed-looking skin!
Can I use eye serum all over my face?
While you can use eye serum on your entire face, it is not as economical as using a serum or cream that is meant to be applied all over the face.
The skin around your eyes is much more delicate than the skin everywhere else. Serums are also very targeted products, and your eyes do not have the same needs as the rest of your skin.
This means that different ingredients may work better for other areas!
Where should you apply eye serum?
You should use this nourishing eye serum in small amounts around your entire eye area, including under your eyes. A good general rule of thumb is applying eye serum everywhere your sunglasses cover!
When should eye serum be used in my routine?
For best results, eye serum should be used after cleansing and toning. Once you have applied your eye serum, you can follow it with your own DIY eye cream.
Be sure that you are applying your serum before your moisturizer. Always remember that a little bit goes a long way, and do not over-apply your serum.
No matter what kind of beauty routine you have, there is always room for a wonderful lifting eye serum!
Say bye-bye to crows feet, age spots, fine lines and wrinkles, under-eye bags, and dark circles with this all-in-one eye serum made with natural, simple ingredients!
Sometimes our skin needs a little pick-me-up, and this nourishing serum is the perfect way to get younger, brighter-looking eyes!
Wrapping Things Up
I hope you've enjoyed learning how to make your own lifting eye serum! Now it's time to get busy making your own!
Pin this post for later
Find this recipe anytime and pin this post to save for later!