I love the smell of a fresh cup of coffee; it's such a comforting and warm smell! I don't like to drink it but I could smell it all day… This newest body butter formula blends that savory coffee aroma and soft, smooth skin!
This is a very rich body butter with intense moisturizing abilities!
Give your skin a little extra TLC, and try out this body butter to keep your skin hydrated and happy as the weather cools down.
What is coffee body butter?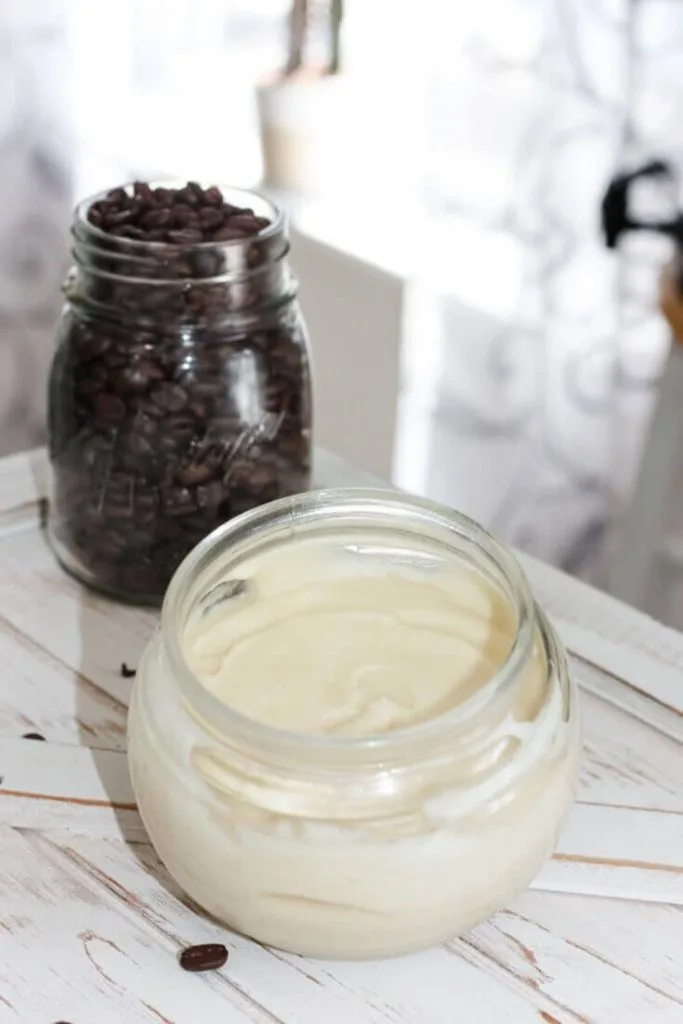 Coffee body butter is a moisturizing butter that will soften the roughest skin while helping boost skin's appearance! This body butter contains coffee oil to help give it that familiar scent and helps your skin retain moisture while it tightens and firms.
In this recipe, we are going to whip our butter to give it an even lighter composition that literally melts into skin.
Is coffee body butter good for your skin?
Whipped coffee butter is a wonderful product to help repair rough, dry skin that is damaged or dry. It absorbs into skin easily and nourishes your skin as it absorbs.
Coffee butter is full of antioxidants that help protect your skin from free radicals and environmental damage.
It is intensely nourishing and mimics your skin's natural pH to help maintain your skin's healthy barrier while reducing skin irritation.
This butter is also healing to help repair and protect your skin no matter what life throws at you.
The natural ingredients in this recipe are moisturizing and help heal your skin from the inside out! Your skin will be soft and smooth with a youthful glow!
Say goodbye to tired, dull skin. Brighten and tighten your skin while protecting, nourishing, and moisturizing your entire body with this whipped mocha latte body butter!
How do you make coffee butter for your skin?
This whipped coffee butter recipe has a few steps, but it is so worth it!
You'll start by melting down your butters and then add in your oils and
. You'll let this mixture cool in a refrigerator. Once it has cooled, you will add in your arrowroot powder and whip the body butter with an electric hand mixer or whisk.
You'll refrigerate it again for a short period and then whisk it again. You will repeat this process until your body butter has reached your desired consistency!
Mocha Latte Body Butter Ingredients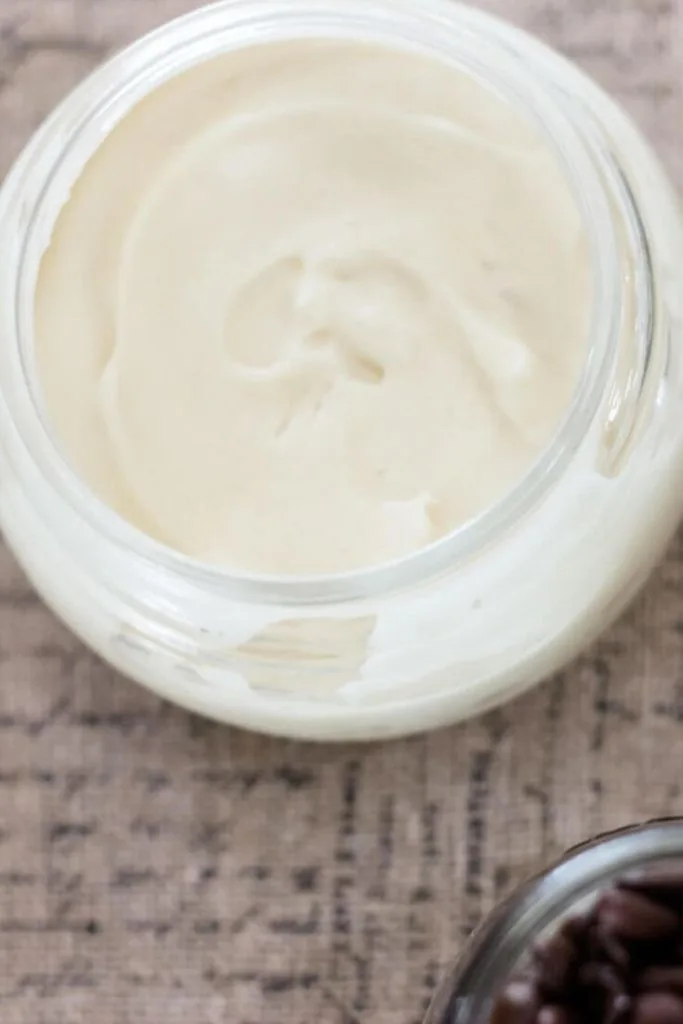 What could be better than a soft and light body butter? One made with natural ingredients that love your skin as much as you do.
Let's dive into what ingredients are in this DIY coffee butter!
You've heard about shea butter but have you heard about shea nut oil? This nourishing oil is moisturizing and helps protect skin. It penetrates deep into the skin layers to help heal your skin without leaving your skin feeling greasy.
This butter is what will give your coffee body butter that rich, chocolatey smell that we all know and love! It is a solid butter made of a blend of cocoa butter and coffee bean butter.
It's intensely moisturizing and full of antioxidants to help protect your skin. This butter has a very soft consistency and is a wonderful butter for creams and whipped formulations.
This butter loves to help your skin retain moisture, which is an important feature in most body butters.
This will help heal dry, cracked, irritated skin. It also has anti-inflammatory properties to help soothe skin while it hydrates.
It is also not likely to clog pores, so it is a great butter for many skin types.
This is an oil that I feel does not get enough attention! It is incredibly versatile and works wonders on even the most sensitive skin!
Baobab oil helps lighten dark spots and boosts collagen, meaning that your skin will stay healthy and youthful. It also helps heal dry skin and promotes a healthy skin barrier making it a particularly useful ingredient in this recipe.
This ingredient is an emollient that promotes soft, supple skin. It also helps improve skin's elasticity while leaving skin feeling soft and satiny.
This powder is a staple in many skincare recipes; it helps absorb excess oil so that your body butter doesn't turn out too greasy. It also helps promote healing!
Coffee seed oil is packed with antioxidants that fight aging and free radical damage. It also reduces transepidermal water loss, making your skin more likely to stay hydrated throughout the day!
This also strengthens your skin's natural barrier, helping your skin appear more firm and healthy. This means that it can help reduce the appearance of stretch marks, scarring, and cellulite.
Coffee seed oil also has the same pH as skin which helps your skin maintain its pH level. This is important because pH-balanced skin helps reduce irritation and dryness and reduces fine lines and wrinkles.
This oil also carries a light scent of coffee beans to add more of the savory aroma of coffee.
Vitamin E is a skincare must-have. It helps maintain healthy and youthful skin by protecting your skin from environmental damage.
It can help lighten dark spots and reduce signs of aging. It can also help reduce inflammation and puffiness.
I love adding mica powder to some of my products to add a little extra shimmer and shine! I love it in this recipe to give you a natural shimmering glow.
Cetyl alcohol is used as a moisturizer to help treat dry, cracked, and irritated skin. It is an excellent addition to this recipe to help deeply moisturize your skin.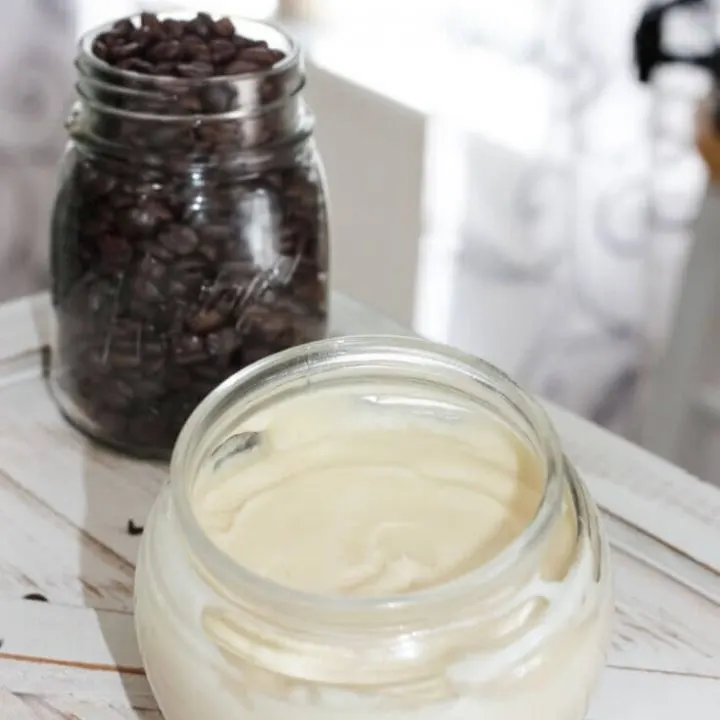 DIY Whipped Mocha Latte Body Butter
Moisturizing whipped coffee body butter.
Instructions
Add mochachino butter, murumuru butter and cetyl alcohol to a heat safe container and melt in a double boiler
Remove from heat and let cool a bit, then add in coffee seed, shea nut, baobab oils, & coco-caprylate and mix well
Once mixture has cooled to 40 C, add in your vitamin e oil and mica (if using)
Place mixture in the refrigerator to set
Once it has come to trace, remove from fridge and add in arrowroot powder and mix well
Whip your body butter with an electric whisk, then place back in fridge for 5-10 minutes
Whip body butter again, rinse and repeat until your butter reaches the desired consistency
Place your butter in a container
Recommended Products
As an Amazon Associate and member of other affiliate programs, I earn from qualifying purchases.
Mocha Latte Body Butter FAQs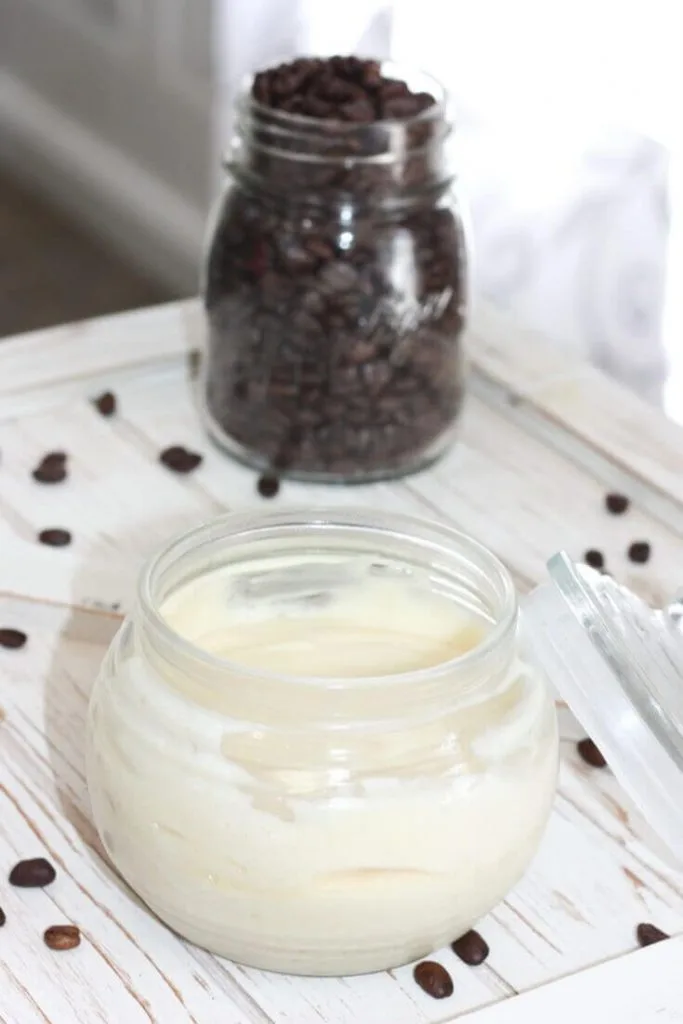 Here are a few questions you might have about making this recipe!
Does coffee butter smell like coffee?
This coffee butter recipe smells like a fresh cup of coffee! If you love the aromatic scent of a fresh cup of joe, give this recipe a try to refresh and moisturize your skin,
Is coffee oil good for skin?
Coffee oil is a great way to help boost skin's appearance. It has a high caffeine content that helps stimulate collagen production and gives your skin a youthful appearance. A small amount of coffee oil will improve the look and feel of your skin. Why wouldn't you want to add coffee oil to your skincare routine!?
Can I use coffee butter every day?
If you suffer from dry, cracked, or rough skin, then you can use this body butter on a daily basis! You can also apply this whipped body butter to problem areas on a regular basis to help soften and smooth them. Use small circular motions to apply a small amount to areas needing extra attention.
For best results, use this butter regularly; if you have oily skin, then we recommend using this butter a few times a week.
How do you make fluffy body butter?
If you desire a fluffy texture in your body butter, then it is important to alternate between whisking your butter and refrigerating it. You can whip your body butter until you reach your perfect consistency!
How long does homemade body butter last?
Your body butter can last up to 6 months if stored in an airtight container in a dry, cool place, typically at room temperature. Be sure that you do not introduce any additional moisture to your body butter, and keep the container tightly closed to get a long shelf life for your body butter.
How else can I use coffee for my skin?
There are so many uses for coffee in your skincare routine! A coffee scrub that uses coffee grounds is a wonderful way to help exfoliate skin and remove dead skin cells. This helps smooth skin and cleanse skin. And don't worry, I have the perfect coffee body scrub recipe waiting for you! You can also use coffee in soaps and lotions to help brighten and tone your skin!
This recipe is the perfect blend of moisturizing and nourishing. It's the perfect gift for any coffee lover in your life, including yourself! This decadent body butter will have your skin feeling soft and smooth, mixed with that coffee aroma we all know and love!