We're ending summer and starting fall, which can only mean one thing. That summer tan will be fading soon!
Who doesn't love the way their skin looks with that sunkissed glow?
If you're looking for a natural way to keep that glow throughout winter, then I have a new recipe that will knock your socks off!
A bronzing lotion bar that gives you a natural glow as you go while it moisturizes and nourishes your skin! It's a great way to get bronzed skin in an easy to apply lotion bar.
What is a bronzing lotion bar?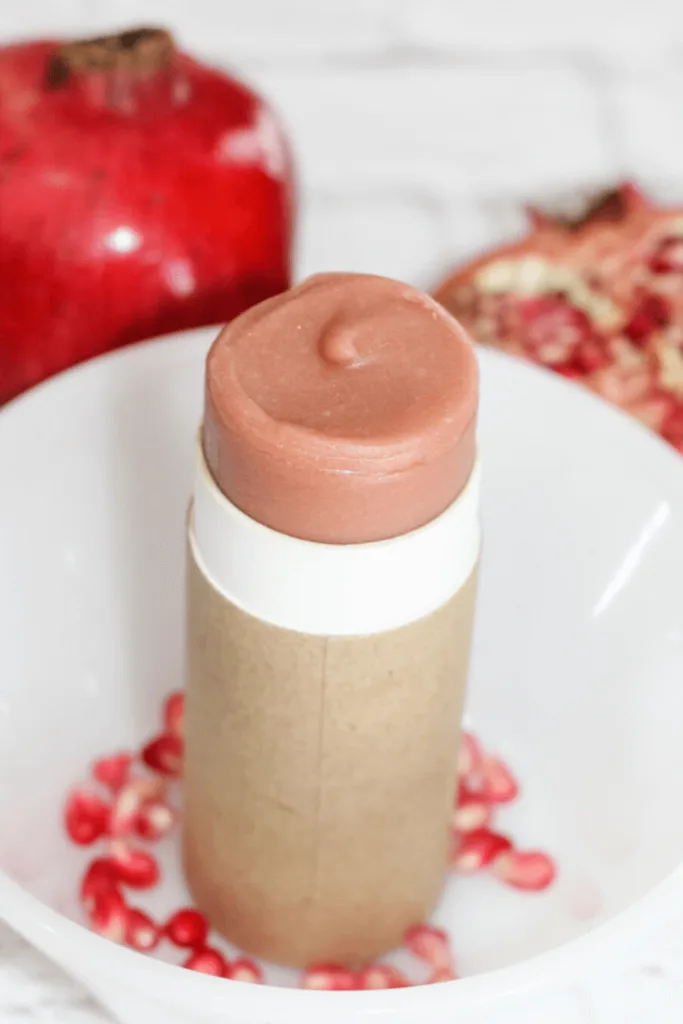 A bronzing lotion bar is literally lotion in a bar! They have a similar texture to a bar of soap. We've talked about lotion bars before; this new recipe will also help lightly bronze your skin as you moisturize!
Note: I do have a bronzing body oil recipe you can check out as well!
Let's talk a little more about what a lotion bar is and why it's different from traditional lotions. Lotion bars are a wonderful alternative to pump lotions. They are easy to apply, can be less greasy, easier to store, and they don't require a single-use plastic bottle to store and use!
This lotion bar recipe also uses all-natural ingredients to help moisturize and plump your skin while bronzing, giving you an ageless glow!
How does a lotion bar bronze skin?
So how exactly does this lotion bar bronze skin? In this recipe, we'll be using mica powder to help add pigment to your lotion bar. When applied to skin, this will help give you a bronzed appearance!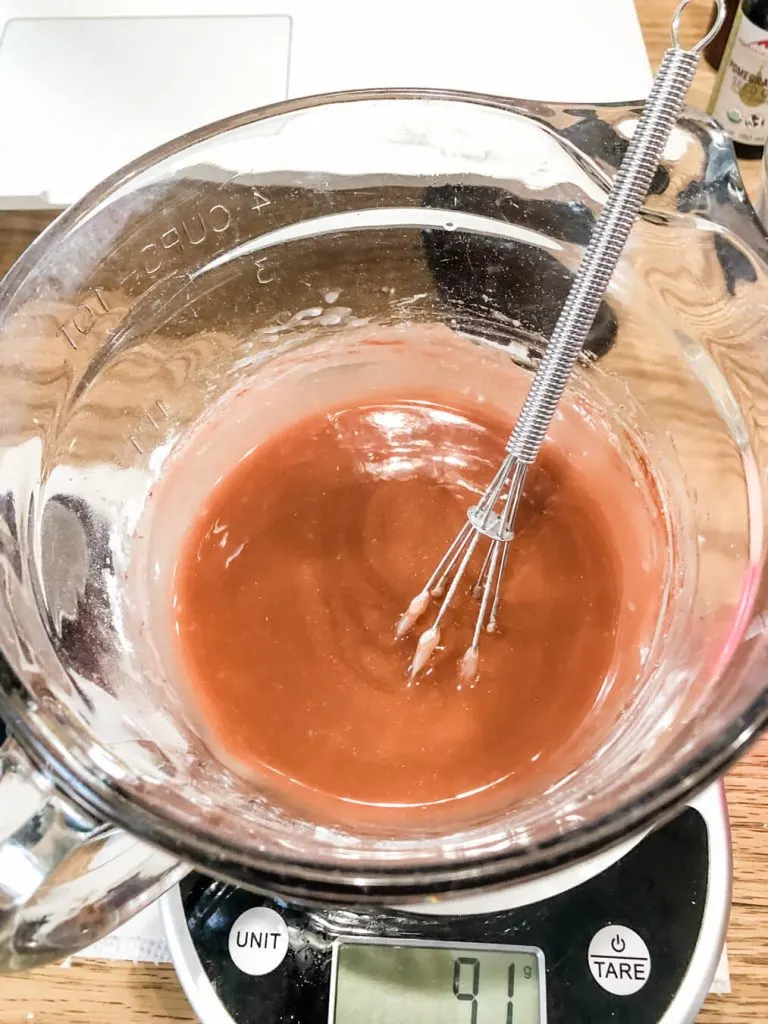 Are lotion bars good for your skin?
Solid lotion bars are an excellent way to help keep your skin hydrated and healthy without leaving your skin feeling greasy. I love a good homemade skincare product, and lotion bars are easily one of my favorite products to introduce people to!
Using high-quality natural ingredients in your lotion bars will ensure that your skin gets the most out of it! When picking a lotion bar or making your own, be sure that there are ingredients that not only moisturize your skin but also help lock in that moisture to help keep your skin hydrated!
So what can lotion bars do? A good lotion bar will deeply moisturize skin, helping both hydrate and nourish by penetrating deep into the skin layers. It should also help your skin retain moisture to ensure that it does not dry out.
Lotion bars can help smooth out rough, dry patches of skin, as well as help reduce irritation and inflammation from dryness.
Can I use a lotion bar on my face?
There are some lotion bars that you can use on your face so long as the ingredients are non-comedogenic and won't clog your pores! I wouldn't recommend using this particular formula on the face.
How do I use a bronzing lotion bar?
Lotion bars melt at body temperature; this means they melt when they come into contact with the warmth of your body heat.
I like using cardboard push-up tubes, similar to those used for lip balm, to apply my lotion bars; this makes it's so easy to apply!
Once you have made your lotion bar, to use it, you can simply apply it evenly to your skin, on your entire body for best results.
How do I make a bronzing lotion bar?
Making your own bronzing lotion bar does not have to be hard and is a great natural alternative to store-bought bronzers.
You'll mix most of your ingredients together after warming up your butters and oils so you can combine them. Then you'll let your formulation cool and add the rest of your ingredients.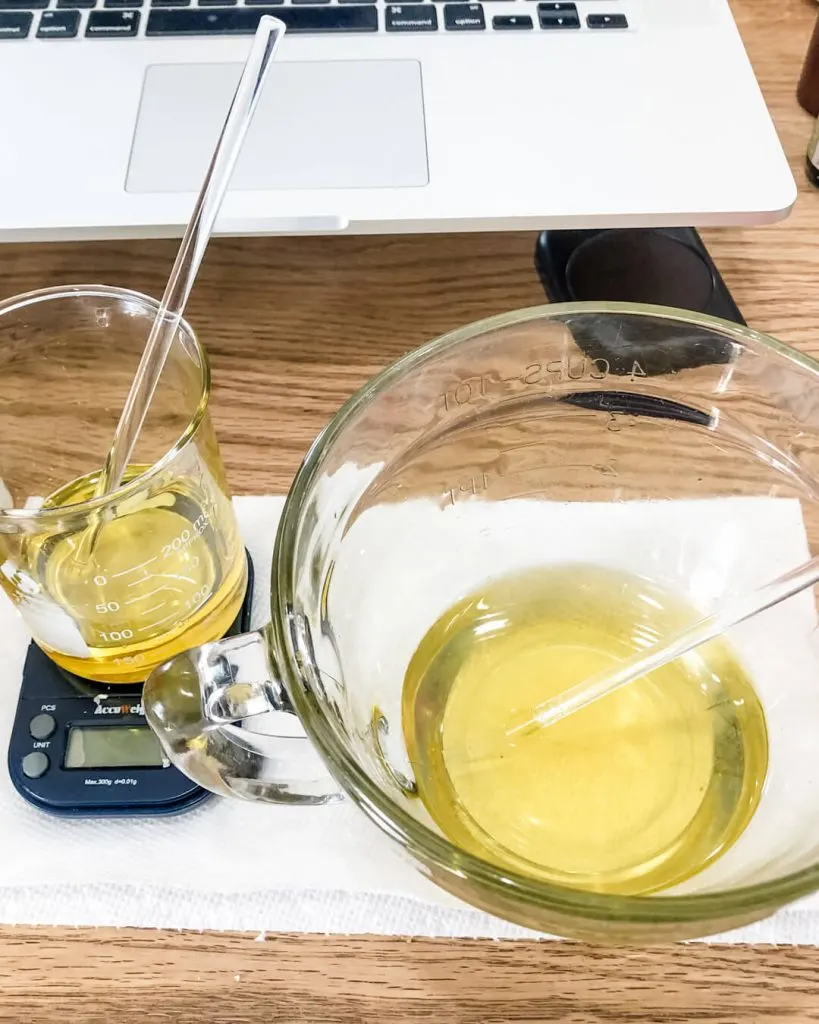 Once everything is well mixed, you'll pour your formulation into a container to use or a mold so it can set.
Be sure to allow your lotion bars to set properly before using them! I prefer to pour my lotion bars directly into roll-up tubes or deodorant applicators for easy use! You can use your finished product as soon as your lotion bars are set!
Bronzing lotion bar ingredients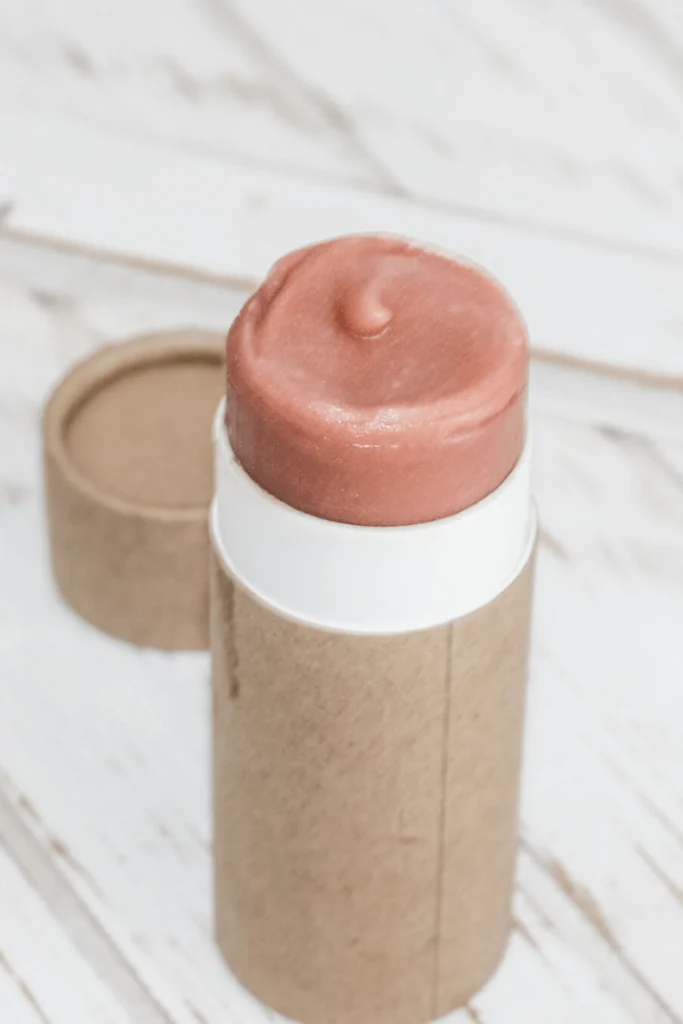 This lotion bar recipe is packed full of ingredients that love your skin as much as you do!
With natural oils, butters, and essential oils, your skin will be glowing in no time! Let's dive in and see what makes this recipe one you need to try!
The first ingredient of this recipe is a personal favorite, mango butter! This butter is a soft butter that is similar to shea butter and has a more mild scent. Its Vitamin C content helps firm and plump skin, while Vitamin A revitalizes skin while reducing the appearance of fine lines and wrinkles. It is anti-inflammatory and may help reduce irritation and inflammation, making it perfect for helping with rough patches and dry, cracked skin!
Plum Kernel Oil is a lightweight oil that your skin will just drink up! It soothes and repairs skin while deeply nourishing. It has a high Vitamin A content and fatty acids that absorb quickly into skin to help replenish and rejuvenate. It works well on all skin types but is very beneficial for dry or aging skin.
This liquid wax is a wonderful moisturizer and healing agent. It is full of Vitamin E, which helps reduce signs of aging by increasing skin elasticity. It soothes skin to reduce irritation and even helps heal acne-prone skin! It helps balance skin to support skin hydration and control oil production.
Beeswax is a natural wax created by bees; it is naturally antimicrobial and anti-inflammatory. It is what gives this lotion bar its texture and is great for moisturizing and protecting skin!
This lightweight oil has exceptional moisturizing properties. It is quickly absorbed by skin and helps skin retain moisture, so your skin will get the most from this lotion bar!
This powder acts as a thickener in this recipe and helps reduce stickiness.
Pomegranate sterols have superb moisturizing properties; this ingredient resembles vaseline in texture and helps protect your skin.
Vitamin E is known for its skin-repairing properties and its ability to reduce signs of aging. This will help your bronzing lotion bar repair and protect your skin from environmental damage and aging!
Essential Oils
These are a couple of my favorite essential oils help give your lotion bars a nice, light scent while packing a little extra hydration into this recipe! They also help soothe irritated skin.
This is the ingredient that gives this lotion bar its bronzing effect. Depending on your skin tone, you can use many shades of mica powder in this recipe.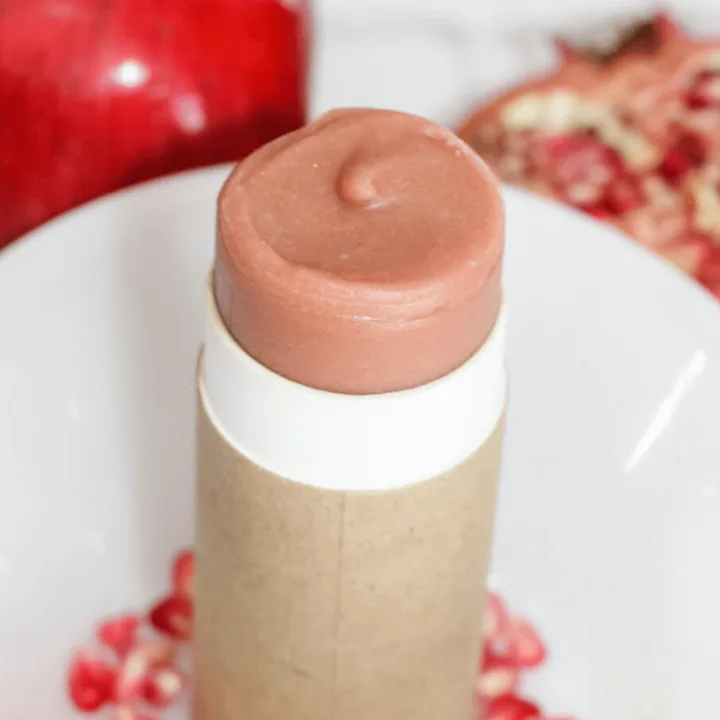 Bronzing Lotion Bar
Bronzing lotion bar for aging and dry skin!
Instructions
Add jojoba oil, mango butter, beeswax and pomegranate sterols to a heat safe container and place in water bath
In a separate beaker, mix together all remaining ingredients, except mica & arrowroot powder, and set aside
Heat butter mixture until melted, stirring occasionally
Once mixture is melted, remove from heat and continue to stir while cooling
Add in arrowroot powder and mix well
Once temperature has cooled to 40C, add in remaining oils, & mica and mix well
Pour quickly into containers. (I prefer push-up deodorant containers for easy application)
Recommended Products
As an Amazon Associate and member of other affiliate programs, I earn from qualifying purchases.
Bronzing Lotion Bars FAQs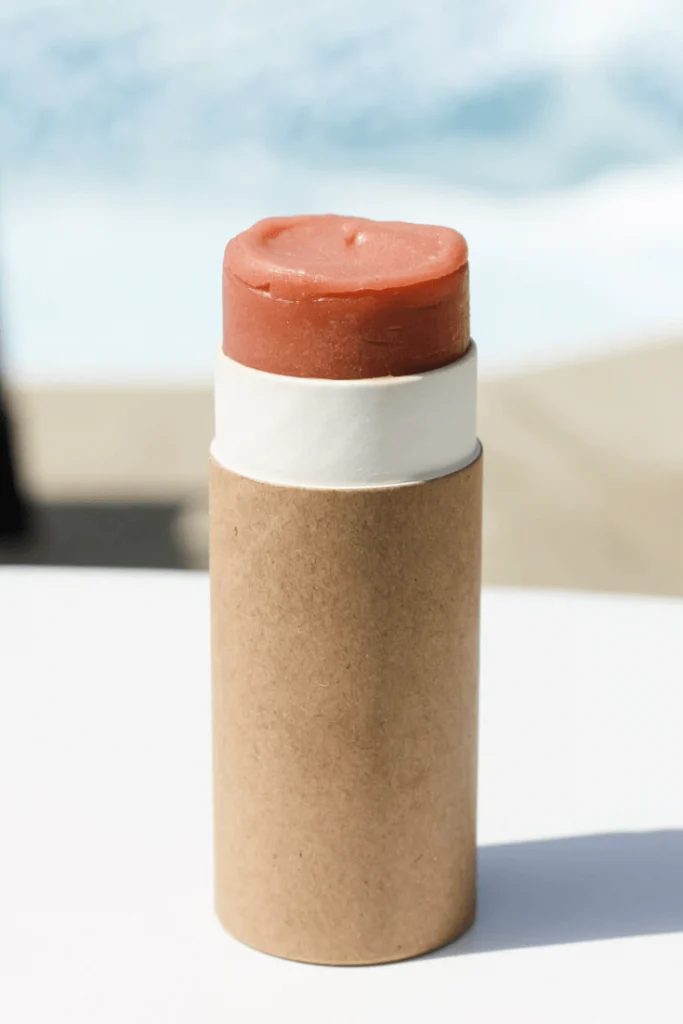 If you're on the fence about making your own lotion bars and ditching regular lotion, let's go over some questions you might have!
How long do DIY lotion bars last?
Your homemade lotion bars can have a shelf life of up to 6 months as long as they are stored in a cool, dry place in an airtight container.
Do lotion bars need preservatives?
Unlike liquid lotion that contains large amounts of water, a hard lotion bar does not require any preservatives to keep it shelf-stable. Just make sure you are not exposing it to moisture.
What can I use instead of beeswax in lotion bars?
If you are looking for a vegan alternative to beeswax for this recipe, then you can give candelilla wax or carnauba wax. Both of these are plant-based alternatives to beeswax that you could use in this formulation. Be sure that if you change ingredients, you adjust your formula, as these waxes have different textures and compositions.
Are lotion bars effective?
Lotion bars are an effective and easy way to moisturize and protect your skin. They are easy to apply, not messy, and a zero waste alternative to traditional lotions.
Can I use fragrance in lotion bars?
Not a fan of an unscented lotion bar? You can add fragrances to your lotion bars. I choose to use a few drops of essential oil to give my products a light, refreshing scent.
How do you keep lotion bars from melting?
In order to keep your lotion bars from melting, you need to keep them in a cool, dry place. Once you are done using your lotion bar, be sure to place it back in its container or roll-up tube so that it does not get wet or stay out too warm!
If you're ready to rock that summertime glow all year round and love making your own beauty products, then try out this bronzing lotion bar recipe. Lotion bars are the perfect alternative to traditional lotions and you can control exactly what you're putting on your skin!
Packed full of moisturizing ingredients, it is the best, easy-to-use product to plump and refresh your skin. It is perfect for aging and dry skin and will keep your skin healthy and hydrated throughout the winter months!
Pin this recipe for later!