Sunflower Oil benefits for skin are numerous! It is a light oil that absorbs well into skin and can be used on a variety of skin types.
It is also great for soothing skin irritation. If you are looking for a moisturizing oil that helps reduce signs of aging while leaving skin silky smooth, then Sunflower Oil might be right for you!
Keep reading to learn all about the uses and benefits of sunflower oil for skin!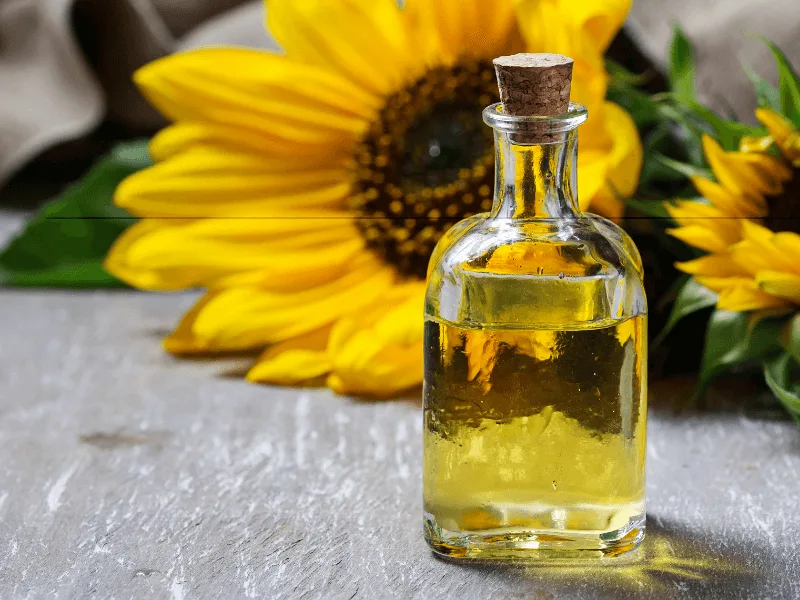 Sunflower Oil Quick Facts:
Sunflower Oil Scientific Name:
The scientific name for sunflower oil is Helianthus annuus L.
Sunflower Oil Comedogenic Rating:
Sunflower Oil has a comedogenic rating of 2 so it is not very likely to clog your pores.
Sunflower Oil is Extracted from:
Sunflower Oil is extracted from the seeds of the sunflower.
Sunflower Oil INCI:
Helianthus Annuus Seed Oil
Sunflower Oil COSING Number:
55024
Recommended for:
Sunflower Oil is recommended for all skin types.
Sunflower Oil Absorption:
Sunflower Oil has an absorption rating of 3 meaning it has an average absorption rate and will leave skin feeling satiny and smooth.
Sunflower Oil Composition:
| | |
| --- | --- |
| Palmitic Acid (C16:0) | 6% |
| Stearic Acid (C18:0) | 4% |
| Oleic Acid (C18:1, ⍵-9) | 30% |
| Vaccenic Acid (C18:1 ⍵-7) | 1% |
| Linoleic Acid (C18:2 ⍵-6) | 55% |
| A-linolenic | 2% |
| Phytosterols | 624 mg/kg (b-sitosterol; 543 mg/mg) |
| Waxes | 480 to 840 mg/kg |
| Phospholipids | Lecithin; 5,000 to 10,000 mg/kg |
| Terpenoids | Lupeol: 8 mg/kg, squalene: 171 mg/kg |
| Chlorophyll | 2 mg/kg |
| Vitamin E | 634 mg/kg (a-tocopherol: 494 mg/kg) |
| Carotenoids | B-cartone: 0.1 mg/kg |
*Fatty acid breakdown is shared from
Modern Cosmetics Volume 1
.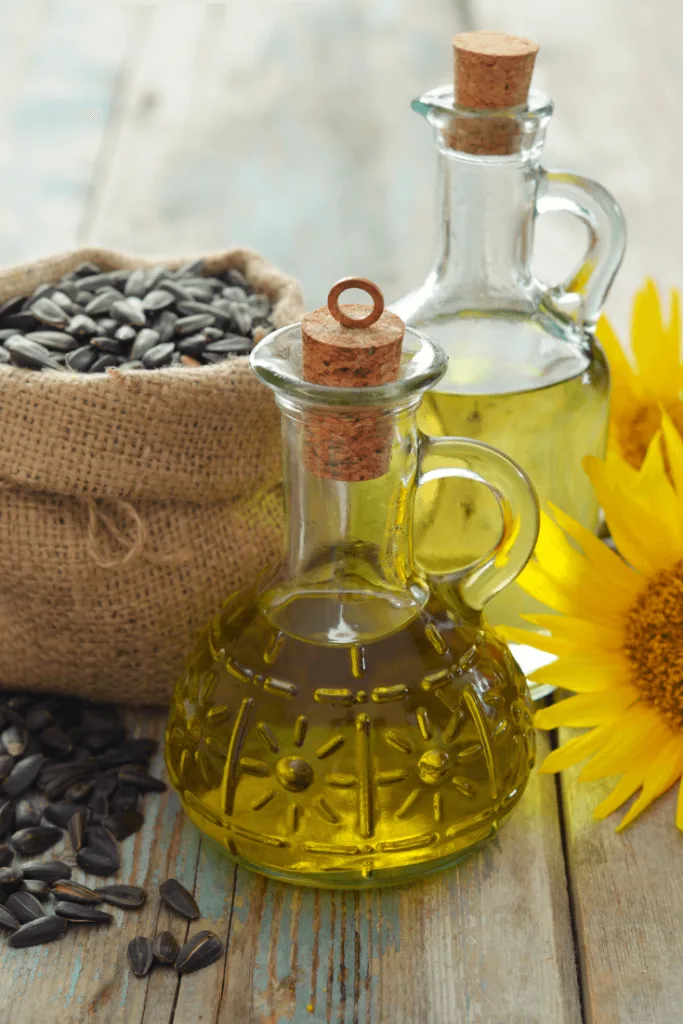 What is Sunflower Oil?
Sunflower Oil is an oil that is extracted from the seeds of the sunflower, this oil is packed with Vitamin E which helps heal and protect skin.
Sunflower Oil may also help reduce signs of aging while slowing down signs of aging, leaving you with more vibrant and youthful skin!
This oil is extremely versatile and can be mixed with other ingredients for use in your own DIY recipes, or it can be applied directly to skin.
Sunflower Oil Benefits for Skin
Sunflower Oil can benefit your skin in so many different ways. It can help make your skin appear younger by keeping it healthy and protect it from further environmental damage. It can also aid in fighting inflammation which helps reduce puffiness and signs of irritation.
Sunflower Oil is also recommended for all skin types. This means that if you suffer from acne-prone or oily skin, you can use Sunflower Oil to help balance and clear skin as well as reduce inflammation associated with blemishes.
This oil is hydrating, soothing, and smoothing. It can help repair your skin's natural moisture barrier to help lock in moisture and keep skin healthy!
Popular Sunflower Oil Uses for Skin
Sunflower Oil can be used in a variety of products such as creams and serums. This oil is very hydrating and can even be used alone on skin. It is non-irritating for most people which makes it wonderful for people who are suffering from acne, blemishes, or general irritation.
Sunflower Oil is also widely used in formulations that are used to help balance skin and keep it clear.
Warnings/Contraindications for Sunflower Oil
Sunflower Oil is non-irritating to most people and is generally regarded as safe. It is important to perform a patch test on a less sensitive area of skin to ensure that you do not have a bad reaction.
Substitutes for Sunflower Oil
A very good alternative when looking for something with similar qualities to Sunflower oil, is Apricot Kernel Oil. They both have similar fatty acid compositions, and have the same comedogenic rating, meaning they won't be likely to clog your pores.
Apricot oil can also be used for many of the same skin cleansing and protecting purposes. Apricot oil is also fast to absorb so you won't have to worry about any unwanted residues once it's applied.
Another good substitute for Sunflower Oil is Almond Oil. These two oils also have the same comedogenic rating, meaning they won't clog your pores either.
Almond oil has amazing anti-aging properties and helps repair skin's moisture barrier. Almond Oil has a high Vitamin E content and can help protect skin from damage just like Sunflower Oil.
Where to Buy Sunflower Oil
Photo Credit: mountainroseherbs.com
Mountain Rose Herbs is committed to putting people, plants, and planet before profit with everything they do. They are committed to sustainability, and a certified Zero Waste company. They currently only offer shipping to the United States & Canada. (Use Code: SIMPLEPURE15 to save 15% of all regular prices items!)
Get your Sunflower oil on Amazon!
Photo Credit: www.fromnaturewithlove.com
From Nature With Love proudly offers an inspiring range of premium quality certified organic, conventional and complementary personal care ingredients for use within skin care, hair care, aromatherapy, massage, spa, herbalism and soap making applications. They also offer a Rewards program that pays you back 10% in rewards on every order. From Nature With Love is a US based company that does offer International Shipping.
Photo Credit: lotioncrafter.com
Lotion Crafter offers a wide variety of ingredients for all of your formulating needs. They offer carriers oils, preservatives, exfoliants, anti-aging ingredients, butters and so much more. I order a lot of my supplies from Lotion Crafter. Lotion Crafter offers local & International shipping.
Photo Credit: www.newdirectionsaromatics.com
New Directions Aromatics is a Canadian based company offering a wide variety of skincare and formulating supplies. They also offer a variety of Organic, Fair Trade & Ecocert Ingredients. They ship mainly to Canada & the US, but do offer International Shipping as well.
Photo Credit: www.wholesalesuppliesplus.com
Wholesale Supplies Plus offers a wide range of soap making & formulating supplies including bases, additives, carrier oils, fragrance & more. They are based in the US & while they do offer International shipping, they currently do not serve EU member states.
Photo Credit: www.makingcosmetics.com
Making Cosmetics is a company that specializes in providing ingredients of the highest quality packaged in convenient retail sizes but also large bulk sizes at discount rates. The company has been ISO certified, FDA registered, and USDA organic certified. Making Cosmetics supplies over 1,000+ ingredients to customers all around the globe who need them for their own products or to create their own recipes. Making Cosmetics ships to 150 countries worldwide.
Photo Credit: www.formulatorsampleshop.com
Formulator Sample Shop carries a wide range of formulating and skincare ingredients including carrier oils, butters, preservatives, and more. You are able to purchase the exact quantities that you need, and if there is something you need that you don't see on their website, just contact them! They do offer International Shipping as well.
Sunflower Seed Oil Skincare Recipes
Now that you've learned all the amazing benefits of Sunflower Seed Oil, let's learn some skincare recipes that you can try!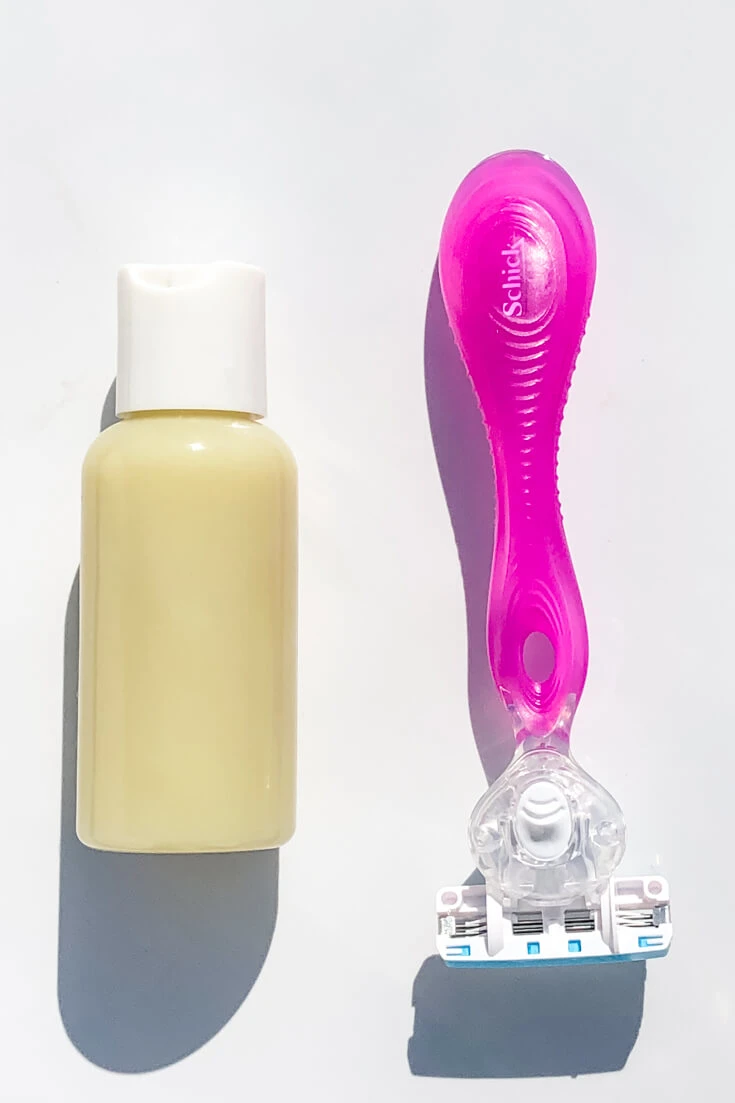 When it comes to shaving, I've always struggle with store-bought shaving creams because my skin is ultra sensitive. It seemed no matter what I tried …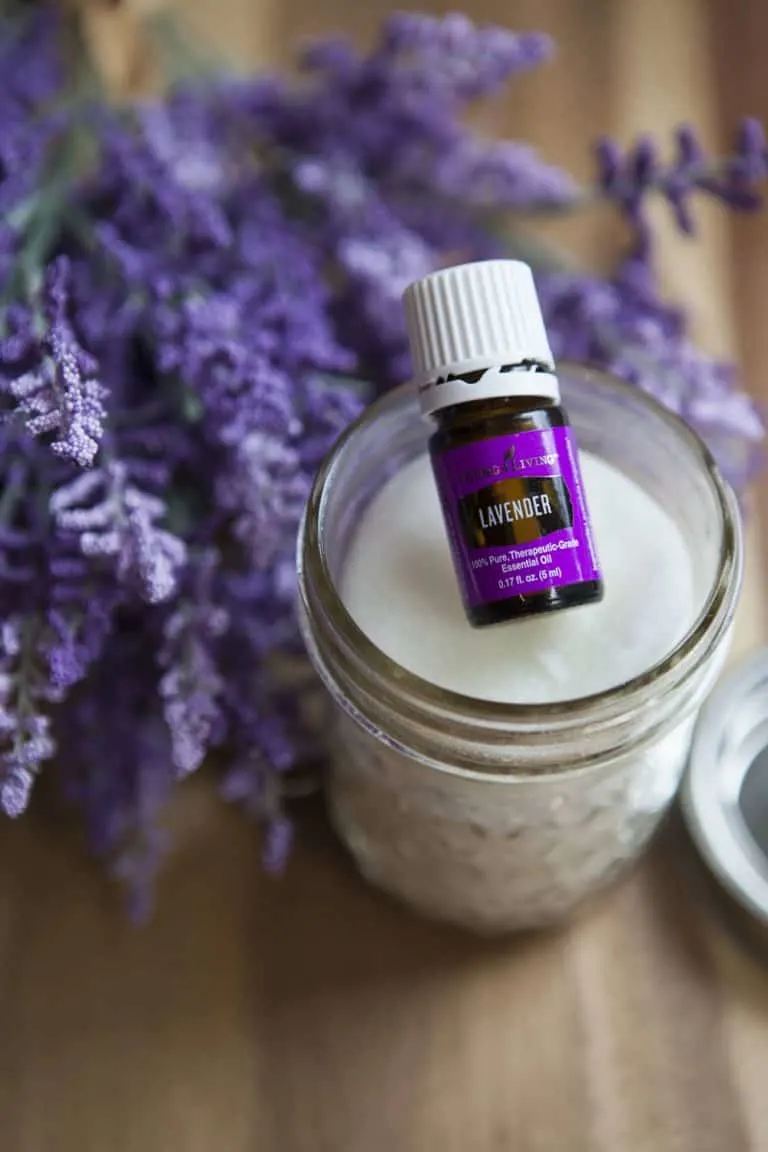 These DIY Makeup Remover Wipes are completely natural and can be whipped up in just a few minutes. Sometimes I feel like a broken record …
Pin Sunflower Seed Oil Benefits For Skin