Stressful week? Need some "me time?" I know that feeling! Between work, kids' schedules, and just life, we all need a getaway sometimes.
But what do you do when you can't get away to a getaway?
Bring some spa-level relaxation right to your own tub! Bath melts are like bath bomb's relaxing cousin.
They quietly melt into your bath water and moisturize your skin with essential oils and nourishment!
The best part is, you can make your very own bath melts right at home!
What are bath melts?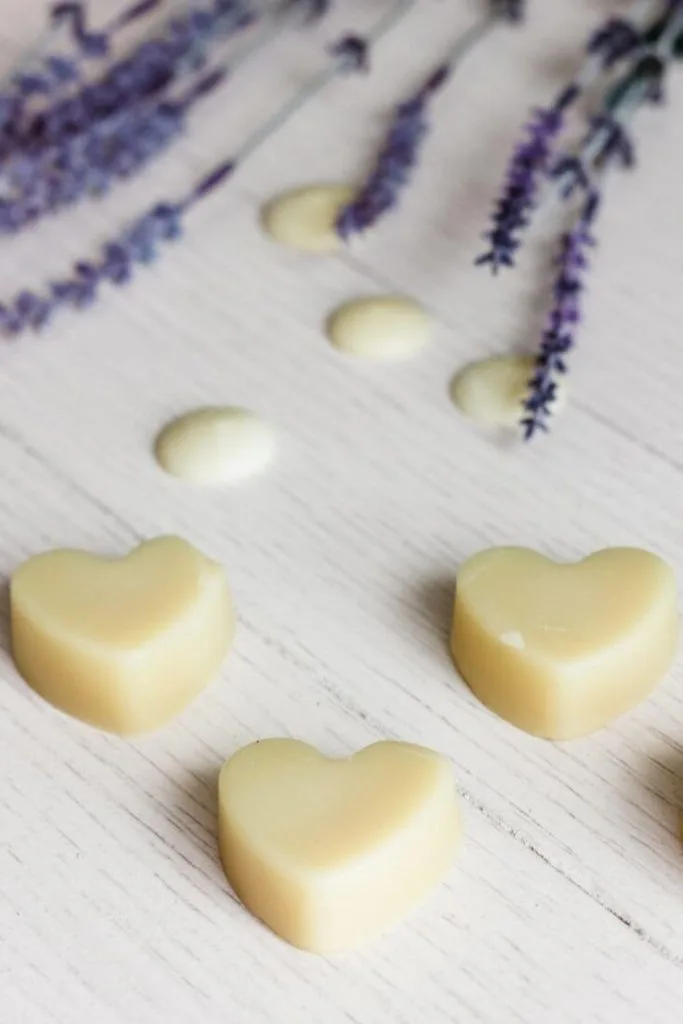 Bath melts are small bars that are often made up of nourishing butters, carrier oils and essential oils that melt into warm water. Unlike bath bombs they do not fizz, they do however help moisturize and condition skin!
What is the purpose of bath melts?
Bath melts are a wonderful way to relax and keep your skin soft and smooth. Your skin can soak up all of the essential oils and nutrients from the ingredients while you kick back and melt your stress away!
What is the difference between a bath bomb and a bath melt?
We all know bath bombs, they bubble and fizz as soon as they hit the water! Bath melts are also known as tub truffles and they are a slower release of ingredients into the water. Not only do they react to water differently, but they also contain different ingredients.
Most bath bombs contain some kind of sodium bicarbonate and citric acid to make them fizzy along with other ingredients. Bath melts are usually made up of butters, carrier oils, and essential oils.
How do bath melts work?
Bath melts are made up of butters and oils and melt into warm bathwater. This releases all of the moisturizing ingredients and fragrance for a relaxing bath time experience. The ingredients may mix with the water a little but most of the fats and oils will float on top of the water to nourish and moisturize skin.
What do you do with bath melts?
Bath melts are meant to dissolve in your bathwater. So when it comes time to use them, all you have to do is pop one in your warm bath water! Once melted, enjoy your bath. And don't worry about after, your bath melt will rinse right down the drain with your bathwater!
What are bath melts made out of?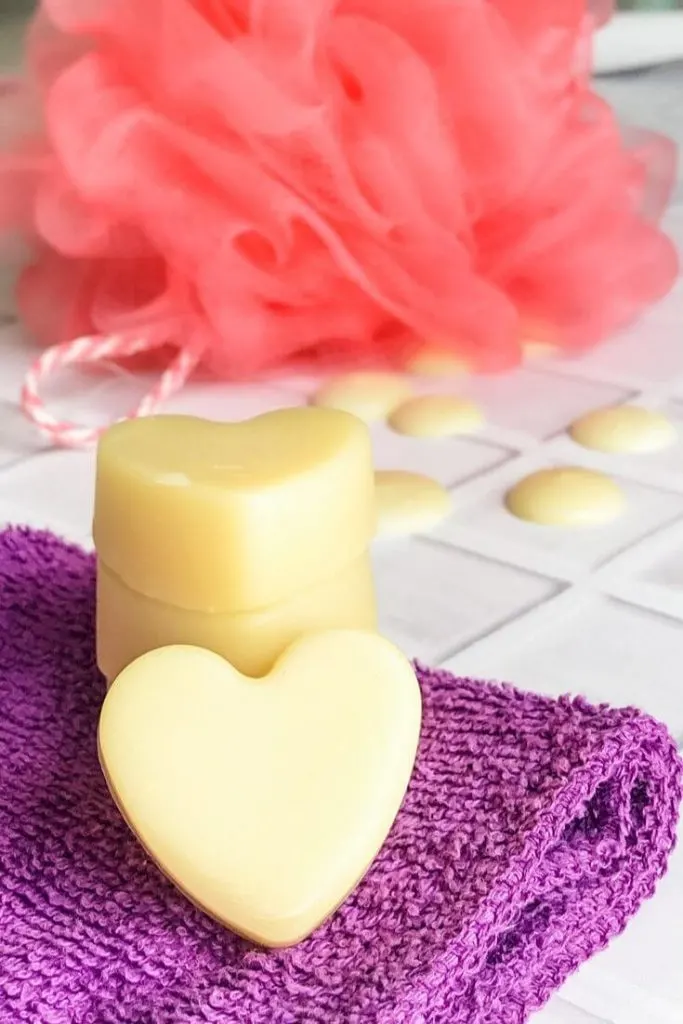 We all know and love cocoa butter when our skin needs a little extra TLC! It is extremely moisturizing and helps restore skin's natural barrier to help lock in moisture as well. Cocoa butter helps smooth skin and will leave it soft and happy.
Shea butter is in many skin care products and for good reason. This gentle butter is suited for many skin types and will help smooth skin while providing much-needed hydration. It won't leave skin feeling oily or greasy and is a great addition to your bath melts!
Hemp seed oil is an extremely versatile carrier oil that helps hydrate skin while reducing inflammation and irritation. This oil is also anti-aging and is a great choice for anyone with temperamental skin. In this recipe, it is used to help calm and soothe dry, irritated skin while helping you relax!
Dried Herbs
Dried herbs are the perfect way to add some extra fun and extravagance to your bath! Dried herbs add extra fragrance and benefits to your bath melts. Many herbs are anti-inflammatory and moisturizing.
Essential Oils
Essential oils are going to add even more fragrance and relaxation to your bath melts. In this recipe we have two different blends so you can customize your fragrance and the extra benefits you get from your bath melts. Choose from a sweet soak blend or a blend that will relax your soreness away!
How do you make a good bath melt?
Making a bath melt is fairly simple. Once you have gathered all of your ingredients you'll melt down your butters. Once you have done that you'll mix in all your other ingredients and pour it into molds to cool. Once they've cooled they will need to set and then they are ready to use!
What do I need to make a bath melt?
To make your bath melt you will need your butters, carrier oils, essential oils, and dried herbs. You will also need a saucepan, Pyrex glassware, scale, and molds.
How do you package bath melts?
Bath melts are easy to package once they have fully cooled. You can wrap them in tissue paper, keep them in a tightly closed jar, or in small individual containers.
When packaging your bath melts keep in mind that they will melt in high temperatures and if they get wet. Be sure that our packaging is waterproof.
How do you store bath melts?
Bath melts can melt in high temperatures which means you should store them somewhere cool and dry.
Let's get to the recipe!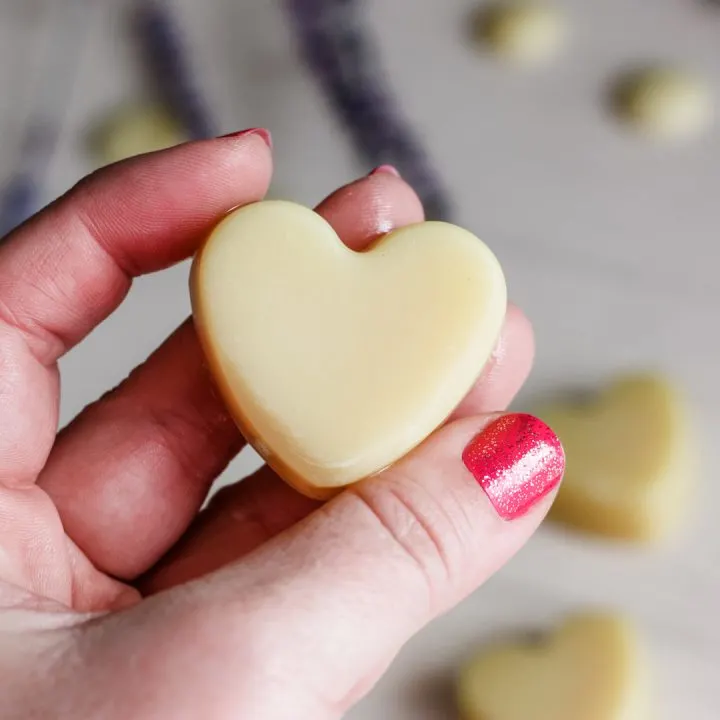 Ultra Moisturizing Bath Melt Recipe
Materials
¾ cup Cocoa Butter or any harder butter
¼ cup Shea Butter or any softer butter
Silicone baking/candy mold
1 tsp Hemp Seed Oil
4 tbs mixed dried herbs (rose petals, lavender, calendula, orange peel)
50 drops Essential Oil Blend (choose one from below)
SWEETEST SOAK BLEND
20 drops Sweet Orange Essential Oil
10 drops Benzoin Essential Oil
20 drops Patchouli Essential Oil
FORGET SORE BLEND
10 drops Eucalyptus Essential Oil
10 drops Cedarwood Essential Oil
20 drops Lavender Essential Oil
10 drops Roman Chamomile Essential Oil
Instructions
Measure out your ingredients and let come to room temperature.
Cut butter up into dime sized pieces, if butter is discs, cut in half.
Fill a saucepan ¼ of the way with water and set on the stove to heat
Put butter into Pyrex and place into the pot of water.
Stir butter as it melts until JUST melted.
Remove the pan from the heat and pull out the Pyrex
Allow to start to cool, stirring intermittently until mixture just begins to look opaque. If adding wow-factor herbs, add now.
Mix in essential oil and pour into mold.
For an extra pretty option, press extra of the herbs lightly into the top of the melts once they have a pudding-like consistency.
Recommended Products
As an Amazon Associate and member of other affiliate programs, I earn from qualifying purchases.
Bath Melt FAQ's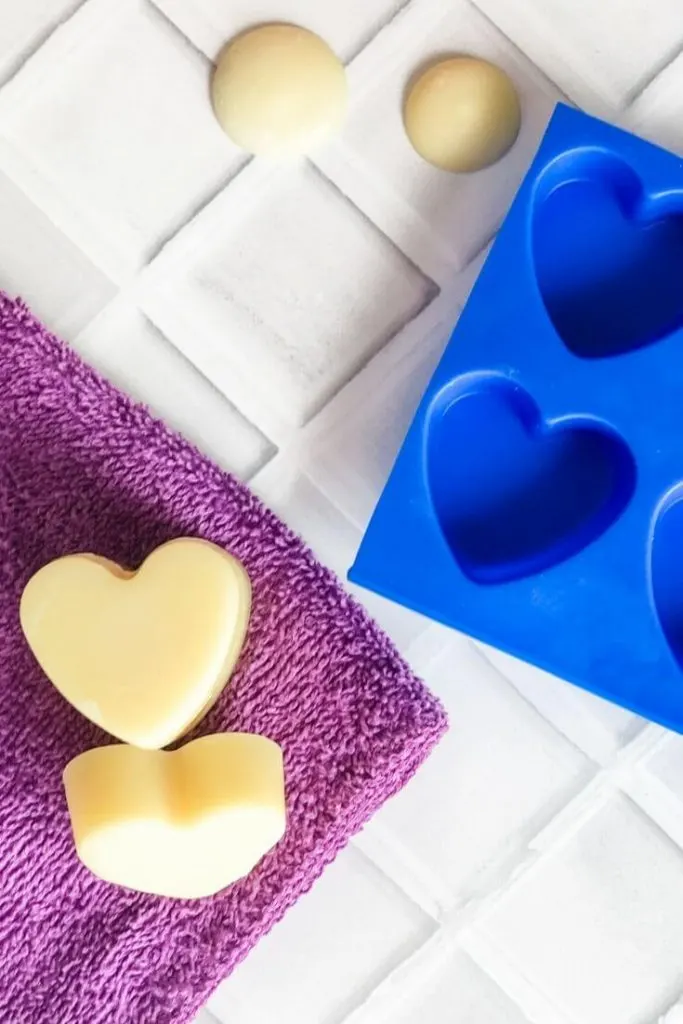 Now that you know the basics about bath melts, let's go over questions you might have!
How long do bath melts last?
Bath melts can have a shelf life up to 6 months if they are stored properly.
Do bath melts fizz?
Bath melts do not fizz like bath bombs. They simply melt away into your bath water!
How do you make a scented bath?
Scented baths can be easy to make using a variety of oils and herbs; however, making a scented bath that can help your skin is even better! Using the right ingredients you can get a nice smelling bath and soft, smooth skin. Try out a bath melt if you're interested in a relaxing bath with benefits!
How do you add color to bath melts?
The easiest way to add color to bath melts is during the liquid phase, you need to ensure that your colorants are water-soluble. The best products for this are dyes, micas, and oxides are not water-soluble.
What is a bath truffle?
Bath truffle is another name for a bath melt!
Can you use bath melts in the shower?
You can use bath melts in the shower! If you just want fragrance, you can place your melt where it will be lightly exposed to water so it can melt as you shower. If you want the skin-boosting benefits as well you can rub the bath melt into your skin as it melts.
Can you make bath melts with coconut oil?
You can make bath melts with coconut oil however, coconut oil is very heavy and can leave skin feeling greasy and oily. You also have to be mindful of the amount of coconut oil going down your drain!
How do you make bath melts solid?
Bath melts are made into a solid bar that melts when it comes into contact with warm water.
How long do bath melts take to set?
Once you have poured your bath melts into a mold, they can take 2-3 hours to set.
You May Also Enjoy These Bath Recipes:
Pin this Post for Later: