You don't have to spend an arm and a leg on Anti-Aging Eye Cream Products. It is so simple and affordable to make your own DIY Anti-Aging Eye Cream Recipes! You have to try these recipes, they are awesome!
Do you ever just stop for a minute and reflect about where the years have gone? I don't feel any older but the fact that my son just started high school ensures that the years are indeed passing very quickly.
Nursing and diaper changes have been replaced with sports, algebra and a never satiated appetite. Talk of girls and driving are enough to want to stop time and just enjoy the here and now.
But a close inspection in the mirror will also remind me that yes, I am getting older.
New lines and wrinkles popping up on a regular basis are proof that time doesn't stand still.
Unfortunately, I did not take care of my skin in the past and I am paying the price now. But that is why I love trying out new anti-aging recipes every chance that I get.
The beauty of finding DIY recipes is that you can play with them, try them out, and use them freely to find out which ones work best with your skin.
The more that you can use ingredients that are good for you and your skin, the better!
Lately, it's been all about the eyes. With our eyes being the window to our souls, it's important to keep them looking their best each and every day.
These 7 DIY Anti-Aging Eye Cream Recipes are the best of the best.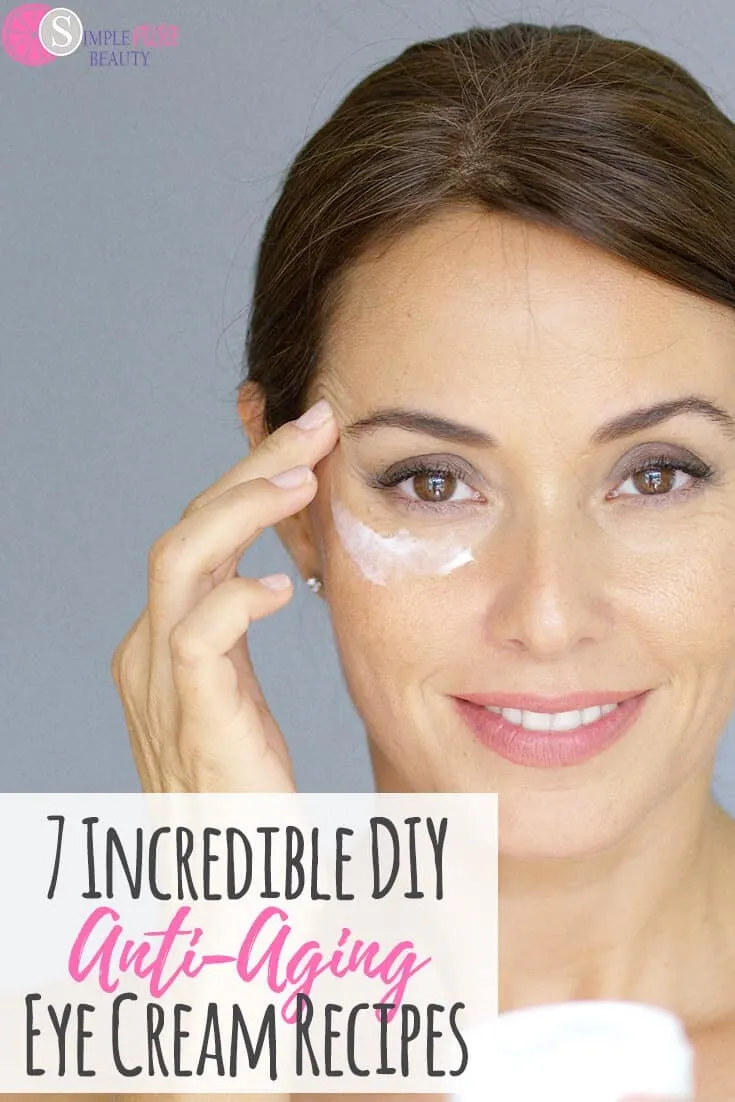 And most of them can be whipped up very quickly with just a few ingredients. Any recipe that has very few ingredients that can all be pronounced with little to no side effects are the best!
In no particular order, here are some of the best anti-aging eye cream recipes that you'll absolutely want to make!
7 DIY Anti-Aging Eye Cream Recipes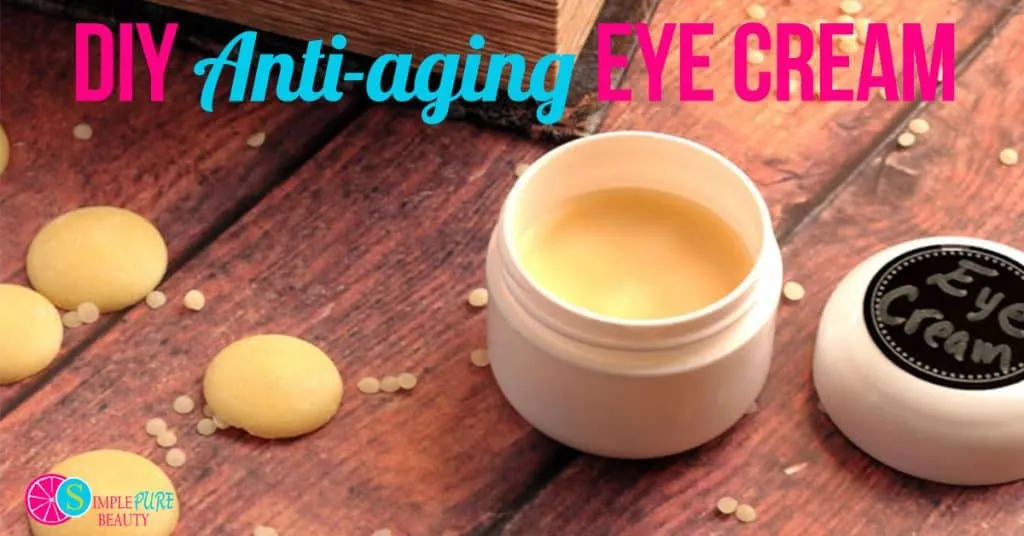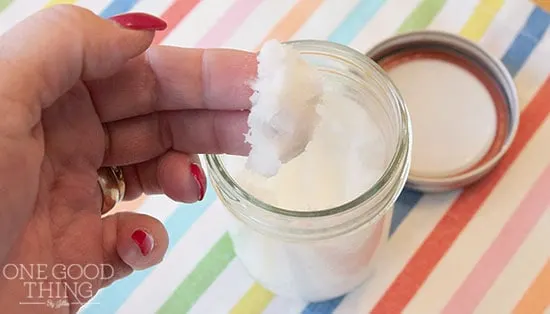 This recipe is very simple and you will only need coconut oil, lavender and vitamin E. With those simple ingredients, you can make your own anti-aging eye cream super easy! With the simplicity of these 3 ingredients, you may already have them in your house, ready and easy to use!
Homemade Eye Cream by Dr. Axe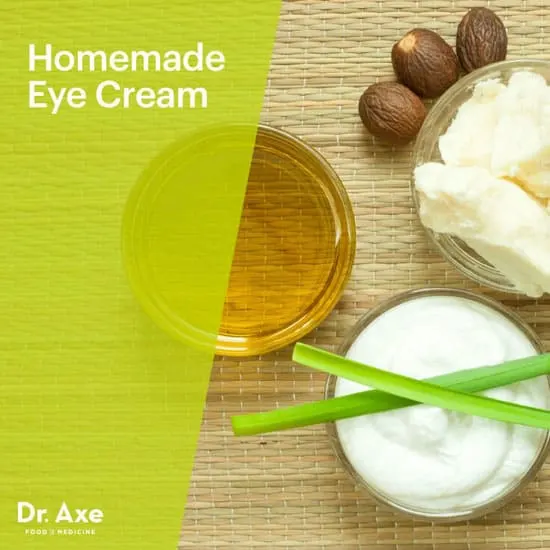 This recipe by Dr. Axe calls for shea butter, coconut oil, vitamin e, aloe vera gel and one of my favorite essential oils, Frankincense. So simple to make! I love the combination of shea butter and coconut oil!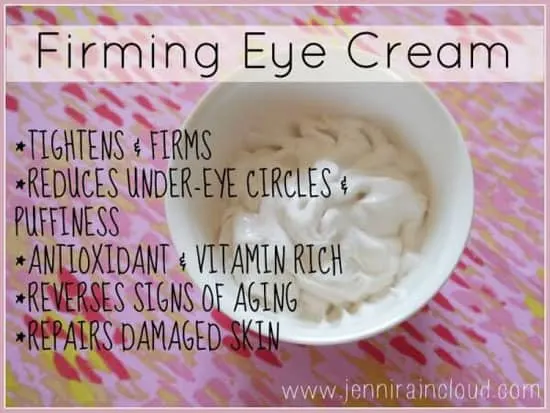 This recipe is a little more involved and includes green tea, rosehip seed oil, and a few other ingredients. While this recipe may take a little more time to make, it's worth it! It can help repair damaged skin and reduce under-eye puffiness from lack of sleep and stress.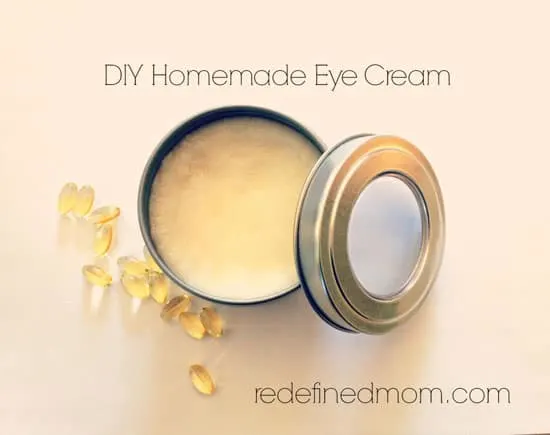 This lovely DIY eye cream only uses 2 ingredients. (Yes, you read that right!) Of course, adding essential oils is always an option! Any time that I can make a recipe using only 2 ingredients, you can count me in!
Rosehip & Cypress Anti-Wrinkle Eye Cream by Blooming in Bedlam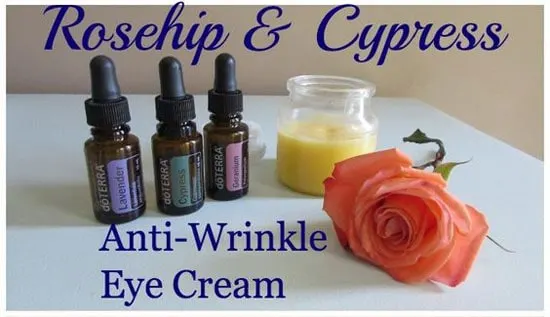 Rosehip is an amazing anti-aging oil and with the blend of essential oils in this recipe, you're going to love it! Treat yourself to this great anti-wrinkle eye cream. After its first use, you'll be hooked!
DIY Eye Cream Video by Pop Sugar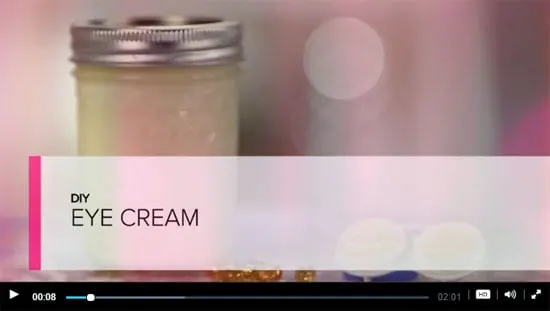 Want a step by step tutorial? Check out this simple DIY eye cream video. Using this video is the perfect way to see just how simple it is to make your own DIY eye cream!
It will build your confidence to get you pumped up and ready to create.
With all these amazing eye cream recipes, you're certain to find one that you love! Who knew that there were so many amazing eye cream options out there?!
And each and every one you can make and know exactly what is in them. Plus, you'll know exactly what you are putting on your eyes and face. That itself is priceless!
Who says you have to choose just one? With these 7 Amazing DIY Anti-Aging Eye Cream recipe options, you're able to try them all to find the best one for you.
With so many great options to choose from, you're certain to find one that you like!
Trust your body and your eyes and go with your instinct on the eye cream recipe that works best for you.
And after a while of using the same one, why not mix it up a bit and try one of the other 6 recipes listed above? You can't go wrong with using any of them!
Need some more ideas to reverse signs of aging naturally? Here are a few new ingredients you could try in your DIY eye creams: