This DIY anti-aging eye cream has five simple, natural ingredients that might help your outlook on aging skin.
I don't know what it is, the fact that I crossed over into the forties a few years ago or the fact that I simply do not want to pay hundreds of dollars for anti-aging products on the market. But I am loving creating and sharing these awesome anti-aging recipes. If you haven't checked them out, here are a few recent recipes I've shared:
It is beautiful to me, that simply mixing together a few pure, natural ingredients can create some of the most effective skincare recipes out there.
And without the yucky chemicals, you will find in all of those other products!
When it comes to the eye area we get a lot of questions like: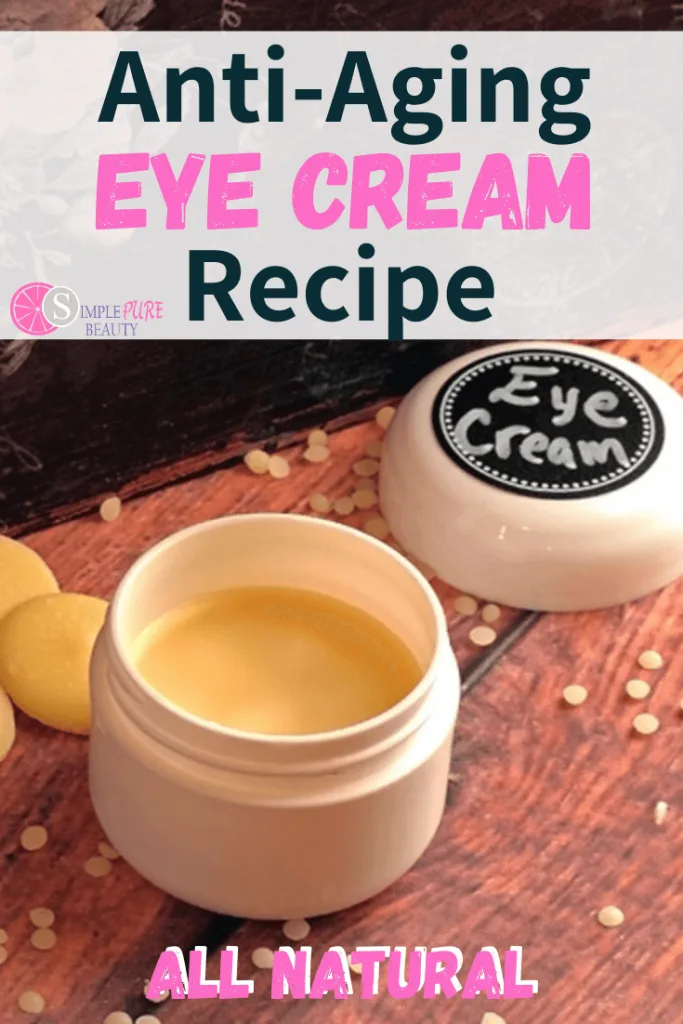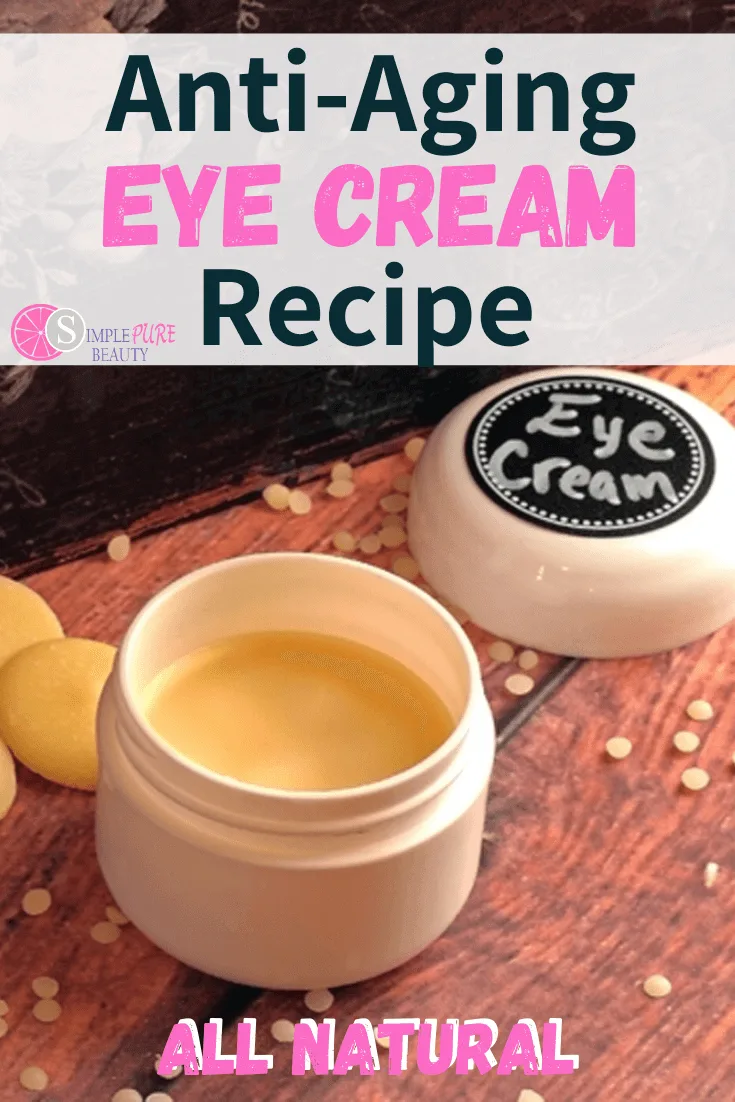 What is the best homemade eye cream?
We think the best eye cream is one you make yourself with hydrating ingredients that are ideal for use on the sensitive skin around your eyes.
The skin around your eyes is particularly thin and sensitive meaning you need an eye cream that isn't overly drying or full of harsh ingredients that could make your under-eye troubles worse!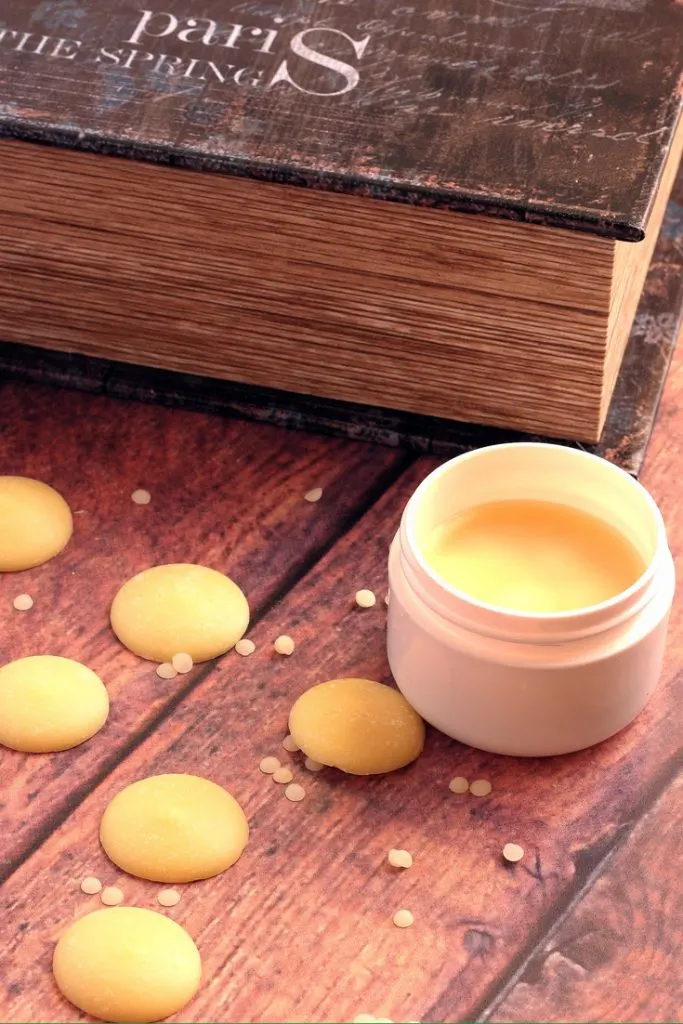 How can I tighten the skin under my eyes?
Having puffiness or sagging skin under your eyes can be frustrating, adding an eye cream that penetrates the skin and is high in Vitamin A can help tighten skin and smooth fine lines and wrinkles.
Rosehip Seed Oil is high in Vitamin A and is great for helping smooth skin. Cocoa Butter is high in elastin and can help boost collagen production which helps fight signs of puffiness and bagginess under the eyes!
I have some great news, our DIY eye cream has both of these ingredients, and more that can help you keep your eyes looking ageless!
How can I make my eyes look younger naturally?
You can reduce signs of aging and help your eye area look younger by adding an excellent night cream to your skincare routine!
When making your own DIY eye cream be sure that you're adding ingredients that support the sensitive skin around your eyes, as well as ingredients that will help protect and preserve the skin.
Using ingredients that are packed with vitamin E such as Vitamin E Oil and Coconut Oil, you'll be able to reduce signs of aging and keep your skin looking youthful!
Can dark circles be removed naturally?
Dark circles can be hard to combat, but having the right routine can be just what you need to help reduce the appearance of them! Our DIY eye cream combines ingredients that can naturally help fight all those pesky signs of aging!
Vitamin E Oil is excellent at preventing damage from free radicals which greatly contribute to signs of aging, including dark circles. If your dark circles are caused by chronic skin damage or extremely thin skin under your eyes, Coconut Oil can help your skin heal more quickly and prevent additional damage. Rosehip Seed Oil can also help reduce the appearance of those dark circles with deep hydration and soothing irritated skin.
Ingredients in our DIY Eye Cream Recipe
Cocoa butter– Cocoa Butter is the fat from the cacao bean and has the most amazing chocolaty aroma. It contains natural antioxidants and keeps skin super supple. Full of polyphenol antioxidants, this emollient adds a protective barrier to the skin to keep hydration in. It contains antioxidants like vitamin E, and is a medium/hard butter, making it useful for thickening products (source).
Coconut Oil – Coconut oil is known for its deeply penetrating and skin-nourishing properties, it is anti-fungal in nature and contains very high levels of Vitamin E. It's also high in lauric acid and helps form a protective barrier on the skin.
Rosehip Seed Oil – Contains vitamins A and E and essential fatty acids. It's considered a dry oil since it absorbs so quickly. It helps soothe inflamed skin, reduce the appearance of scars and wrinkles, and skin discoloration.
Let's get to the recipe!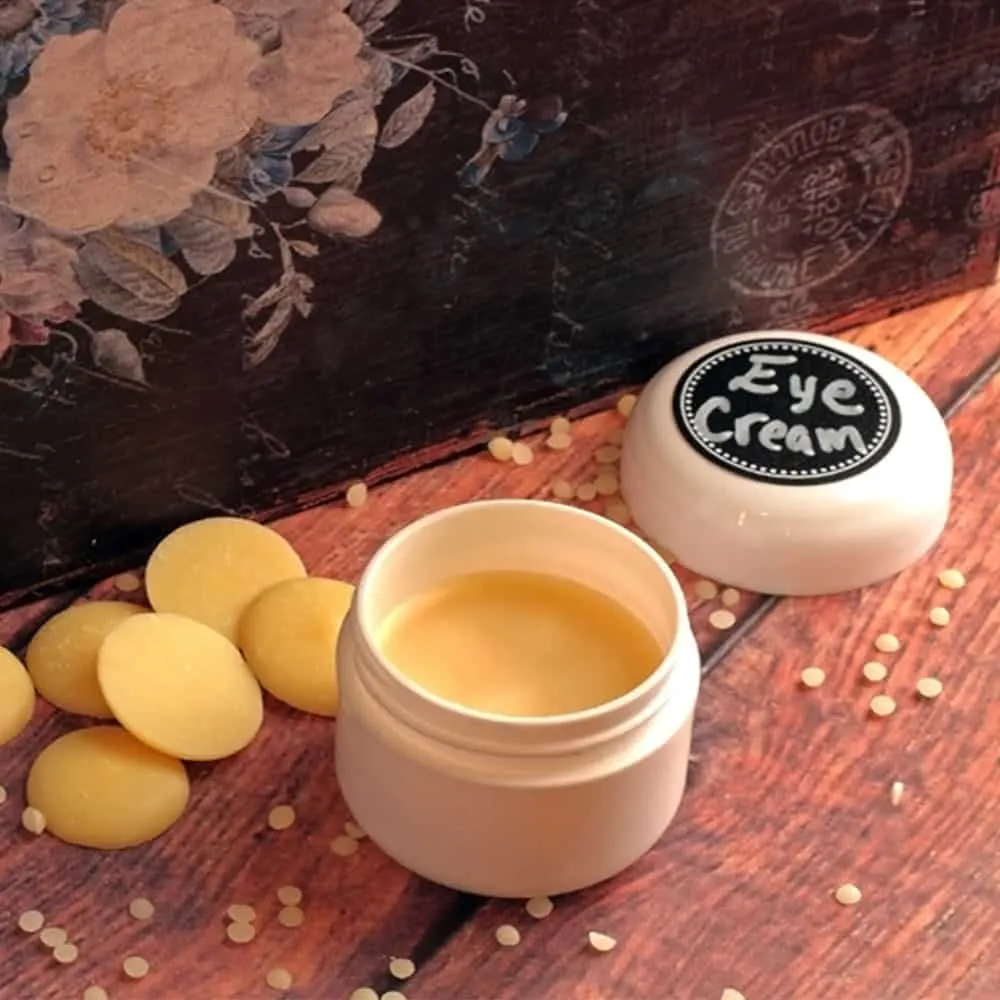 DIY Anti-Aging Eye Cream
Instructions
Melt first Cocoa butter, Coconut oil and beeswax together on low heat in a double-boiler /Pyrex water bath until just melted.
Remove from heat.
Pour into a clean bowl or another Pyrex.
Allow to stand until it begins to thicken.
When temperature reaches below 40C, add in Rosehip Seed Oil, and Vitamin E oil.
Use an immersion blender or egg beater to whip the mixture on low as it finishes cooling.
Spoon or pipe into a container.
Recommended Products
As an Amazon Associate and member of other affiliate programs, I earn from qualifying purchases.
DIY Eye Cream FAQs
How do you use eye cream?
To properly use eye cream, apply a small amount under your eyes. Do not apply to your lash line. Gently massage the cream into your skin using your fingertips in an upward, circular motion. This gentle massaging helps stimulate blood flow to the area and allows the ingredients penetrate the skin.
You can get even more out of your eye cream by using a potent eye serum prior to applying your cream! This uplifting eye serum is the perfect way to add some extra lift before you apply your eye cream.
What is a natural eye cream?
A natural eye cream is one that contains only natural ingredients that can be used around your eyes. Eye creams found in stores can often contain natural ingredients, but they also contain processed and synthetic ingredients that can be harmful to skin.
What oils are good for the eyes?
There are many oils that can be used around the eyes, in this recipe we will be using coconut oil, rosehip seed oil, and Vitamin E oil. These oils combine deep penetration, deep hydration, and anti-aging benefits. All of these oils are easy on the skin and provide incredible benefits for skin.
Is coconut oil a good eye cream?
Coconut oil is an excellent oil to use around the eyes. It is deeply hydrating and has great anti-aging benefits. Coconut oil is great for reducing fine lines and wrinkles and naturally high in Vitamin E. This oil is great for skin and helps form a protective barrier on skin making it perfect for use on the thin skin under your eyes!
Pin & Share this Post!
If you've enjoyed learning how to make your own DIY Eye Cream, be sure to share this post and pin it for later!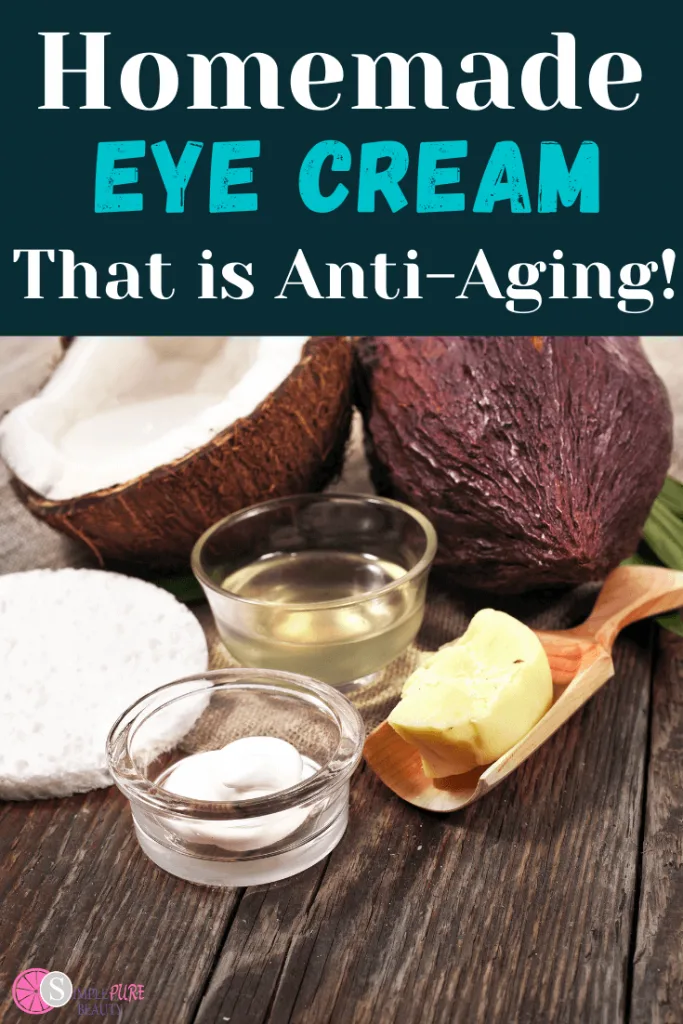 You May Also Enjoy These Skincare Recipes: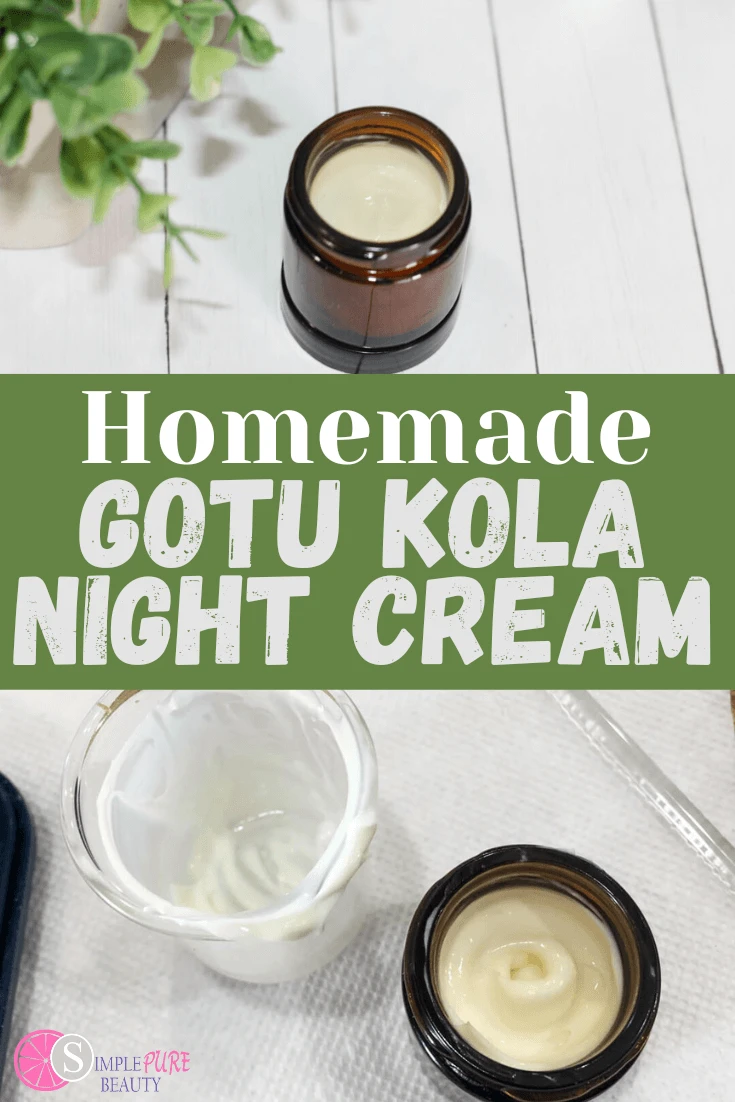 Do you know what I love waking up to in the morning? Soft, smooth, refreshed-looking skin! In today's world, it can be so hard to …