Do you love adding a little extra shimmer to your look for a night on the town or some extra shine for a fun day out?
If you love shimmer oils but hate toxic ingredients, then keep reading for a DIY shimmer body oil that will knock your socks off and keep your skin safe!
This shimmer body oil is similar to body oils such as SOL shimmering dry oil, without yucky, irritating ingredients!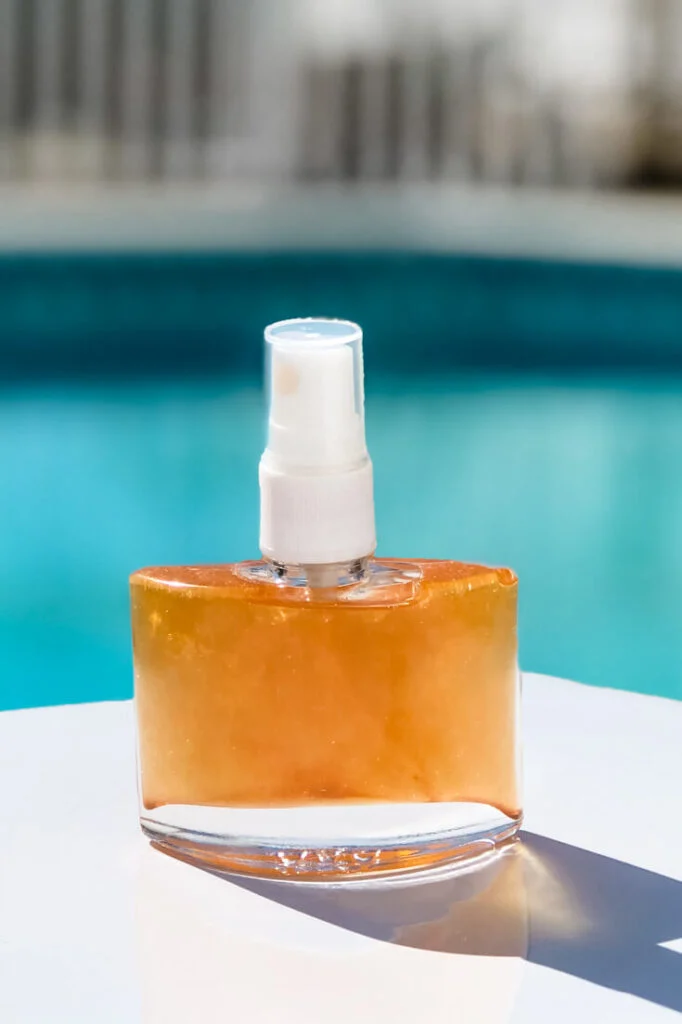 Ingredients to Avoid in Shimmer Body Oil
Aluminum powder is found in many cosmetic products and is approved to be used in coloring products, particularly around the eyes and can be found in many antiperspirants and lotions.
Even though it is a widely used ingredient, it should be avoided. It can cause skin infections, skin irritation, and if it were to ever be inhaled or ingested it could cause even more troubling side effects!
Phenoxyethanol is known as a skin irritant and yet it is still used in a myriad of cosmetic products. It is known to affect different people at different levels but in some people it can cause severe allergic-type reactions and isn't allowed in products that are ECOCERT or COSMOS approved.
Fragrance should be an ingredient that makes you put a product back on the shelf! Fragrance is often put on labels of products that contain a mix of ingredients that the manufacturer does not have to disclose.
This means that there are hidden ingredients that nobody is required to tell you about! These ingredients are often toxic and can cause skin irritation, dryness, and inflammation.
DIY Shimmer Body Oil Ingredients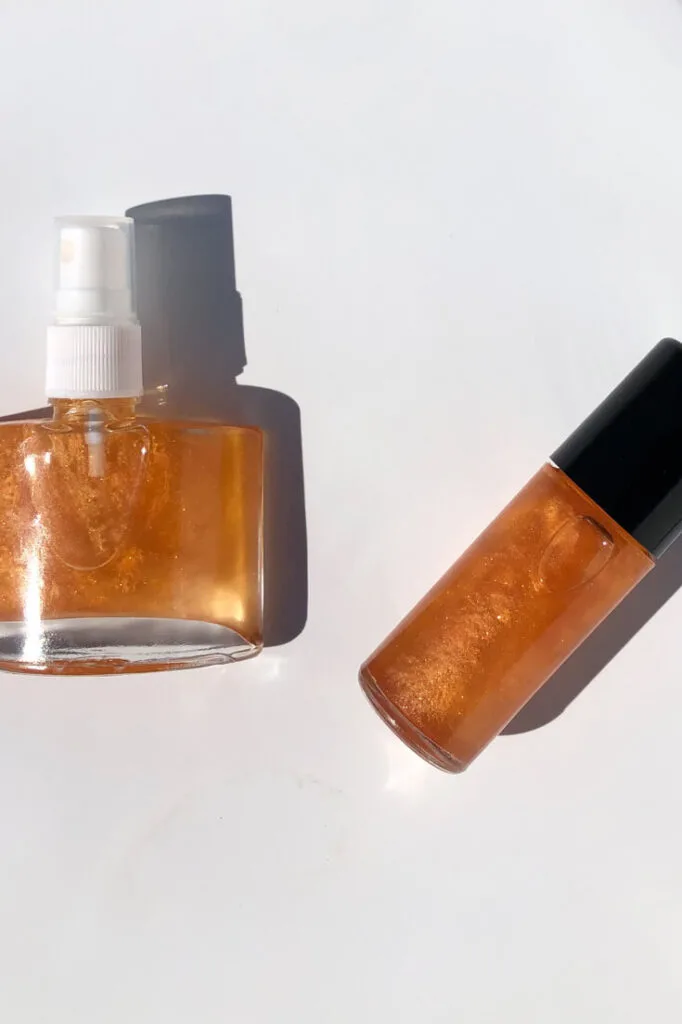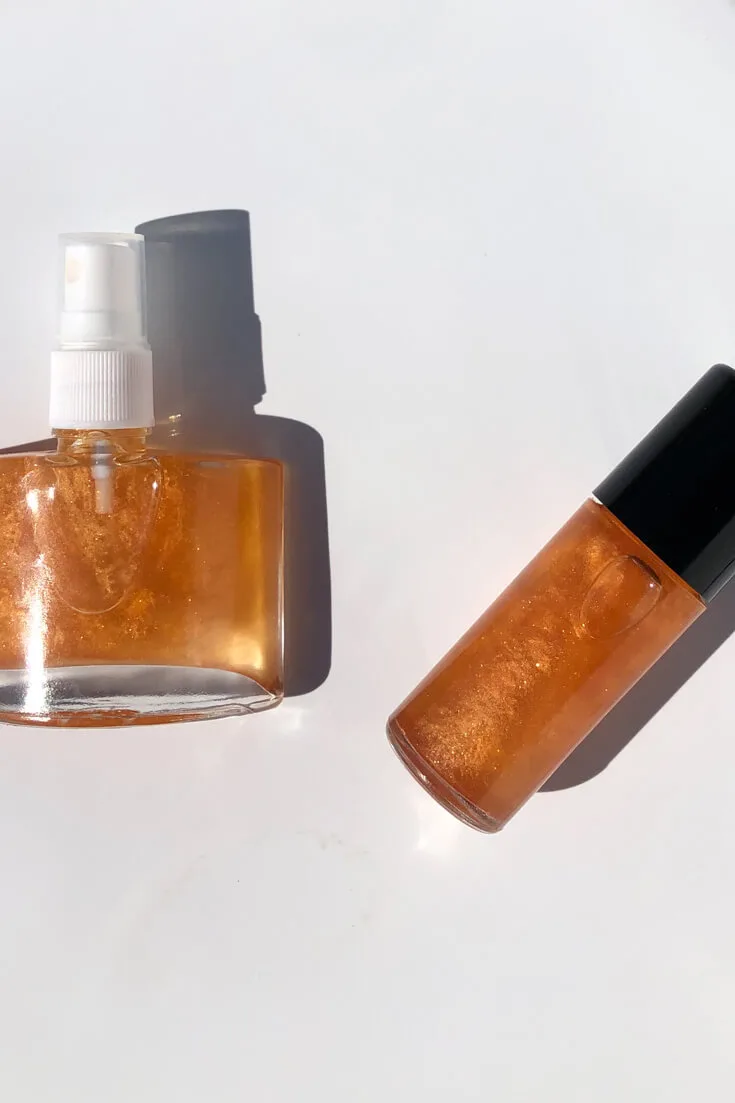 Baobab Oil has been a skincare favorite for decades, and for good reason! This plant-based oil is great for all skin types and is non-comedogenic making it the perfect oil to use for your shimmer oil. It won't strip skin and leaves skin feeling light and smooth. It is anti-aging and helps support your skin's moisture barrier to protect it from damage.
Jojoba Oil is a relatively light oil that is well absorbed by skin and delivers well-balanced hydration along with helping to control oil production. Jojoba oil contains Vitamins A and E as well as antioxidants that will promote skin healing and protection.
Abyssinian Oil is a non-comedogenic oil that is great for hydrating skin, leaving it soft and supple without making skin feel heavy or greasy. It works great for all skin types from dry and sensitive to oily. It also has the ability to absorb excess oil from skin which makes it perfect for extended wear!
Maracuja Oil is also known as passionfruit seed oil; this oil is non-comedogenic and light on skin It is a natural emollient so it keeps skin hydrated without clogging pores. It's perfect for all skin types and tends to give people a sense of calm because of it's naturally pleasant fragrance.
Coco-caprylate/ Caprate is used in natural formulations to replace silicone oils and is a true vegetable alternative for those oils. It maintains the same weightlessness as silicone oils and is a natural emollient.
Essential oils are obviously a favorite around here because they allow you to customize your recipes and add fragrance as well as added benefits such as extra hydration, anti-aging effects, and skin protection. A few of my personal faves are lavender essential oil, frankincense essential oil, and geranium essential oil!
Vitamin E Oil is an ingredient that is excellent for use on skin to help provide protection from environmental damage and helps fight signs of aging. This oil is an impressive antioxidant that can help moisturize and heal skin.
Bronze Mica is going to be used to adjust the time in this recipe. It is a copper toned mica that releases a golden tint when light hits it.
White Mica is going to deliver the shimmery sheen in this recipe, it is a white/ golden color and is a great colorant to give you some extra sparkle!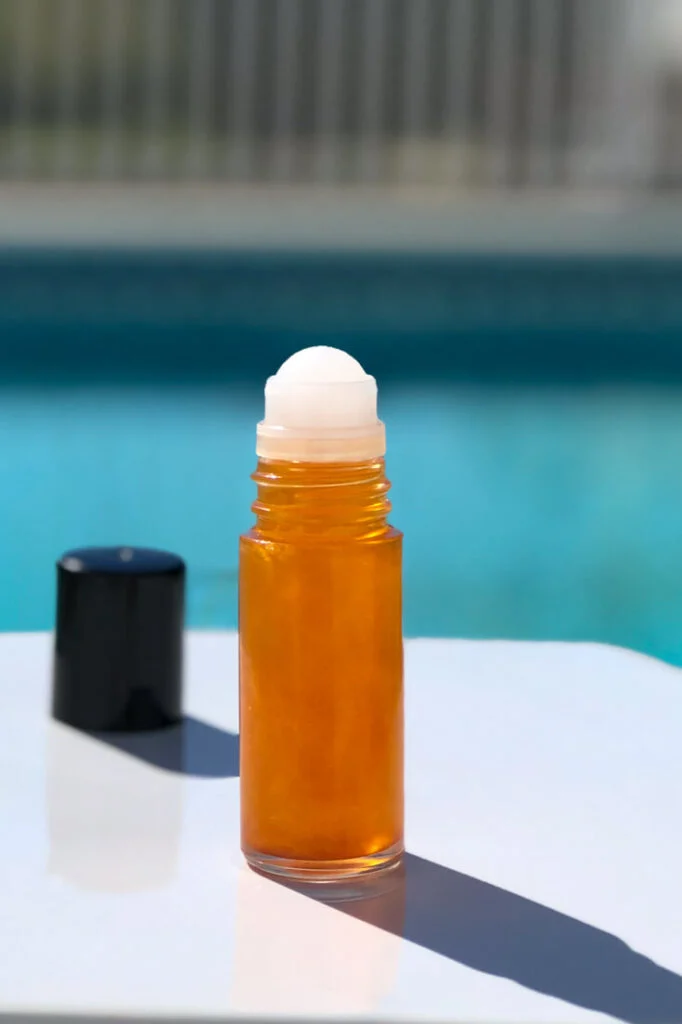 How do you make shimmer oil at home?
Making your own shimmer oil is super simple!
Check out the recipe below!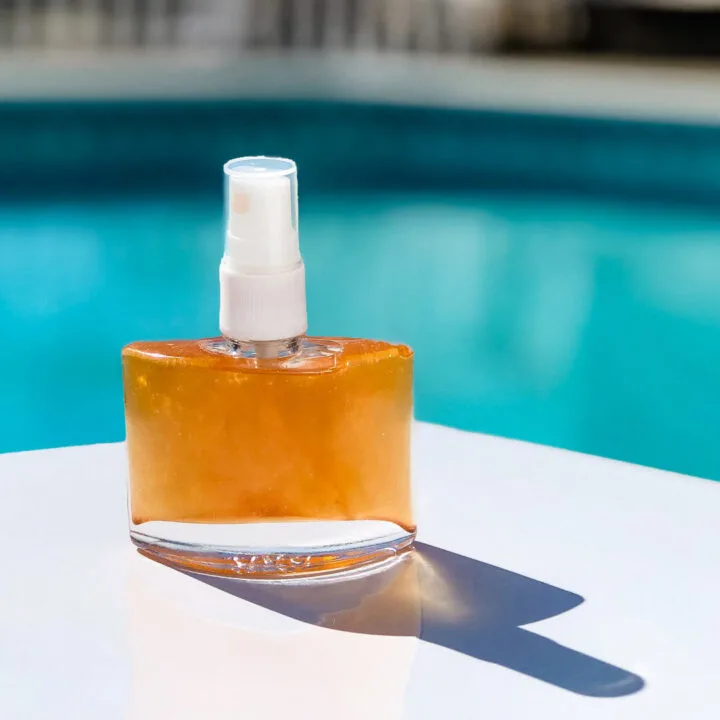 DIY Shimmer Body Oil
This shimmer body oil will give your skin a lovely shimmer while nourishing and moisturizing at the same time!
Instructions
Add all carrier oils and coco-caprylate/caprate to a glass beaker and stir to combine
Add essential oils (if using) and vitamin E
Start with a very small amount of bronze mica mixing until you reach the tint you like
Once all is mixed well, pour into glass bottle
Notes
After time, the mica will sink to the bottom so you will need to shake before use.
Depending on your preference, you can use a misting top (although this may clog over time) or a pump or large roll-on bottle.
Recommended Products
As an Amazon Associate and member of other affiliate programs, I earn from qualifying purchases.
Save & Share DIY Shimmer Body Oil Recipe
If you enjoyed learning how to make your own shimmer body oil at home, be sure to share and pin this post for later!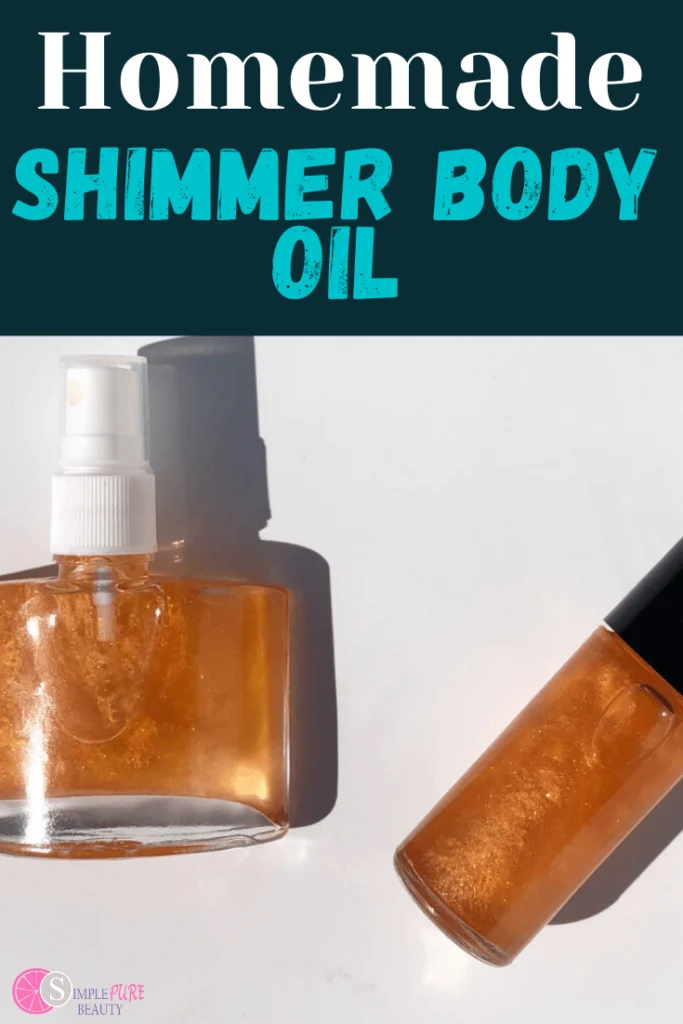 More Skincare Recipes You Will Love: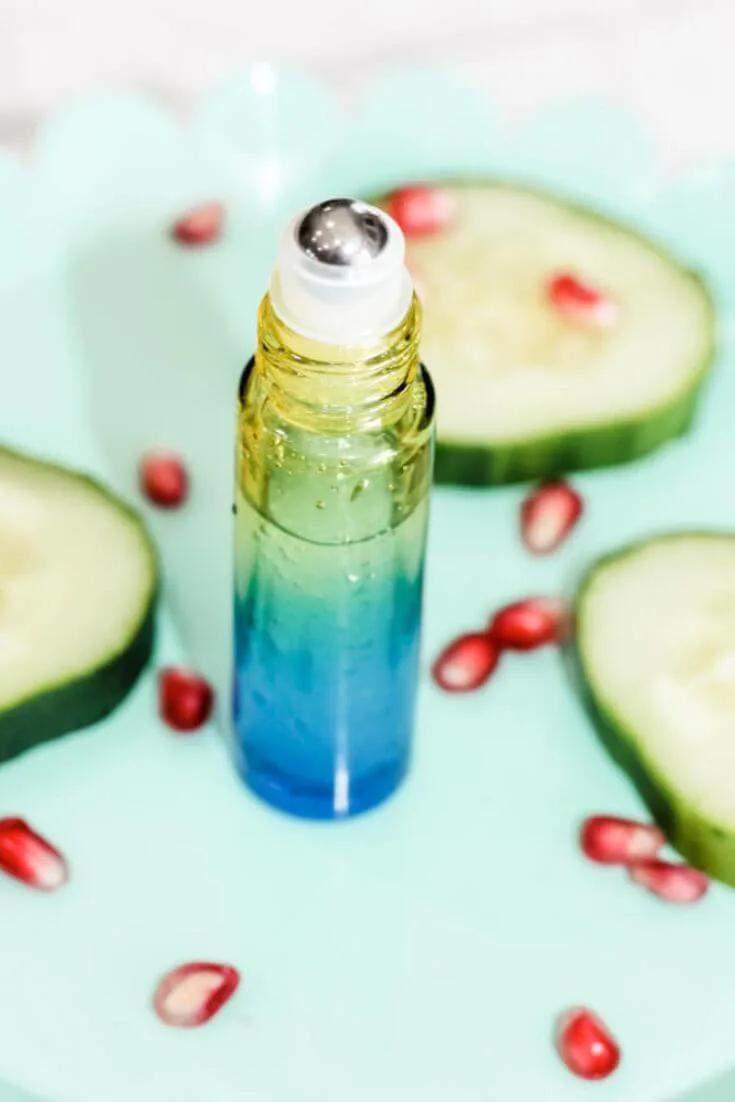 The delicate skin around your eyes can be hard to care for! Puffiness, dark circles, fine lines, and wrinkles; sometimes, it feels like the area …