These Lavender skincare recipes are so soothing to the skin and simple to make!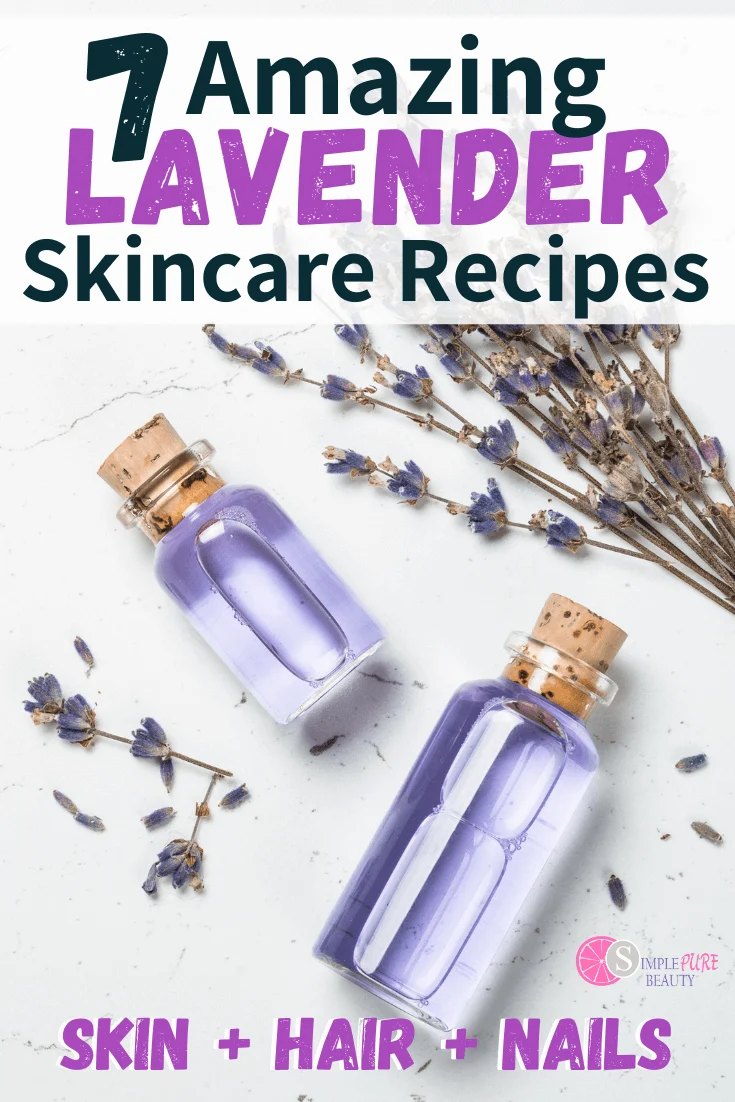 Lavender Essential Oil… When you hear the word lavender, what comes to mind? If I'm being honest, up until recently, I would probably say my grandmother.
But the more I learn and use lavender essential oil, the more those thoughts are changing. There are so many uses for this versatile oil and I find myself using it more and more.
What is Lavender Essential Oil?
Lavender (Lavandula angustifolia) is extracted from the flower using steam distillation. Lavender's scent is brisk, clean and calming. Lavender essential oil has long been used in perfume. It blends well with many essential oils and holds its scent for long periods of time.
Uses for Lavender Essential Oil:
Lavender's calming properties can help sooth irritated skin.
Ease redness from too much time in the sun.
Well diluted, it can be use to clean burns and cuts.
Many lavender-lovers swear by its ability to reduce or eliminate breakouts.
7 Simple Lavender Oil Recipes:
Not sure how to use lavender oil? Here are a few simple ideas!
1. Make a massage oil.
Using a gentle oil – like coconut – and a drop or two of lavender you can help your child relax for the night with a 5-10 minute massage. This baby massage oil recipe is infused with lavender and calendula.
2. Lavender Infused Insect Repellent
With summer on the way, creating your own lavender-infused insect repellent is a must. You'll think it smells great – the mosquitoes? Not so much.
3. Stress Relieving Roll-on
Do you get stressed when you travel, driving with your kids in the car, at sports events? Keep a roll on bottle filled with coconut oil or your favorite carrier oil, and a few drops of lavender in your bag. When you begin to feel anxious rub a bit on your wrists, temples or the back of your next to help you keep breathing and relaxed.
4. Warm Muscle Soothing Wrap
For sore muscles, fill an old (hole-free) sock ½-way full with rice. Heat in the microwave for several minutes. Add 5-10 drops of lavender essential oil. Wrap in a towel (you MUST use the towel) and place on the sore spot. Sweet relief!
Experience the power of lavender for yourself. When in doubt, use less lavender. It won't take you long to figure out the amount of lavender that offers you the most benefits.
5. Relaxing Bath Salts
Add a few drops of lavender essential oil to 1/2 cup of Epsom salt and add to your bath water. Perfect for relaxation and detoxification. This bath soak recipe is one of my favorites!
6. Lavender Sugar Scrub
Mix together 1/4 cup melted coconut oil, 3/4 cup organic sugar and 10 drops of lavender essential oil. Store in a glass jar. Check out these sugar scrub recipes for more inspiration!
7. Hyper-pigmentation
Leftover redness from previous breakouts. Use lavender and frankincense essential oils daily. Or whip up this redness reducing face serum…
Where to Buy Lavender Essential Oil
Please exercise caution when purchasing lavender oil online or in your local grocery or health food store. Lavender essential is often adulterated with hybrid lavender (lavandin) or other synthetic fragrance chemicals.
It is important to do your research and choose an essential oil company with high quality standards and purity.
These are just a few of the ways you can use Lavender Essential Oil. What is your favorite use for Lavender Oil?