Who doesn't love a good full body exfoliation? Feeling super fresh and super clean can make anybody feel like a million bucks! If you're ready for a body scrub that'll knock your socks off and leave you fresh and smooth, then keep on reading for everything you need to know about brown sugar scrubs and how to make your own!
I can't get over how simple and easy this recipe is! Plus, the scent of it is amazing as well.
It's great for giving your body a new glow and scrubbing away that top layer of dried or dead skin.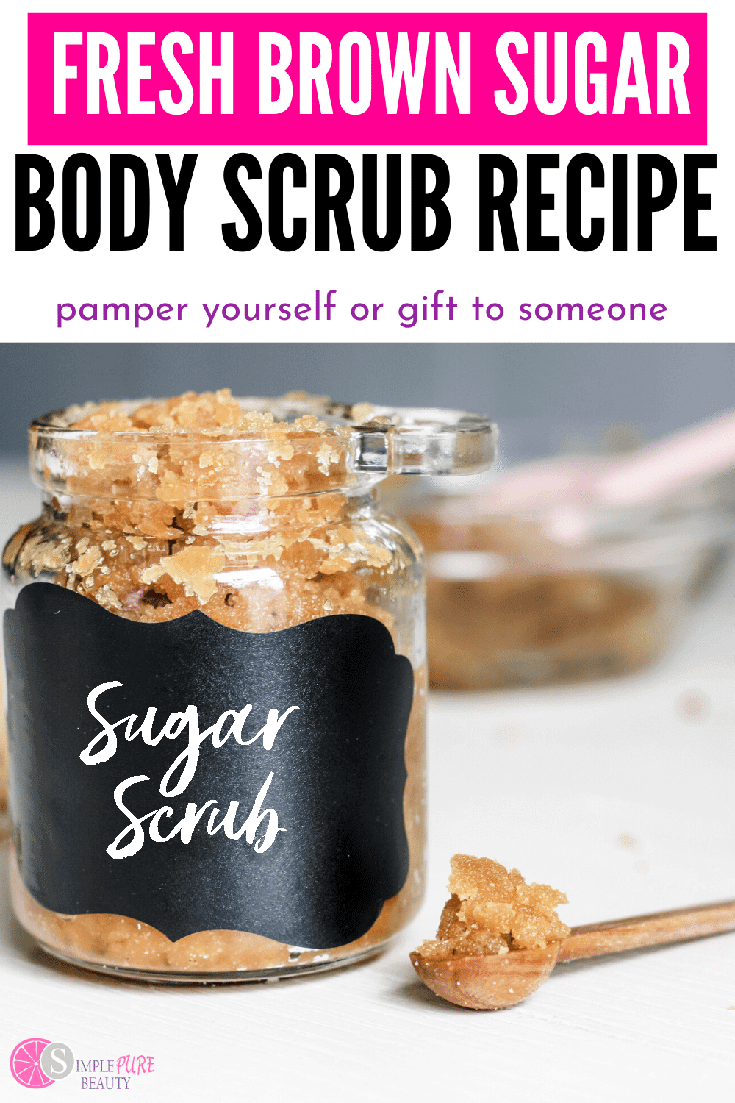 What does a body scrub do?
The main benefit of a body scrub to hydrate your skin and give it a nice, soft glow. It's a bit rough in texture but once you use it to scrub your skin, you're going to love how it makes it feel.
Many people use this one their legs and feet but you can easily use it all over your body as well.
If you're one of the "lucky" ones to have super dry skin, this DIY body scrub is about to become your new best friend.
I like to toss it in my bag when I go on a trip and have this as a way to make my skin look fabulous on the spot.
If you like this body scrub, check out this Gentle DIY Exfoliating Face Scrub as well.
Can sugar scrubs be used on the face?
Sugar scrubs can absolutely be sued on the face so long as you are using them properly!
It's very important that when using a sugar scrub that you don't over-exfoliate or exfoliate too harshly.
When used improperly, scrubs can actually cause irritation and inflammation if the scrub is too abrasive.
We love brown sugar in our scrubs, we'll cover more about it later but, one of the reasons is that it tends to be less abrasive than other sugars!
If you choose to use a sugar scrub on your face, don't use it more than once or twice a week and rather than scrubbing, use light circular motions to exfoliate.
Can sugar scrubs be used daily?
Don't get me wrong, sugar scrubs are pretty great but it isn't recommended to use them more than once or twice a week.
You can definitely over-exfoliate and we don't want that.
Listen to your skin, scrubs should clean, cleanse and nourish your skin, if you notice your skin is getting irritated after using a scrub, consider decreasing the number of times you use your scrub.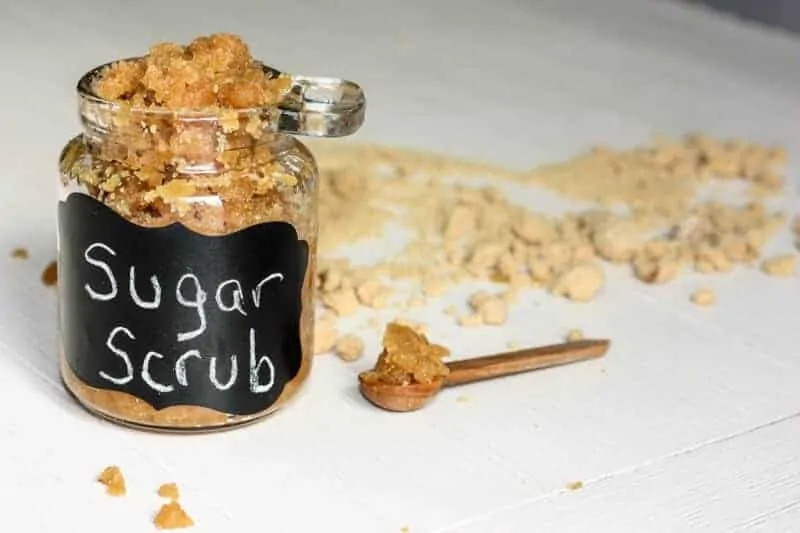 How do you store your brown sugar body scrub?
Once you make up this simple homemade body scrub recipe, you just need to store it in a jar or sealed container.
And if you're looking for some great storage ideas, check out this post on How to Find Cheap Containers for Homemade Beauty Products.
It's also important to keep it stored in a cool, dry place as well so it doesn't start to separate or try to become a liquid. That is just a recipe for a mess.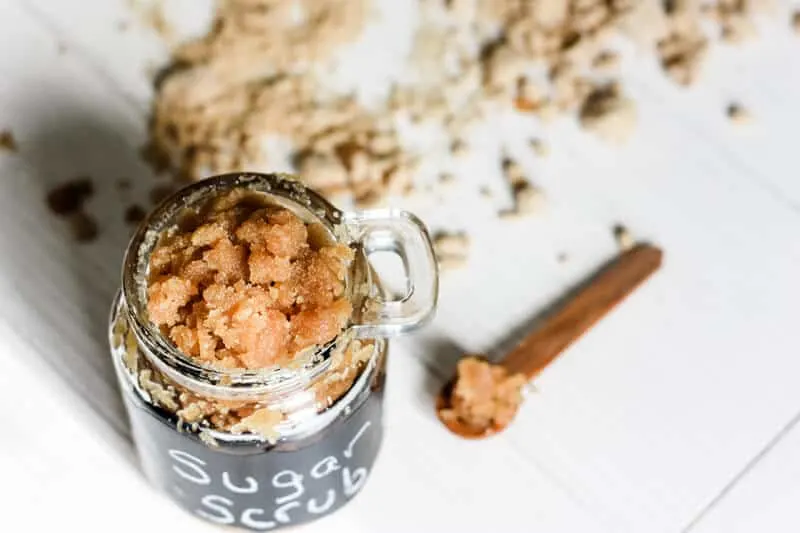 When do you use a body scrub?
The best time to use your DIY body scrub is before or during a shower.
I personally like to use mine in the shower and before I shave my legs.
Do you wash off your body scrub?
Yes, you do.
Once you've gently scrubbed your body and are happy with the results, you're going to want to use a warm water to wash off the body scrub.
There will be tiny pieces of "scrub" on your skin so rinsing off after you're done is key.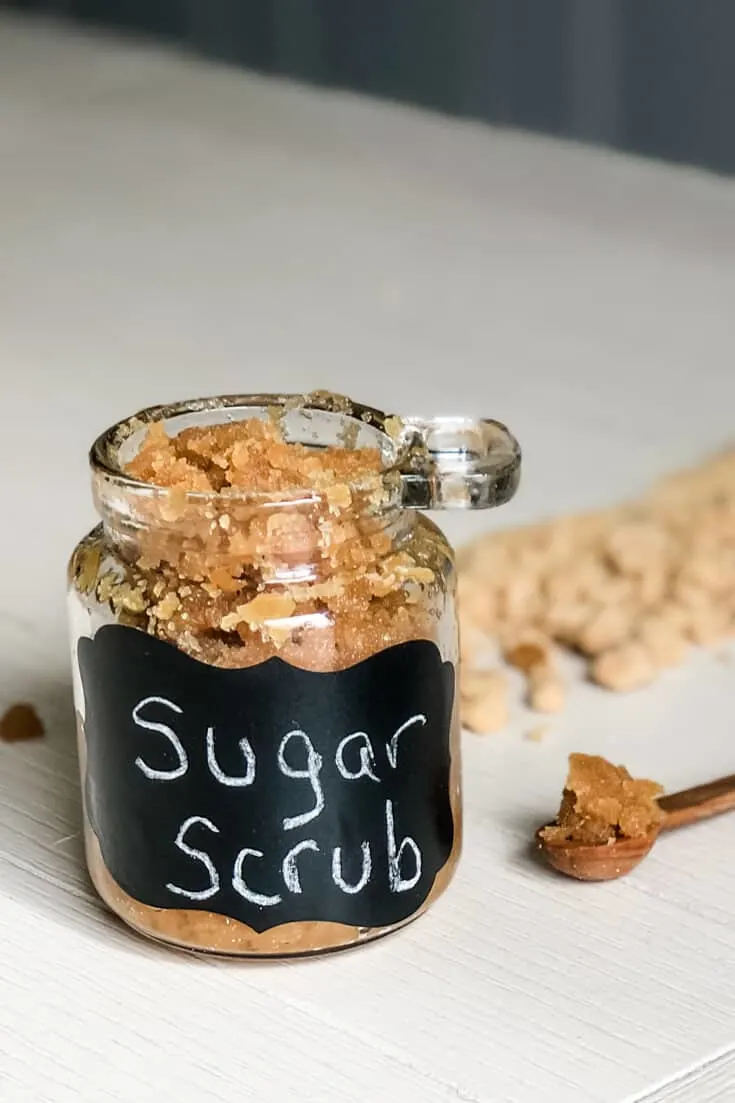 What is the best sugar to use in a sugar scrub?
We are a little partial to using brown sugar in our organic body scrubs. Brown sugar is not only sweet to smell, but it's also a wonderful exfoliant that isn't as abrasive as other sugars can be.
The sugar particles themselves are a little more round and brown sugar tends to melt into the skin rather than sit on it too long.
Brown sugar also contains humectants which means it absorbs moisture from the environment and deposits it right where it's needed, your skin!
What are the best essential oils to use in sugar scrubs?
Sugar scrubs are meant to be cleansing, hydrating, and refreshing so you want your oil blends to compliment that.
In our recipe, we like to use rose geranium, lime, and neroli oils.
These oils create a blend that hydrates, smooths, calms, and rejuvenates the skin.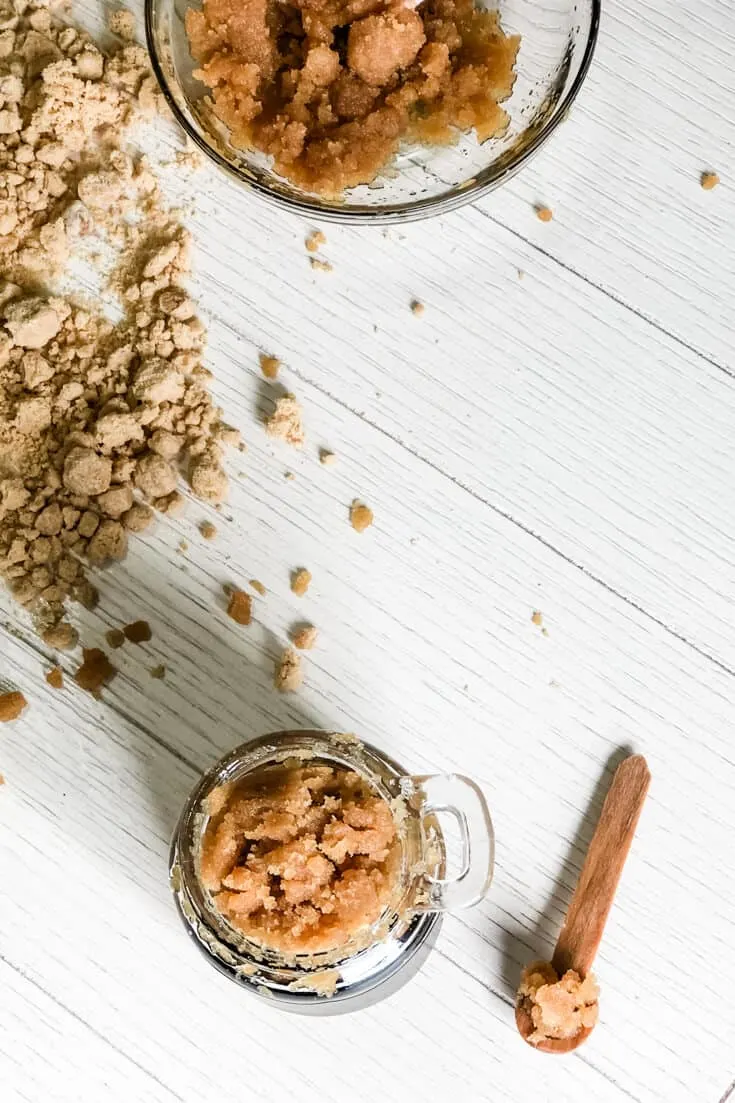 Brown Sugar Body Scrub Ingredients
Brown sugar is an excellent exfoliant and it is a natural humectant so it helps keep your skin hydrated. It also absorbs helps to lock in moisture and keep your skin looking plump and fresh!
Sweet almond oil protects your skin from UV damage and reduces fine lines. It also softens skin, helps retain moisture with fatty acids. Sweet almond oil also contains vitamin A which can reduce acne, vitamin E also helps keep skin cells healthy and happy.
Fractionated coconut oil is one powerful moisturizer, it leaves skin soft and smooth. It's also light on the skin and won't leave it feeling oily! Coconut oil also rejuvenates skin and gives you an all-day healthy glow.
Red raspberry seed oil is a wonderful antioxidant that moisturizes and improves elasticity. Even more, it reduces wrinkles, and fine lines, it also helps to moisturize and regenerate skin cells.
Apricot kernel oil moisturizes and is great for dry sensitive skin. It reduces fine lines and wrinkles and fights signs of aging. It can also smooth out blemishes, revitalize skin and works to prevent acne! This amazing oil is anti-inflammatory and can reduce the appearance of dark circles and puffiness. And of course, it's light and quick to absorb leaving your skin fresh and beautiful!
Rose geranium essential oil removes dead skin cells and acts as an astringent which tightens, brightens, and soothes. It is also antimicrobial and cleanses your skin leaving it looking young and smooth.
Lime essential oil is one powerful natural antioxidant that can remove and protect from free radicals. It is known to reduce signs of aging, reduce sagging, and act as an astringent to tighten skin.
Neroli essential oil treats oily skin which helps keep blemishes under control. It's another amazing ingredient that can reduce signs of aging, diminish scars and stretch marks!
Vitamin E oil protects the skin from UV while it calms irritation and hydrates. It can heal skin, act as an anti-inflammatory, and help to strengthen the barrier functions of the skin!
Ready to make your own homemade brown sugar body scrub?
The good news is that once you have all your supplies gathered up, it's a total breeze to make this simple beauty recipe!
Once you're done, you'll have an awesome body scrub that you can use anytime that you want and have peace of mind knowing that it's full of ingredients that you know are safe and simple to use.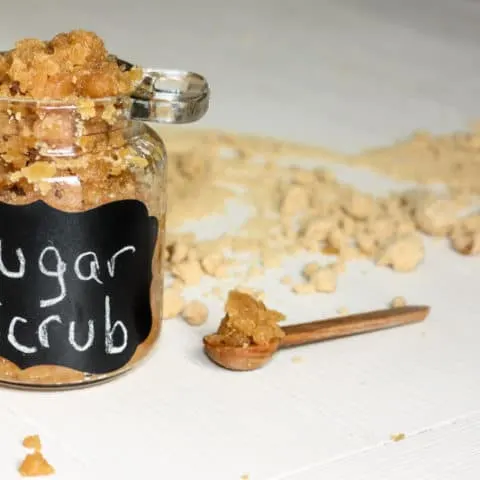 Brown Sugar Body Scrub Recipe
This brown sugar body scrub recipe is simple to make!
Instructions
Blend together all carrier oils with essential oil blend.
Slowly stir oil into sugar until incorporated well.
Optionally, mix in food processor for a finer texture.
Notes
Keeps for 3 months. Keep jar clean and do not get the sugar wet with water to avoid microbial growth.
*note - if using the processor for food prep too, then turn mixture out into a glass bowl and add essential oils and stir by hand.
Recommended Products
As an Amazon Associate and member of other affiliate programs, I earn from qualifying purchases.
More Body Scrub recipes for later:
Grapefruit Emulsified Body Sugar Scrub
17 Luxurious DIY Sugar Scrub Recipes
5 Scrumptious DIY Lip Scrub Recipes
Gentle DIY Exfoliating Face Scrub
Pin this sugar body scrub recipe for later: