Are you looking for a one-step skincare routine that will help your skin stay soft and rejuvenated? Check out this Homemade CBD Night Cream Recipe!
Well, what if I told you that one simple night cream could help take your skin from tired and uneven to happy and healthy? That's right, we have a night cream recipe that is sure to help you get the skin of your dreams while you sleep!
We have been sharing some fun new CBD Skincare Recipes lately including CBD Massage Oil and this AMAZING CBD Salve Recipe to calm and soothe the skin.
If you are brand new to incorporating CDB Oil into your skincare recipes, I highly recommend checking out our CDB Skincare 101 post here as well.
I am super excited about today's CBD Night Cream Recipe!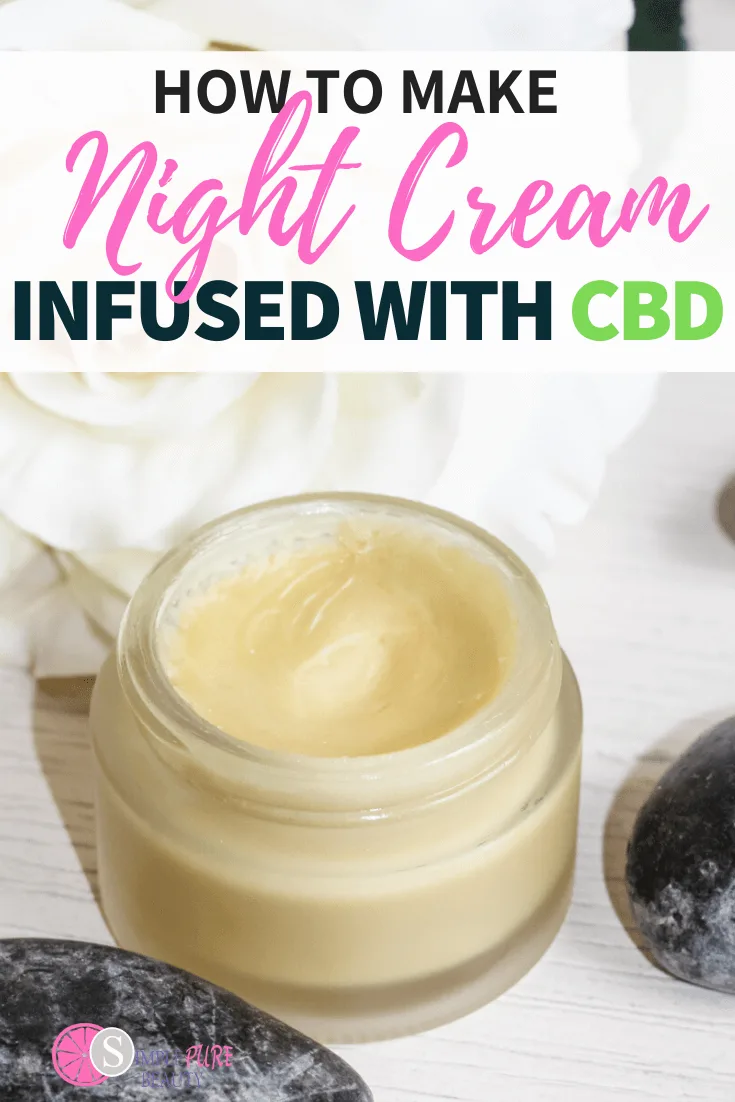 What is a Night Cream
A night cream is a lotion or cream that is applied to the face before going to bed. These creams often contain ingredients that increase collagen production in the skin as well as keeps skin moisturized and hydrated.
Night creams often contain a mix of vitamins and fatty acids as well that help to heal, protect, and revitalize skin.
How does a CBD Night Cream Work?
Night creams combine a mix of high-quality ingredients that work together to reduce fine lines and wrinkles, hydrate, and heal the skin.
Adding CBD to the mix only increases the benefits of a night cream!
Your body does its best healing while you sleep, this means that while your sleeping, your skin is replacing old skin cells, healing, and soaking up anything that you apply to it.
Regular moisturizers are great but, night creams use the natural turning over of your skin cells and your body's healing abilities to increase the results that you see in the mirror!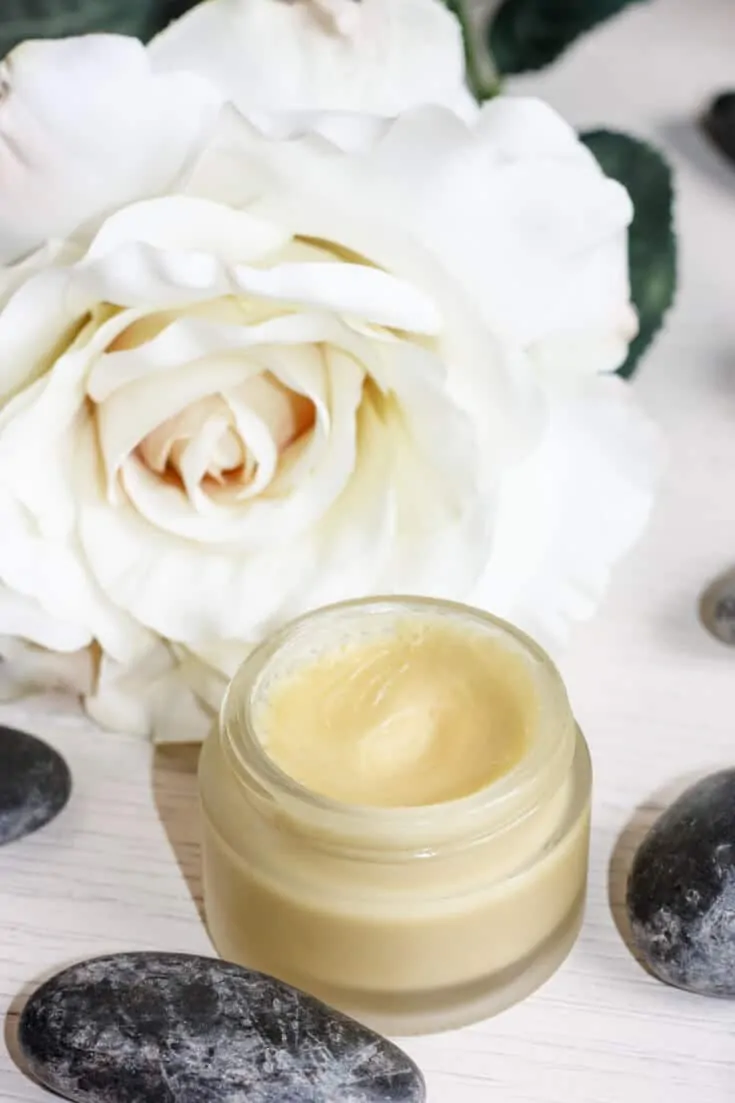 Benefits of using a CBD Night Cream
Using a CBD infused night cream can have many benefits; those benefits really depend on the ingredients that are in the cream and what they can do for your skin!
A night cream is an easy way to boost your skin's appearance with minimal work, high-quality night creams include collagen-boosting ingredients that help plump skin and help keep it youthful.

Many night creams also include vitamins A and E that help heal and protect skin from environmental damage.

A CBD night cream will also have anti-inflammatory effects that will give skin a more even complexion and maximize the effects of your night cream!

Essential oils are another great way to add to your night cream; many essential oils not only smell nice, but they can pack a powerful punch of skin-boosting benefits!
In our recipe, we combine essential oils that bring hydration and a smoother complexion together!
What to look for in a CBD night cream
When making your own CBD night cream, there are a few key things to look for:
High-quality CBD oil that is purity tested like this one here

! If this is your first time using CBD in your skincare routine and you aren't sure about it, take a peek at our

CBD and skincare 101 article

!

Ingredients that deliver fatty acids, collagen boosts, and a hearty mix of vitamins.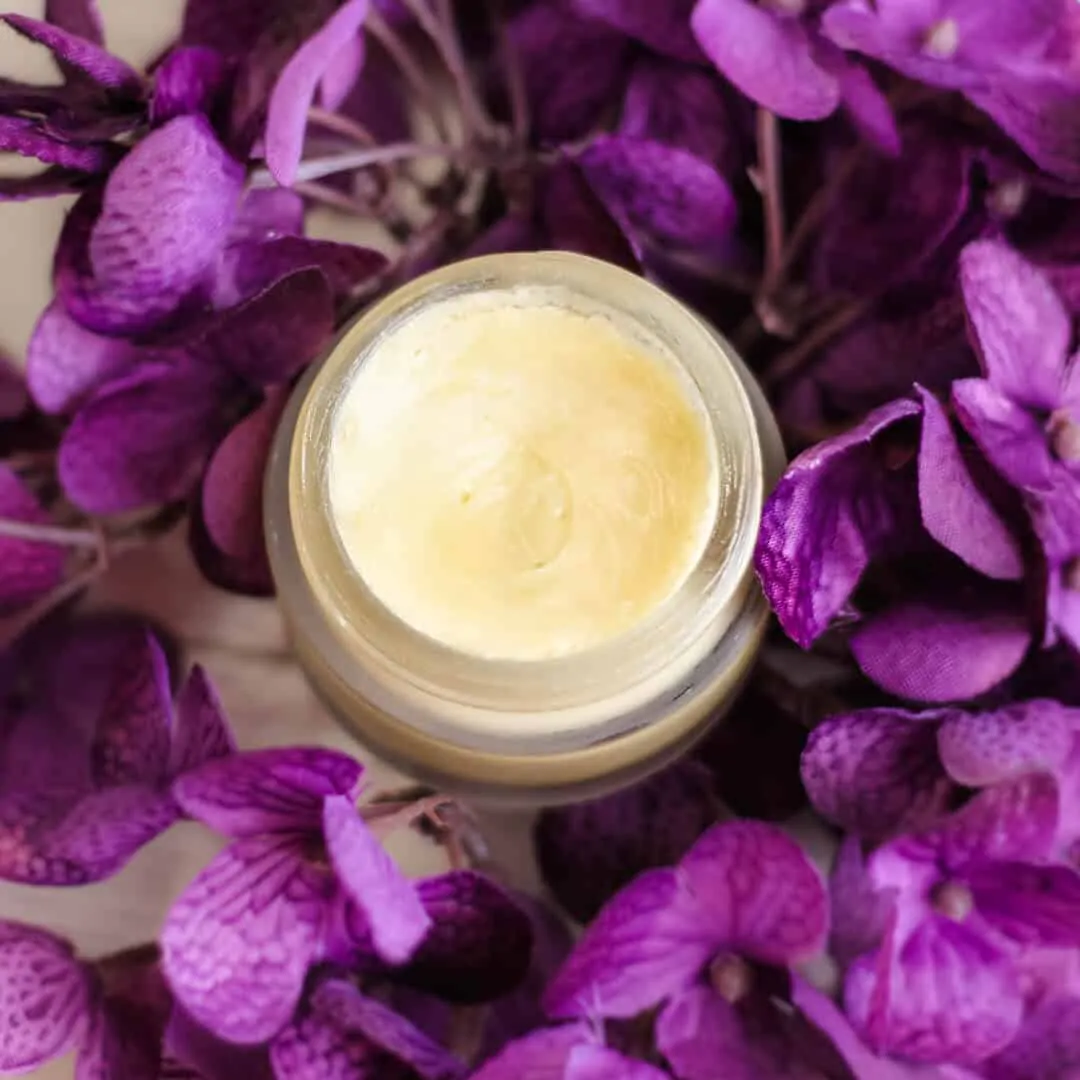 How to use a CBD night cream
While night creams are fairly simple to add to your skincare routine, there are some steps to take to make sure that you are getting the most out of your new skin-friendly practice!
First and foremost, it is super important to start with a clean and dry face. Wash your face with warm, soapy water and pat dry to provide a clean surface for your night cream to seep into!
Once your face is squeaky clean, take a dime-sized amount of cream and apply it to your face and neck in upward, circular motions.
Don't be too abrasive and don't over-apply! If you have sensitive skin you can also pat the cream onto your skin until it is evenly applied and absorbed.
CBD night cream ingredients
I love to create skincare products that are all-natural and help you fall back in love with your skin!
Our CBD infused night cream is no different, let's break down what exactly makes this recipe a dream come true!
Beeswax is a tried and true skincare must-have. It is anti-viral, anti-fungal, and anti-bacterial. It is an absolute boss at fighting chapped skin and forming a protective barrier over the skin to help protect it from damage.
Emulsifying wax is a product that helps oil and water bind together to give the cream its consistency. Many emulsifying waxes are plant-based and are what allows this cream to have a better shelf-life without separating!
Hemp seed oil is a great oil to use on skin, it contains several vitamins and omega fatty acids. It helps to keep skin moisturized without clogging pores and can even help balance out oily skin, plus it is anti-inflammatory and helps to lessen redness and irritation from many conditions such as acne. Keep in mind that it can also help to reduce fine lines and wrinkles. It is a great additive to many skincare products and produces all-around results for people with tricky skin!
Shea butter is known for being extremely hydrating and for plumping skin but, did you know that it can also help reduce irritation, make fine lines and wrinkles less noticeable and help lessen dark spots? It's truly a great ingredient to add to our night cream; it also contains vitamins A, E, and F which help protect skin and promote healthy cell regeneration.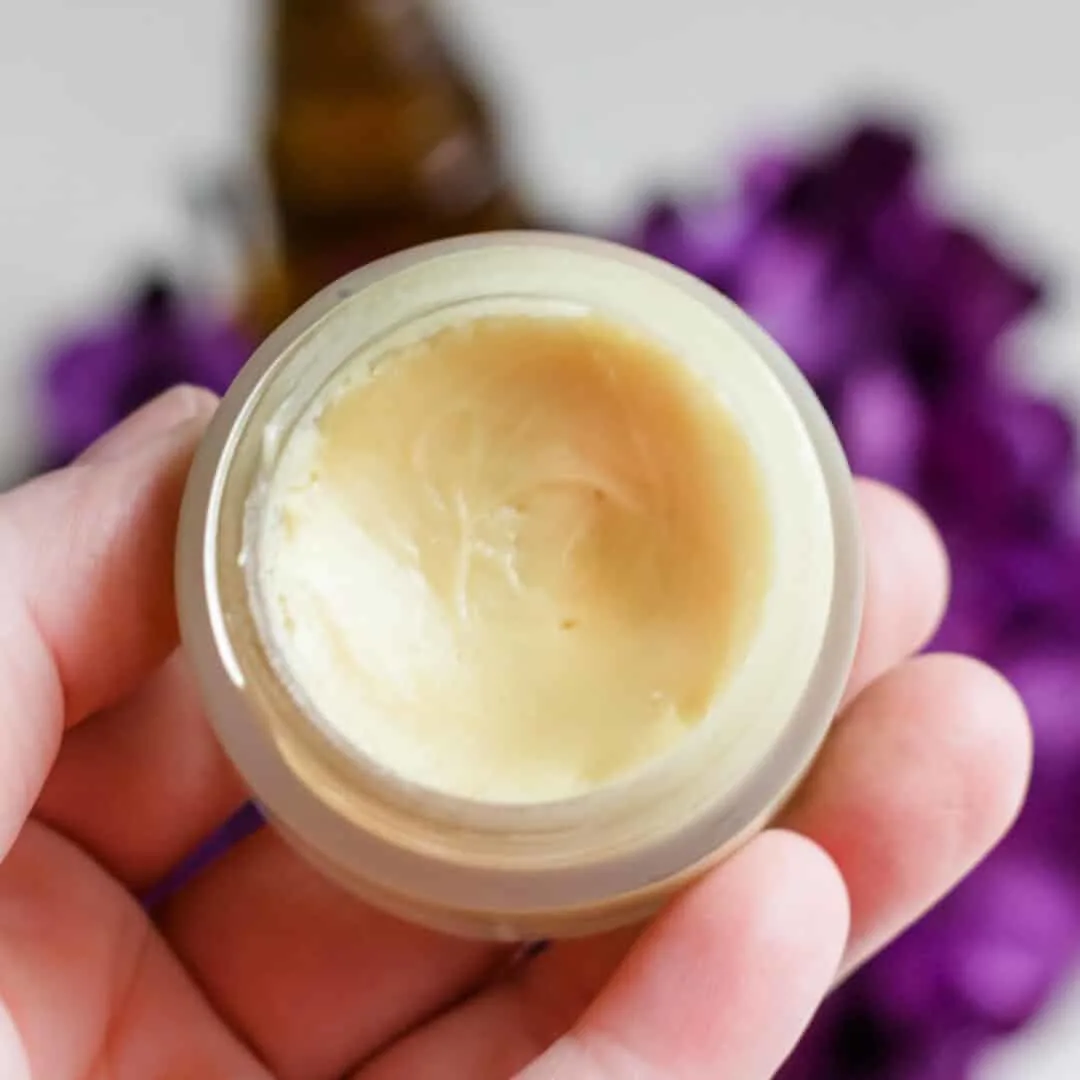 Rosehip seed oil is rich in vitamin A which is an anti-aging must-have! It also penetrates deep into skin providing moisture and boosting collagen levels to give your skin that extra boost it needs!
Argan oil is perfect for anyone who is battling inflamed skin. It helps to regulate sebum production which can effectively fight acne and promote a smoother complexion.
Jojoba oil is great for getting chaffed and chapped skin back on track! It is an inflammation-fighting machine that is rich in vitamins B and E which help correct and heal skin while promoting healthy cells!
Helichrysum essential oil is extremely calming to skin; it fights inflammation and is great for making irritated skin happy again!
Lavender essential oil doesn't just smell great, it also can help skin keep its youthful appearance. It can help lighten dark spots and reduce those pesky fine lines. It can also help fight acne and blemishes!
Lemon essential oil is what brings this recipe together! It has astringent properties that help to clear and cleanse the skin; lemon oil also firms and tightens skin. It also helps remove dead skin cells and excessive oil from the skin to help keep it clean and clear! When using lemon oil it is important to keep in mind that it is recommended to stay out of direct sunlight for 8 hours after application.
CBD oil is what gives this night cream the extra boost it needs to give you all the benefits you came here for! It is anti-inflammatory and can help fight excess oil production making it great for anyone who battles acne and blemishes. It can also help soothe eczema and psoriasis.
Let's get to the recipe!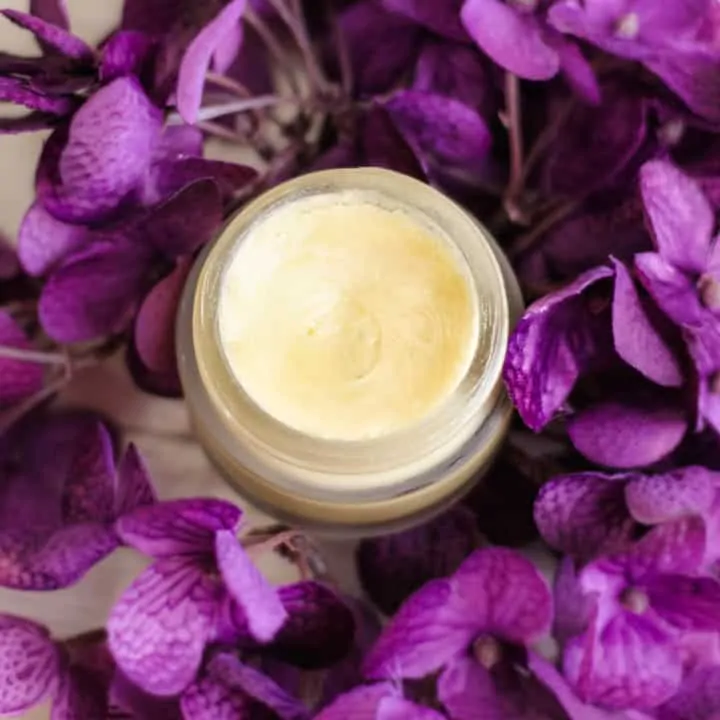 CBD Anti-aging Night Cream Recipe
Check out this simple recipe for CBD Anti-aging Night Cream.
Instructions
In a pyrex in a low-temp water bath, melt emulsifying wax, beeswax, and jojoba.
When melted, add in the hemp seed and shea butter, stirring until the shea butter is just melted.
Stir in the argan and rosehip seed oils and then remove from heat.
Allow mixture to cool for about 5 minutes, then add in the CBD oil.
Scoop the oil and wax mixture into a larger bowl and use an immersion blender (or do it in a food processor) to whip it as it cools.
When the mixture is a little warmer than room temperature, add the essential oils and mix for another 30 seconds.
Spoon into a container and cap.
Recommended Products
As an Amazon Associate and member of other affiliate programs, I earn from qualifying purchases.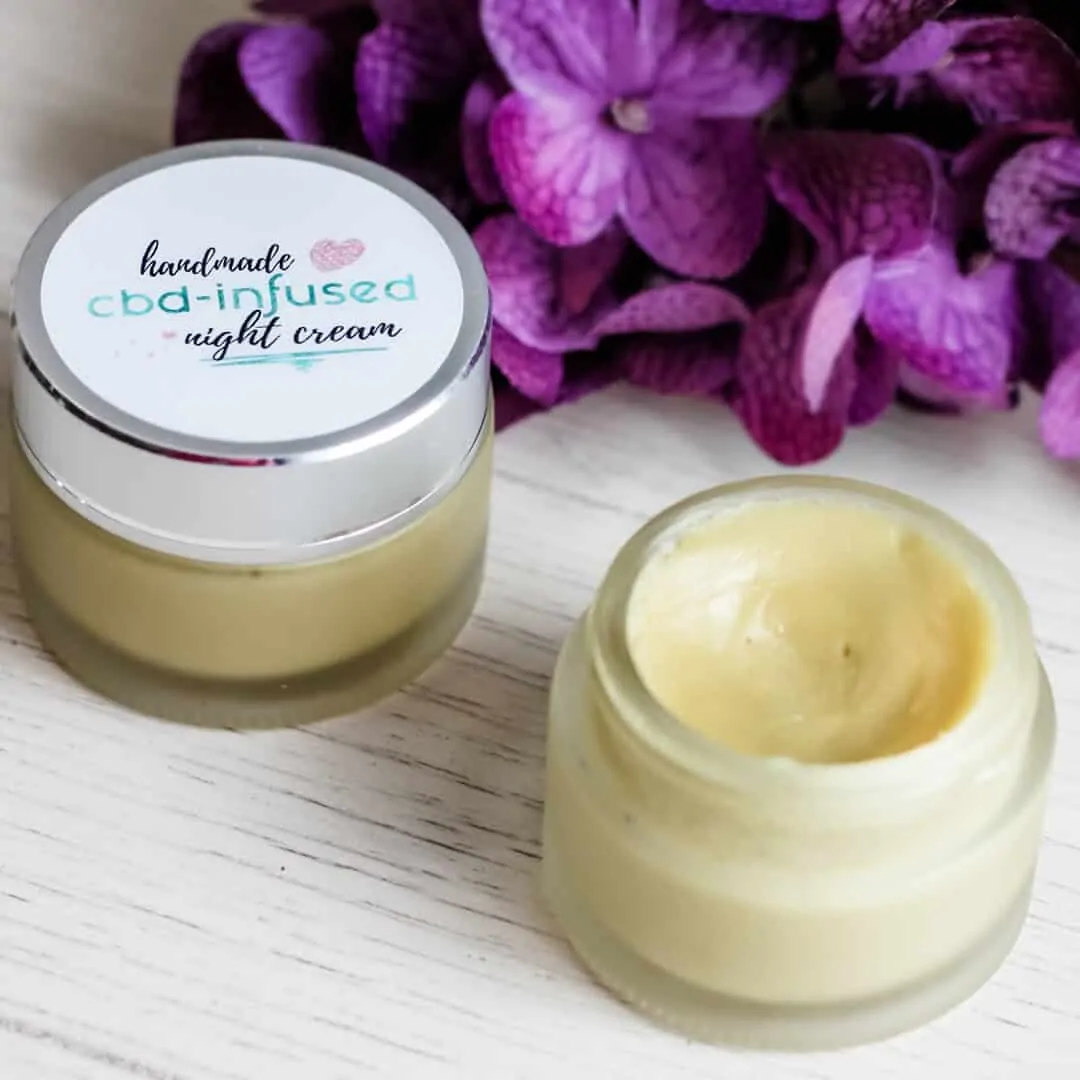 Using Your Dreamy Night Cream
Our CBD infused night cream is excellent for hydrating skin, reducing fine lines and wrinkles, and supporting healthy skin cell regeneration.
And, it does all this while you sleep! It really doesn't get much easier to slip into the skin of your dreams than one simple little cream!
Enjoy waking up to skin that you're happy to say you're in!