One of my biggest pet peeves with body butter is, it can leave a greasy feeling on the skin. But not today friend! The recipe I'm sharing today is a non-greasy body butter that soaks right into the skin!
At the last minute this year at Christmas, I really wanted to create a new recipe to give my family and friends.
So I set to work formulating this non-greasy body butter!
I created 2 different scents, both which smell amazing:
The Neroli Grapefruit option includes:
Neroli Essential Oil
Grapefruit Essential Oil
Copaiba Essential Oil
The Orange Peppermint option includes:
Peppermint Essential Oil
Sweet Orange Essential Oil
Trust me when I tell you that either option you choose, your body butter is going to smell amazing!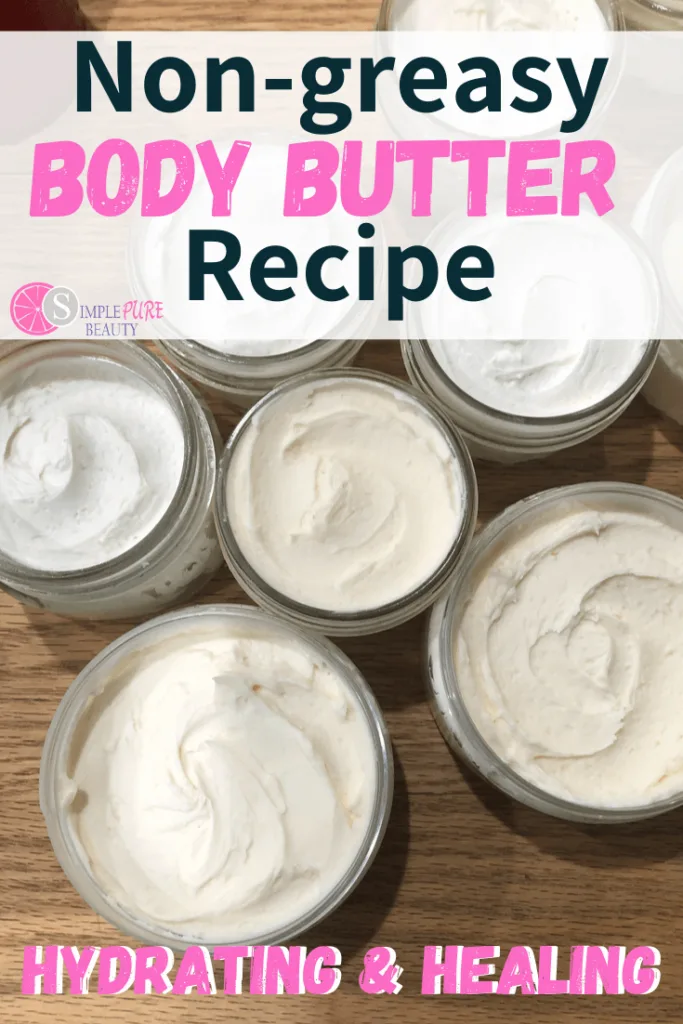 Non-greasy Body Butter Ingredients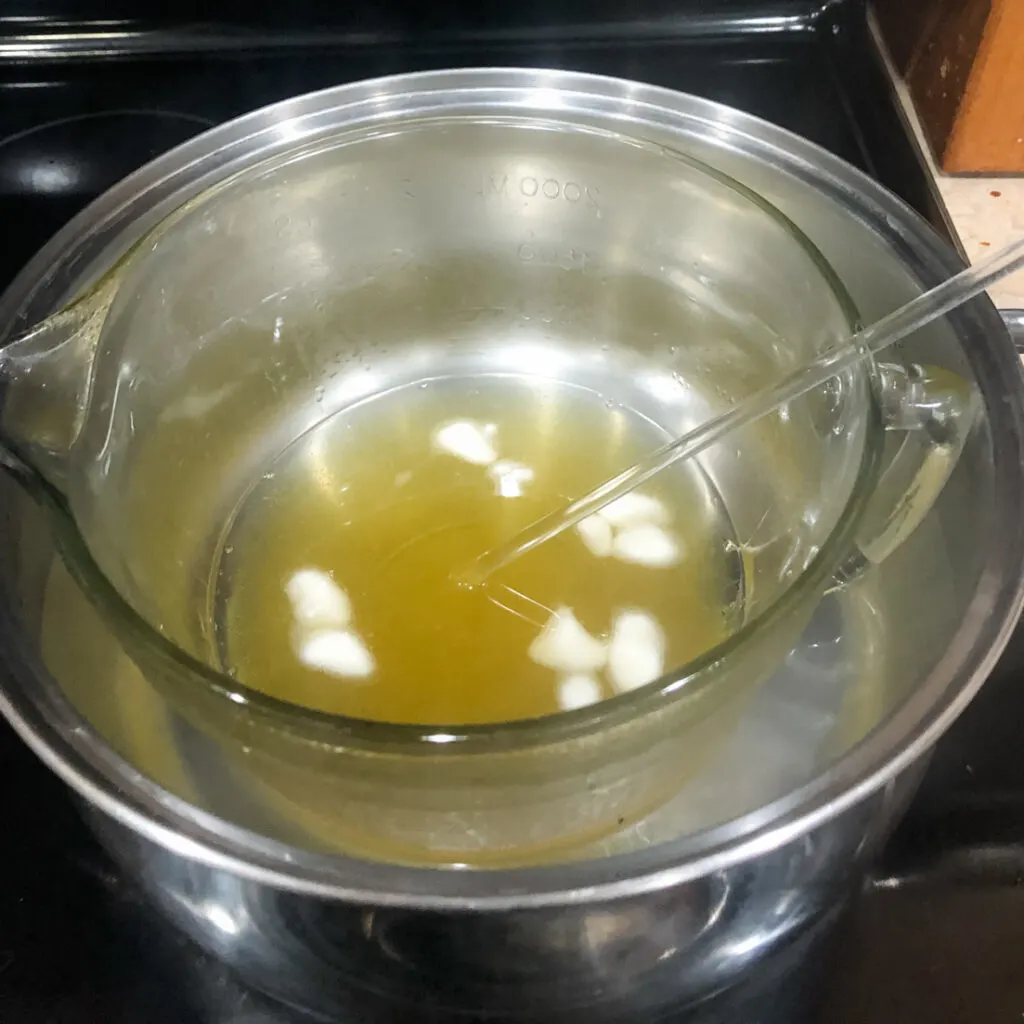 This body butter contains many soothing carrier oils & butters as well including:
What Makes this Body Butter Non-Greasy?
There are actual several key ingredients we're utilizing to reduce the greasiness in this body butter recipe.
Coco-Caprylate/Caprate – Coco-Caprylate/Caprate is a wax ester used a lot in natural skincare as an alternative to silicone oils. It is a fast spreading emollient that leaves your skin feeling like velvet.
Arrowroot Powder – Arrowroot powder is added at the end of this formulation to give it just a bit extra non-greasy power. I encourage you to add the amount in the recipe and if you're not happy with the feel, add a bit more.
Why is this Recipe in Grams?
To sharpen my skills, I have just recently graduated and earned a Diploma in Organic Skincare Formulation from Formula Botanica.
I have learned so much and found how much easier it is to formulate and create skincare recipes by weight.
Your recipes are much more accurate and you don't dirty spoons, measuring cups and create a mess.
What If I've Never Formulated by Weight Before?
If you've not formulated recipes by weight before, there are just a few things you will need.
Scale + Jeweler's Scale
It is very important that you have a scale and a jeweler's scale.
You will use your regular scale, like this one, for your heavier ingredients.
But you will need a smaller scale, like this one, to weigh your ingredients like essential oils and preservatives. This will ensure you're adding these sensitive ingredients at just the correct amount.
Check out the list below of my must have supplies for formulating:
These body butters were a big hit with my family & friends so I just couldn't wait to share them with you!
Check out the recipe below!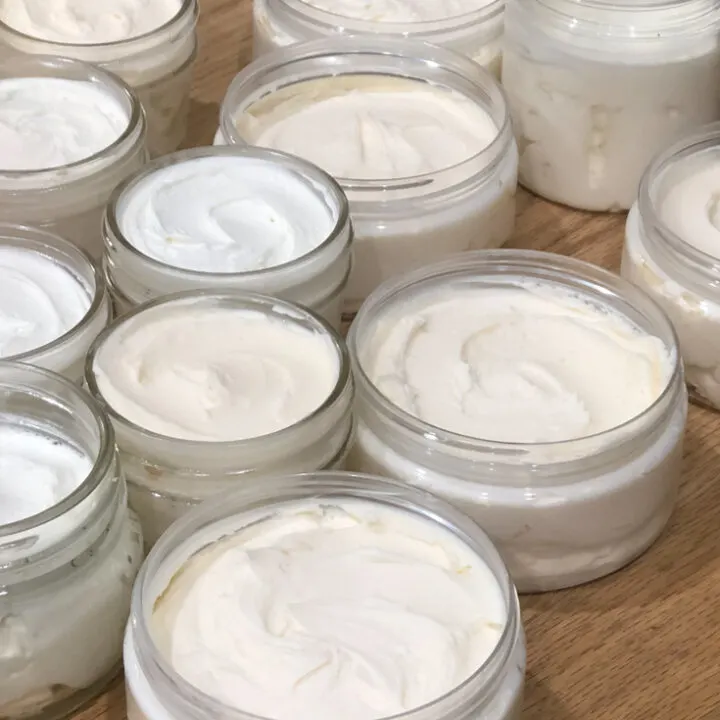 Non-Greasy Body Butter Recipe
This non-greasy body butter will leave your skin feeling silky smooth!
Materials
Neroli Grapefruit Essential Oil Blend
1.13 grams Neroli Essential Oil
1.69 grams Grapefruit Essential Oil
1.69 grams Copaiba Essential Oil]
Orange Peppermint Essential Oil Blend
.56 grams Peppermint Essential Oil
2.81 grams Sweet Orange Essential Oil
Instructions
Add butters, carrier oils and coco-caprylate to glass beaker or heat proof glass bowl and place in double boiler over medium/low heat until butters are melted.
When temperature has cooled to under 40C add vitamin e oil and your chosen essential oil blend and mix to combine. (Choose only one, either Neroli Grapefruit or Orange Peppermint Essential Oil blend option.)
Place in the fridge until your butter becomes fairly opaque.
Using a whisk attachment for your mixer, start whipping your body butter.
Add in arrowroot powder and continue to whisk.
Repeat steps 3 & 4 several times until your body butter reaches a consistency you're happy with.
Recommended Products
As an Amazon Associate and member of other affiliate programs, I earn from qualifying purchases.
Pin Non-Greasy Body Butter Recipe for Later
If you enjoy this recipe, please share & Pin this post for later!