When it comes to shaving, I've always struggle with store-bought shaving creams because my skin is ultra sensitive. It seemed no matter what I tried I would end up with painful razor burn all the time. But recently, kind of by accident, I created a DIY shave butter that moisturizes and leaves your skin feeling silky smooth…
In this post, we are going to talk about how easy it is to whip up your very own DIY shave butter with just a few ingredients.
But before we get to the recipe, there are a few things I want to talk about…
What is Shave Butter?
Shave butter is a lightweight, protective, and moisturizing butter that can be used to smooth or protect your skin while shaving to prevent unwanted skin issues. It's excellent at preventing rashes and razor burn and delivers a very soft and smooth after-touch to your skin.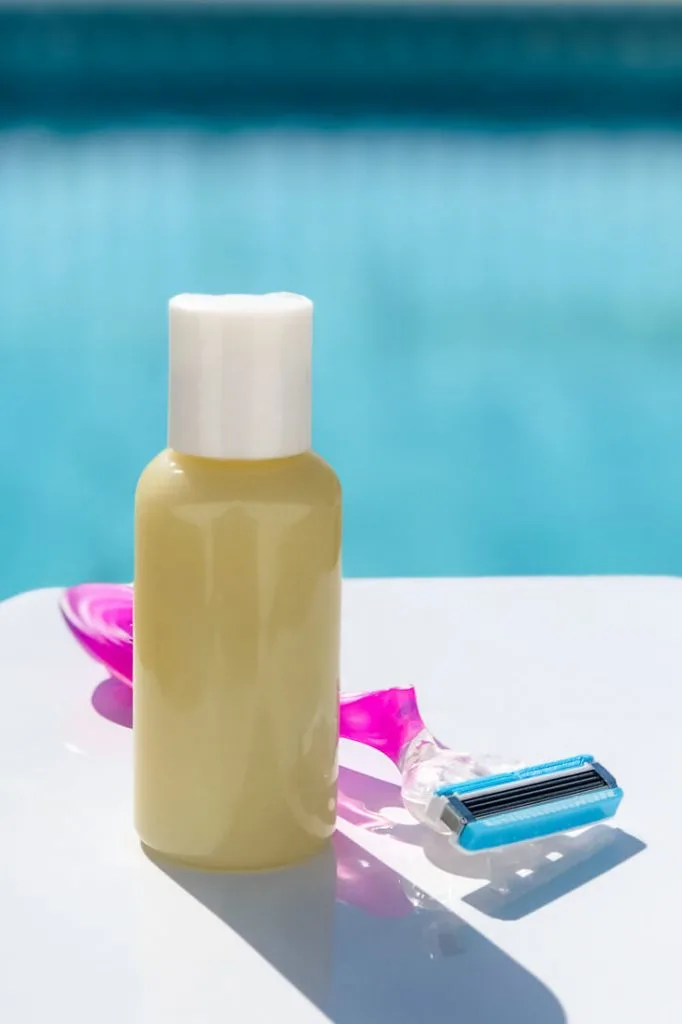 Is Shave Butter the same as shaving cream?
Shaving cream can contain propane or butane, which can irritate the skin, whereas shave butters contain much nicer skin-loving ingredients. Some of these ingredients are essential oils, natural butters, carrier oils, and vitamins to nourish your skin!
How to Use Shave Butter
Using shave butter is very easy, and it's quick to apply. First, you simply squirt a small amount into your hand and rub it between your palms. Apply generously and shave.
Shave butter can be used in the shower or out depending on your preference. I prefer to apply to slightly damp skin before shaving.
Shave butter also has a generally low lather effect which means less mess!
What Does Shaving Butter Do When Applied to Your Skin?
All-natural shave butters use skin-loving ingredients, so they won't dry out or irritate your skin upon contact. Other creams and substitutes can carry harsher chemicals that don't soothe skin when you're done shaving. Shaving butter's light uniformity allows it to be applied and easily absorbed by your skin.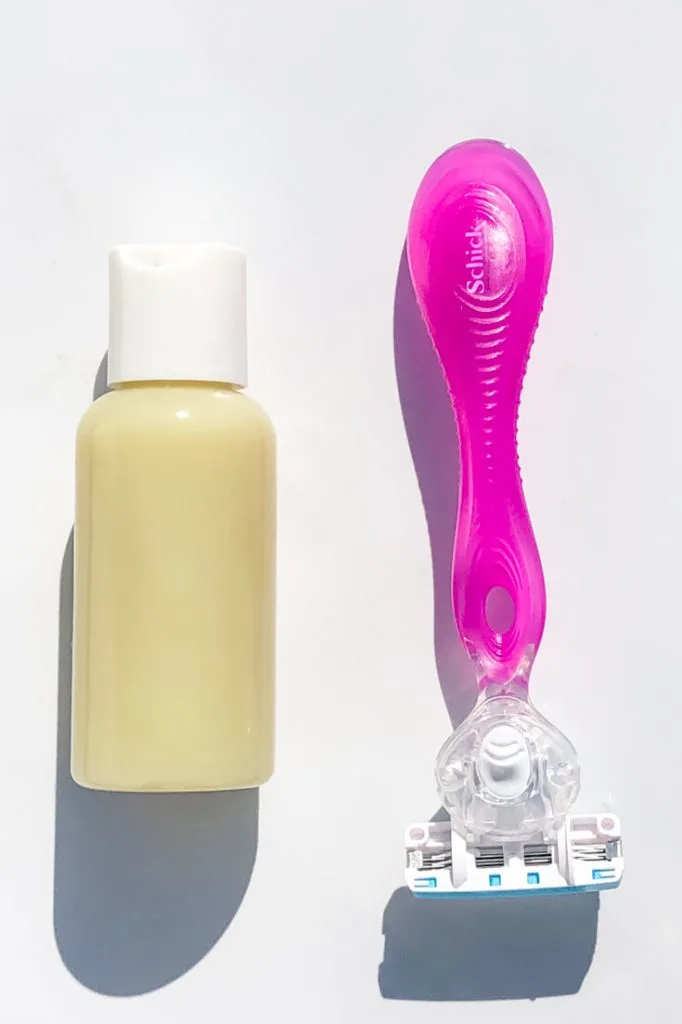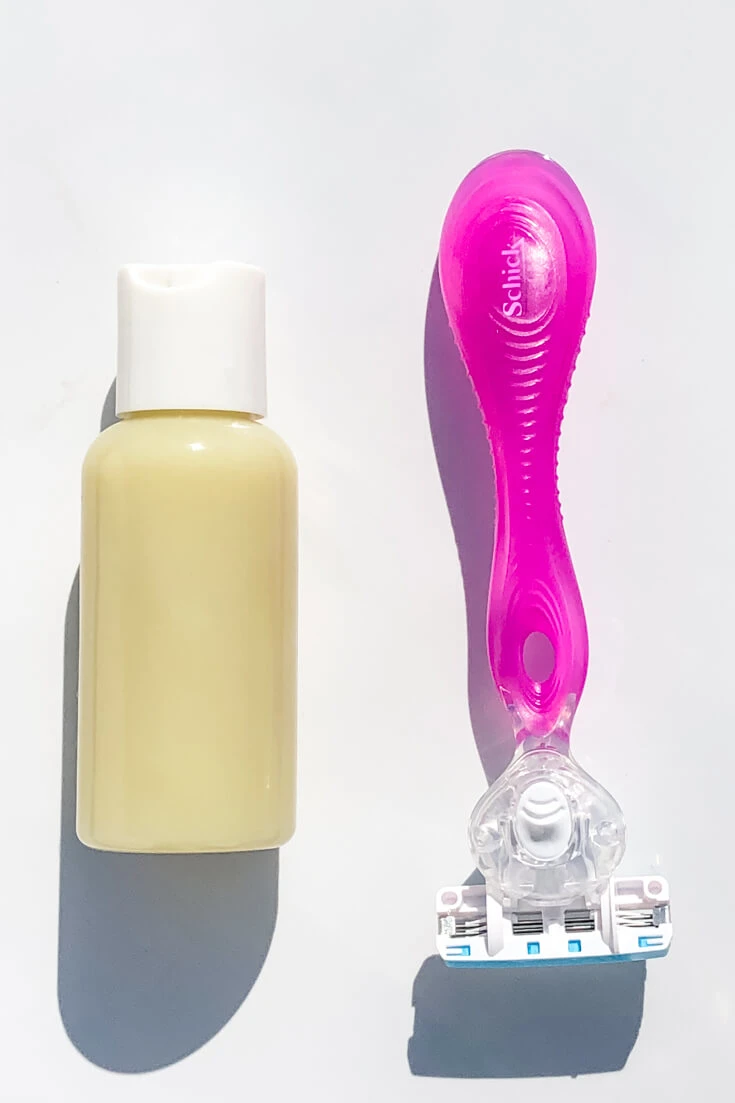 What Ingredients are Needed to Make Shave Butter?
There are many great ways to create your special at-home shave butter. For most DIY shave butter recipes, you'll want to have a high-quality butter (or two) and other moisturizing components that will help refresh your skin after you shave!

You'll need Shea Butter, Mango Butter, Sunflower Oil or Avocado Oil, Calendula Extract OS, and Vitamin E Oil for our recipe.
You want your shave butter to be light but heavily moisturizing. All the ingredients in our DIY shave butter recipe are all-natural and great for skin!
Let's take a closer look at the ingredients in our shave butter recipe:
Shea Butter helps to retain moisture in the skin. It is also a good collagen booster, which helps with anti-aging, stretch marks, and scars. It has anti-inflammatory properties to help soothe any skin irritation that may occur during shaving.
Mango Butter can soften your skin and protect it from sun damage. It can also help fade stretch marks while leaving no heavy smell behind! It's also antibacterial, which keeps your skin cleaner and clearer; the antibacterial properties also reduce the amount of bacteria on skin while shaving.
Sunflower Oil is non-comedogenic, meaning it won't clog your pores or irritate your skin. This is especially good for people with acne or naturally oily skin.
Calendula Extract OS is a strong protectant against inflammation and swelling. It can also help with wound healing. Overall, it is a highly nurturing ingredient that provides your skin with protection!
Vitamin E Oil is great at reducing signs of aging and moisturizing your skin at the same time. It can reduce signs of fine lines and wrinkles while also reducing the appearance of scars.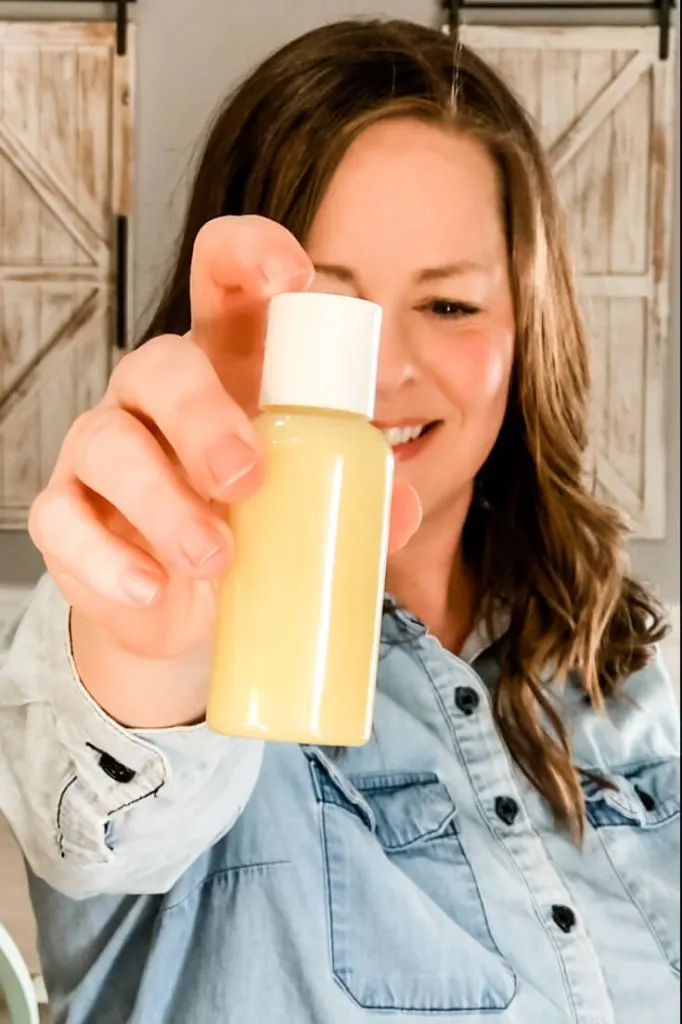 Now that we've covered the ingredients, let get to the recipe!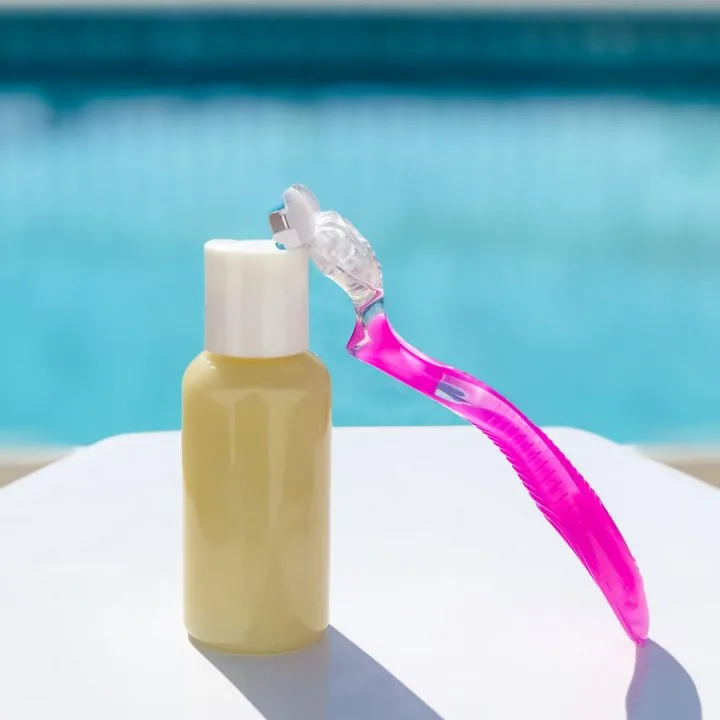 DIY Shave Butter Recipe
This easy DIY shave butter will give you a silky smooth shave and provide extra moisture!
Instructions
2. Place beaker in double boiler until melted, stirring occasionally
3. Remove from heat and when temperature drops below 40C, add all remaining ingredients
4. Continue stirring until product has cooled
5. Pour into container
Notes
Sunflower oil is heat sensitive and if using, it should be added when temperature is below 40C.
Recommended Products
As an Amazon Associate and member of other affiliate programs, I earn from qualifying purchases.
Shave Butter FAQs
How Do You Make Shave Butter at Home?
It's unbelievably easy to make your own shaving butter at home following our recipe!! You'll need the ingredients listed above as well as a few materials that you probably already have on hand!
How else can I get a most comfortable shave?
There are a lot of things you can do to get a more comfortable shave! This includes proper razor care, shaving without baring down on your razor, using complementary products like a pre-shave oil, and moisturizing after shaving with an aftershave balm.
What ingredients in Shaving Creams are Harmful?
We like to steer clear of a lot of ingredients when we're looking at skincare products and cosmetics! Here are a few that we wouldn't want to see in any of our shave butter products and that you won't find in our recipe!
Propylene
Propane
Butane
Sulfates
Formaldehyde
Parabens
Titanium Dioxide
Siloxanes
What are Important Factors When Selecting Shaving Creams/Butters?
There are a few key things to keep in mind when deciding on what shaving product is best for you. Shaving butter utilizes a much lighter texture than most shaving creams, allowing it to absorb into skin rather than sit on top of it. Other creams and oils can not only irritate the skin, but clog your pores and block your visibility when shaving.
Here's a list of factors to keep in mind:
The rate at which they absorb into your skin
The feeling that will be left after application.
Any smell it may emit during or after application
Your visibility while it is applied
The levels of potential skin-damaging ingredients
Do Shaving Butters Work with Acne?
If you struggle with body acne, be sure to do a patch test to ensure that it won't cause further breakouts! Our recipe has a few anti-inflammatory ingredients that can help reduce the irritation and inflammation associated with acne! It's a non-comedogenic oil meaning it won't clog your pores or irritate your skin.
Side Effects of Using Shaving Butters?
The only real concern when selecting or using shave butters is to make sure you aren't allergic to any of its ingredients. The oils and ingredients in our shave butter are generally regarded as safe and promote great protective skin health. If you aren't sure, do a patch test on a small area of skin to see how it reacts!
Can You Use Shave Butters Daily?
Due to shaving butter's light and soothing nature, you can certainly use it every day with no negative downsides. While you can potentially use a shave butter as a moisturizer, it is not recommended to shave each day if you have easily irritated skin or your skin is irritated by shaving.
It's important to keep in mind you should wash off anything you put on your skin regularly and make sure you aren't allergic to any of the ingredients.
What Are the Benefits to Shaving Butter Over Other Creams?
Other shaving products like creams and oils can contain toxic ingredients that can irritate skin. When you shave, you can potentially leave micro-cuts on your skin; if your shaving cream is full of harmful ingredients, you could be exposing more than your skin to them!
Using an all-natural shave butter is safer and better for you and your skin!
Pin & Share this DIY Shave Butter Recipe!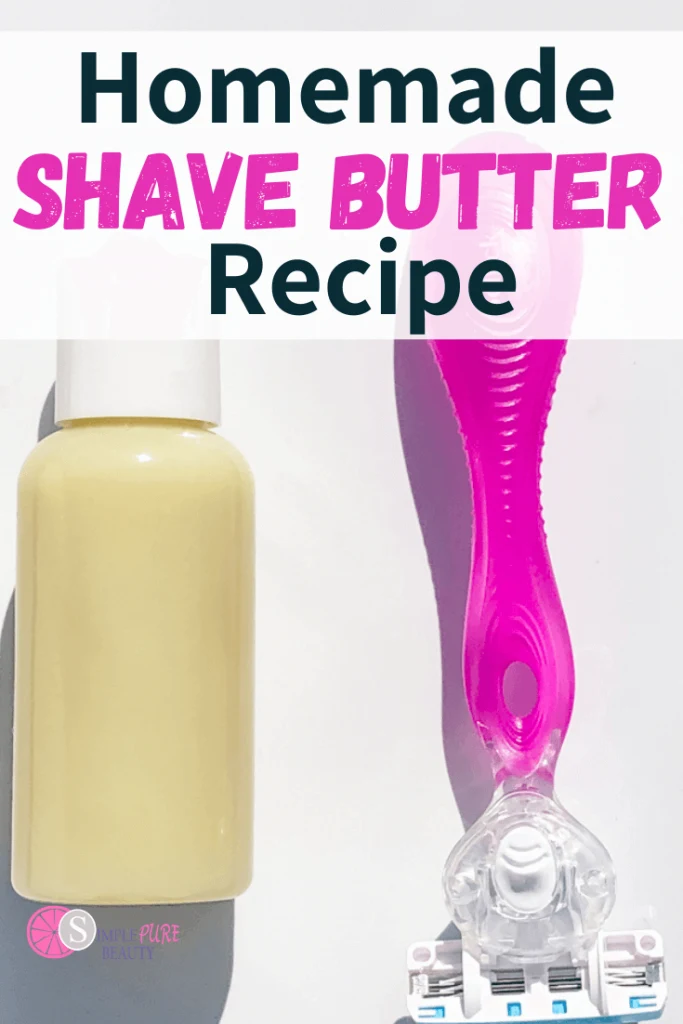 You may also enjoy these skincare recipes: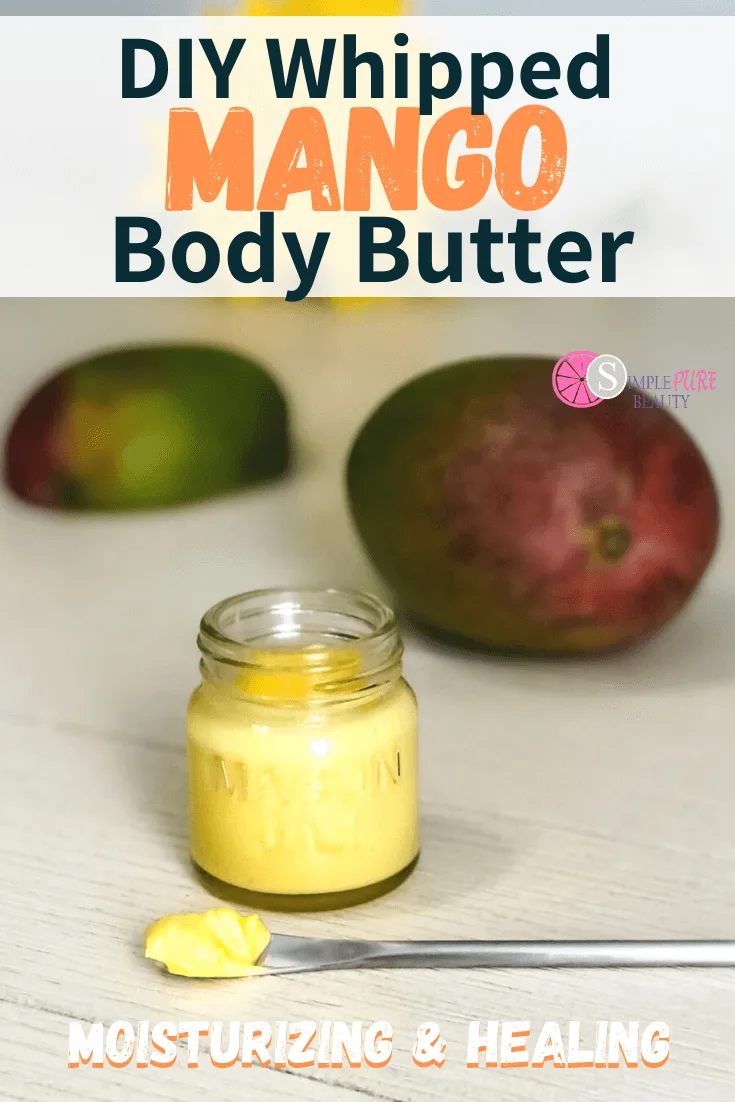 Oh boy, do we have the perfect body butter for you! And the best part? You can make it yourself! Are you ready for super …