A DIY coffee face scrub can give you a fresh glow and smoother skin. Many people find that their skin feels softer and looks brighter after using a coffee scrub.
The best part! Coffee scrubs are easy to make right in your kitchen!
Today I'm sharing an amazing facial coffee scrub recipe that will leave your skin feeling smoother and looking brighter.
I've found, the best way to get a smooth complexion is with a good exfoliation along with nourishing ingredients that feed your skin.
And we are going to accomplish both with this recipe!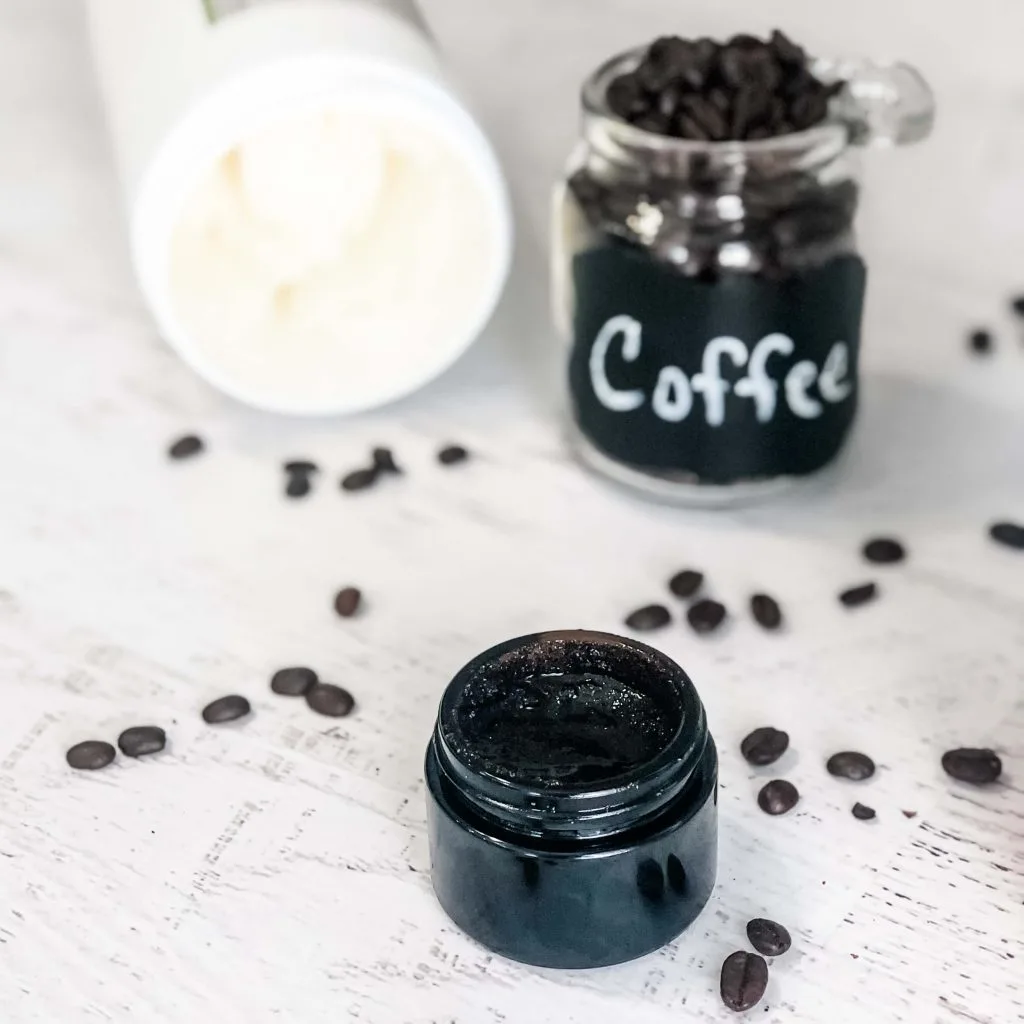 Is Coffee Good for your Skin?
Coffee contains caffeine and antioxidants and has been proven to increase blood flow and circulation, which can be beneficial in helping reduce the appearance of dark circles under your eyes.
Caffeine also helps tighten skin tissue, which makes it helpful for reducing fine lines and wrinkles.
Coffee is also acidic and acts as an exfoliant which help remove dead skin cells, revealing healthy, glowing skin.
Coffee Face Scrub Benefits for Skin
Using a coffee scrub on the face can be a great solution for dry skin and reducing the appearance of fine lines and wrinkles.
A good coffee scrub will gently slough off dead skin cells while nourishing oils help repair and deeply moisturize the skin.
The high caffeine in coffee may help tighten the skin tissue, reduce swelling and improve circulation.
Coffee Scrub Warnings
Before we get too far, there are a few things to address about using coffee for facial scrubs.
Washing your facial scrubs down the drain may contribute to clogged pipes. You may want to use a disposable biodegradable face towel for washing off your scrub to avoid any drain issues.
Some people find coffee grinds can be too harsh to use on their face. A few tips would be to grind the coffee into a very fine powder using a coffee grinder like this one (which we do) or some people even like to take advantage of used coffee grounds in their facial scrubs.
If you find coffee to be too harsh for your face, you may want to try swapping out the coffee for ground oatmeal or ground, dried lavender buds.
How to Make a Facial Scrub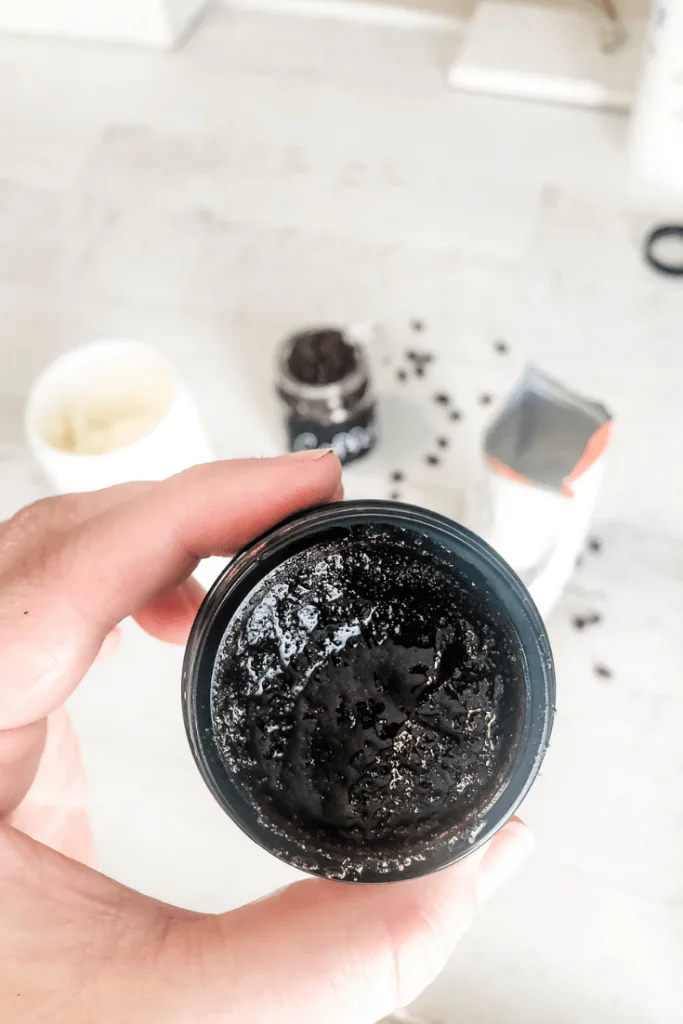 To make a face scrub or polish, there are a few staple ingredients you will need.
And keep in mind, when you're working with the delicate skin of the face, you want to stick with gentle, yet effective ingredients.
The first and main goal of our scrub is to gently exfoliate the skin, removing built-up dirt and makeup while getting rid of those dead skin cells.
Secondly, we need a base for our exfoliator that will also soothe and moisturize the face after exfoliation. That is where plant oils or carrier oils come in.
As a baseline, 20-40% of a solid oil, 20-40% liquid plant oils and 5-30% exfoliators is a great place to start.
Then it is just the simple task of mixing them together. You may find your scrub is a little too runny, feel free to play around, adding in more exfoliators to suit your liking.
Now let's dig into the ingredients for our luxurious coffee facial scrub!
Coffee Face Scrub Ingredients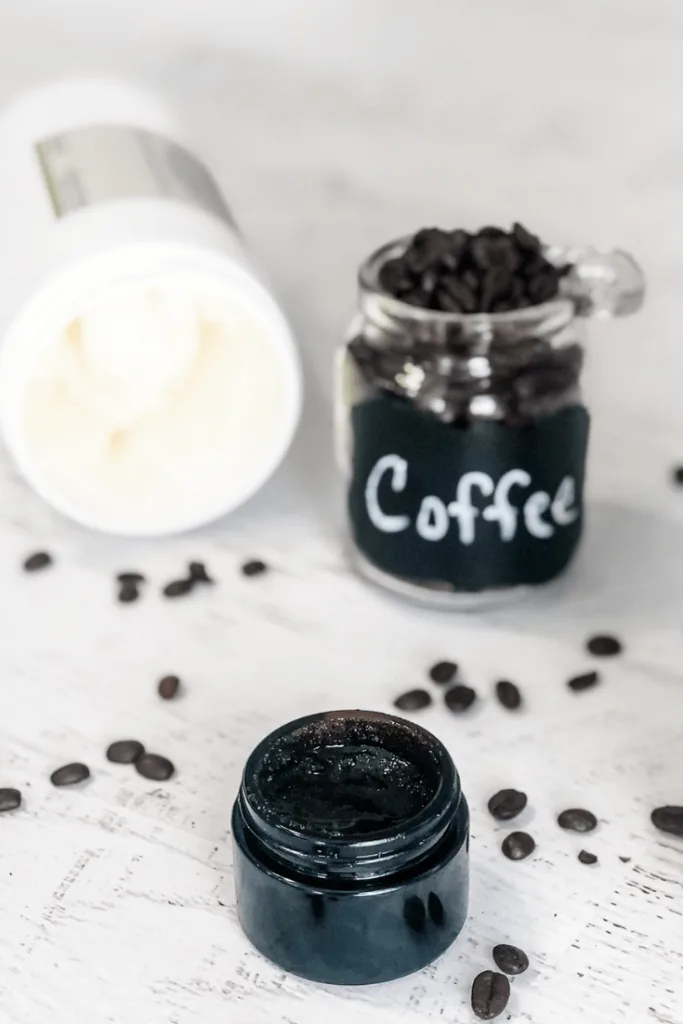 For our coffee face scrub, we're going to need some coffee. I recommend buying organic coffee beans and grinding them down yourself with a coffee grinder.
This way we can get them ground very finely, making them gentler on the skin.
We are also going to use Jojoba beads to help gently exfoliate as well.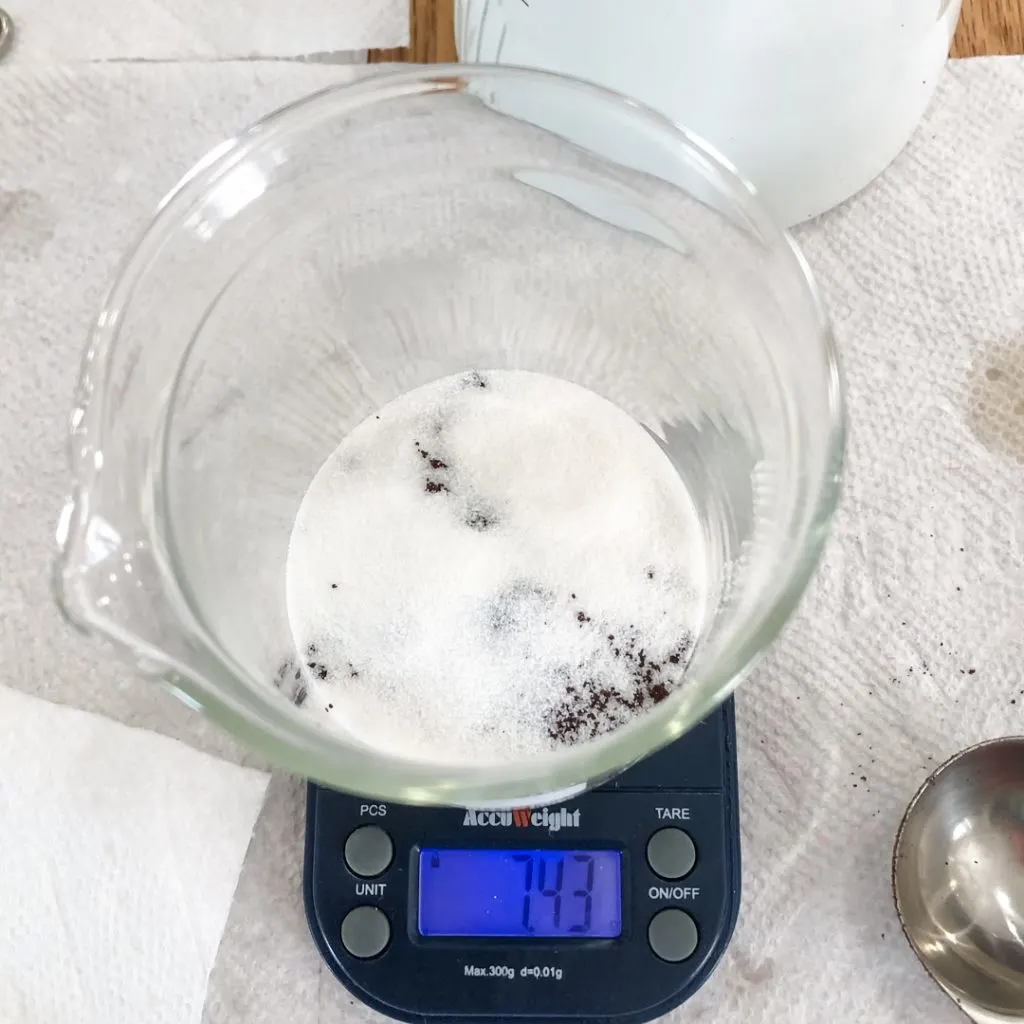 For our solid oil, I chose Babassu oil. This oil is very similar to coconut oil in composition, but it only has a comedogenic rating of 1-2.
Coconut oil is a known offender when it comes to causing breakouts and clogging pores. If you know your skin can tolerate it, you can swap the babassu oil for coconut oil.
Camellia Seed Oil is a lovely fast-absorbing oil, that also, will not clog pores. It is full of vitamins like A, B, C & E to regenerative and deeply moisturize the skin!
For an extra soothing property, we will use Calendula extract. Make sure you are using an oil-soluble version for this recipe.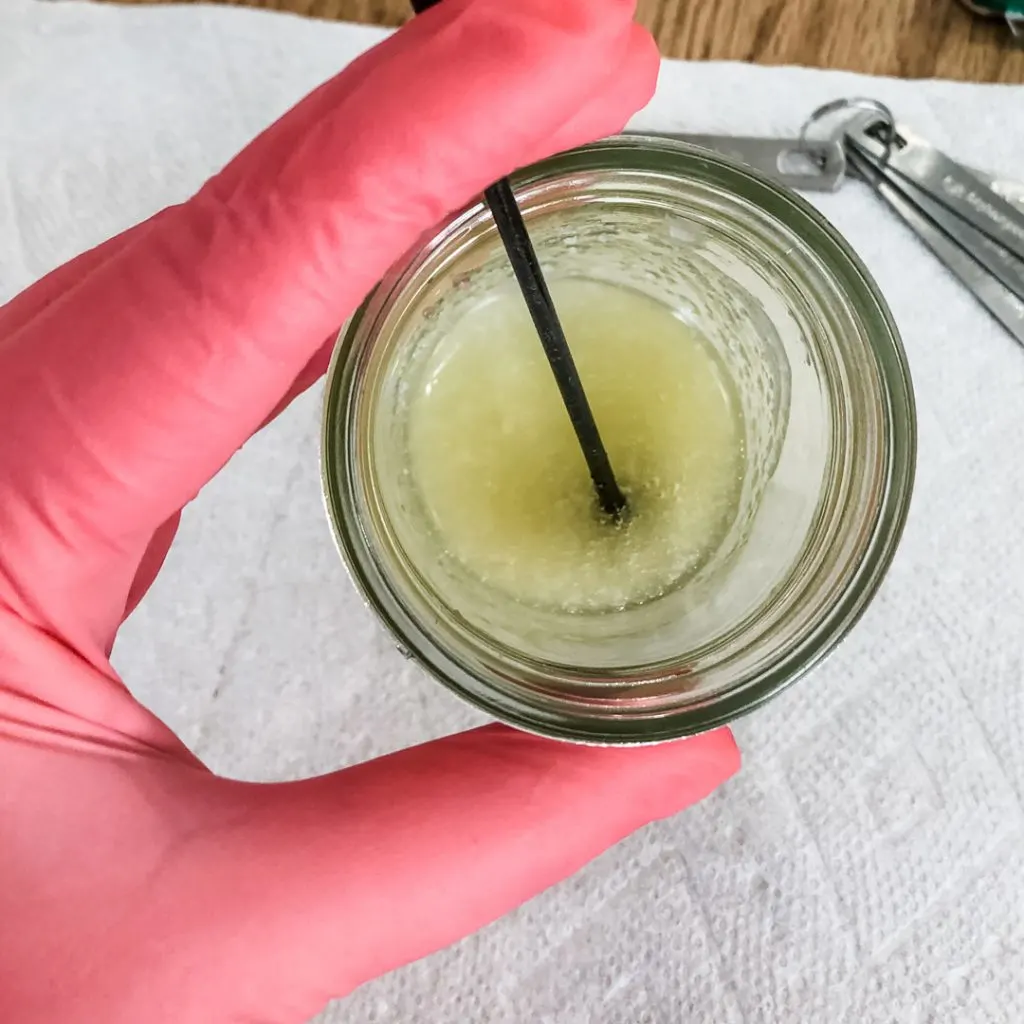 We will also be adding in a preservative as scrubs tend to be used in the bathroom and are introduced to a lot of bacteria & fungus. Phytocide Elderberry is a natural preservative that contains elderberries.
These berries are a superfruit containing antioxidants that help protect skin from free radicals. They also contain phytonutrients that are great for fighting inflammation.
What's more, they can be used in a preservative to help prevent the growth of microorganisms; particularly fungal cells.
Now that we've touched on the ingredients, let's get to the recipe!
DIY Coffee Face Scrub Recipe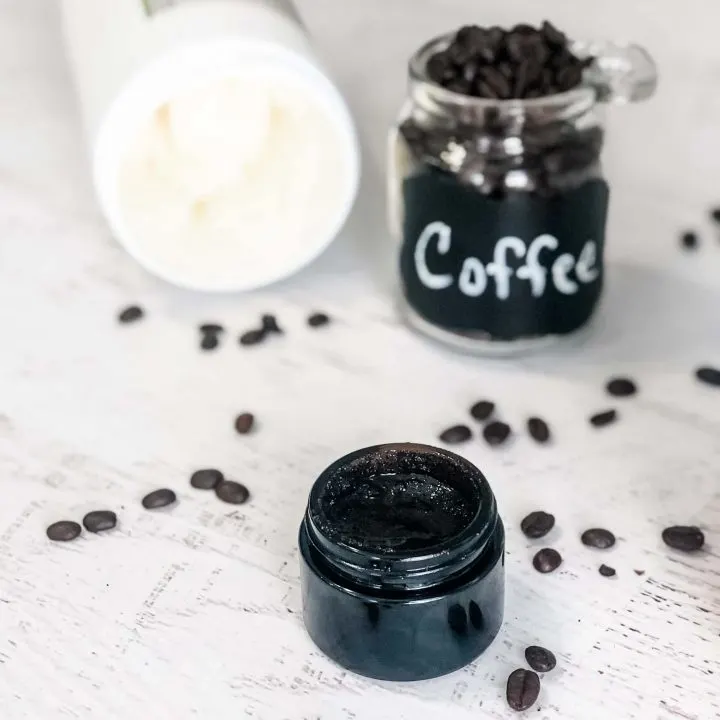 Coffee Face Scrub Recipe
This coffee facial scrub will leave your skin feeling soft & so smooth!
Tools
Instructions
Mix together all oils, calendula extract and then add preservative and stir well
Add finely ground coffee and jojoba beads together
Slowly add your dry ingredients to oil mixture and stir
Pour into container and label
Notes
Depending on your personal preference, you may add more or less coffee grinds to your scrub. If you prefer a more solid scrub, you can store yours in the refrigerator as well.
**Note: Please be sure to grind the coffee beans as finely as possible
Recommended Products
As an Amazon Associate and member of other affiliate programs, I earn from qualifying purchases.
How to Use Your Coffee Scrub
To use your scrub, after cleansing your face, spoon out a small amount to work with and apply a thin layer of scrub gently all over your face avoiding the delicate eye area.
As you gently rub the scrub all over your face, take special care to focus on any rough patches. Also pay attention to areas where your skin tends to clog up more, like around the nose & mouth area. And lastly, focus on any trouble spots or blemishes.
When using the coffee scrub, start with small circular motions and work your way up. And make sure to keep the scrub in contact with your face, gently buffing it in for at least a minute or until you feel that you have done enough.
Once finished rinse off with warm water and pat dry with a clean towel.
Keep in mind that if you are new to using scrubs, you may wish to use the scrub only 1-2 times a week.
How to Store your Coffee Scrub
I prefer to store coffee scrubs in a dark glass jar. Where you choose to store your coffee scrub will contribute to its consistency.
If you store your scrub in the warm bathroom, it will tend to be more runny. If you store it in the fridge it will have a harder consistency.
So it's completely up to you!
I hope you've enjoyed learning how to make your own luxurious DIY Coffee Face Scrub. Please take a minute to share on social or pin this recipe for later!