Do you suffer from dull, dry skin? Or maybe you're looking to refresh your skin and get that beautiful spa-fresh skin?
We all know coffee can help us get up and go, and help us get through that lunchtime lull, but did you know that it can boost your skin too!?
This DIY Coffee Body Scrub is one of my all time favorites! It will smooth and invigorate your skin, and the best part?
You can make it right at home!
Let's dive into how you can rejuvenate your skin with this incredible body scrub.
What is a Coffee Body Scrub?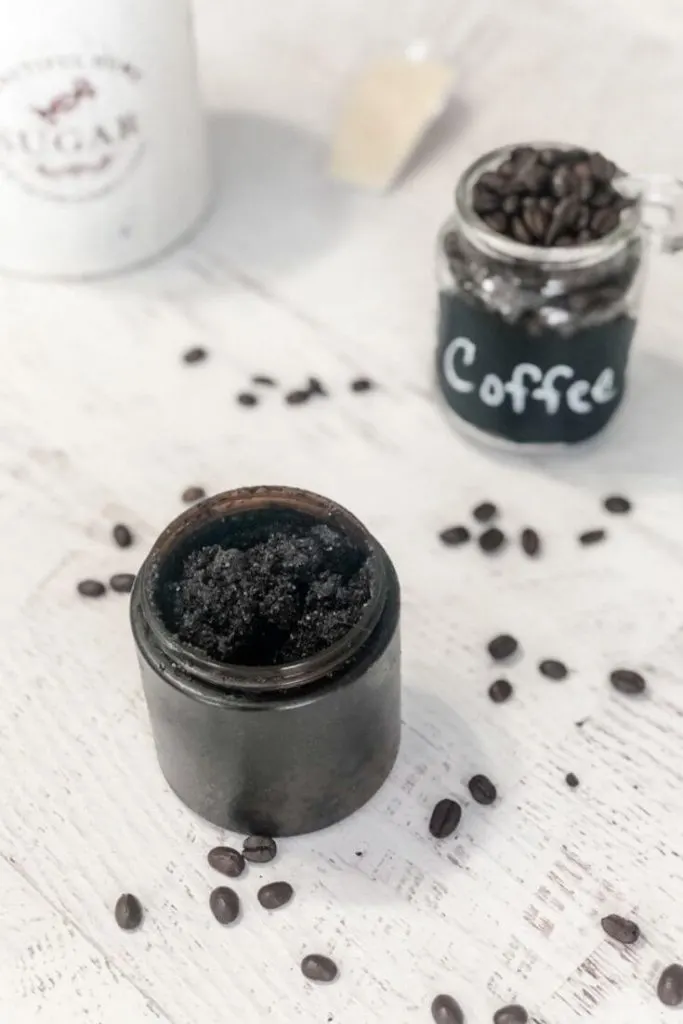 A coffee body scrub is exactly what it sounds like! It is a body scrub that is made using coffee to help exfoliate skin.
A coffee scrub offers many benefits for your skin other than mechanical exfoliation. It can help boost skin and promotes healthier, clearer skin!
What do Coffee Scrubs Help With?
The real question is, what doesn't a coffee scrub help with? Besides cleaning your skin, a coffee scrub can help you with many skincare woes.
Let's go over a few things that a coffee scrub can do for you and your skin!
Reducing Inflammation
One of the great benefits of using coffee for your skin is that it can help reduce inflammation and puffiness. This is perfect if you are looking to reduce signs of irritation from blemishes or damaged skin.
It helps reduce puffiness and help your skin appear more even and firm!
Improves Circulation
The caffeine in coffee is good for more than just waking you up in the morning! It also helps stimulate blood flow to your skin.
This helps improve circulation which supports inflammation reduction and it reduces puffiness. Having better circulation will also help your skin look plumper and healthier.
Gets Your Skin Glowing
The antioxidants in coffee refresh your skin and reduces the appearance of fine lines and wrinkles. It can instantly give you fresher, younger, glowing skin. This will get you more radiant skin while improving your overall complexion.
Exfoliating
We all know scrubs help exfoliate, so what makes a coffee scrub so much better than a regular scrub?
Coffee scrubs help increase cell turnover, so while dead skin cells are mechanically removed by the scrub, it also helps increase the rate at which new skin cells are produced. This helps your skin stay youthful and radiant.
Refreshes Skin
Using a coffee scrub helps your skin appear clearer and cleaner while reducing inflammation and irritation. It also helps rejuvenate skin and gives you a fresh, glowing, complexion.
How to Use a Coffee Scrub
Using a coffee scrub is pretty straightforward. Apply the scrub to any areas that you want including problem areas such as dry patches, knees, elbows, and feet.
Gently massage the scrub over skin without trying to run it in, being too rough with your scrub will cause additional irritation.
Massage for 3-5 minutes and then rinse the scrub away. You can even use this scrub in the shower!
Just be careful, as this can make the shower slippery!
Do Coffee Scrubs Really Work?
The results that people have with coffee scrubs can vary but we have used them over and over with loads of success!
A great way to monitor if your DIY coffee scrub is working for you is to take photos of some of your problem areas such as rough patches and skin or irritated areas to see if you note any improvement.
You can also monitor your facial skin to see if you note a reduction in inflammation and puffiness!
It is important to note that it may take a few weeks to notice any significant results.
How to Make a Coffee Scrub?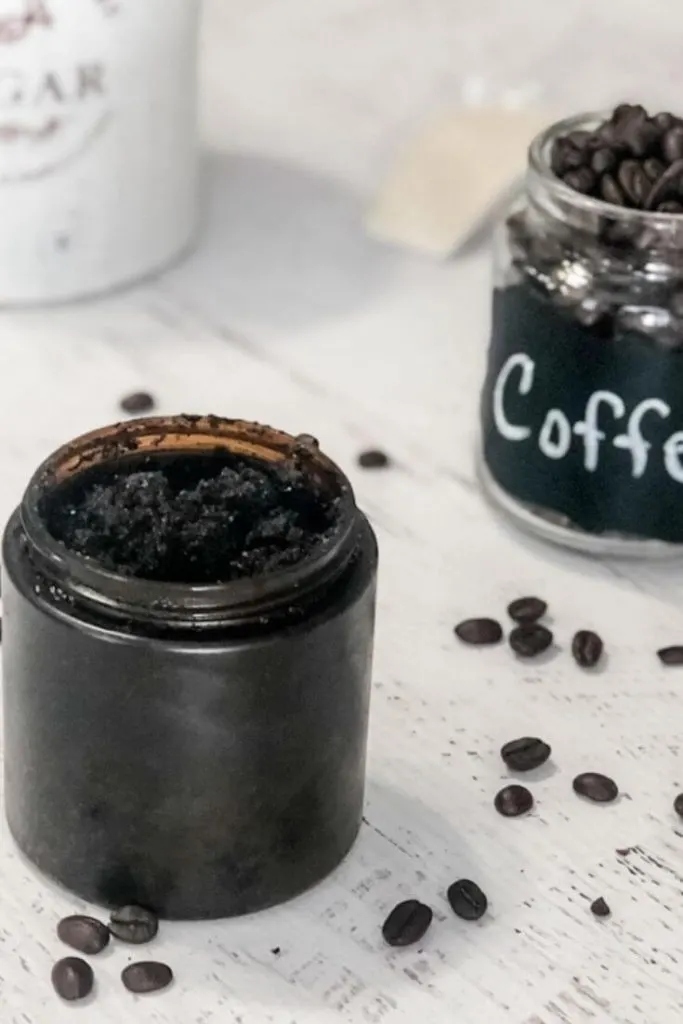 Making a coffee scrub is fairly simple! All you need to do is mix your wet ingredients and dry ingredients separately.
Then combine them, you'll mix them to your preferred consistency and put your new scrub into your container!
Learn exactly how to make your own scrub below!
Ingredients for Coffee Scrub
It's time to go over all the ingredients that you'll find in our DIY coffee scrub. These ingredients are all natural and each one helps boost your skin!
Of course you'll need coffee in your coffee scrub, you'll want to use a coffee that is freshly ground if possible.
I actually prefer buying the coffee beans like these and grinding them myself. You can get a coffee grinder pretty cheap on Amazon.
Coffee is packed with antioxidants and caffeine that helps boost skin and give it that glow you've been craving!
I recommend using organic sugar, you can also use organic brown sugar. It is a wonderful exfoliator and helps restore skin. It helps to unclog pores and works with the coffee grounds to help clean skin.
Babassu Oil is a semi-solid oil that acts as an emollient, locking in moisture while protecting skin from free radical damage. It is used in many skincare products to help aging, dry, or irritated skin. It can also be used to help heal skin that has suffered from environmental damage. It is packed with saturated fats, very similar to Coconut Oil, it is solid at room temperature. In this recipe it helps deliver moisture to dry skin.
Jojoba oil isn't actually an oil, it is a liquid wax that helps moisturize skin and keep it hydrated. It also helps soothe and smooth skin; which makes it a wonderful addition to this scrub, helping reduce irritation and inflammation.
Calendula extract is soothing and nourishing to skin which is perfect for this scrub. It is anti-inflammatory and helps tighten and tone skin. It also helps cleanse skin to promote a clearer complexion.
Just make sure you get an oil soluble calendula extract for this recipe.
Phytocide Elderberry is a natural preservative that contains elderberries. This preservative is packed full of antioxidants that protect skin and phytonutrients that fight inflammation. It is used to help prevent the growth of microorganisms; particularly fungal cells.
Grapefruit Essential Oil
Grapefruit essential oil not only smells nice and is relaxing but it can also help reduce irritation and inflammation.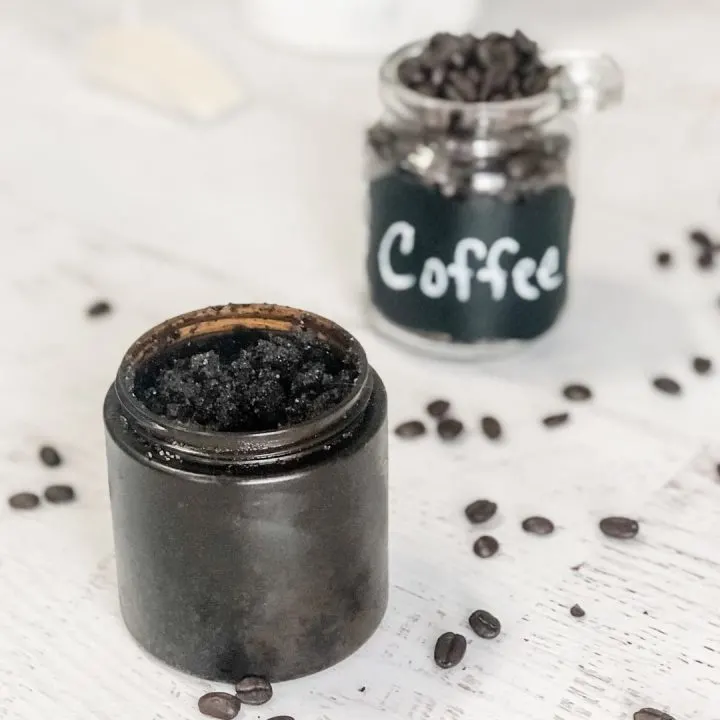 Coffee Body Scrub Recipe
Invigorating and refreshing Coffee Body Scrub!
Tools
Instructions
Mix together all oils, calendula extract and then add preservative and stir well
Grind coffee and add ground coffee and sugar together
Slowly add your dry ingredients to oil mixture and stir
Note: You may need to add more liquid or dry ingredients to your liking.
Pour into container and label
Recommended Products
As an Amazon Associate and member of other affiliate programs, I earn from qualifying purchases.
DIY Coffee Body Scrub FAQ's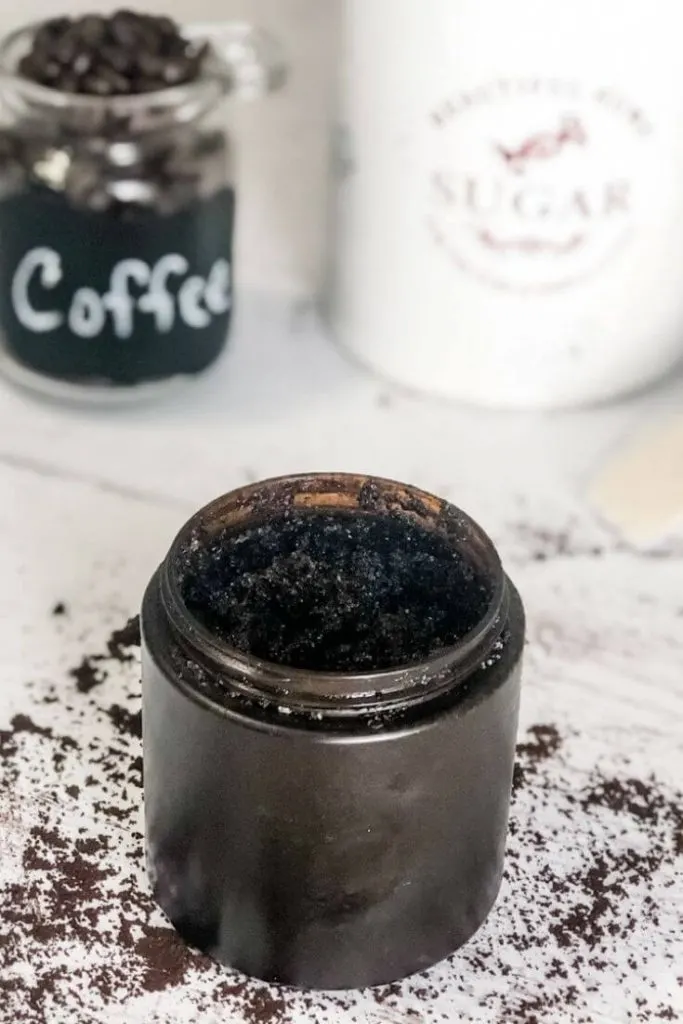 Have some questions about our coffee body scrub? Here are some that I hear often!
Can I use this coffee scrub on my face?
The short answer is no. The skin on your body is very different than the skin on your face; your facial skin is thinner and more sensitive than the skin everywhere else. This means that using a scrub that is too harsh can cause more harm than good. I recommend making this coffee scrub for your face instead!
Is coffee scrub good for skin?
Coffee scrubs are great for skin that is looking for a refresh! When used properly, a coffee body scrub can have many benefits for your skin and help you get clearer, cleaner skin!
Can I do a coffee scrub daily?
It is not recommended to use a coffee scrub every day. We recommend using this scrub a few times a week.
Does coffee scrub lighten skin?
Coffee scrub can help increase circulation and exfoliate skin. While it won't lighten skin, it will help brighten and tone it!
Can you use instant coffee as a scrub?
While we prefer to use fresh coffee, you can use instant coffee grounds in your coffee body scrub!
How can you make coffee scrub without coconut oil?
Our DIY coffee body scrub is coconut oil free! But how? In this recipe we use another oil that is solid at room temperature called Babassu oil. This oil is very similar to coconut oil but it isn't as heavy and is less likely to clog pores.
Is coffee scrub good for dry skin?
Our coffee scrub is great for those suffering with dry skin. It will help exfoliate dry areas and the oils in our recipe will help hydrate skin! If you are using a scrub on your dry skin, do not exfoliate too much or too hard to reduce any unwanted irritation!
Do you use fresh or used coffee grounds for body scrub?
You can use either used or fresh coffee grounds to scrub your skin. For our recipe we recommend fresh coffee grounds that have not been brewed. This helps you reap all the benefits of fresh coffee and it will help your scrub stay fresher, longer!
Now that you know everything there is to know about a DIY Coffee Scrub, you should give it a try! Go get yourself fresh, smooth skin all in the comfort of your own home!
You May Also Enjoy These Scrub Recipes:
Be Sure to Pin this Post for Later: