This DIY Green Tea Toner is infused with green tea and the most effective anti-aging essential oils. It is so easy to make and will leave your skin feeling so fresh and clean!
Do you want to simplify your skincare routine? Well, if you're looking to scoop dozens of skincare products off the counter and into the trash, then my advice is to go all-natural!
When you simplify the ingredients in your skincare routine, you simplify your life. If you decide to start using DIY and all-natural products, you won't need a gazillion different beauty products!
Need an example? Apple cider vinegar is something most people have in their cabinet right now!
It can be used in the kitchen, for cleaning, and in a multitude of beauty products! What about coconut oil?
Yes, you can cook with it, but did you know it's a great moisturizer and toothpaste? Two functions in one product!
Once I started a natural approach to skincare, I noticed a shift in not only my skin but in the way that I cared for my skin and the simplicity that came with it!
Today, we're going to dive in and talk about a toner made with anti-aging ingredients that you probably already have at home!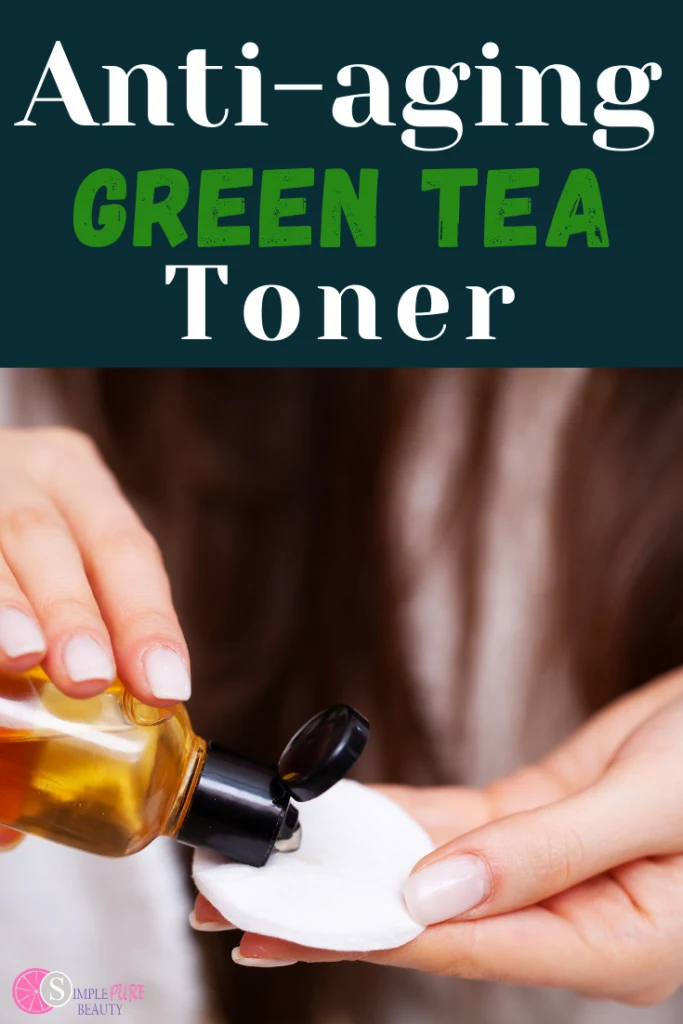 What is Green Tea Toner?
Green Tea Toner is a diy facial toner that is made from Green Tea that can deliver all of the benefits of Green Tea, straight to your skin!
It packs a lot of punch and can do wonders for your skin!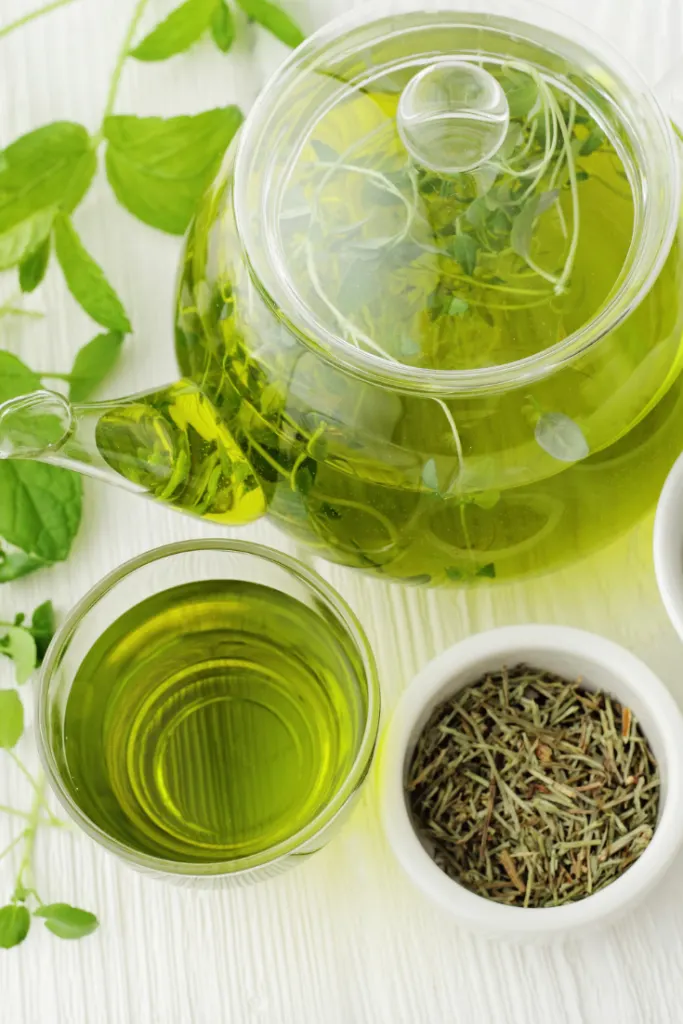 What Does Green Tea Toner do for Skin?
Green Tea Toner can do a lot for your skin including reducing fine lines and wrinkles!
It is anti-inflammatory and antimicrobial; it will keep your skin clean and help reduce irritation, even if you have sensitive skin!
Does Green Tea Reduce Pores?
Green Tea Toner has astringent properties that can help tighten pores, reducing their appearance. It is antimicrobial so it can help cleanse the skin while it shrinks pores, reducing clogged pores and irritation.
Does Green Tea Remove Dark Spots?
Green Tea Toner can help reduce dark spots and hyperpigmentation on your face.
If you struggle with a lot of post blemish hyperpigmentation then Green Tea Toner can help with that as well!
It can help reduce the inflammation associated with the blemish; a high concentration of antioxidants can help skin heal itself and correct damage.
Does Green Tea Improve Skin Complexion?
Green Tea Toner can help improve your complexion and remove toxins from skin, aiding in detoxifying and clarifying. It can also help rejuvenate skin and help it look fresher and more youthful!
If you're looking for a toner that can help with under-eye circles and puffiness, then this toner might be right for you!
Green tea contains tannins and antioxidants that can help reduce the size of the blood vessels under the eyes, helping to reduce the appearance of that pesky under-eye darkness and extra puffiness.
Can Green Tea Heal Scars?
The high levels of antioxidants in Green Tea Toner and anti-inflammatory properties can help reduce the appearance of scars and over time, can reduce the visible damage!
Active green tea extracts can also help to reduce irritation around the scar which helps prevent further damage to help reduce the visibility of the scar.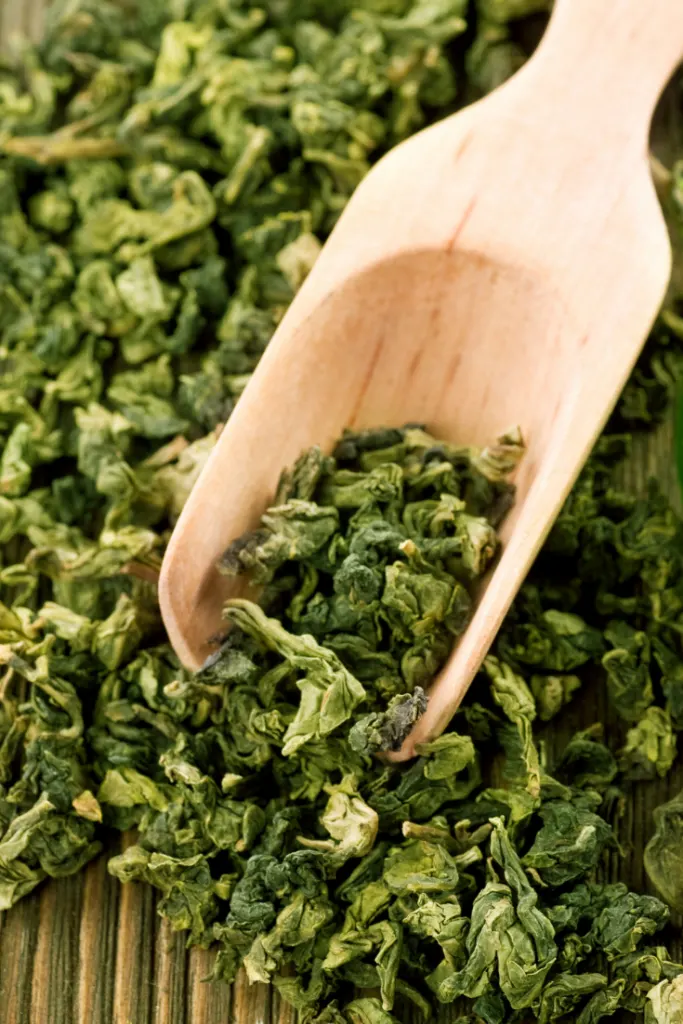 Is Green Tea Toner Good for Acne?
Green Tea Toner can help reduce redness, irritation, and even the appearance of blemishes due to acne. Green Tea can help reduce the production of sebum which has been shown to cause breakouts. (see study)
This simple toner can also help reduce oiliness and build-up on the skin, contributing to breakouts and blemishes.
Can Green Tea Fade Acne Scars?
Green Tea has loads of antioxidant power AND active extracts can penetrate deep into skin. Combined with its anti-inflammatory effects, Green Tea Toner can help reduce redness and irritation associated with blemishes. It can help increase skin cell turnover and reduce the appearance of scars over time.
How Long Does it Take for Green Tea to Clear Acne?
All skin is different and will react to treatments differently. That being said, we recommend trying a new product or routine for 60 days so long as irritation does not occur.
Studies have shown that after 60 days of application, Green Tea Toner can help to reduce the oiliness of skin and help control sebum production; both of these contribute to acne and breakouts.
Do You Use Toner Before or After a Cleanser?
Using toners and cleanser together is a wonderful way to keep your skin clean and healthy! When using a toner, you should use it right after using your cleanser. You can use a variety of cleansing agents before using your toner. If you suffer from unbalanced skin, try out an oil cleanser to help clean and moisturize skin!
How to Use Green Tea Toner
After cleansing your face, apply a small amount of toner to a cotton ball or cotton round and lightly swipe it all over your face, neck, and chest.
Afterward, apply your moisturizer. If you're looking to go greener, skip the cotton ball and rub a small amount between your palms and press them to your face!
Can I Apply Green Tea on My Face Daily?
Green Tea Toner can be used on a daily basis, it works best as a regular part of your skincare routine. If you notice any irritation from regular use, you can try decreasing the frequency that you use it.
Can I Leave Green Tea on My Face Overnight?
If you're using products that contain green tea, you can leave them on your face overnight so long as the product states that it can be.
If you're using raw green tea, it is only recommended to leave it on skin for 5 minutes. Green Tea Toner can be left on your face so long as no irritation occurs.
What Can I Use to Moisturize Skin After Using Toner?
You can use many different moisturizers after using your Green Tea Toner. If you're looking for some of our favorite recipes, check out these serums and moisturizers that are also anti-aing:
Witch Hazel in Toner
I like to take it a step further when making my DIY toner and add witch hazel!
Witch hazel is a plant native to North America whose leaves and bark are used to make a skin-healing astringent that naturally reduces inflammation, including inflammation that can be caused by acne.
Witch hazel has strong antioxidant attributes that kill bacteria deep within the skin's pores. As a result, witch hazel makes an excellent choice as a natural acne treatment.
Witch hazel may also help tighten the skin and fade discolored spots, old acne marks, and sunspots.
As you can see, both green tea and witch hazel serve an essential role in this Anti-Aging Toner. Combine this with other skin-healing oils listed below, and you have an excellent homemade product for your skin.
Anti-Aging Essential Oils for the Face:
Using these essential oils in your DIY facial toner can help increase anti-aging effects and help you get the most out of a daily toner! Remember, we're trying to simplify your beauty routine, so we need to maximize what each product can do for our skin!
2 drops citrus oil such as grapefruit, lemon, or orange
2 drops lavender or rosemary
3 drops frankincense or tea tree
3 drops carrot seed or chamomile
Use any combination of the oils listed above to have a combined total of 10 drops.
Keep in mind that carrot seed oil and citrus oils should only be applied to the face in the evening. There is a risk of sun sensitivity when using these oils! Although they are perfect for anti-aging products, you can swap that with another oil to avoid photosensitizing side effects on your face.
**IMPORTANT: You must shake this toner well before applying to disperse the essential oils.
If green tea toner isn't for you then you can try out this rosewater toner. If you're looking for a toner that is andti-aging like the green tea toner, then check out this potent toner that firms and tightens!
Natural Preservative for your Toner
For this recipe we are using Leucidal SF Max Preservative. Leucidal SF Max is a natural water soluble preservative that is used in cosmetics and skincare products to extend their shelf life.
We are adding 1 tsp (6 grams) of this preservative to provide broad spectrum protection.
How to Make DIY Green Tea Toner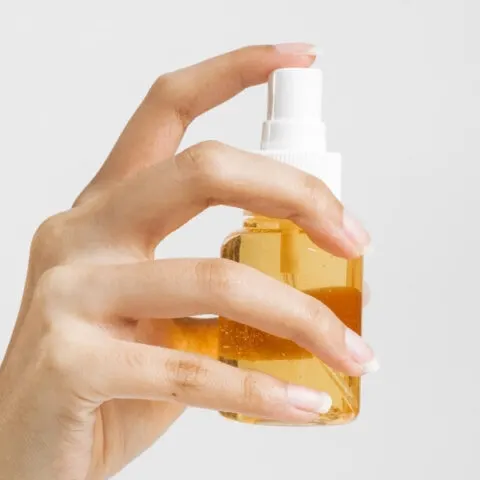 Green Tea Toner
This Anti-aging Toner is infused with green tea and the most effective anti-aging essential oils.
Use this toner as you would any other toner.
It leaves your face clean and refreshing, just the way a face should feel.
Looking for more DIY Toner Recipes?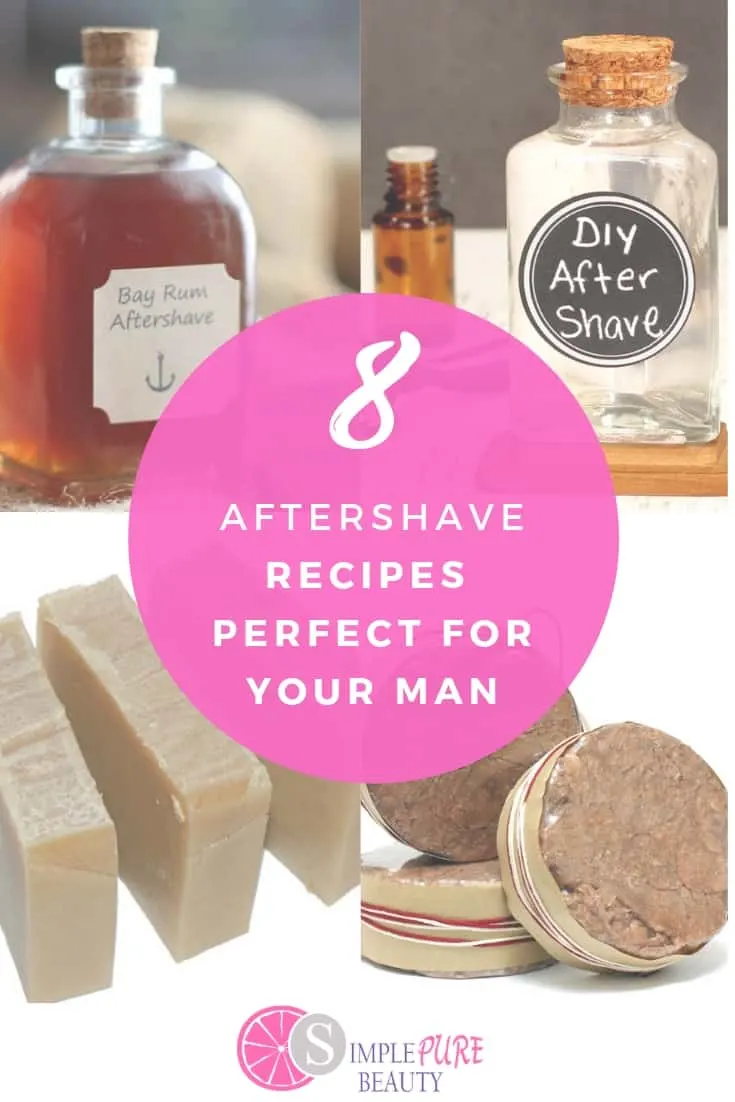 If you're looking for some great options for DIY homemade aftershave recipes for men, you've come to the right place! And while I may have …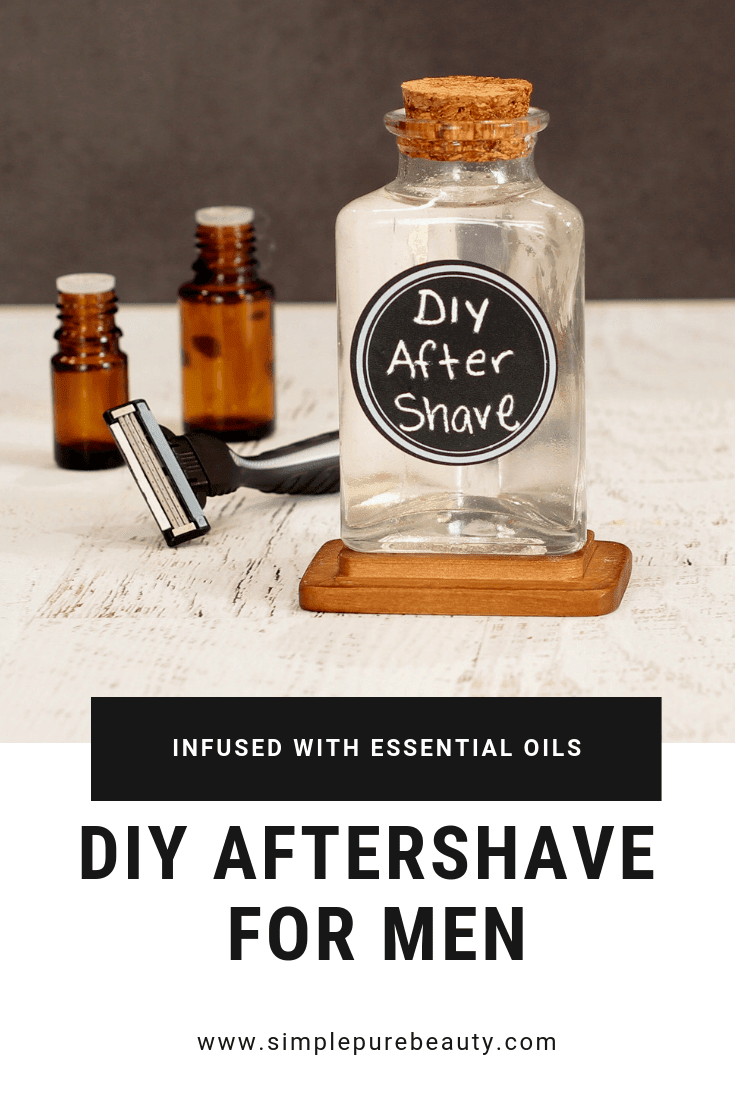 This DIY aftershave recipe for men is seriously so simple! No need to buy aftershave at the store when you can whip up this simple …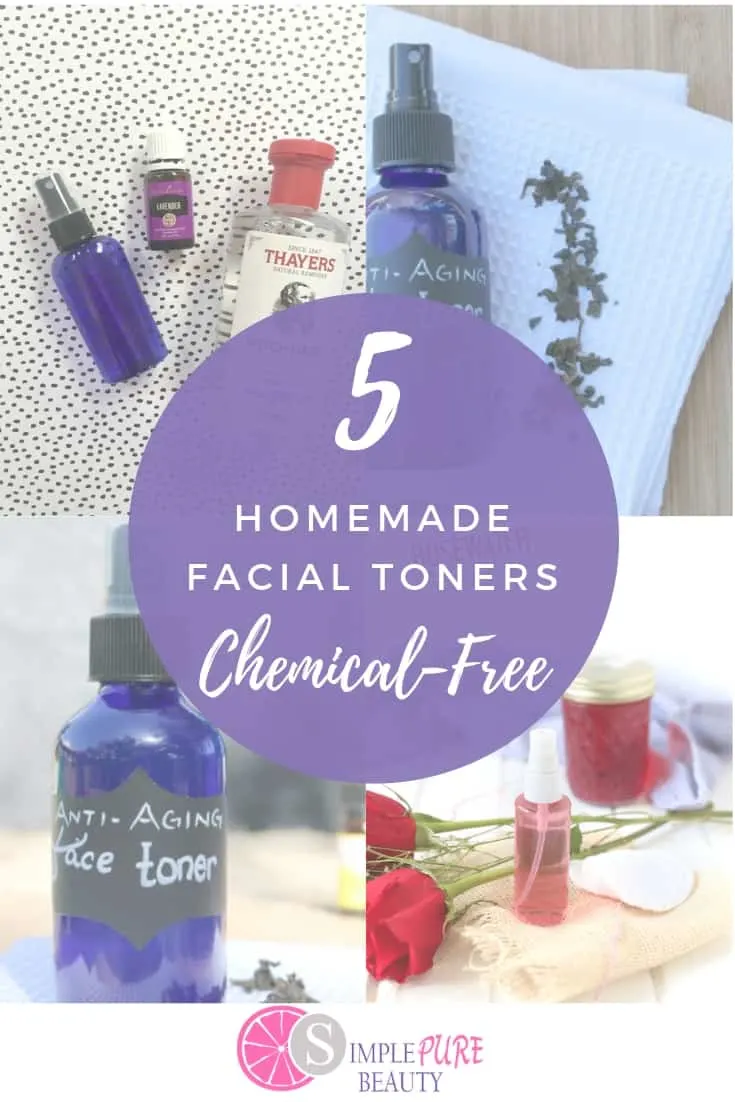 If you've been on the hunt for a few face toner recipes that you can DIY, here are five recipes that anyone can do! Who …
Pin this Post for Later: