This Anti-aging Toner is infused with green tea and the most effective anti-aging essential oils. It is so easy to make and will leave your skin feeling so fresh and clean!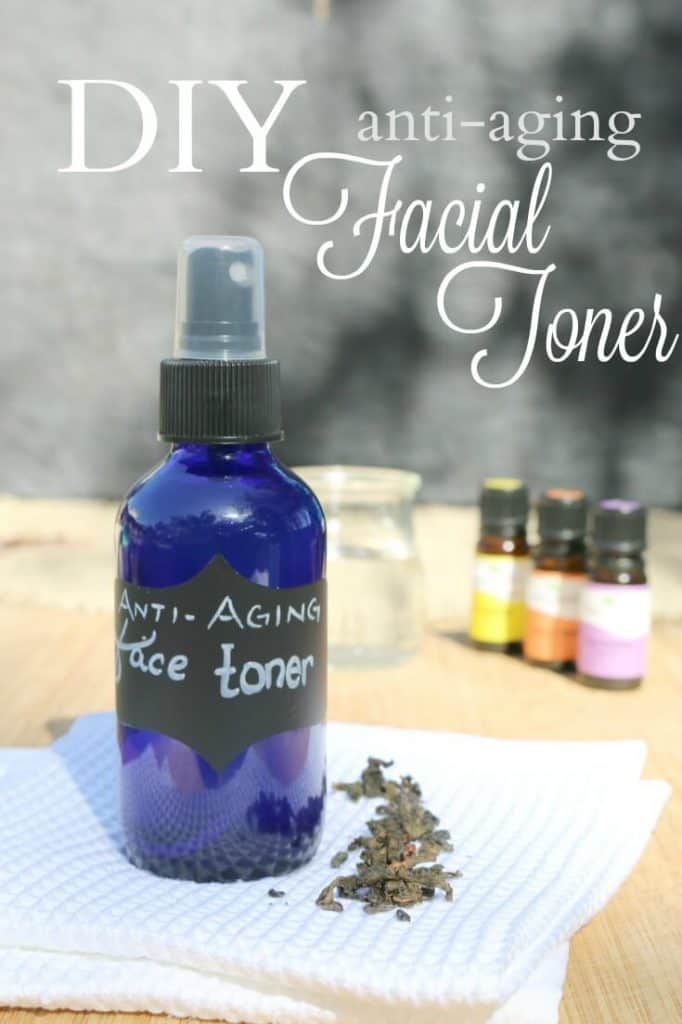 There's something so freeing, so liberating and rewarding about scooping dozens of skin products off your bathroom counter straight into the trash.
When you go all natural and green, life becomes more simpler and you have no need for a gazillion different beauty products.
For instance, apple cider vinegar is a staple in most homes and it's a universal tool in the kitchen, cleaning, and facial products.
It also happens to be a great weight loss supplement, but we won't go there. 😉
When I took a natural approach to skin care regimen, by default, I took a simpler approach to taking care of my skin naturally.
That involved a lot of the same ingredients but in different forms and quantities. Coconut oil can be used as an overall moisturizer as well as an ingredient in homemade toothpaste.
Something that would have required two separate products can now be made out of one. Simple. Life becomes more…simple.
And as such, this toner made with anti-aging ingredients is simple too because chances are, you already have most of the ingredients on hand.
Face serum is a great way to nourish and hydrate dry sensitive skin. For a Personalized Face Serum Recipe, you can download your FREE DIY Face Serum Blueprint: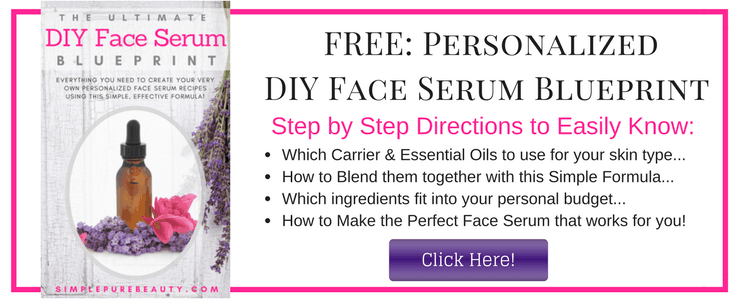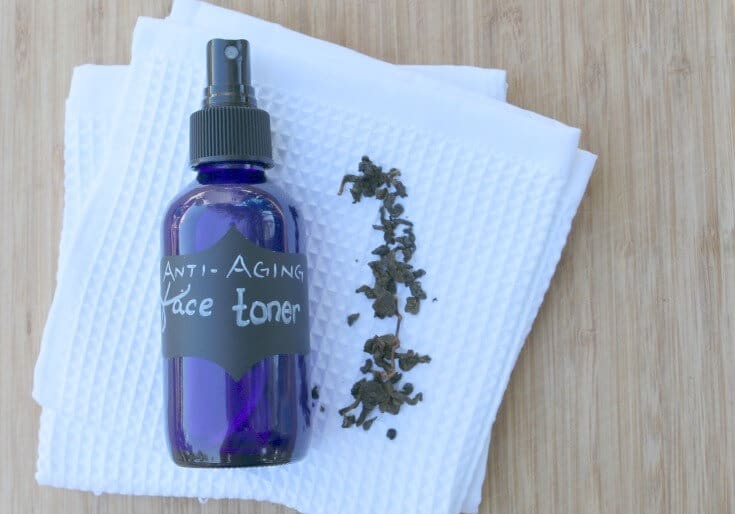 I also take it a step further to include more nutrients by using green tea and witch hazel in this concoction.
Green tea contains a high amount of anti-oxidants, enzymes and amino acids.
Historically, oriental cultures have used green tea medicinally for centuries to treat everything from headaches to depression.
Green tea Benefits for the skin:
Improves skin complexion: green tea helps flush out toxins from the skin and aids in skin rejuvenation. (source)
Anti-aging benefits: green tea can help delay skin aging such as sun damage, age spots, fine lines and wrinkles.
Reduces dark circles and puffy eyes: green tea contains tannins and antioxidants that help shrink blood vessels underneath the delicate skin around the eyes thus reducing the swelling.
Witch Hazel Astringent Properties:
Witch hazel is a plant native to North America whose leaves and bark is used to make a skin-healing astrigent that naturally reduces inflammation such as acne. (source)
With hazel has strong antioxidant attributes that kill bacteria deep within the skin's pores. As a result, witch hazel makes a great choice as a natural acne treatment.
Witch hazel may also help tighten the skin and fade discolored spots, old acne marks and sun spots.
As you can see both green tea and witch hazel serve an important role in this Anti-Aging Toner. Combine this with other skin-healing oils listed below and you have a wonderful homemade product for your skin.
This rosewater toner is a favorite of mine as well.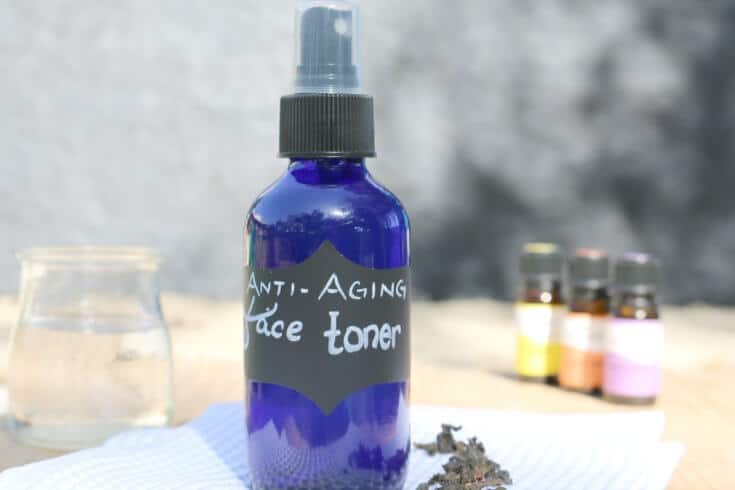 Anti-aging Essential Oils for the Face
2 drops citrus oil such as grapefruit, lemon, or orange
2 drops lavender or rosemary
3 drops frankincense or tea tree
3 drops carrot seed or chamomile
Use any combination of the oils listed above to have a combined total of 10 drops.
Please note, carrot seed oil and citrus oils should be applied to face only in the evening as there is a potential risk of sun sensitivity.
Though it's incredibly good for anti-aging products, you can swap that with another oil in order to avoid photosensitizing side effects on your face.
I still add it to my toner but use it in the mornings only on days when I know I won't be out in the sun a lot. Use your better judgment on this.
**IMPORTANT: You must shake this toner well before applying to disperse the essential oils.
How to Make Anti-Aging Facial Toner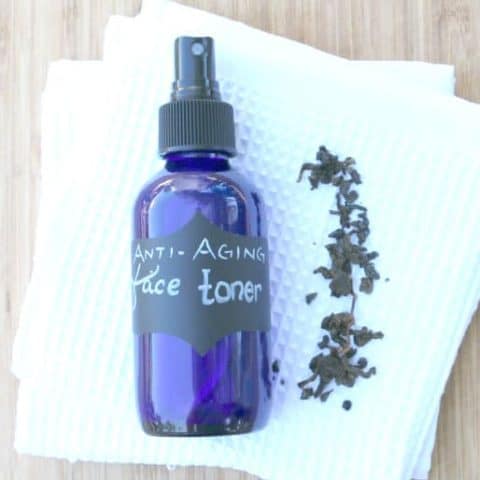 Anti-aging Face Toner
Yield: 6 oz

Prep Time: 5 minutes

Active Time: 5 minutes

Total Time: 10 minutes

Difficulty: Easy

This Anti-aging Toner is infused with green tea and the most effective anti-aging essential oils.
Materials
1/2 cup brewed and cooled green tea
1/4 cup alcohol free witch hazel
2 drops citrus essential oil (grapefruit, lemon, sweet orange)
2 drops lavender or rosemary essential oil
3 drops frankincense or tea tree essential oil
3 drops carrot seed or chamomile essential oil
Instructions
Steep green tea overnight to extract all the benefits of green tea. Steeping it overnight also allows for it to cool down completely.
Pour 1/2 cup of green tea in a spray bottle, add 1/4 cup of witch hazel and a total of 10 drops of essential oils.
Check & adjust pH to within a range of 3-8 and add Preservative, shake to combine.
Re-check pH and adjust (if needed) to a skin friendly pH of around 5.
Shake well before use and spray directly on face and pat with clean hands.
Notes
*IMPORTANT: Must be shaken before use to incorporate essential oils into toner.

** Citrus oils can make your skin extra sensitive to the sun. This toner is best used only at night because of the citrus oils.
Recommended Products
As an Amazon Associate and member of other affiliate programs, I earn from qualifying purchases.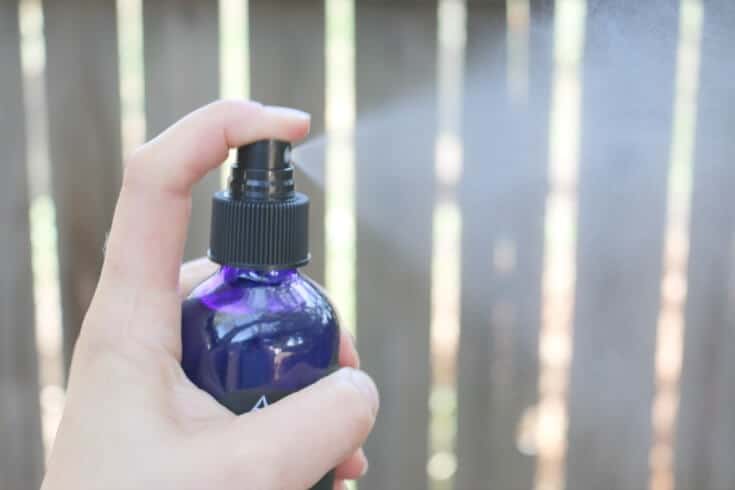 Use this toner as you would any other toner.
It leaves your face clean and refreshing, just the way a face should feel.
Looking for more DIY Skincare Recipes? Check these out:
Step by Step Guide to a Natural DIY Skin Care Routine
13 Homemade Face Scrubs Anyone Can Make
Firming Anti-Aging Face Cream Recipe
Pin this Post for Later: