Oh boy, do we have the perfect body butter for you! And the best part? You can make it yourself! Are you ready for super moisturized skin? Then this is the perfect recipe for you!
Not only is this DIY recipe so simple and easy to make, but you're going to love the smell as well. If you're looking for a lovely body butter that is natural and simple, this is the one for you.
What is whipped body butter?
Well, it is literally as amazing as it sounds. This whipped mango body butter is a moisturizer that uses mango butter as a base.
Body butter moisturizers are thicker than traditional lotions and are known for their excellence in rejuvenating and plumping the skin.
For those of us blessed with sensitive and dry skin, body butter can provide much-needed moisture and protection to our skin that many liquid lotions can't deliver.
If you have a little one, this Lavender Sweet Dreams Body Butter recipe is perfect for their skin.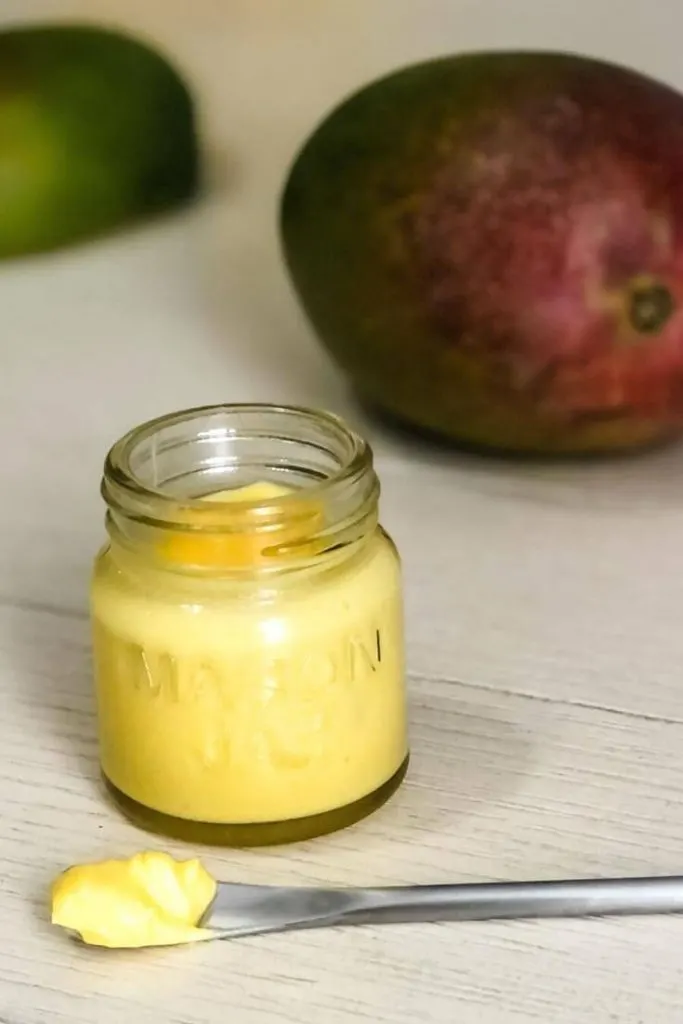 How do you use whipped body butter?
Glad you asked! Since body butter tends to be thicker, a little bit goes a long way.
Using a small dollop of body butter, apply it directly to the skin and rub it in until it is completely absorbed.
Be careful not to use too much, this can make the skin feel greasy.
How do you store your whipped body butter?
Typically body butter is kept in glass containers. If you're looking for cheap containers, check out this post.
Body butter can start to melt at temperatures over 75 degrees; once the butter starts to melt it can be difficult to keep the light, fluffy texture of the body butter without whipping it again.
It is recommended to store your body butter in a cool, dry place. You can even store it in the fridge if you have difficulty keeping yours from melting!
Can you remelt whipped body butter?
If you make whipped body butter and it doesn't turn out quite the way you expected, it's too grainy or too greasy, the good news is, you can try again!
You can melt the body butter back down and whip and cool it again.
Why is my body butter grainy?
When whipped body butter gets grainy it can feel pretty yucky. Yes, it still works the same but it definitely doesn't feel quite right going on your skin; the crystals will melt once they come into contact with the skin, but still.
Nobody likes feeling sandy or gritty.
Your whipped body butter can get grainy when it experiences a temperature increase and then cools too slowly. To fix this, you can gently remelt the body butter, making sure not to melt it too quickly and then cool it to get rid of that grainy texture.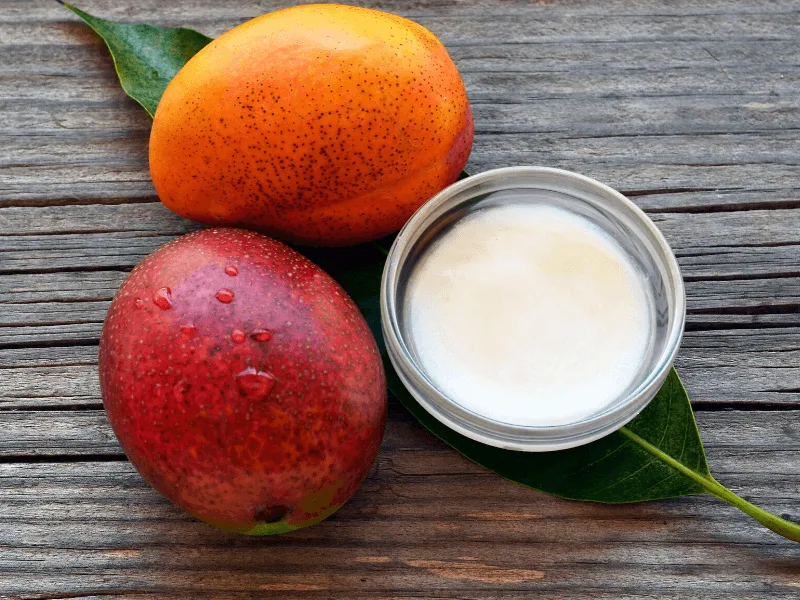 How do I make my whipped body butter less greasy?
Body butter turn out a little too greasy? Well, there's a fix for that too!
Sometimes body butter can be too oily or greasy, we've included arrowroot powder to make your whipped body butter less greasy.
This is another natural ingredient that you can find in most grocery stores in the spice aisle!
Mango Butter vs. Shea Butter
So many of us know what shea butter is, but how many of us know about mango butter?
We'll go into all the amazing benefits of mango butter a little later but, there are a few key differences between the two.
Shea butter tends to more heavy and can make skin feel greasy or overly moisturized. It also has a bit of a smoky scent that can be unpleasant to some people.
Mango butter is a soft butter that resembles the consistency of shea butter, and can be used when a milder scent is preferred to the smoky, nutty scent of shea butter. It has vitamin C to help plump and firm skin, and vitamin A to revitalize skin and reduce the appearance of fine lines and wrinkles.
One of the key differences is that shea butter can crystallize much more easily and can cause your whipped body butter to turn out grainy, or become grainy over time.
We chose to use mango butter in our recipe not only for it's benefits to your skin but how simple it is to work with!
Whipped Mango Body Butter Ingredients:
Mango butter is a fantastic moisturizer for your skin, it is also a natural emollient; an emollient is the part of a moisturizer that keeps your skin smooth and soft.
It is a very rich moisturizer that also contains Vitamin C which boosts and brightens your skin! It also contains Vitamin A which helps keep your skin youthful and reduce fine lines.
Kokum butter is a more solid butter that is extracted from the seeds of the kokum tree. It is often used in cosmetics because it is non-comedogenic and is very lightweight. It is not heavy or greasy and is actually solid at room temperature before being mixed with other ingredients.
It has many benefits and is often used as a replacement for cocoa butter or cupuacu butter since it is lighter and less likely to cause breakouts or clog pores.
Cetyl Alcohol enhances the texture of this body butter while adding to the skin moisturizing properties.
Jojoba Oil isn't actually an oil, it is a liquid wax that is produced from processing the seeds of the jojoba shrub that is native to Arizona and California. Jojoba Oil is a wonderful moisturizer and healing agent for skin. It's high in Vitamin E, which supports elasticity to reduce the signs of aging while soothing inflamed or sensitive skin.
Babassu Oil is a semi-solid oil very similar to coconut oil in texture, that acts as an emollient, locking in moisture while protecting skin from free radical damage. This oil absorbs into skin well and leaves it feeling soft and satiny.
Buriti Oil is what creates the beautiful color of this lovely body butter. Buriti Oil has been a skincare and haircare favorite for decades! This oil is anti-aging, restores elasticity, and lightens dark spots! It's very potent and full of antioxidants to help protect skin so a little goes a long way.
Vitamin E Oil will help extend the shelf life of this body body because of its antioxidant properties.
Arrowroot Powder is a great addition to reduce the greasiness and create a satiny feeling to your body butter.
Natural Mango Fragrance Oil creates a lovely, but subtle mango scent. I am sensitive to scents and this natural fragrance oil causes no issues! It smells so good!!
Ready to make whipped mango body butter?
This whipped mango body butter is more than just another moisturizer; it's a refreshing and soothing body butter that will quench your skin's thirst and give it the treatment it deserves.
This recipe creates a luxurious and rich body butter, giving you a spa treatment right in your own home!
The best part? This recipe is all-natural and easy to make!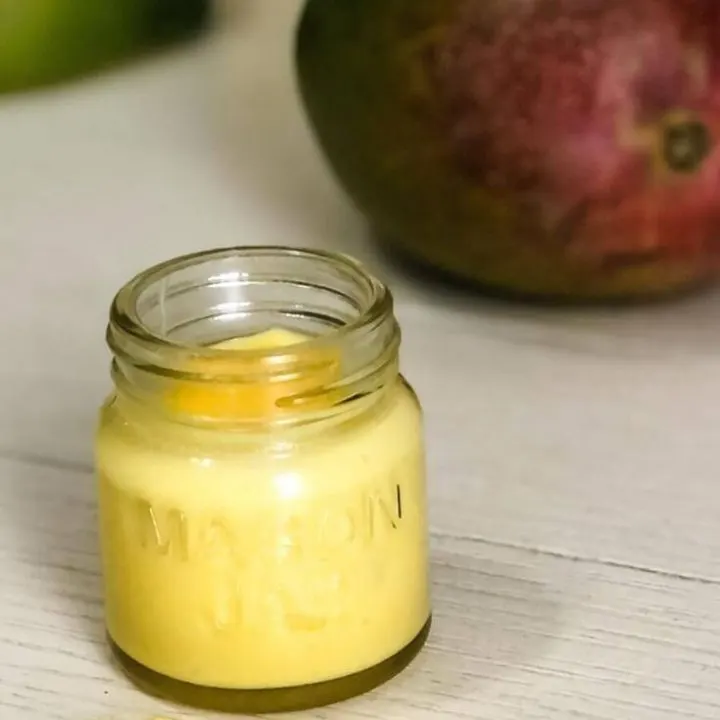 Whipped Mango Body Butter
Additional Time:
15 minutes
You're going to love this simple and easy mango body butter recipe!
Tools
2 cup Pyrex measuring cup
Stand Mixer or Electric Beater
Mixing bowl
Metal stirring element
Saucepan
Heat Source
Kitchen Scale
Instructions
Add mango butter, kokum butter and cetyl alcohol to a heat safe container and melt in a double boiler
Remove from heat and let cool a bit, then add in jojoba, babassu and buriti oils and mix
Once mixture has cooled to 40 C, add in your vitamin e oil, and mango fragrance oil and mix well
Place mixture in the refrigerator to set
Once it has come to trace, remove from fridge and add in arrowroot powder and mix well
Whip your body butter with an electric wisk, then place back in fridge for 5-10 minutes
Whip body butter again, rinse and repeat until your butter reaches the desired consistency
Place your butter in a container
Butter will reach it's final consistency within 24 hours

Recommended Products
As an Amazon Associate and member of other affiliate programs, I earn from qualifying purchases.
More Body Butter recipes to consider:
Pin this post for later: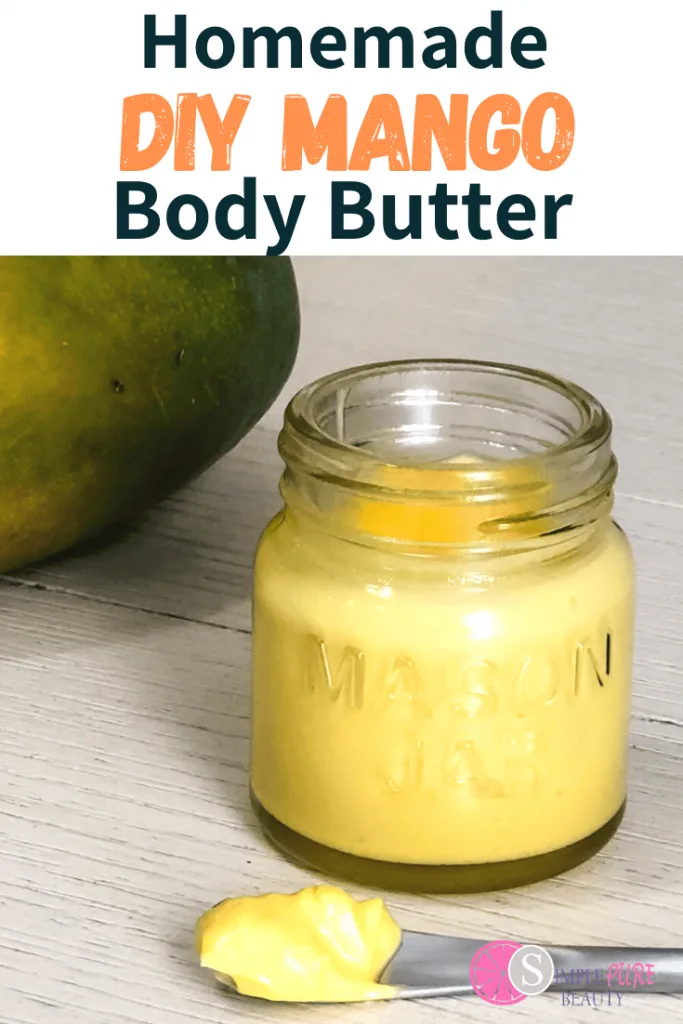 You may also enjoy these posts: