Oh boy, do we have the perfect body butter for you! And the best part? You can make it yourself! Are you ready for super moisturized skin? Then this is the perfect recipe for you!
Not only is this DIY recipe so simple and easy to make, but you're going to love the smell as well. If you're looking for a lovely body butter that is natural and simple, this is the one for you.
What is whipped body butter?
Well, it is literally as amazing as it sounds. This whipped mango body butter is a moisturizer that uses mango butter as a base.
Body butter moisturizers are thicker than traditional lotions and are known for their excellence in rejuvenating and plumping the skin.
For those of us blessed with sensitive and dry skin, body butter can provide much-needed moisture and protection to our skin that many liquid lotions can't deliver.
If you have a little one, this Lavender Sweet Dreams Body Butter recipe is perfect for their skin.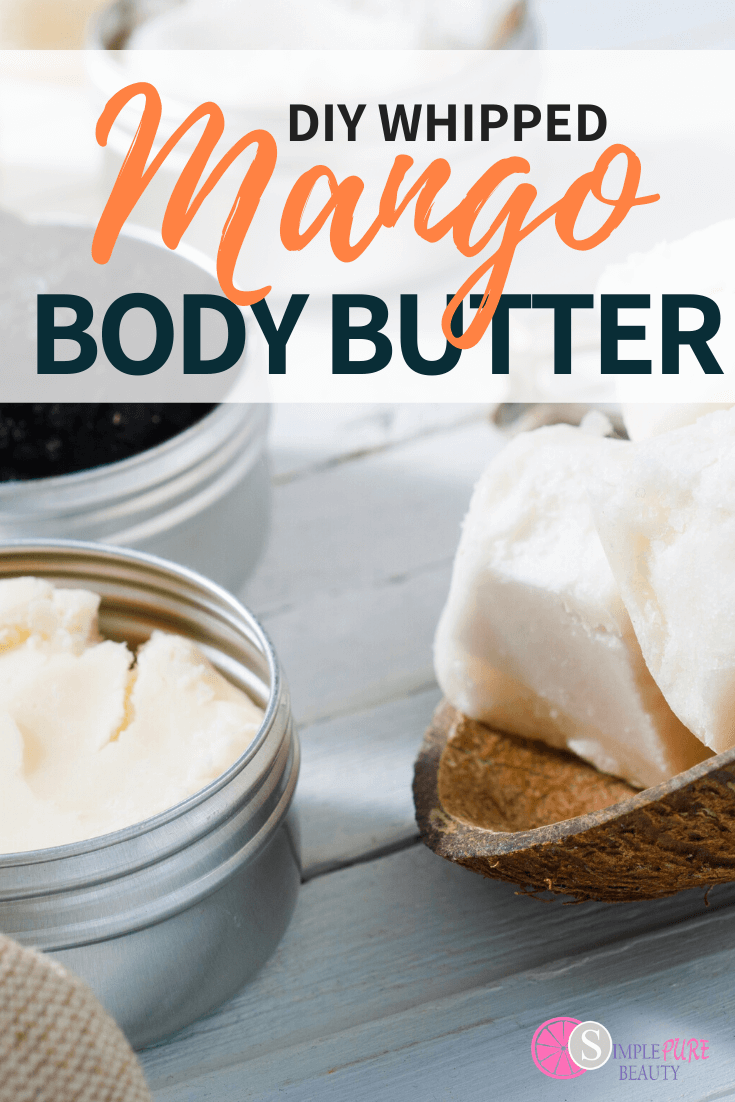 How do you use whipped body butter?
Glad you asked! Since body butter tends to be thicker, a little bit goes a long way.
Using a small dollop of body butter, apply it directly to the skin and rub it in until it is completely absorbed.
Be careful not to use too much, this can make the skin feel greasy.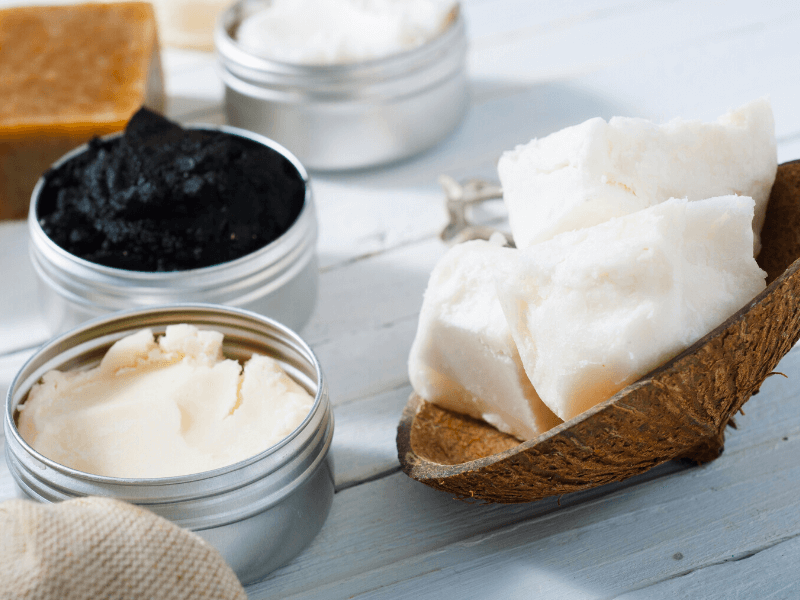 How do you store your whipped body butter?
Typically body butter is kept in glass containers. If you're looking for cheap containers, check out this post.
Body butter can start to melt at temperatures over 75 degrees; once the butter starts to melt it can be difficult to keep the light, fluffy texture of the body butter without whipping it again.
It is recommended to store your body butter in a cool, dry place. You can even store it in the fridge if you have difficulty keeping yours from melting!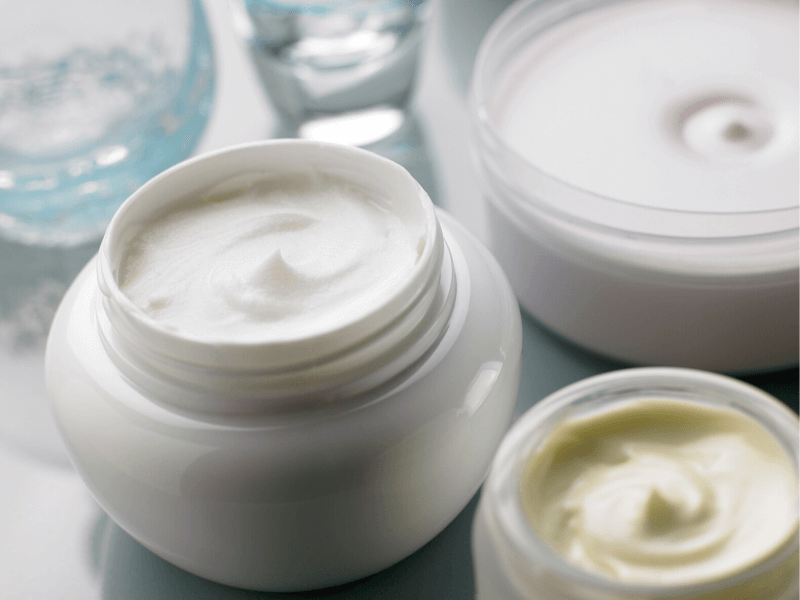 Can you remelt whipped body butter?
If you make whipped body butter and it doesn't turn out quite the way you expected, it's too grainy or too greasy, the good news is, you can try again!
You can melt the body butter back down and whip and cool it again.
Why is my body butter grainy?
When whipped body butter gets grainy it can feel pretty yucky. Yes, it still works the same but it definitely doesn't feel quite right going on your skin; the crystals will melt once they come into contact with the skin, but still.
Nobody likes feeling sandy or gritty.
Your whipped body butter can get grainy when it experiences a temperature increase and then cools too slowly. To fix this, you can gently remelt the body butter, making sure not to melt it too quickly and then cool it to get rid of that grainy texture.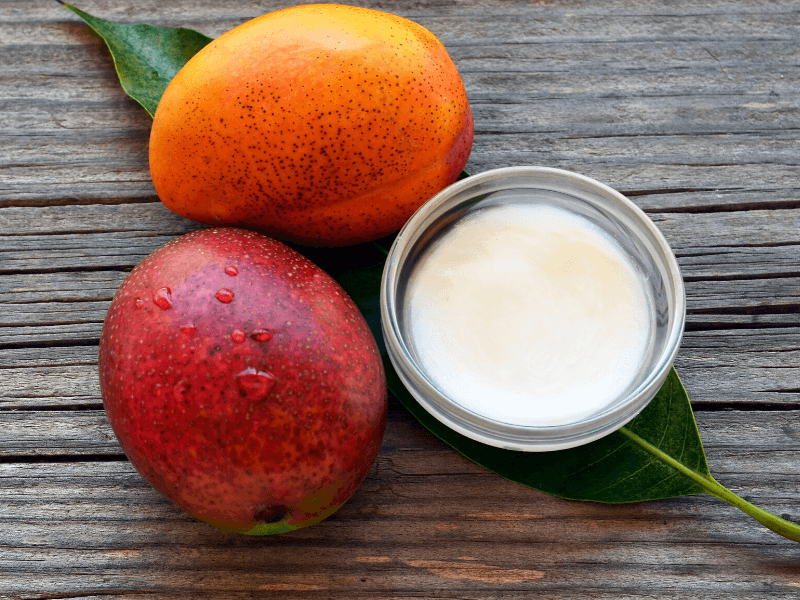 How do I make my whipped body butter less greasy?
Body butter turn out a little too greasy? Well, there's a fix for that too!
If your body butter is too oily or greasy you can add a little bit of arrowroot powder to make your whipped body butter less greasy.
This is another natural ingredient that you can find in most grocery stores in the spice aisle!
Mango Butter vs. Shea Butter
So many of us know what shea butter is, but how many of us know about mango butter?
We'll go into all the amazing benefits of mango butter a little later but, there are a few key differences between the two.
Shea butter tends to be very heavy and can make skin feel greasy or overly moisturized. It also has a bit of a smoky scent that can be unpleasant to many people.
Mango butter is lighter and completely unscented.
One of the key differences is that shea butter can crystallize much more easily and can cause your whipped body butter to turn out grainy, or become grainy over time.
We chose to use mango butter in our recipe not only for it's benefits to your skin but how simple it is to work with!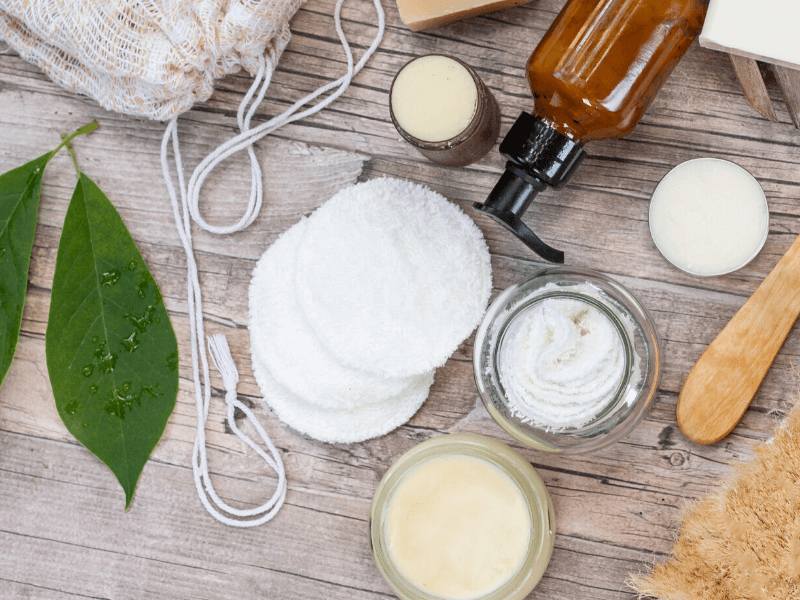 Whipped Mango Body Butter Ingredients:
Mango butter is a fantastic moisturizer for your skin, it is also a natural emollient; an emollient is the part of a moisturizer that keeps your skin smooth and soft.
Mango butter is a very rich moisturizer that also contains Vitamin C which boosts and brightens your skin! It also contains Vitamin A which helps keep your skin youthful and reduce fine lines.
Coconut oil is a wonderful all-natural moisturizer. There's a reason everybody loves it; coconut oil is antibacterial and antifungal; it also is full of healthy fatty acids to keep your skin smooth and healthy.
Passionfruit seed oil is a great source of carotenoids which plump skin and can greatly reduce the appearance of fine lines and wrinkles. It also contains antioxidants that reduce free radicals in our bodies and can reduce redness and inflammation.
Benzoin oil is an amazing and versatile oil for your skin. It has astringent properties that make it a great toner, and you knew we love a good toner! It can reduce the size of your pores as well as fight inflammation and clean your skin.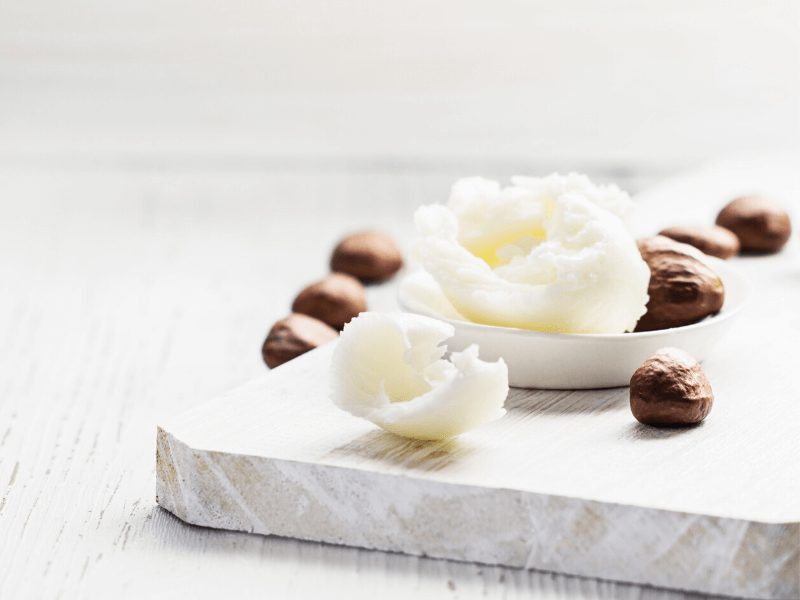 Essential oils in whipped mango body butter:
This recipe calls for a 100 drop oil blend! We have 2 blends that we are absolutely in love with and we can't wait for you to try them out!
Dry, Sensitive Skin Essential Oil Blend:
Our dry and sensitive skin blend is an essential oil blend that fights inflammation, brightens your skin, and tightens those pores! Our combination of frankincense, lavender, and rose geranium oils creates a refreshing fragrance and a fantastic oil blend that will soothe your skin all day!
Woodland Adventure Essential Oil Blend:
The Woodland Adventure Blend is a refreshing blend with a minty, fall fragrance. The cedarwood, lavender, sweet orange, and eucalyptus oils will leave your skin feeling clean, fresh and clear. This blend will also plump and brighten your skin leaving you feeling fresh and beautiful!
Ready to make whipped mango body butter?
This whipped mango body butter is more than just another moisturizer; it's a refreshing and soothing body butter that will quench your skin's thirst and give it the treatment it deserves.
This recipe creates a luxurious and rich body butter, giving you a spa treatment right in your own home!
The best part? This recipe is all-natural and easy to make!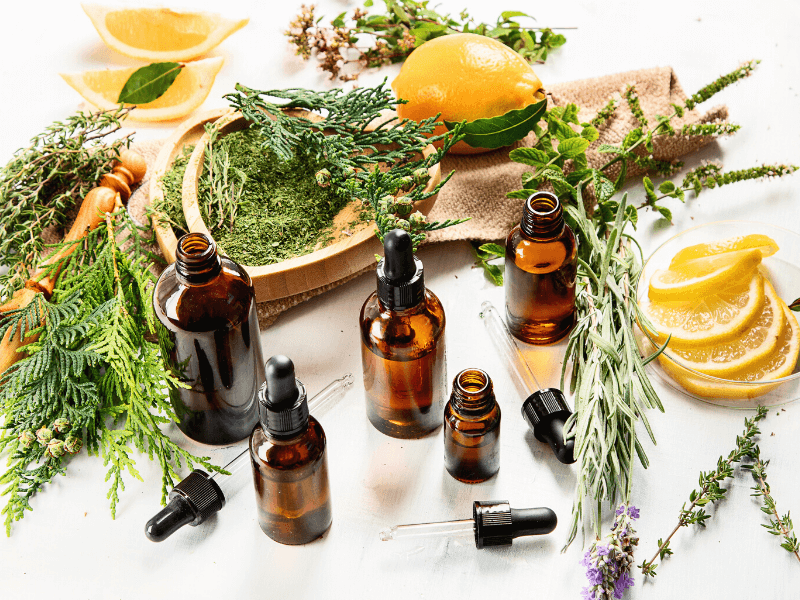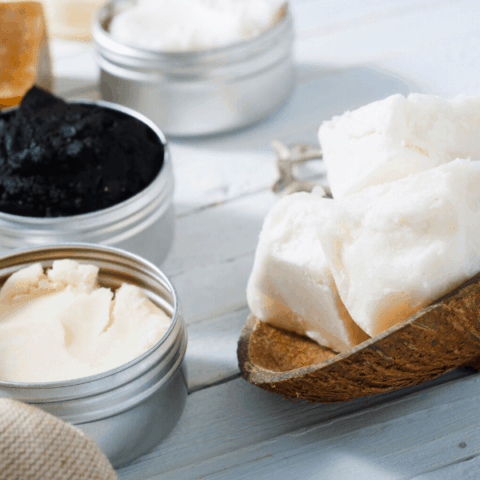 Whipped Mango Body Butter
Additional Time:
15 minutes
You're going to love this simple and easy body butter recipe!
Tools
2 cup Pyrex measuring cup
Stand Mixer or Electric Beater
Mixing bowl
Metal stirring element
Saucepan
Heat Source
Kitchen Scale
Instructions
Measure out your ingredients by weight with a scale
Fill a saucepan ¼ of the way with water and set on the stove to heat
Put Butter and Oil into the Pyrex and place into the pot of water
Allow to heat and stir gently until mostly melted and the butter is super-soft.
Remove the pan from the heat and pull out the Pyrex
Pour into the Mixer Bowl and allow to cool for 10 minutes, stirring occasionally
Use whatever mixer you are going to use and whip for 5 minutes.
Place bowl into the fridge and let it solidify until it is opaque and mostly solid
Add essential oils and whip again for another 1.5 minutes and then pour into containers and cap.
Notes
DRY/SENSITIVE SKIN ESSENTIAL OIL BLEND
50 drops Frankincense Essential Oil
30 drops Lavender Essential Oil
20 drops Rose Geranium Essential Oil
WOODLAND ADVENTURE ESSENTIAL OIL BLEND
30 drops Cedarwood Essential Oil
20 drops Lavender Essential Oil
20 drops Sweet Orange Essential Oil
10 drops Eucalyptus Essential Oil
Recommended Products
As an Amazon Associate and member of other affiliate programs, I earn from qualifying purchases.
More Body Butter recipes to consider:
Pin this post for later: