Today we're tackling a gentle, natural deodorant recipe without baking soda that can be used on even the most sensitive skin!
So if you're looking for a way to ditch the aluminum and other harsh chemicals in your current deodorant, but find that baking soda just doesn't work for you, give this fresh deodorant formula a try!
Finding a natural deodorant that actually works and doesn't cause irritation has been such a struggle for me.
You name it, I've tried it and it either didn't work or left me with a horrible rash under my arms. 😩
Many homemade deodorant formulations use baking soda. Although baking soda is doable for some, it just doesn't work for those of us with sensitive skin.
Why is baking soda a problem in deodorant?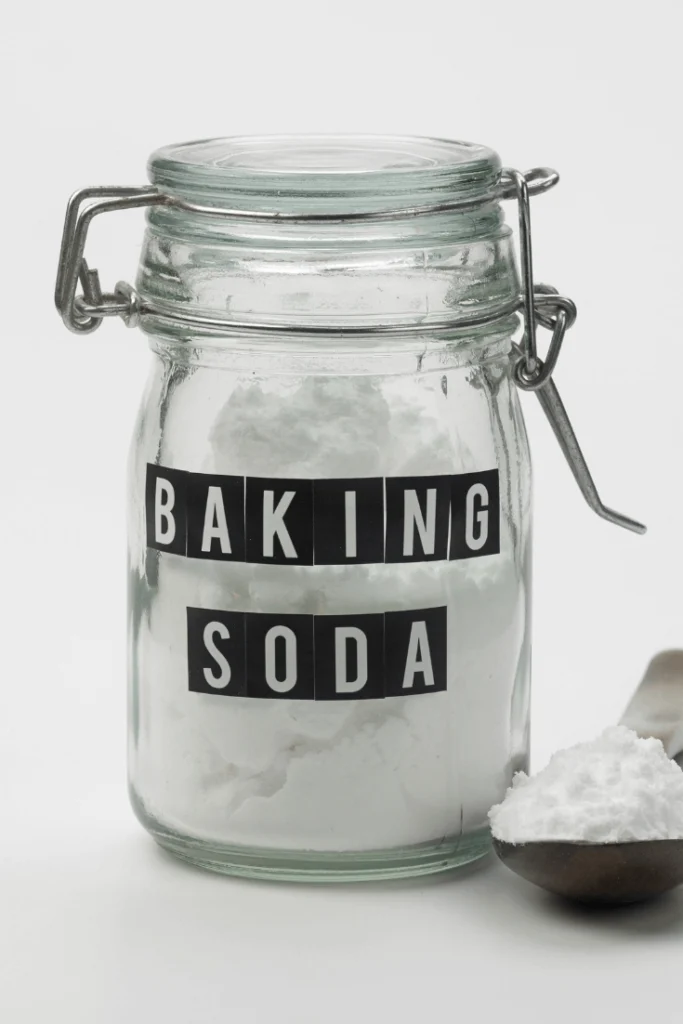 Baking soda can be irritating to the skin because:
It's a salt and can dry out the skin
It's alkaline and can throw off the skin's natural pH balance
For people with sensitive skin, baking soda deodorants can cause:
Believe me when I say, I speak from experience. 😉
Baking soda has been the go-to ingredient to use in natural deodorants that do not contain aluminum for a long time.
But, many people have noticed side effects much like mine. Skin irritation, itching and even an allergic reaction is possible because of the drying effect that baking soda can have on skin.
Should deodorant be baking soda free?
You all know I am not a one-size-fits-all kind of person. I believe that there are some people who benefit from having baking soda in their natural deodorant.
But, for anyone with sensitive skin, or anyone who loves natural skincare and wants to get rid of irritants then going baking soda free is a no-brainer!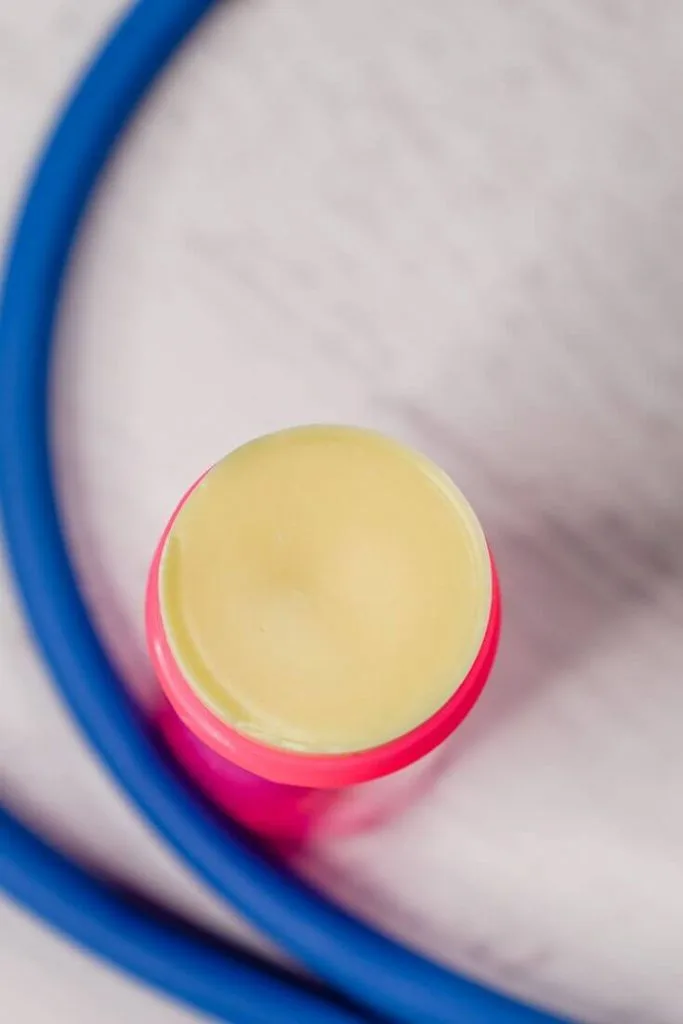 Do deodorants without baking soda work?
So believe me when I say I have tried so many natural deodorants. I do my fair share of sweating and finding a natural deodorant that worked seemed like an impossible task.
But I have been using this new deodorant formula for several months now, even through my vacation to Florida, and I am 100% sold!
Because it doesn't contain aluminum, it will not stop you from sweating. But it will keep away the stink and is so soothing to your skin. And it smells SO good!
Now, I will warn you, if you've been using traditional deodorants that contain aluminum, you may notice that the switch to natural alternatives can be a lot like a detox for your armpits.
Some people report that they smell worse after making the switch for a short period of time. This is because for the first time, the pores in your armpits can breathe!
By ditching the aluminum your sweat glands will need to 'reset,' once your body gets used to your new routine, you can enjoy your new, natural deodorant without baking soda!
Baking Soda Free Deodorant Ingredients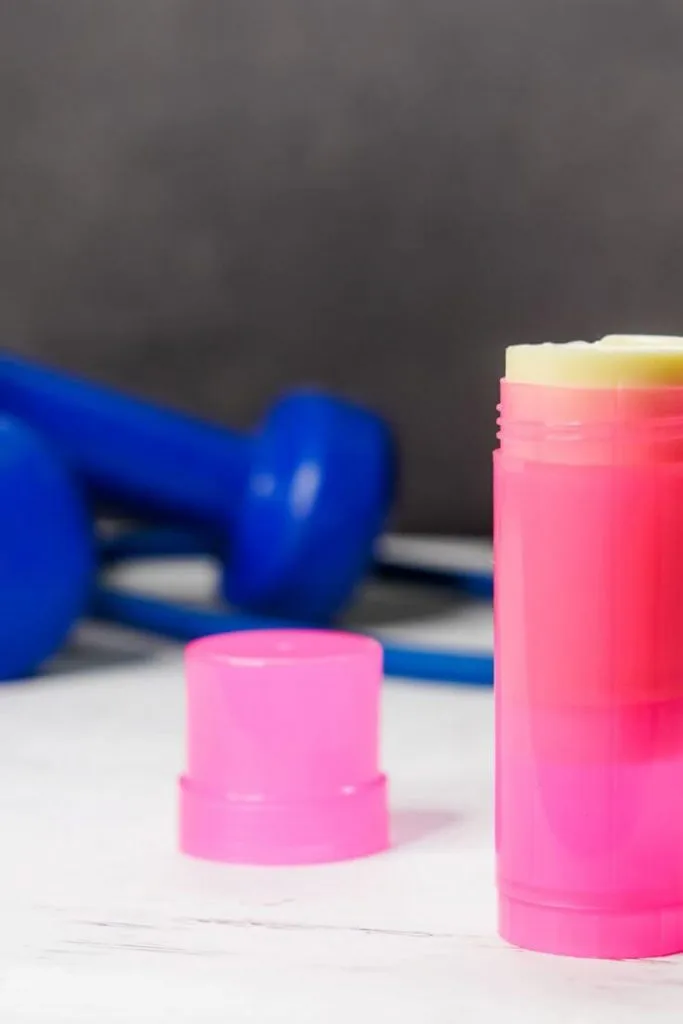 Natural deodorants that work can be hard to find. This recipe is aluminum-free; for many years aluminum has been the active ingredient in most deodorants and is linked to skin irritation, itching and even an allergic reaction is possible.
That's why I wanted to make a deodorant that didn't contain aluminum or other irritating ingredients like baking soda.
This deodorant recipe is full of ingredients that are soothing to skin and essential oils that give this deodorant a light, fresh scent!
This oil is soothing and has antibacterial properties. This makes it a great oil to use in your homemade deodorant recipe. It will help control odor by reducing bacteria build up and help soothe skin that is prone to irritation and chafing.
Another soothing oil that also helps reduce bacteria, jojoba oil is known for helping moisturize and protect skin. It can also help control sebum production and balance skin which is important when trying to control sweating and odor control!
This butter contributes to the buttery soft texture of this deodorant. Packed with fatty acids, mango butter helps nourish and smooth skin helping to reduce irritation and chafing.
Another ingredient to help your deodorant achieve the perfect texture, beeswax has natural antibacterial and antifungal properties which will help you maintain skin health while controlling unwanted body odor. Beeswax will also help your deodorant roll on smoothly!
Evening primrose oil sinks into the skin and helps soothe and heal damaged, dry, or cracked skin. If your old deodorant caused a ton of irritation, then this oil will help heal your skin and keep it from getting damaged!
This might not be an ingredient you are very familiar with but it is a natural odor reducer and is popular in many natural products aimed to reduce body odor.
When you sweat, the bacteria that naturally live on your skin multiply. Zinc oxide helps control the growth of these bacteria helping to eliminate odor making a good alternative for baking powder.
Lavender Essential Oil
Lavender essential oil not only smells nice, it also helps soothe irritated skin and calm redness and inflammation that is associated with sensitive skin.
Neroli Essential Oil
This essential oil is a house favorite when you need an extra boost of hydration! It helps hydrate skin and lock in moisture; it helps create a protective barrier on skin to help retain moisture and keep skin soft!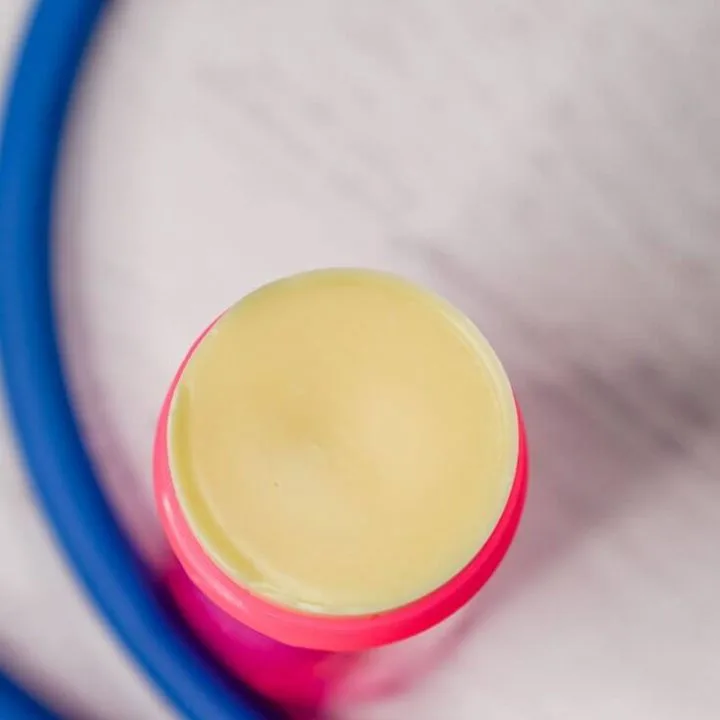 Baking Soda Free Deodorant Recipe
Natural DIY deodorant without baking soda!
Baking Soda Free Deodorant FAQs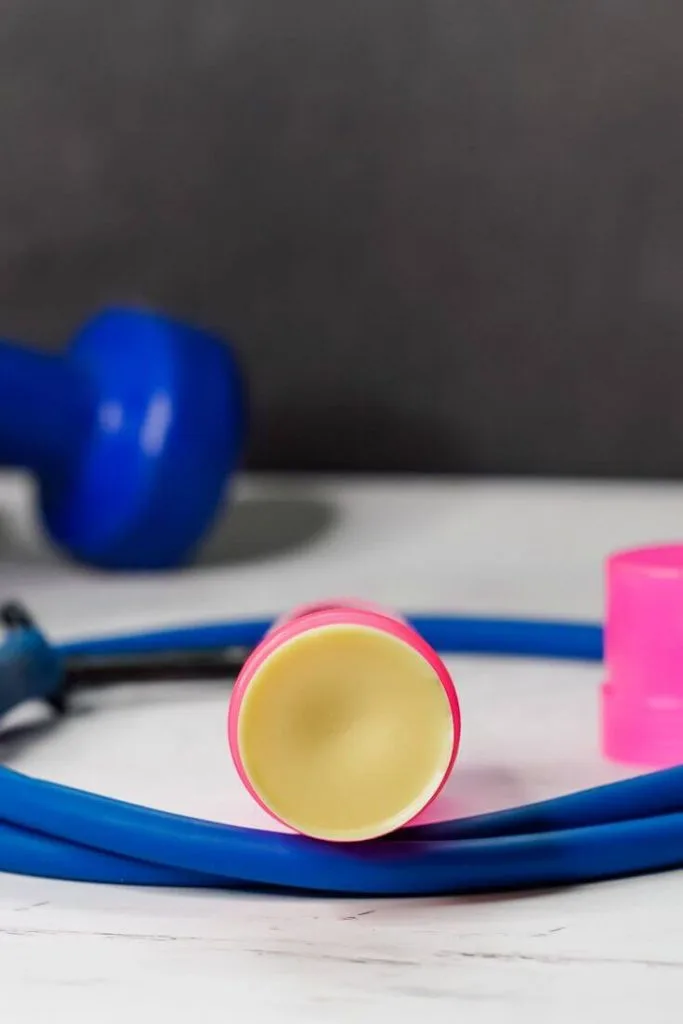 What deodorant won't give me a rash?
If conventional deodorant that contains aluminum isn't working for you then I'm betting you have tried a baking soda deodorant as well. Don't let those deodorants make you give up on finding one that works without irritation. If you're looking for a deodorant that won't irritate your skin or cause rashes then it might be time for you to try a natural DIY deodorant!
Give this recipe a try, it works great for me and is a natural alternative to commercial deodorants found on store shelves!
Is it safe to use natural deodorant?
One of my favorite things about natural options to store bought products is that you get to control what you put on and in your body! That means you can make products that are safe for you and your skin.
Natural deodorant is generally regarded as safe, and so are all of the ingredients in this recipe! Reminder, when you are using a new product or ingredient it is always a good idea to perform a patch test by applying a small amount to a less sensitive area of skin to see if you have any adverse reactions.
What is the healthiest underarm deodorant?
We believe that the healthiest underarm deodorant is one that does not contain questionable ingredients and that does not cause irritation or dryness. I try to avoid aluminum and baking soda in my deodorant.
What happens when you start using natural deodorant?
We covered this briefly but when you stop using traditional deodorants and opt for natural alternatives, your armpits basically have to go through a detox process! If you have been using a deodorant that uses aluminum then your sweat ducts haven't been able to breath for a while. This means that you haven't been able to sweat properly.
When swapping to DIY deodorant, you might notice you're sweating more than you used to, this is good, this means that your body is getting back into its natural rhythm! If you stick with your new routine then this should not last very long and you can enjoy your new deodorant!
How do I store natural deodorant?
So you made your own deodorant using this DIY recipe, but what deodorant container should you store it in? You can always use a small jar or airtight container. If you are looking to make zero waste deodorants then you might opt for cardboard or biodegradable deodorant tubes.
No matter what containers you use, be sure that you can store it in a cool, dry place because it can melt if it gets too warm!
We all know that sweating is the body's natural way of helping control our temperature. We also know that sweating can lead to unpleasant body odors which is why many of us turn to various deodorants. So what do you do when you feel like the deodorant you're using isn't working or is more irritating than helpful?
Take the natural way of course! With so many brands out there claiming to be all-natural and aluminum free, how do you know what deodorant is right for you? I always opt for something without aluminum and without baking soda due to my sensitive skin!
So toss out that drugstore deodorant with toxic chemicals, harmful ingredients, and irritating substances and start making your own deodorant using common ingredients that help your skin instead of hurt it!
Stop wasting time and try out this baking soda free deodorant today!
Pin this post for later
If you want to give this recipe a go, then pin it for later so you can give it a try!