Are you looking for a vegan lip balm that is good for you and the environment? You're in luck! I am sharing a vegan lip balm that will keep your lips soft and smooth no matter what!
This lip balm is all-natural and aims to hydrate and protect your lips to keep them from cracking, peeling, and chapping even in the harshest conditions.
What is Vegan Lip Balm?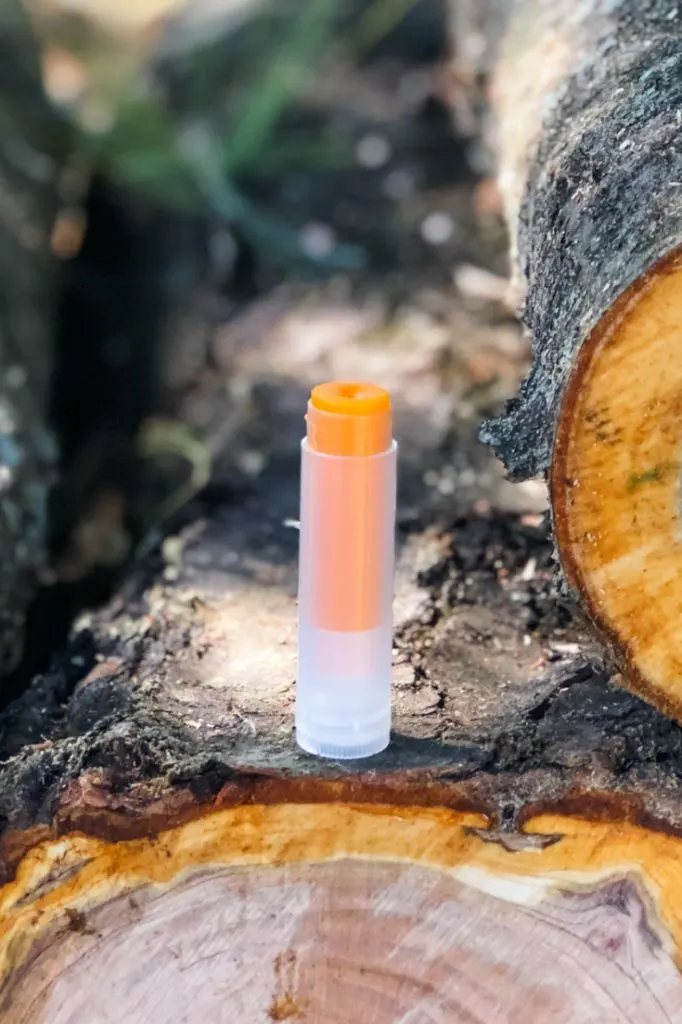 Vegan lip balm is a lip balm that is made without any animal byproducts. Many lip balms utilize waxes to give them the proper texture to protect and moisturize lips.
One of the most popular waxes to use in balms is beeswax which is not vegan-friendly. While it does not contain any animal products, it does use an animal byproduct.
In this vegan recipe, we will be using candelilla wax and carnauba wax, vegan alternatives to beeswax!
What is a Vegan Beeswax Alternative?
There are two waxes that I like to use as beeswax alternatives: candelilla wax and carnauba wax.
Candelilla wax is a very brittle wax that gives products a stiffer composition. It is packed with Vitamin A, which promotes cell regeneration and hydration.
This wax is popular in balms and very thick creams because of its healing and moisturizing properties.
Carnauba wax adds gloss and shine to the products it is used in. It helps form a protective barrier over skin to reduce environmental damage.
It is also hypoallergenic, making it perfect for people who struggle with problematic or sensitive skin!
How to Make Lip Balm Without Beeswax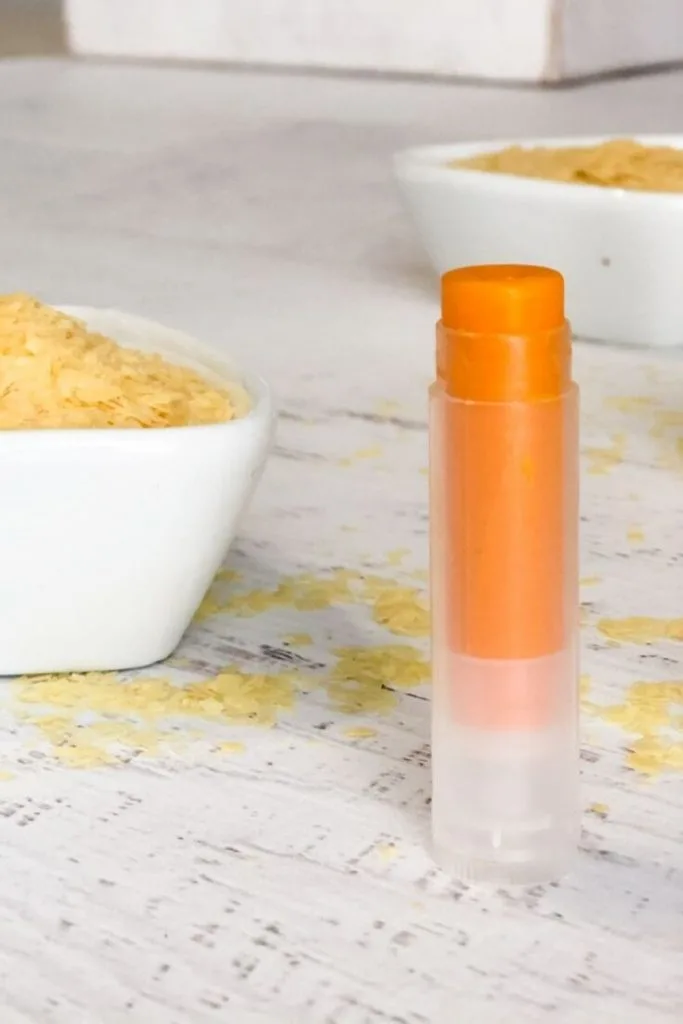 To make lip balm without beeswax, you will need an alternative that has similar properties and textures. I like to use vegan alternatives such as candelilla wax and carnauba wax. Both of these waxes are thickeners and can be used together to create a high-quality lip balm that will heal and protect your lips!
Vegan Lip Balm Ingredients
What makes this recipe so great? The all-natural ingredients that will keep your lips looking and feeling their best no matter what life throws at you!
This thickening wax is often used as a substitute for beeswax. It helps heal skin and forms a protective barrier to lock in moisture. This wax adds shine to your lip balm and will help give it a stiffer composition.
This wax is an emollient that will help draw moisture to the skin to help keep it plump and hydrated. It has a high melting point, making it the perfect wax to add to your lip balm, so it stays thick and creamy!
Cupuacu butter is a hydrating butter that protects skin and helps repair damage. It's excellent for skin that needs extra moisture making it perfect for a lip balm that is meant to keep lips smooth and supple!
Packed full of antioxidants, camellia seed oil protects and repairs skin from environmental damage. It is anti-aging and promotes healthy blood flow, and increases moisture within cells to improve their function!
Sea buckthorn oil is an anti-aging oil; it helps repair and moisturize skin. It is a wonderful ingredient in your lip balm because it will help repair damaged skin while soothing chapped lips!
Vitamin E oil is an antioxidant that will help protect and heal your lips from damage. It can help increase the shelf life of your lip balm and help you achieve healthier lips.
Essential Oil
Essential oils can be mixed and matched depending on your preferences! You can choose your favorite scents and properties to customize your lip balm. If you suffer from chapped or irritated lips, try naturally soothing oils, such as lavender or peppermint!
This soft butter is nourishing and moisturizing. Mango butter is packed with Vitamin C, which will help plump your lips. It is anti-inflammatory as well, which will help reduce irritation from cracking, chapping, and peeling.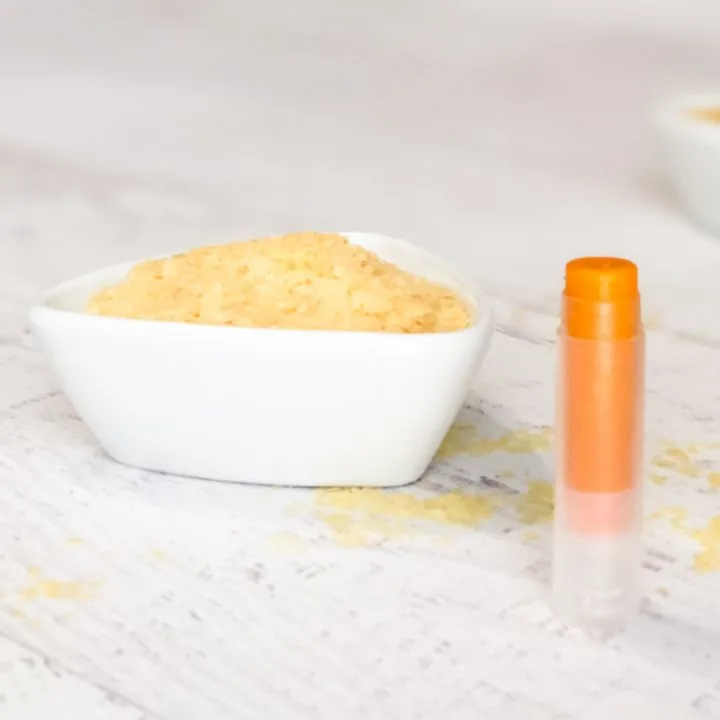 Vegan Lip Balm Recipe
Make your own lip balm without beeswax!
Instructions
Gently melt waxes, butter, and carrier oils in a double boiler
Note: Do not add vitamin e or essential oil until cool down phase
Remove from water bath and let cool until around 40 degrees C
Add in vitamin e oil and essential oils and stir well
Note: You may need to place your mixture back in double boiler as it may start to solidify
Pour mixture into lip balm tubes or tins quickly!
Recommended Products
As an Amazon Associate and member of other affiliate programs, I earn from qualifying purchases.
Vegan Lip Balm FAQ's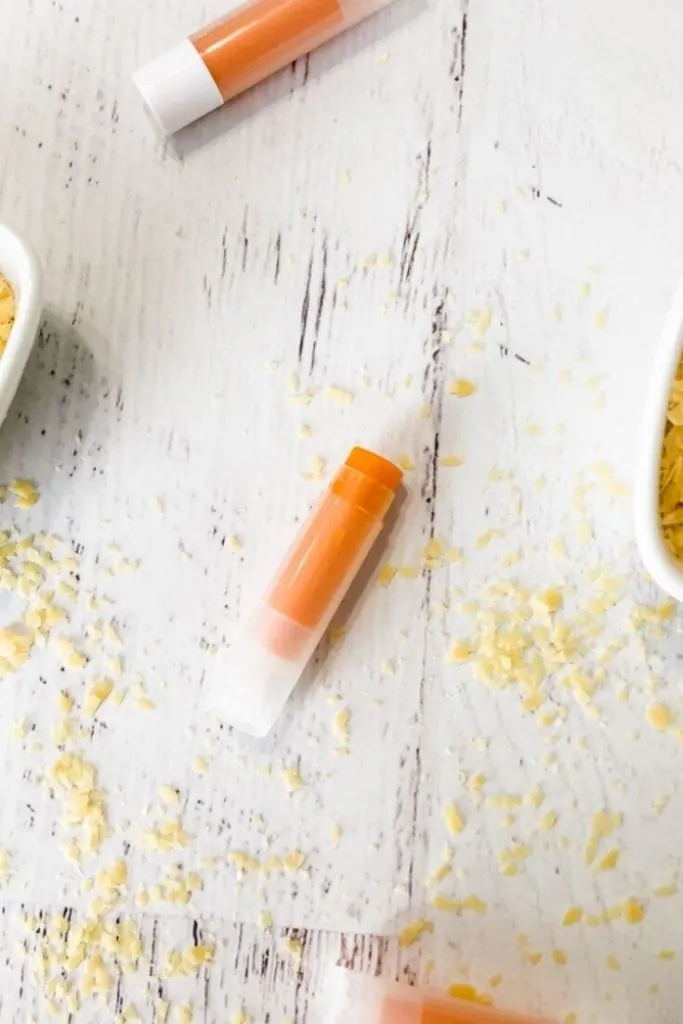 You know how to make your own vegan lip balm, but you aren't quite sure if it's the right recipe for you. Here are some helpful answers to questions you may have!
What is the best vegan lip balm?
I believe that the best vegan lip balm is one you make yourself! This ensures that all the ingredients are vegan-friendly, and you will know exactly what you are putting onto your skin. A good lip balm will have a thick texture that is easily spread as well as ingredients that are hydrating and protecting.
What essential oil is best for lip balm?
Essential oils used in lip balm tend to be soothing and cooling to help combat the discomfort of dry or chapped lips. Many lip balms use peppermint, vanilla, or lavender oils to help soothe irritated lips. You can get creative with the oils you use and mix and match to see what works best for you!
Is lip balm suitable for vegans?
Lip balm is suitable for vegans if it contains no animal byproducts. If you are looking for a vegan lip balm, be sure to read ingredient labels carefully!
Are all chapsticks vegan?
Not all chapsticks are vegan. Many of them contain animal fat to help give them their texture and to help create a barrier on lips. Others will use products such as beeswax which is an animal byproduct. Any of these chapsticks are not vegan-friendly! Be sure to read ingredient labels carefully when looking for a store-bought vegan lip balm.
Is candelilla wax better than beeswax?
Candelilla wax and beeswax are very similar in composition and share many of the same skin-loving qualities. They are both all-natural; one of the key differences between the two is that candelilla wax is a plant-based wax making it a vegan ingredient.
Is candelilla wax good for skin?
Candelilla wax is an excellent wax to use in skincare recipes. It is full of Vitamin A which helps regenerate skin cells and it protects skin from further environmental damage. It is a natural thickener that also helps keep skin hydrated!
If you need a moisturizing lip balm then this is the perfect recipe for you! With all-natural ingredients and no animal by-products, this recipe is safe, effective, and environmentally friendly. Get smooth and plump lips year-round with this vegan lip balm that you can make right at home.
You May Also Enjoy These Lip Care Recipes:
Pin this Post for Later: