Sometimes you just need a no-frills, go-to lip balm recipe that just gets the job done. Today I am sharing a creamy DIY lip balm with shea butter that glides on seamlessly leaving your lips completely nourished with a hint of shine.
Before we get to the recipe, we are going to dig a little more into the lovely ingredients I've chosen for this shea butter lip balm as well as the tools you'll need to make your homemade lip balm.
But first things first…
What is Lip Balm?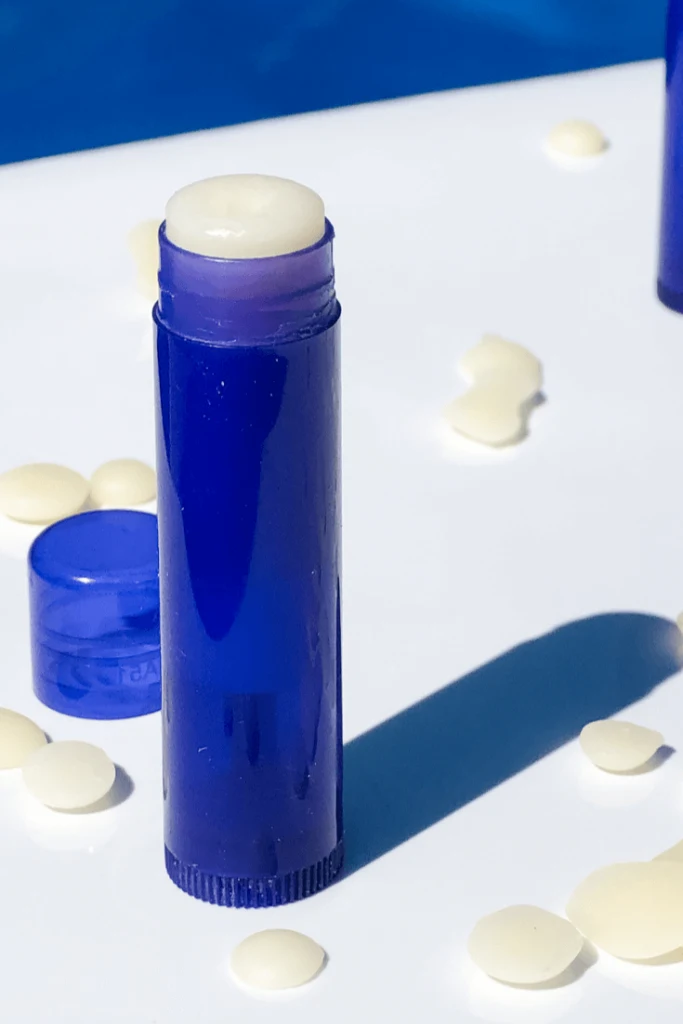 Lip balms are a waxy substance that are often packaged in roll-up tubes; they are made to help hydrate and protect your lips from further chapping and cracking!
There are some lip balms that can even help with irritation and inflammation the accompany certain skin conditions.
Shea Butter Lip Balm Ingredients:
Each of these ingredients was chosen because of their extremely soothing and protecting properties. We're going to cover the benefits of each ingredient for your lips!
Shea Butter for Lips
If you've been wondering, "can shea butter be used in lip balm", the answer is YES, YES, YES! Shea Butter is an amazing emollient that will not only help moisturize your lips, but it will also help lock in moisture for lips that stay hydrated all day! It can also help heal crack or chapped lips while protecting them from harsh weather and further damage.
Beeswax for Lip Balm
Making homemade lip balm with beeswax is pretty popular, but why? Well, beeswax is a pretty easy ingredient to get and it is perfect for recipes that need a solid structure. It also contains natural emulsifiers that help boost hydration and protect skin. Beeswax can also be used to help protect your lips from UV damage while giving your lips a firm, plump appearance.
Apricot Kernel Oil for Lips
Apricot kernel oil is a light, easily absorbed oil that will deliver some much-needed moisture to dry or chapped lips. This oil is great for softening lips and helps create a lip balm that glides across skin without feeling thick or clumpy!
Babassu Oil
Babassu oil has very similar properties as coconut oil but it isn't as heavy and won't leave your lips feeling greasy. This oil will nourish while it moisturizes, giving your lips a full and healthy look. It also contains Vitamin E which makes it an all-natural anti-aging ingredient. This oil also has soothing, anti-inflammatory properties which makes it ideal for healing dry, cracked lips!
Caster Oil for Lips
Castor oil is a common ingredient used in skincare. This versatile oil is a humectant that helps retain moisture and prevents water loss. It can help soothe irritation and prevent further damage to your lips by forming a protective barrier over them
Vitamin E Oil for Lips
Vitamin E oil is an antioxidant that is naturally anti-aging. This oil helps relieve dry, chapped, cracked, and peeling lips. It helps promote cell turnover and regeneration which means your lips will heal more quickly and appear more full! It will also help prevent further irritation.
DIY Lip Balm Supplies
You don't need a ton of crazy stuff to make your own lip balm! Here's what you'll need:
Lip Balm Containers to store your brand new, DIY lip balm! Choosing the right containers is important, you want to take into account the consistency of your balm and how you want to apply it. Balms that are harder and more firm in consistency do well in

jars

,

tins

and containers with tight fitting lids. Balms that are softer in consistency often do better in roll-up

tubes

.

You'll need a double boiler in order to melt down your beeswax, shea butter, castor oil, and babassu oil so that you don't burn your ingredients!

Stirring rods

are the perfect tools to use when combining skincare ingredients. They are resistant to high temperatures and don't react with ingredients. They are also easy to clean once you are done making your products!

Before you ask, yes, you do need a

scale

! When you are making your own skincare products, precision is everything! Making sure you have the right amounts of each ingredient so that your formulations turn out right, every time!
How to Make Shea Butter Lip Balm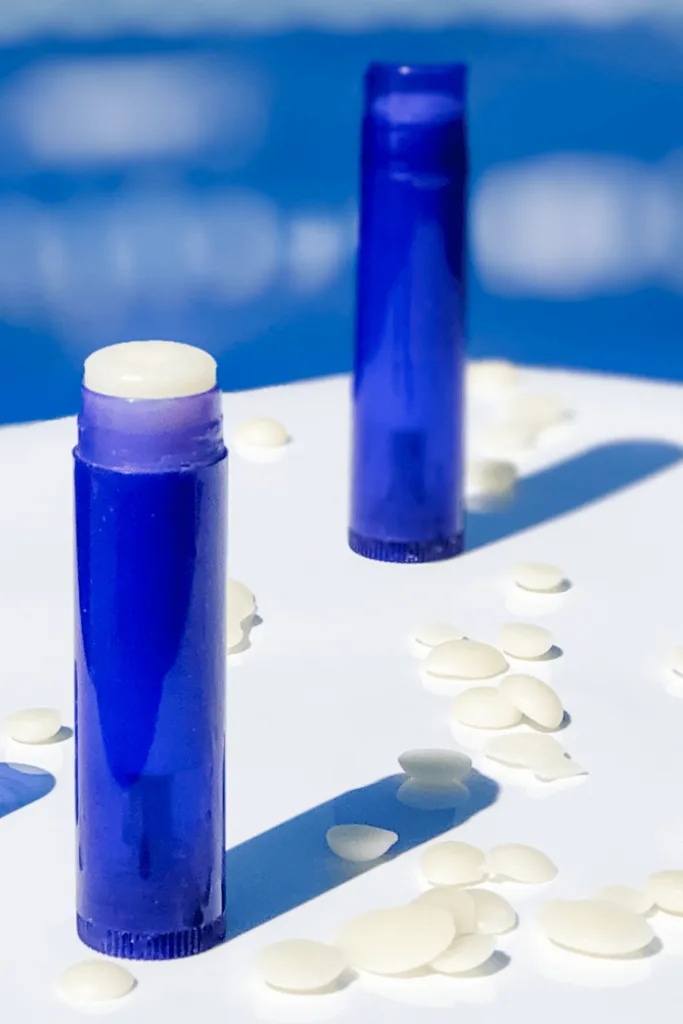 To make your lip balm, you'll need to start by gathering all of your supplies.
Once you have everything together you will melt down your beeswax, shea butter, castor oil, and babassu oil.

Once these ingredients have cooled slightly you can add the rest of your oils and mix them together.

You'll then pour your mixture into the container of your choice and let it cool until it sets!

Keep reading for the full recipe and instructions!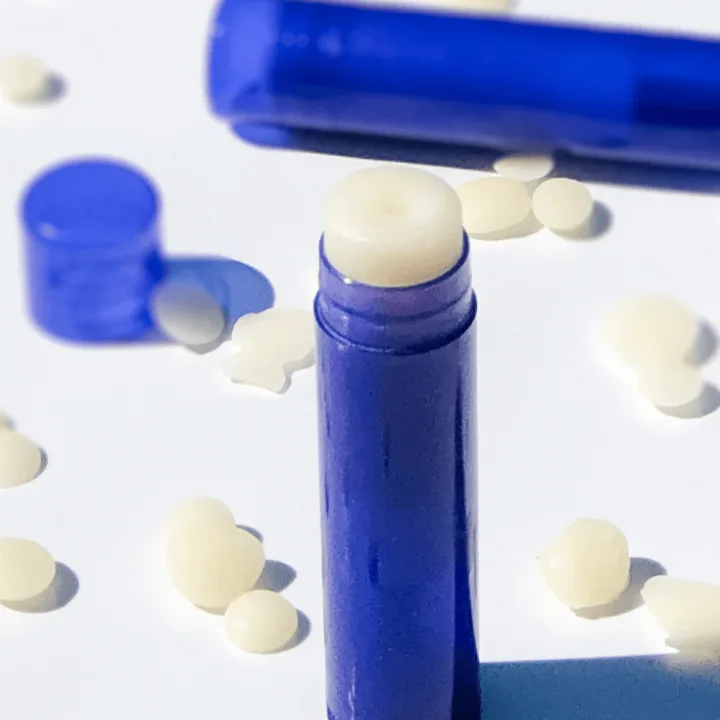 Shea Butter Lip Balm Recipe
Yield:
10 grams (3 tubes)
Additional Time:
20 minutes
Super cream and soothing Shea Butter Lip Balm!
Materials
Instructions
Gently melt beeswax, shea butter, castor oil and babassu oil in a double boiler
Remove from water bath and let cool slightly
Add in apricot kernel oil, vitamin e oil and stir well
Note: You may need to place your mixture back in double boiler as it may start to solidify
Pour mixture into lip balm tubes or tins quickly!
Recommended Products
As an Amazon Associate and member of other affiliate programs, I earn from qualifying purchases.
Lip Balm FAQs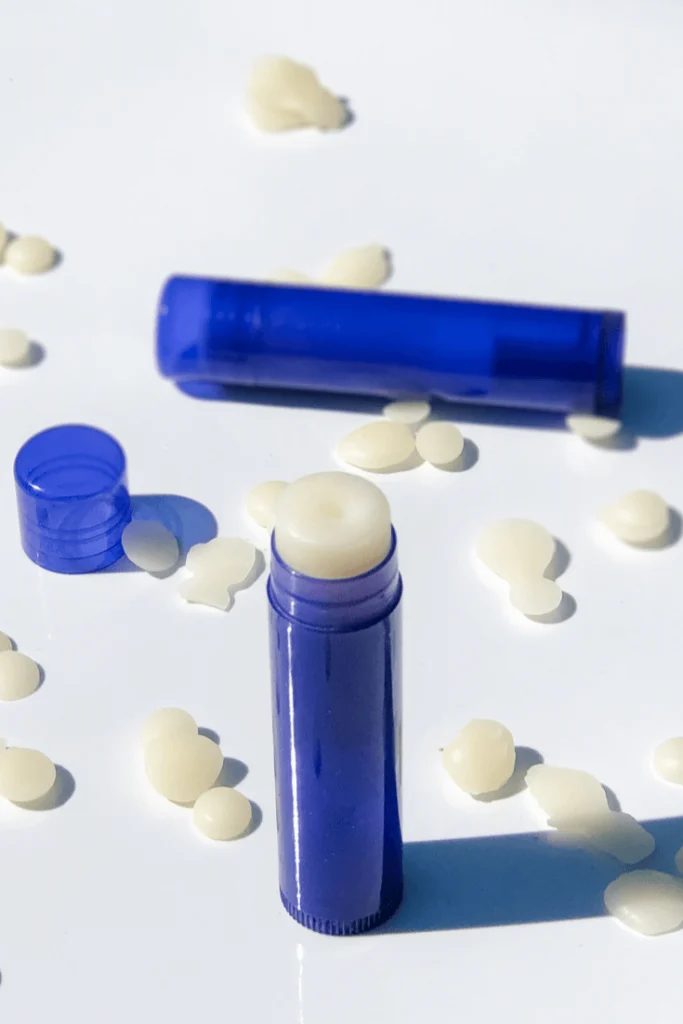 Have some questions about this lip balm? Here are some pretty common questions that I see!
Is Shea Butter Good for Your Lips?
The short answer is yes! This butter is an all-around great skincare butter if you are looking to add more hydration to your skincare routine. Shea butter is especially good for lips because of its hydrating and protecting properties. It can also help heal damaged lips and keep them from further damage.
Can Shea Butter Heal Cracked Lips?
Shea Butter can help heal dry and cracked lips. It is moisturizing and absorbs easily. It is rich in Vitamin E which helps heal and soothe dry, irritated skin. This makes Shea Butter a great ingredient to use if your lips are prone to dryness, chapping and cracking.
Does Shea Butter Soften Lips?
Shea Butter's incredible ability to moisturize helps plump and smooth lips. It is a great emollient so it also keeps moisture on your lips which keeps them soft and supple all day long!
How do you Make a Lip Balm with Coconut Oil?
So you'd like to use coconut oil in your DIY lip balm recipe? You can! Instead of using babassu oil you'll use coconut oil in a 1:1 ratio. It is good to note that coconut oil is heavier and doesn't absorb as quickly as babassu oil.
Is Vaseline Good for Lips?
Many people swear by Vaseline and use it on their lips religiously however we don't recommend it at all! The petroleum jelly forms a solid barrier over lips, which does help seal in moisture, but it also doesn't let moisture and air in. This can cause excess dryness and make existing conditions worse.
What Ingredients are Bad for Lips?
There are many ingredients that are bad for lips and you can find these ingredients in many store-bought lip balms. These ingredients include:
Menthol
Alcohol
Camphor
Phenols
The good news is, you won't find any of these ingredients in our DIY lip balm recipe!
Is Beeswax Bad for Lips?
Using beeswax in your lip care routine isn't a bad thing, it is highly moisturizing, protecting and promotes healing! It provides a protective barrier that is better for lips than ingredients such as petroleum jelly.
More Fun Lip Recipes to Try:
If you loved this recipe and want to try it out, pin it for later!