Pomegranates are not only delicious, but they're also packed with antioxidants, which makes them great for your skin. This DIY pomegranate face moisturizer recipe is perfect for those with dry skin, aging skin.
It's loaded with barrier-repairing ingredients like pomegranate seed oil, rosehip seed oil and pomegranate sterols which help to restore the skin's natural barrier function.
This face cream is also anti-aging, thanks to the addition of rosehip seed oil and our star ingredient Party Face POM.
I have been blown away by how nourished and moisturized my skin feels after only using this face cream for just a few days.
Keep reading to learn all about the ingredients in this anti-aging face moisturizer and learn how you can make it too!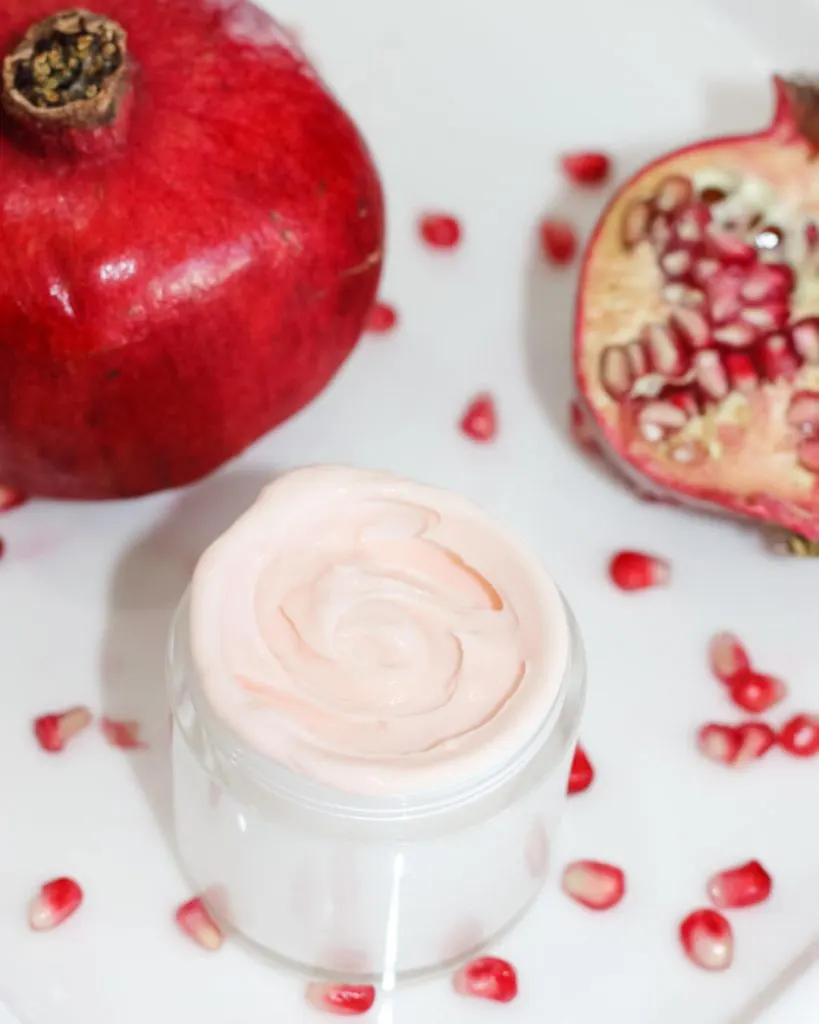 DIY Pomegranate Face Moisturizer Ingredients
Let's dive into the ingredients that make this diy natural face moisturizer so amazing!
Meadowfoam Seed Oil is an incredible skin moisturizer, as well as being balancing and protecting. This oil, with its low comedogenic rating, is perfect for those looking for an oil safe for acne-prone skin that will easily absorb and won't clog pores.
Meadowfoam Seed Oil is light and very easily absorbed, it's easy to spread evenly on skin and won't leave an oily residue.
It is also great for dry skin conditions, reducing inflammation, smoothing fine lines, and protecting your skin from sun damage due to its deep moisturizing properties.
It can also serve as a conditioner for your hair, adding moisture and healthy shine to your hair.
Meadowfoam seed oil is a very stable oil making it great to blend with other, less stable oils to extend the shelf life and stablilize formulations.
Rosehip oil is one of my all time favorite anti-aging oils and an excellent natural option for an anti-aging diy face moisturizer.
It's full of antioxidants, which help to protect the skin from damage caused by free radicals.
Rosehip seed oil is also rich in essential fatty acids, which help to keep the skin hydrated and promote cell regeneration.
This oil moisturizes and combats signs of aging, and can even skin tone. Rosehip Oil contains high Vitamin C levels and can help heal skin along with brightening and tightening; helping you look younger and more refreshed.
It also contains vitamins E and A and essential fatty acids. It's considered a dry oil since it absorbs so quickly. It helps soothe inflamed skin, reduce the appearance of scars and wrinkles, and skin discoloration.
Abyssinian oil, a light, non-greasy seed oil, has amazing moisturizing capabilities and is recommended for use by all skin types.
Because it dissolves excess sebum, it is excellent for treating acne and blemishes. It helps even skin tone and decrease hyper-pigmentation and may also protect your skin from sun damage.
Pomegranate seed oil is a powerful antioxidant that can help to repair the skin's natural barrier. This DIY pomegranate face moisturizer recipe is a simple and effective way to reap the benefits of this amazing oil.
Pomegranate seed oil is rich in punicic acid, an omega-5 fatty acid that has been shown to help heal wounds and improve skin elasticity.
It also contains ellagic acid, which has anti-inflammatory and anti-bacterial properties.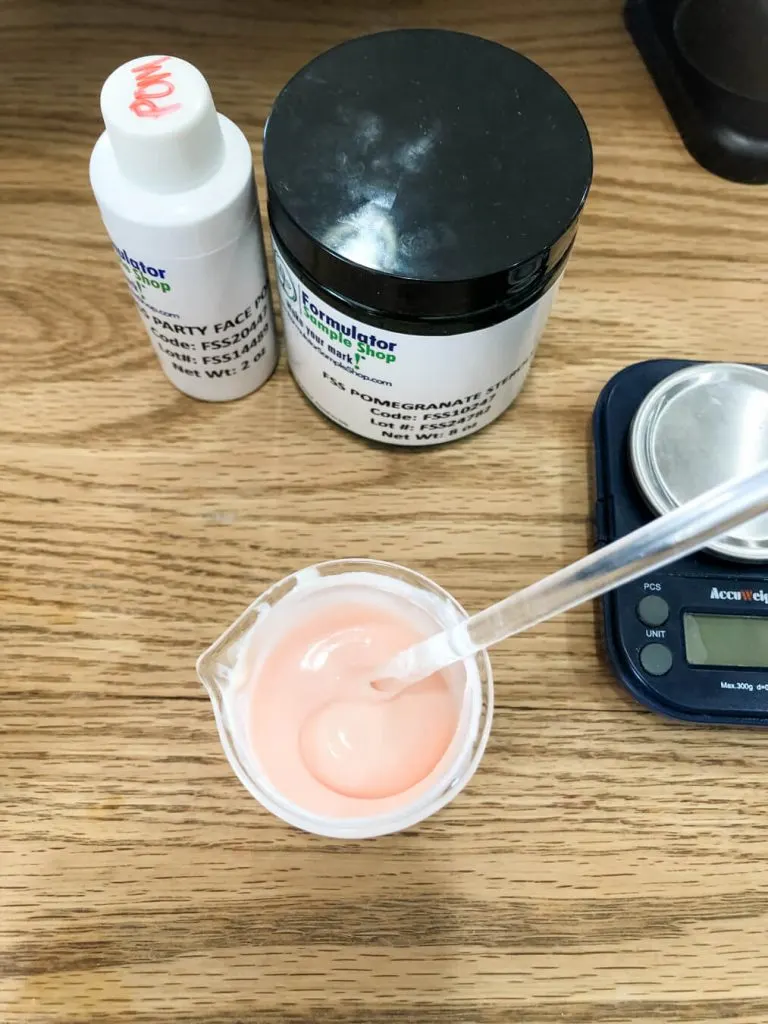 Party Face POM is the highlight of this formula. It is a powerful combination of pomegranate and orange blossom extracts. It has an almost immediate tightening effect on the skin while helping to maintain the barrier function of the skin.
Orange Blossom, a fragrant flower, contains unique peptides for promoting skin barrier integrity.
These short-chained peptides are responsible for causing new collagen to form, as the skin senses that collagen has disappeared.
These signaling proteins help maintain the integrity of the skin matrix.
Pomegranate has unusual moisture-binding abilities, which helps it trap moisture. When it is isolated, the high-calorie carbohydrates contained in pomegranate create a film on the surface of your skin.
This film layer acts as a barrier-enhancing layer where moisture-retaining granules can trap moisture at the surface level, giving your skin a moisture-retaining lift.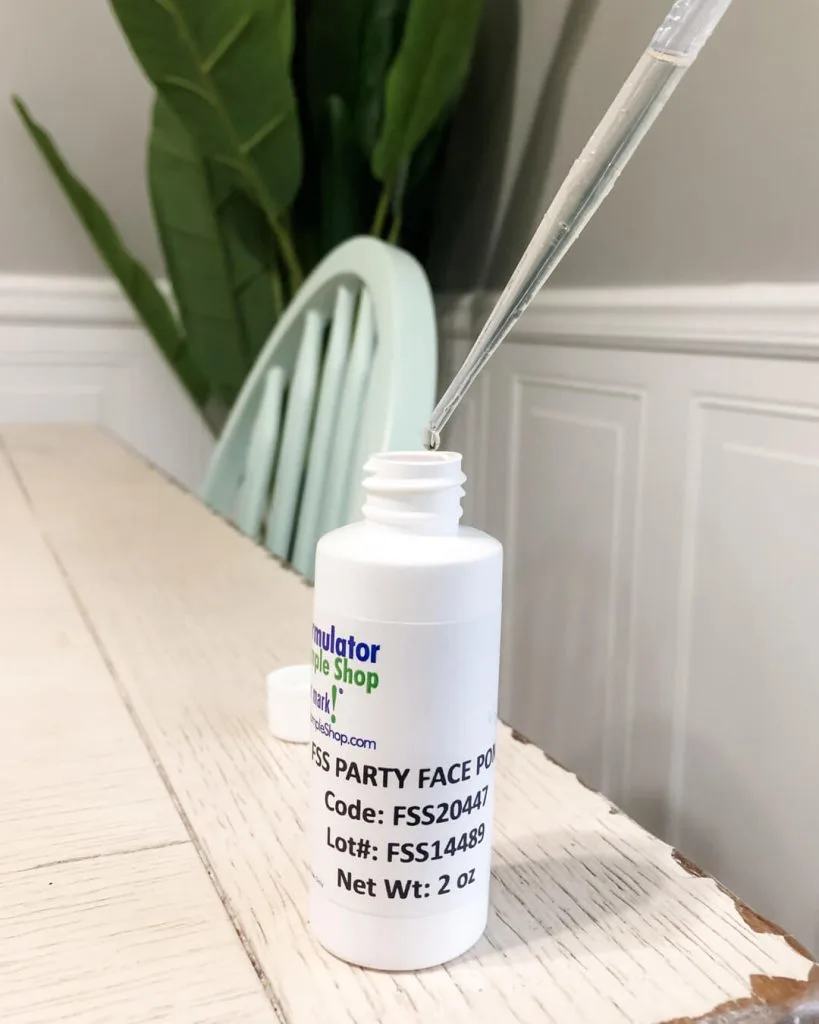 Party Face POM is a water soluble ingredient and is recommended to add in the cooling phase of the formulation.
Pomegranate sterols help give this face cream epic moisturization properties.
Pomegranate sterols are formed through cold pressing the seeds of pomegranates for oil. The oil is then fractionated, and the sterols are extracted.
They are quite sticky and resemble Vaseline in texture: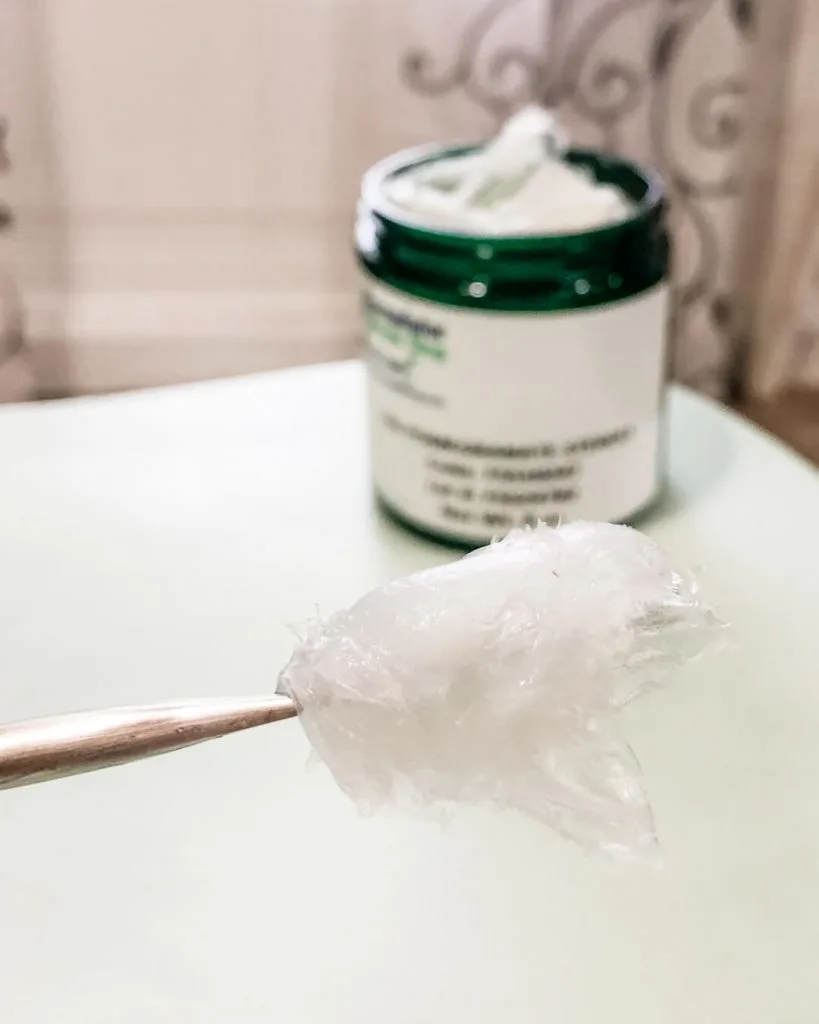 Pomegranate sterols are a great natural replacement for:
Petrolatum
Lanolin
Animal-derived materials
According to Formulator Sample Shop:
FSS Pomegranate Sterols is capable of holding more than double its weight in water. There is potential here for FSS Pomegranate Sterols to act as a delivery system holding water on the surface of the skin or hair.
Clearly this ingredient has immense moisturization properties that are clearly felt when you apply this homemade cream.
Pomegranate Sterols are oil soluble so they must be added to the oil phase of you formulation and heated to disperse.
PolyAquol -2W is an all-natural emulsifying wax that utilizes liquid crystal technology to create oil-in-water emulsions. The emulsions that it develops are soft, creamy, rich, and unlikely to soap up.
It is extremely stable, and can withstand high temperatures without breaking down.
PolyAquol-2W has also been shown to help maintain the integrity of the skin's barrier! Just one of many reasons I LOVE this emulsifier.
The recommended usage rate for this particular emulsifier is 1-5% and it does require a short high shear mixing or homogenization.
Some formulators recommend bringing your water and oil phase to at least 82C for the best, most stable results.
Leucidal SF Max has quickly become one of my favorite natural preservatives. It is gentle on the skin making it perfect for those, like myself, with sensitive skin.
Leucidal SF Max keeps your skincare products safe from harmful bacteria. It can also be mixed with other preservatives such as AMTicide Coconut to provide broad-spectrum protection for your lovely creations.
Lavender essential oil is one of the most popular and versatile oils used in aromatherapy. Its fresh, floral aroma can help to promote relaxation and wellbeing. Lavender oil is also known to be soothing to the skin.
I have fallen in love with the lovely scent of Lavender + Neroli in skincare formulas and am using it yet again for this homemade moisturizer.
If you're looking for an anti-aging ingredient that does it all, look no further than neroli essential oil. This oil is derived from the blossom of the bitter orange tree, and it has been used for centuries in skincare formulations.
Neroli oil is a powerful antioxidant, meaning it helps to protect the skin from free radical damage. It also has anti-inflammatory properties, which can help to soothe and calm irritated skin.
And finally, neroli essential oil is a great source of vitamin C, which is essential for collagen production.
Now that you know all about the amazing ingredients in this formula, let's get to it!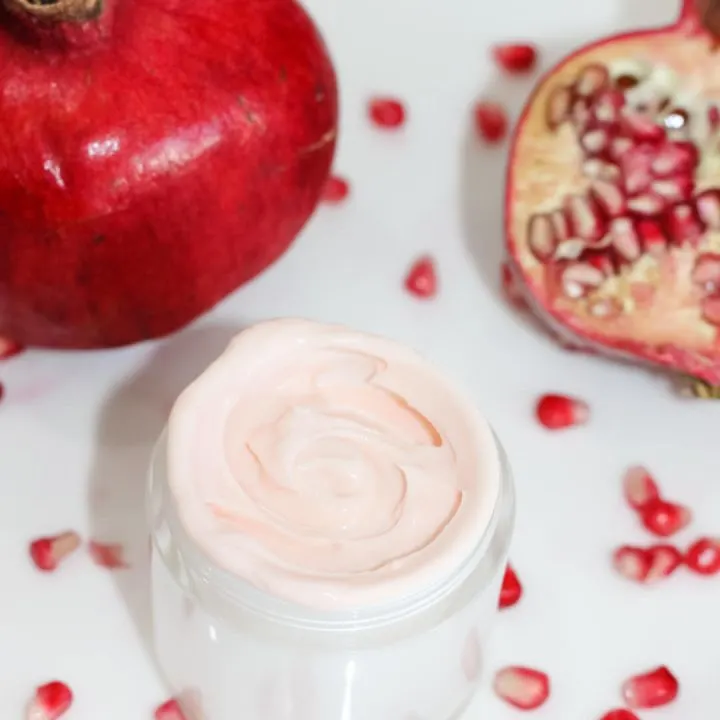 Pomegranate Face Moisturizer Recipe
This DIY pomegranate face moisturizer formula is a simple, natural way to help repair your skin barrier and improve the look and feel of your skin. This recipe is packed with antioxidants and other anti-aging ingredients that can help keep your skin looking young and healthy.
Instructions
Add distilled water to a heat safe beaker
Add meadowfoam oil, abyssinian oil, Polyaquol-2W and pomegranate sterols to another heat safe beaker
Place both beakers into a water bath and heat to 82C
Slowly add your oil phase into your water phase while stirring
Homogenize or blend under high shear mixture for just a few minutes
Continue to cool down while stirring gently
When temperature is below 40C add in rosehip oil, pomegranate seed oil, Party Face POM & preservative
Stir gently to combine
Check the pH and adjust to around 5.5 if necessary
Add to container
Recommended Products
As an Amazon Associate and member of other affiliate programs, I earn from qualifying purchases.
In Conclusion
This DIY pomegranate face moisturizer formula is a simple, natural way to help repair your skin barrier and improve the look and feel of your skin. This recipe is packed with antioxidants and other nutrients that can help keep your skin looking young and healthy.
Be sure to save & pin this post for later!