Looking for a body lotion that supports your zero waste lifestyle? Suffer from dry, cracked skin? Then you'll need to check out this DIY, deep moisturizing lotion bar recipe for yourself!
I have specifically chosen ingredients for this lotion bar to help repair the barrier function of the skin while deeply moisturizing!
Lotion bars are an excellent way to get soft, supple skin without plastic bottles!
They homemade lotion bars are easy to make, and you can customize your fragrance oils to whatever scent you desire.
Our lotion bar recipe includes ingredients that love your skin as much as you do.
What is a lotion bar?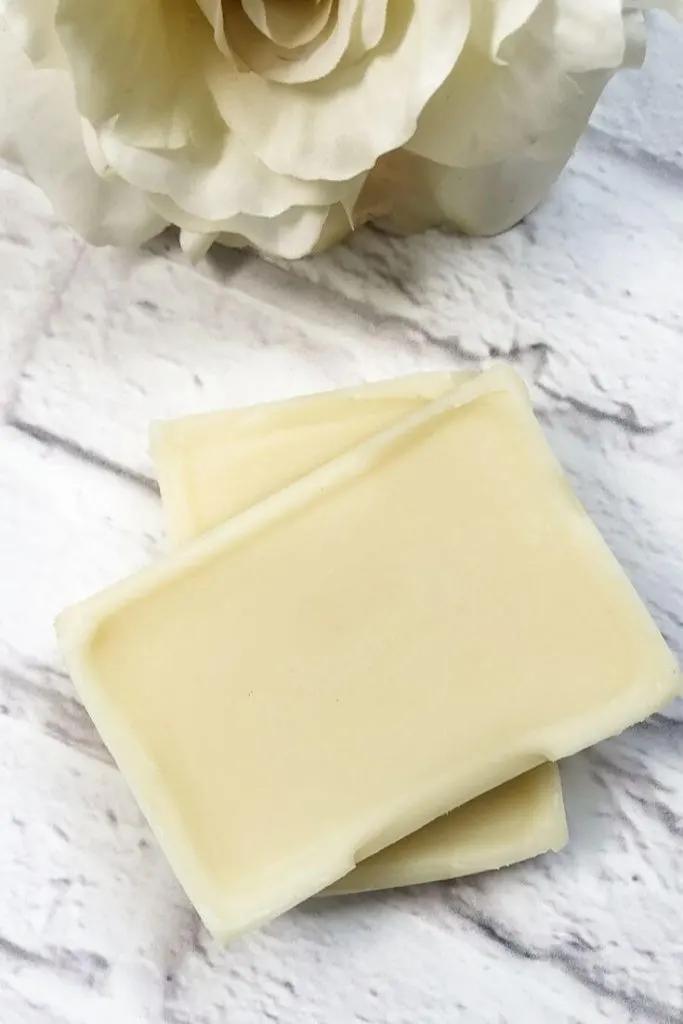 A lotion bar is exactly what it sounds like! It is a solid bar of lotion that softens with the warmth from your body and friction; they look similar to bar soap!
Lotion bars are a great way to make your own lotion, get soft and moisturized skin, and cut down on your plastic waste!
Are lotion bars good for your skin?
If you suffer from dry skin or just want a great moisturizer for daily use, then it might be time to check out homemade lotion bars!
Lotion bars are a concentrated lotion that can help nourish, soften, and deeply moisturize skin.
The best part, if you make your own DIY lotion bars, then you can use natural ingredients that are good for your skin!
Are lotion bars sanitary?
Lotion bars are made to be reused, but how do you keep them clean? Our lotion bar recipe includes Geogard ECT, a natural preservative.
You can also choose to make smaller, one use lotion bars, if you are concerned about contamination.
You can also ensure that your lotion bar is clean and ready for its next use by applying lotion to clean skin and storing your bar somewhere clean and dry like a soap dish or small container!
How do you use a lotion bar?
Lotion bars are easy to use! Simply rub your lotion bar between your hands to allow it to melt a small amount, and then apply the lotion to the desired areas of your body.
I find, with this lotion bar recipe, it glides on effortlessly without having to warm it up too much.
Since this recipe is for an emulsified lotion bar, you can also apply it to slightly damp skin to give it an even smoother application.
What are the advantages of lotion bars compared to fluid lotions?
What can lotion shaped like a bar of soap have on normal lotion?
Lotion bars have a long list of benefits for your skin. It is a concentrated form of lotion that can deeply moisturize skin while protecting it.
And don't forget you can ditch the plastic bottle that traditional lotions come in to reduce your carbon footprint!
Regular store-bought lotions can also be full of harmful ingredients that do more harm to your skin than good.
By making your own lotion bars, you're not only taking your skin care to the next level, but you are also controlling what ingredients to introduce to your skin, leading to happier and healthier skin!
Lotion bar ingredients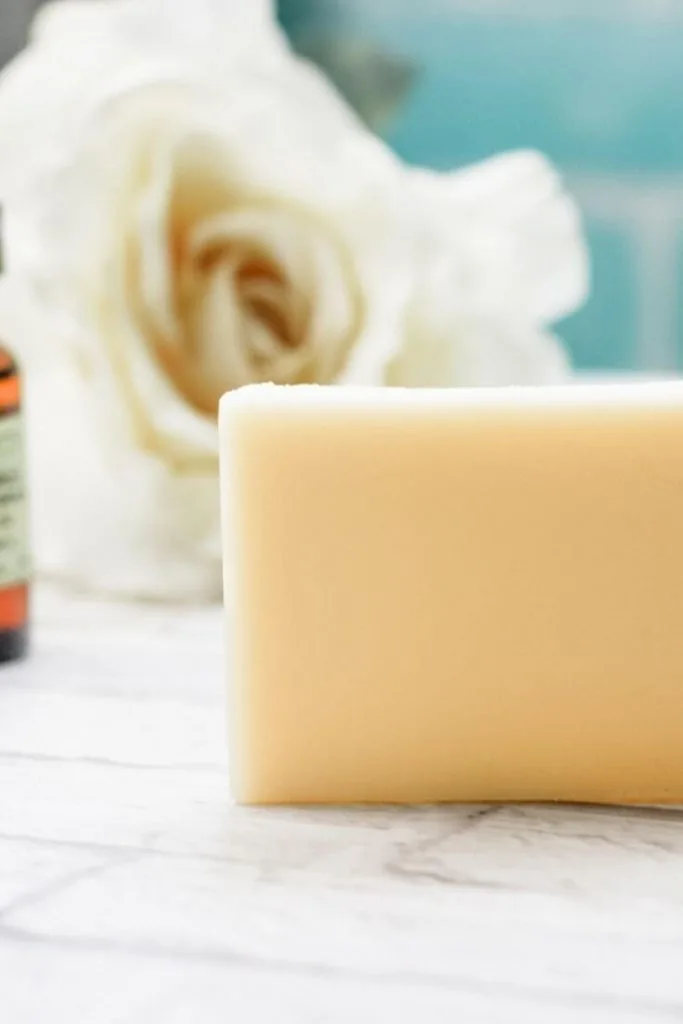 Our solid lotion bar recipe only contains natural ingredients that help hydrate and protect your skin!
Shea butter has many benefits and is a common ingredient in lotion because it is an emollient that works to help moisturize and soften skin. It is great for dry, patchy skin that needs some extra TLC! Shea butter penetrates deep into skin and help protect and heal it. It is non-greasy and absorbs into skin quickly.
If you are not a fan of shea butter, feel free to swap it out for Mango Butter. Mango butter has many skin benefits as well, but it has a milder scent. So if you're not a fan of the smell of shea butter, mango butter is a great alternative.
Cocoa butter is another moisturizer that helps take this lotion bar recipe to the next level! It also absorbs well into skin and helps soften and moisturize dry areas. It is gentle on skin and also helps hydrate and plump skin.
Cocoa butter can be swapped out for any harder butter like cupuacu butter as well.
This oil is another top-notch moisturizer that is packed with omega fatty acids, making it great for people with sensitive skin. Baobab oil has been a skincare favorite for decades because it helps support our natural moisture barrier while also being non-comedogenic.
Rich in vitamins and minerals, this oil is ideal for damaged or dry skin. If you suffer from skin issues that cause cracking, peeling, or flaking, then this oil will help calm and soothe your skin. Not only does it have omega-6 and omega 9 fatty acids, but also linoleic acid which can help improve moisture levels by reducing TEWL (Trans Epidermal Water Loss) repairing the skin's barrier!
Beeswax forms a protective layer over the skin helping protect it from UV damage, free radical damage, and environmental damage. It is also a humecant which means it helps draw moisture to the skin to keep it plump and hydrated all day long!
Cera bellina wax is a water loving derivative of beeswax. This ingredient can do some pretty incredible things for your formulations and has quickly become a new favorite for me!
It can transform regular carrier oils to a gel consistency making them act similarly to ointments so they can do even more for your skin!
It also helps keep your formulations from sweating and getting grainy!
If you've ever had a body butter or lotion bar get grainy, you know how frustrating that can be.
Adding in cera bellina improves stability and prevents crystallization, which in turn, leaves you with a lovely glide to your lotion bar.
Poly Aqual 2-W is a hot process emulsifier that can be added from 1-5% of your formulation. It can emulsify 5-22% of your oil phase and can be added to either the water or oils phase.
This lovely naturally derived emulsifier has also been shown to prevent damage to the skin's barrier function and even help repair damaged barrier function.
This extract of marigold flowers is anti-inflammatory, antifungal, and antibacterial. It helps soothe and cleanse skin while reducing redness and inflammation.
It is useful in healing wounds making it a great ingredient to help heal damaged skin.
This powder is used to reduce stickiness and help create a smooth finish to your lotion bar.
Vitamin E oil helps protect skin while combating fine lines and wrinkles. It has antioxidant properties that keeps your skin from getting damaged while moisturizing skin.
This is the oil that we are going to use to help give your lotion bar a nice scent. For this recipe I am using vanilla fragrance oil to give this lotion bar a warm, cozy scent. You can customize this oil or not include a fragrance oil if you prefer an unscented lotion bar.
Wholesale Supplies Plus has a wide variety of 100% natural fragrance oils to choose from.
I used vanilla fragrance to bring a warmth to this lotion bar recipe.
This natural preservative will increase the shelf life of your lotion bar and keep it free from bacteria and fungi! This preservative is a natural alternative to many preservatives that are packed with toxic chemicals.
How to Make an Emulsified Lotion Bar Recipe
Making emulsified lotion bars is as easy as you want it to be! For this recipe, you will need a double boiler to melt some of the ingredients to combine them.
It's not that different from making a body butter bar, just melting a few more ingredients!
You will also need to chill our new lotion bars in the fridge for about 12 hours!
Let's get to the recipe!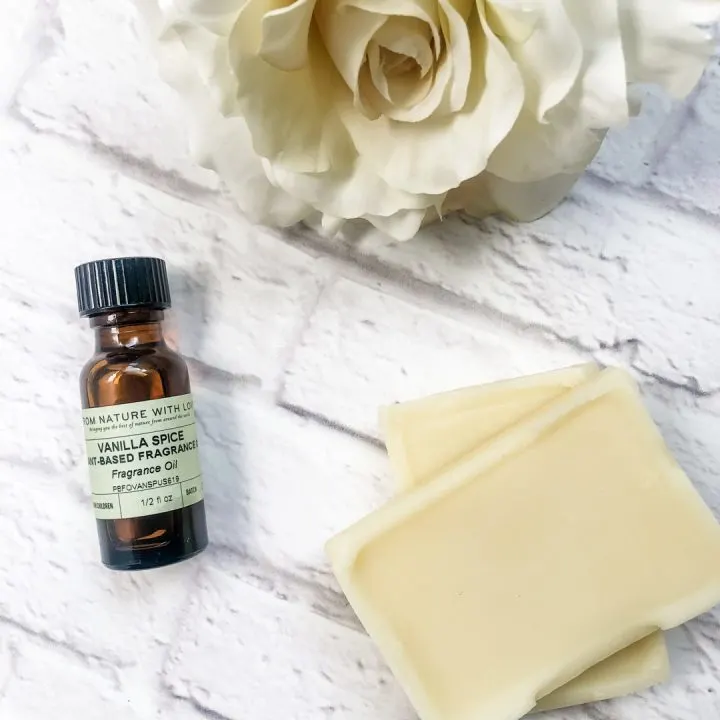 Bariier Repairing DIY Solid Lotion Bar
DIY lotion bars that deeply moisturize skin.
Instructions
Add shea butter, cocoa butter, baobab oil, beeswax, cera bellina wax, beeswax and poly aqual 2-w to double boiler
Melt ingredients in double boiler bringing temperature to 82C/179.7F for best results
Remove from heat and whisk in arrowroot powder until dissolved
Continue stirring while cooling
Once temperature is below 40C/104F, add in brazil nut oil, calendula extract, vitamin e oil, fragrance oil and geogard etc
Stir until completely incorporated
Pour into molds and place in the fridge for at least 12 hours
Notes
I prefer to store my lotion bars in the refrigerator. If you find the consistency to be too soft, you can reduce a liquid oil and add more beeswax. I love the consistency and glide of this bar right out of the refrigerator.
Recommended Products
As an Amazon Associate and member of other affiliate programs, I earn from qualifying purchases.
Solid Lotion Bar FAQs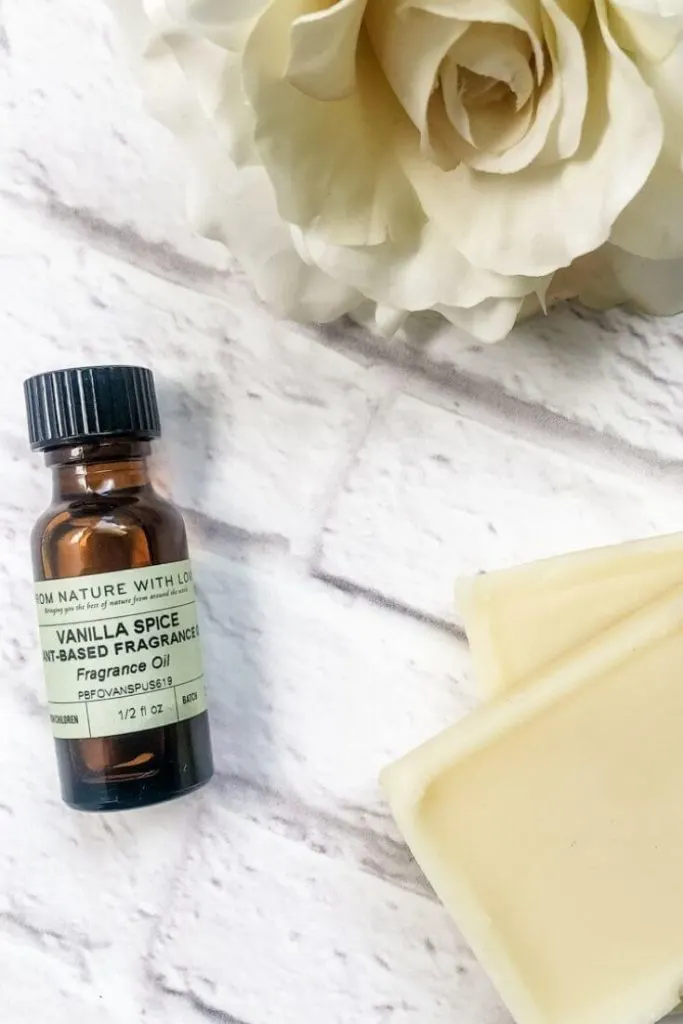 Have some questions about lotion bars? Here are a few that we can go ahead and answer for you!
Will lotion bars melt?
Lotion bars do melt when they are brought to body temperature and exposed to friction. A properly set solid lotion bar will not melt at room temperature but can melt at higher temperatures.
When storing your lotion bars, be sure to store them in a cool, dry place. I prefer to keep mine in the refrigerator until I am ready to use them.
Are lotion bars greasy?
Lotion bars should not be greasy. If you follow our recipe, you will have a lotion bar that is soft and spreads onto skin easily without leaving skin feeling greasy or heavy.
If you find your lotion bars being consistently greasy, you may need to reduce the oil in your recipe or you can add in more arrowroot powder.
Why are my lotion bars sticky?
Your lotion bars can be sticky for many reasons; the biggest is that there is too much butter or slow absorbing oils in the mix. Be sure to measure your ingredients well and allow your lotion bars to set for a full 12 hours prior to use!
Are lotion bars good for eczema?
Lotion bars are great for helping reduce irritation from skin conditions such as eczema and psoriasis. Our easy recipe with natural oil and butters is great for soothing irritated skin and moisturizing it while it heals.
Do lotion bars need preservatives?
While lotion bars do not need preservatives, we like to add natural preservatives to ours to extend their shelf life and keep them free from bacteria and fungi!
How long do homemade lotion bars last?
Lotion bars can last for a few weeks if used on a daily basis. If you are applying lotion to your entire body, then do not expect them to last as long. The good news is that if you are making your own lotion bars, you can always whip up some more when you are running low!
Can you use lotion bars in the shower?
Yes! You can use lotion bars after you are done showering and before you are completely dry; this allows the lotion to absorb into skin and hold in some of the moisture from your shower. Be sure that your lotion bar is allowed to dry if you use it after your shower.
Wrap Up
Say goodbye to dry hands, liquid lotion, and skin that can never seem to stay moisturized! Lotion bars use your body heat to slightly melt into a spreadable lotion that you can use to nourish and hydrate your skin.
This lotion bar recipe uses natural ingredients that will keep your skin hydrated no matter what!
If you liked this recipe, be sure to pin this post for later!