We've all wished for longer, stronger; healthier hair haven't we? There are so many reasons you may experience hair loss, but no matter where you are in your hair growth journey, supporting a healthy scalp will support healthy hair growth.
Using a hair growth oil that contains high–quality oils will help you get thicker, more luscious locks.

Most hair types tolerate oiling, and it is a great way to nourish your scalp without weighing down hair or causing buildup.
If you struggle to grow your hair with hair breakage, hair loss, or thinning hair, then this might be the recipe you need to get the hair you want!
What is a hair growth oil?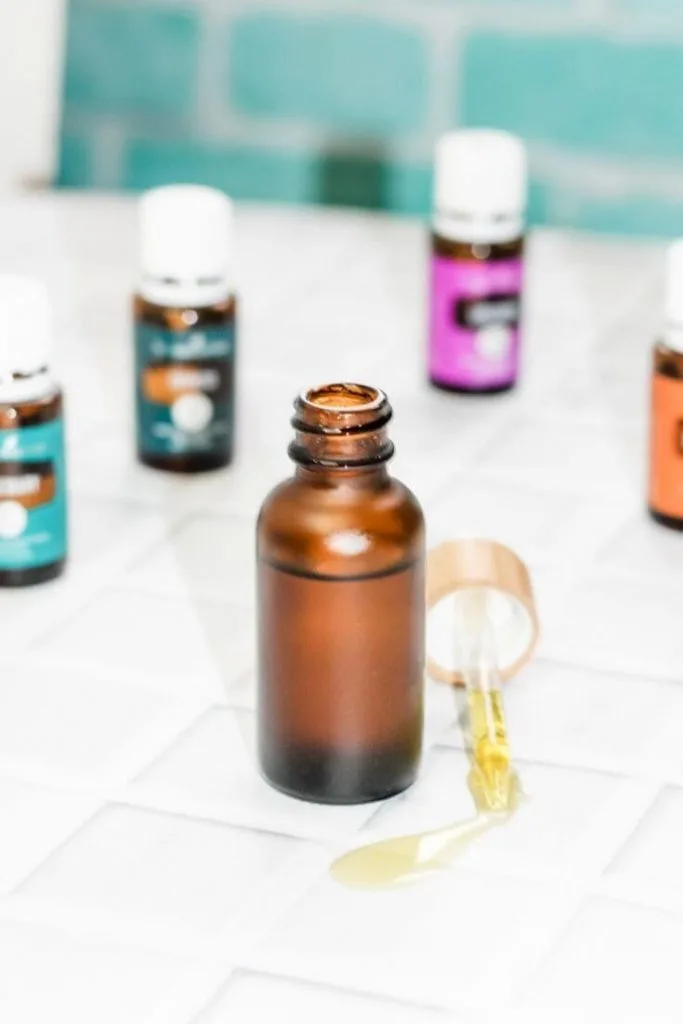 A hair growth oil is an oil that is massaged into the scalp to help stimulate hair growth. Hair growth oils come in all shapes and sizes.
Some people use single oils on their own, while others mix and match different oils to use on their hair.
Around here, we like to mix potent carrier oils that nourish your hair and scalp with essential oils that your hair will love!
Do hair growth oils actually work?
I think we're all pretty familiar with products that make big promises and don't deliver. Many of us have fallen prey to hair growth hacks that don't do anything.
Hair growth oils are no exception; there are a lot of hair growth oils and serums on store shelves that lack ingredients that support healthy hair and a healthy scalp.
Our hair growth oil is different because of the high-quality ingredients that work to help you achieve a healthy scalp resulting in healthy hair.
The oils in our recipe wash out of hair easily and do not cause build-up in hair.
How can I make my own hair growth oil?
Making your own hair oil is easy! With our simple recipe, just mix your ingredients, and you're ready to go! If you are creating your own hair growth oil, we recommend looking for oils that are not likely to clog pores, reduce inflammation, and help cleanse your scalp to produce healthier hair.
Which kind of oil is best for hair?
While some oils are better for your hair than others, you have to decide which ones are best for your hair! We love ingredients like argan oil, castor oil, and high-quality essential oils.
Argan oil and castor oil are well known for use in hair care recipes, and for good reason! Both of these oils help moisturize your scalp and tame even the most stubborn locks!
Do essential oils stimulate hair growth?
Essential oils are incredible for your skin, but did you know they're great for your hair too? There are plenty of essential oils that you can use to stimulate hair growth, and we combine a few of them in this recipe to help boost the hair growth benefits.
How to use hair growth oil
Regular use of hair growth oil can help reduce hair loss, help with an itchy scalp, and you can even say goodbye to brittle, dry hair! Using a hair growth oil is easy; all you have to do is apply a few drops directly to your scalp and massage it into your scalp for a few minutes.
Let the hair oil sit on your scalp for roughly 10 minutes, and then wash your hair like normal. You can use your hair growth oil up to a few times per week to get the best results.
Hair growth oil ingredients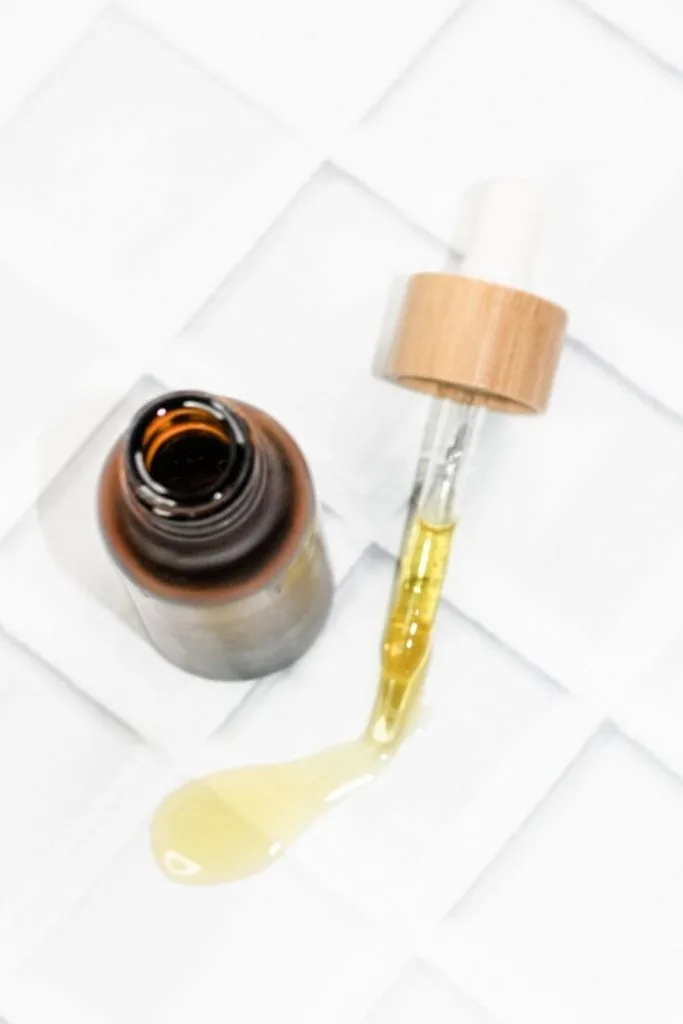 Our hair growth oil is chock full of natural ingredients that help moisturize your scalp and improve the health of your hair to support hair growth. One of my favorite things about this recipe is that you can mix and match your carrier oils to find the best recipe for your hair!
The essential oil blend in this recipe is also a very potent mix of ingredients that will help you grow your hair faster and thicker.
I am giving you two choices for this first ingredient. Argan oil is a carrier oil that is well known for its use in hair care products. This oil is full of phenols; these compounds help strengthen hair follicles and help improve cell turnover and production on the scalp.
It may also helps restore shine to hair while smoothing frizz. This oil is an excellent choice for those with curly hair.
Camellia seed oil is another wonderful hair oil that promotes cell regeneration and improves the health of your scalp. It is also known to boost collagen, which boosts your hair growth and increases elasticity.
Using either one of these oils in your recipe will help jumpstart cell turnover. This will heal damage to your scalp, so you have a healthy foundation to grow longer, stronger hair.
Castor oil is a very potent carrier oil that is often used in hair masks because of its ability to moisturize the hair and scalp. It supports a healthy skin barrier and helps seal moisture into the hair shaft keeping your hair shiny and smooth. It has antimicrobial properties which help reduce buildup on the scalp and can even help reduce dandruff.
Jamaican black castor seed oil is another oil you can use to deeply moisturize hair. It works on all hair types and supports thicker, stronger hair. It can reduce hair breakage, scalp irritation, and dandruff. If your hair and scalp need an extra boost of moisture, then this is the carrier oil you need in your hair growth oil.
Abyssinian oil is packed with linoleic acid, which may promote new hair growth while it moisturizes your scalp and hair. It has anti-fungal properties that can reduce dandruff and scalp irritation, such as itchiness.
Broccoli seed oil is a great option for a hair oil; it has antioxidant properties that protect your hair and scalp from free radical damage. Vitamin C helps prevent hair loss and protects hair to help you achieve thicker hair.
Both abyssinian and broccoli seed oil are often used in haircare for their silicone like properties.
This less-common oil has antibacterial, anti-fungal, and anti-inflammatory properties. It helps soothe and cleanse your scalp. It also helps reduce hair fall and itching.
Lavender essential oil is becoming more popular in the hair care industry as it stimulates hair to grow faster and thicker. It helps maintain scalp and hair health and has a relaxing scent!
This is another essential oil that will help stimulate hair regrowth. Rosemary oil has been shown to help thicken hair.
Cedarwood oil is the perfect oil for this DIY hair oil. This oil improves blood flow to your scalp and helps support a healthy hair follicle. It balances the oil-producing glands in your scalp as well to help you keep your scalp healthy. All of this helps support more hair growth.
This essential oil is a great oil that reduces hair loss and promotes new hair growth. If you use this oil on your scalp regularly, it can also help improve the health of your scalp and help tighten the pores on your scalp. This helps stop the cycle of hair loss so that you can grow thicker, fuller hair!
With natural antioxidants, vitamin E oil, is wonderful for overall scalp health and helps reduce hair loss. This oil can help reduce free radical damage and oxidative stress on the hair follicle. This means healthier hair and easier to maintain hair growth.
Now that we've dug into all of the lovely ingredients we'll be using, let's get to the recipe!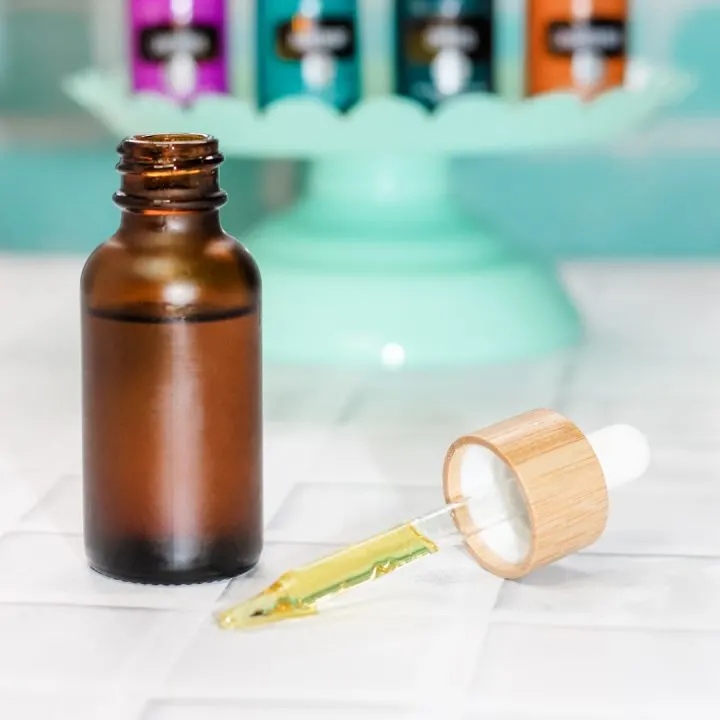 DIY Hair Growth Oil Recipe
Get beautiful, long, strong, hair with this DIY hair growth oil reipce!
Instructions
Mix carrier oils, essential oils & vitamin E oil
Pour into glass bottle

Recommended Products
As an Amazon Associate and member of other affiliate programs, I earn from qualifying purchases.
Hair Growth Oil FAQ's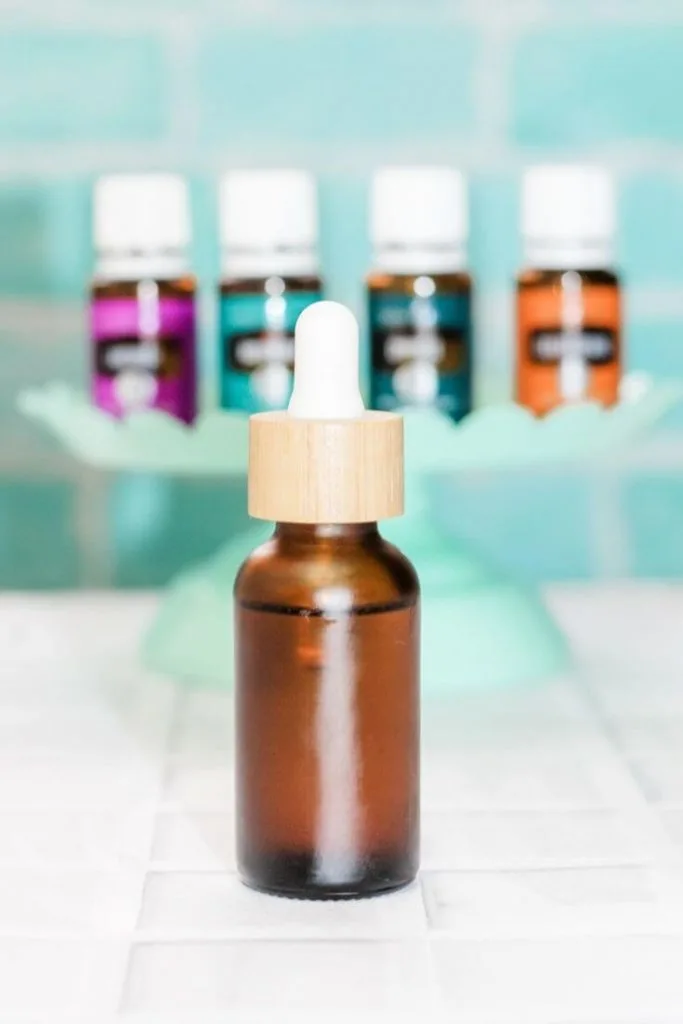 Have some questions about this homemade hair growth oil? Let me answer some of them for you!
How do you mix essential oils for hair growth?
Mixing essential oils for hair growth is easy! You can mix a variety of oils together; using the mix in our recipe will help you maximize your hair growth results. When mixing your oils, be sure that you accurately measure your ingredients and do not use too much essential oil.
Using too much of certain oils can cause more harm than good causing sensitization and allergic reactions. If you use too much of some ingredients, you can end up with a dry scalp, brittle hair, and other hair issues. Be sure that you look into all of your ingredients if you choose to create your own recipe.
It is also a good idea to perform a patch test on a less sensitive area of skin to see how your skin reacts when using new essential oils.
A good standard would be adding 1 drop of essential oil to 1 tsp of a carrier oil you know your skin can tolerate. The over the next 24-48 hours watch for any redness, itching or irritation.
Is vitamin E oil good for hair?
Vitamin E oil is a wonderful oil to use for hair growth. It can help protect your hair and scalp from environmental damage and will help you maintain healthier hair.
Which oil is best for fast hair growth?
Just like in skincare, there is no one-size-fits-all in hair care. There are oils that support healthier hair and scalp, but you have to find the ones that work best for you! We love castor oil, argan oil, broccoli seed oil, and abyssinian oil. There are other oils and recipes that support hair health that you can learn more about!
How do you use lavender oil for hair growth?
Lavender essential oil is a wonderful additive to your hair care routine to support hair growth. We like to use it with carrier oils and other essential oils to boost the benefits. In our recipe, you mix your lavender essential oil and other oils together and apply your mixture directly to your scalp.
What oils can you mix for hair growth?
You can mix and match a variety of oils together to support healthy hair growth. When choosing oils, be sure that they are not likely to cause a large amount of buildup, wash out of hair easily, and are not drying. We love the oils in our recipe that create a balanced formulation to nourish your scalp and hair.
How often should I oil my hair?
You can oil your hair 2-3 times a week to get all the benefits of your hair growth oil. If you struggle with oily hair, use this hair growth oil once every two weeks and increase use slowly so you don't increase buildup on your scalp.
Are oils good for curly hair?
Natural oils can be great for curly hair! Be sure that you are using moisturizing oils that are not heavy on your hair. When using this hair growth oil, make sure that you thoroughly wash all of the oil out of your hair so that your curls aren't heavy!
Does coconut oil make your hair grow faster?
Oils like coconut oil, jojoba oil, and avocado oil can be excellent oils to use on your hair. We like to use these oils in recipes like hair masks that deeply moisturize your hair and scalp.
These oils can be more difficult to wash out of hair; they are also heavier oils that may cause buildup on your scalp if used too often. This can lead to oily, flat hair.
These oils can certainly help you get more beautiful hair when used properly!
Just remember, coconut oil may cause breakouts in some people, so you may want to avoid this one if you are prone to breakouts.
In Conclusion
If you want stronger, longer hair, then try this hair growth oil for yourself. This DIY hair oil recipe is so easy to make and full of natural ingredients that will encourage hair growth and give your scalp the refresh it needs. With a recipe this easy, there's no reason not to give it a try!
Pin Hair Growth Oil for Later!
If you want to try this recipe for yourself, then pin this post for later!