Who doesn't love a recipe that is literally mix-and-go? Since simple recipes are my go-to, today I am bringing you one of the best face serums I have created to date!
Gotu kola is a new favorite ingredient of mine that has been used for centuries to help heal and rejuvenate skin.
I am bringing you another potent recipe, including this remarkable herbal ingredient! This is one of the simplest formulas and all you have to do is mix your ingredients, and you have a serum ready to tackle every sign of aging you can think of!
What is a face serum?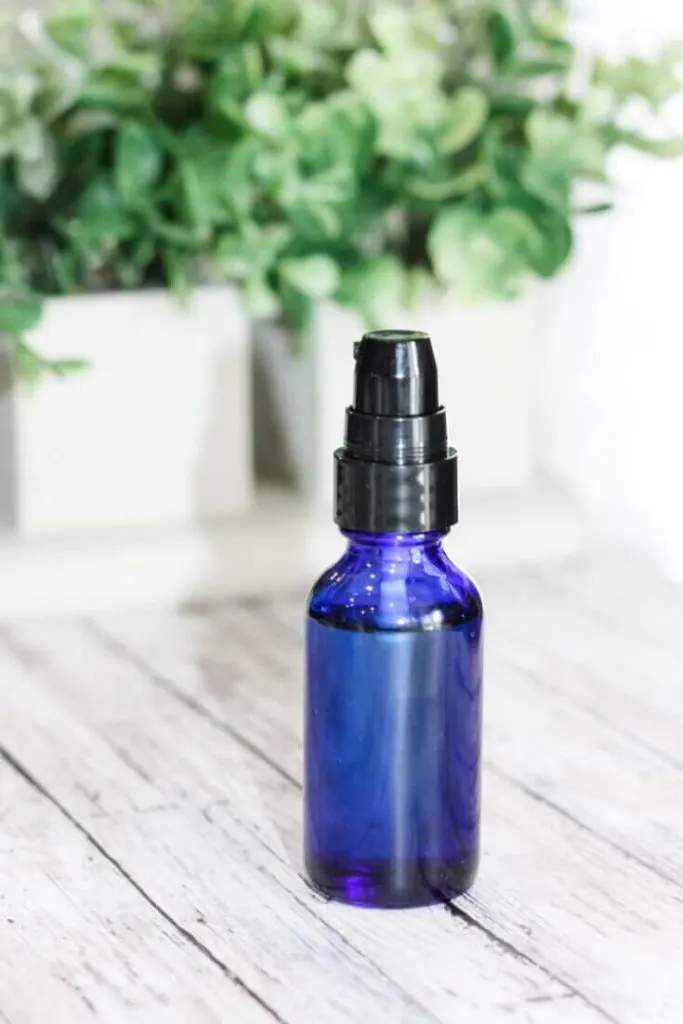 Face serums are lightweight products containing concentrated ingredients to target specific skin problems. The face serum we are making today may help reduce signs of aging, including fine lines, wrinkles, puffiness, redness, and sagging skin.
Serums are meant to penetrate deep into the skin's layers to help heal and reinvigorate your skin from the inside out!
What does a face serum do?
A face serum is made up of small molecules that penetrate into several layers of skin to target problems at the source. They are often concentrated and contain potent ingredients to help manage skin issues. Serums are a fantastic way to help reduce and prevent further signs of aging!
What's the difference between a serum and a moisturizer?
Navigating the world of skincare can be hard, and knowing what specific products do dramatically affects how we choose which products to use.
So what is the difference between a serum and a moisturizer?
They both hydrate and can help skin, but why should you use both?
A serum is made up of several ingredients that are often concentrated and are meant to target specific issues that you have with your skin. They are also made of smaller molecules that are intended to help penetrate deep into your skin to help nourish, rejuvenate, and heal your skin from the inside out. Serums can reduce signs of aging, hydrate, and repair skin.
Moisturizers are made of larger molecules that sit on the skin's surface to help moisturize and protect the skin from environmental damage, such as free radicals. Many moisturizers focus on boosting hydration and locking moisture in to help plump skin. They can also have anti-aging properties that focus on hydration to smooth skin.
As you can see, both of these products are wonderful for your skin, and many people find the best results when using both of them in their skincare routine!
Why should I use a face serum?
Face serums are a great way to target specific skin troubles and can be made for certain skin types. If you have aging, mature, or problem skin, then a serum is a great way to help you achieve your skincare goals.
Facial serums are easy to add to your skincare routine a few days a week. If you're here, chances are you are looking for a way to help reduce signs of aging, such as fine lines and wrinkles.
Are homemade serums effective?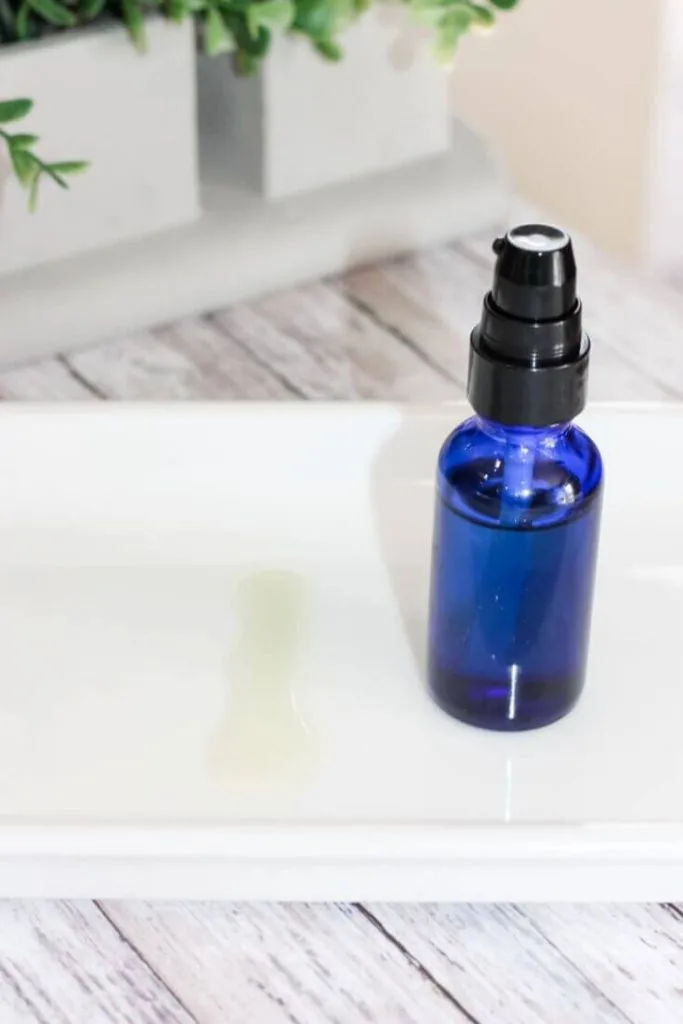 Homemade serums are the perfect way to see great results right at home. Forget wading through all of the products that are on store shelves, and forget having to try and read confusing ingredient labels.
You can get wonderful results and get the skin of your dreams by making your own natural face serum. By making your own serums, you can control exactly what goes on your skin, and you can customize your serum so that it's perfect for your skin!
How do I choose a face serum?
Choosing a face serum can be daunting; if you're battling one or several problems with your skin, I recommend making your own serum that contains ingredients specific to your skin.
The reason I love the recipe I am sharing today is because it is full of natural ingredients that love your skin, and you can make a custom serum based on your skin type.
If you're still looking for a store-bought serum, choose one that contains natural ingredients and avoid artificial silicones and waxes that can damage skin over time.
How can I make an anti-aging serum at home?
One of the best parts about making your own serum is that many of them are mix-and-go recipes! This Gotu kola recipe is the perfect example! To make this serum, all you need to do is mix up your ingredients and place them into a container!
What ingredients make a good serum?
Below are the ingredients that we are using to create a potent anti-aging serum using one of my new favorite ingredients: Gotu kola!
I love this recipe because it combines ingredients that target signs of aging, such as fine lines, wrinkles, dark spots, puffiness, redness, irritation, and creasing.
And, of course, it's made for those of us with sensitive skin in mind!
Rosehip seed oil is a wonderful carrier oil for this recipe because it may improve your skin tone while deeply moisturizing. This helps create smoother skin and fewer signs of aging. This oil also helps reverse pesky signs of aging and will help those with dry skin experience less inflammation and irritation.
This oil is packed with fatty acids that help erase signs of aging practically overnight! It helps lock in moisture to help repair your skin barrier to keep your skin looking dewy and plump. This also helps reduce future signs of aging so that you can appear ageless!
Prickly pear seed oil is known for moisturizing skin and has antibacterial and antioxidant properties. So what does that mean for your skin? It means that it can reduce dryness and help heal damaged skin. Since it has antibacterial and anti-inflammatory properties, it can be a wonderful ingredient for those with irritated or acne-prone skin.
This is the star ingredient of this antiaging recipe! If you have mature, aging, or dull skin, this is the ingredient you need to incorporate into your skincare routine!
This herb has been used for many years to help heal and repair skin. Age spots, sun damage, visible signs of aging, and poor skin texture are no match for Gotu kola!
This ingredient stimulates collagen production, reduces redness and irritation, and gives your skin an unbelievable glow!
Note: Gotu Kola can be purchased in a number of variations. For this recipe we are use the SNO version because it is oil soluble.
Vitamin E is an anti-aging must-have. Not only does it help heal your skin, but it helps protect your skin from damage. This will improve skin's overall appearance by protecting it from free radical damage.
Essential Oils
Grab your favorite essential oil or oils and add in a few drops! You can boost hydration and anti-inflammatory properties to add that extra boost to this hydrating serum!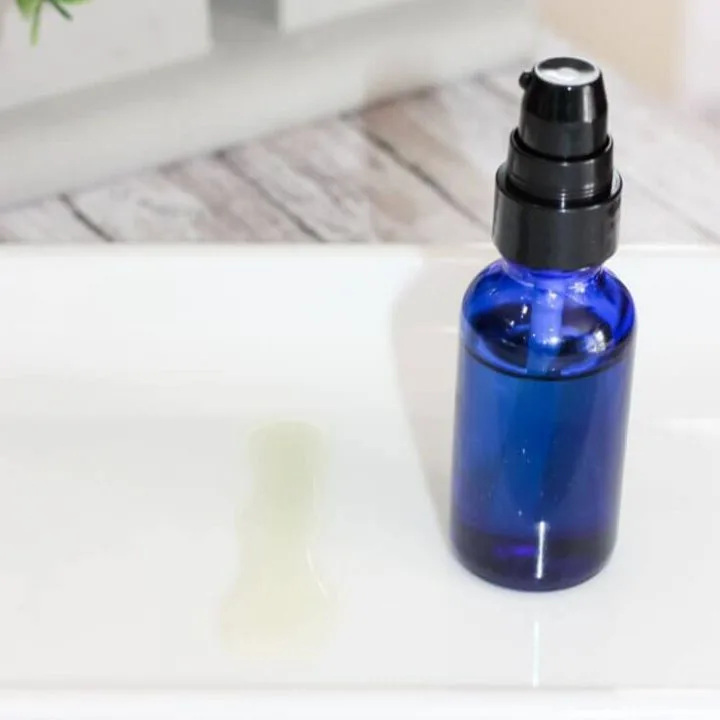 Gotu Kola Anti-Aging Serum
Anti-aging face serum with Gotu kola.
Instructions
Add all ingredients to beaker and combine well
Pour into dropper bottle
Recommended Products
As an Amazon Associate and member of other affiliate programs, I earn from qualifying purchases.
Gotu Kola Anti-Aging Face Serum FAQs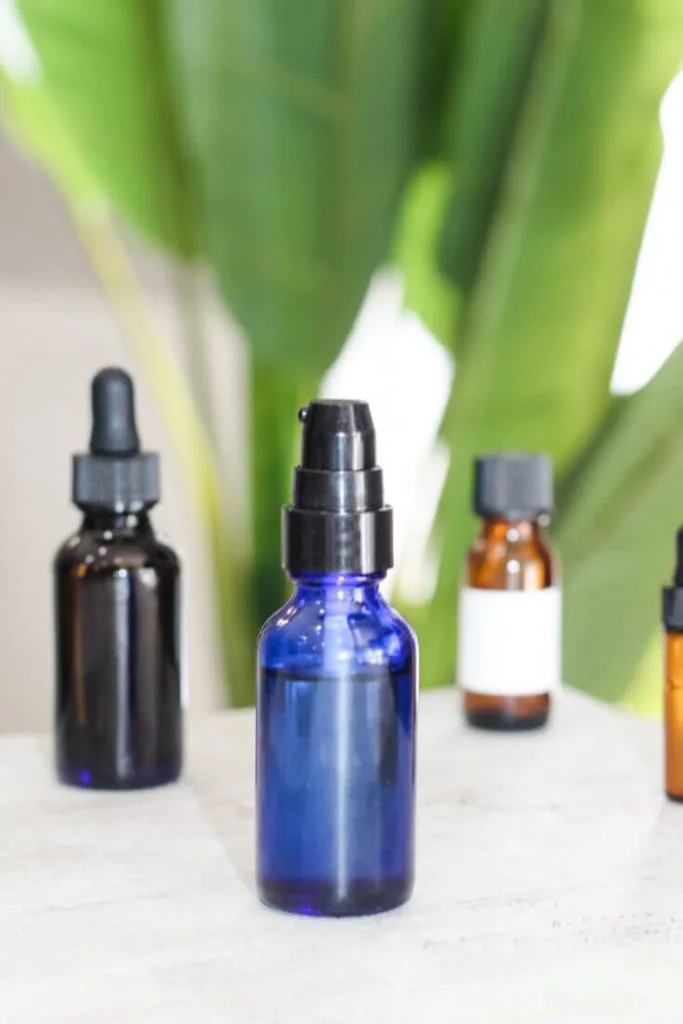 If you're not quite ready to dive into this recipe, then let me answer a few questions you might have!
What oils make a good serum?
There are a lot of carrier oils out there that can be made into wonderful face serums! If you're looking for oils that are made for dry skin, then look for oils like coconut oil or jojoba oil. If you suffer from combination skin or oily skin, you want to look for drier oils such as rosehip seed oil or grapeseed oil. You can also add ingredients that help control excess oil production and balance your skin.
At the end of the day, you can customize this recipe to make it perfect for your skin!
Can a face serum brighten skin?
Herbal face serums are a great way to help brighten your skin and even your complexion. This will improve your skin's appearance overall. A serum will also help smooth your skin's texture and target dark spots so that you have smoother skin.
When should I use a face serum?
You can use a face serum at any time of day. If you want to get the most out of your serum, I recommend using it at night so that it has time to sink deep into your skin to heal and repair. You can also follow your serum with your favorite moisturizer to help solve a range of skin concerns.
Can I use a face serum every day?
You can use face serums daily. I personally use a face serum in the morning and in the evening before bed.
Do I need both serum and moisturizer?
I love using serums and moisturizers together. When you use both a serum and a moisturizer, you are targeting several layers of skin and helping to lock in the benefits of both!
Treat yourself and your skin to this powerful, all-natural serum to help erase signs of aging from your skin. This simple recipe will give you the naturally ageless, glowing skin you have always wanted. I can't wait for you to try this Gotu kola serum and see how it can help your skin!
Pin this post for later!